French potato salad is a tangy, bright, and fresh side dish. It actually gets better with time as the Champagne dijon vinaigrette continues to marinate along with the tender boiling potatoes and fresh herbs. This recipe is simple, simply divine. Bring this to any potluck or fancy up dinner at home with this french potato salad and enjoy the praise that will come your way.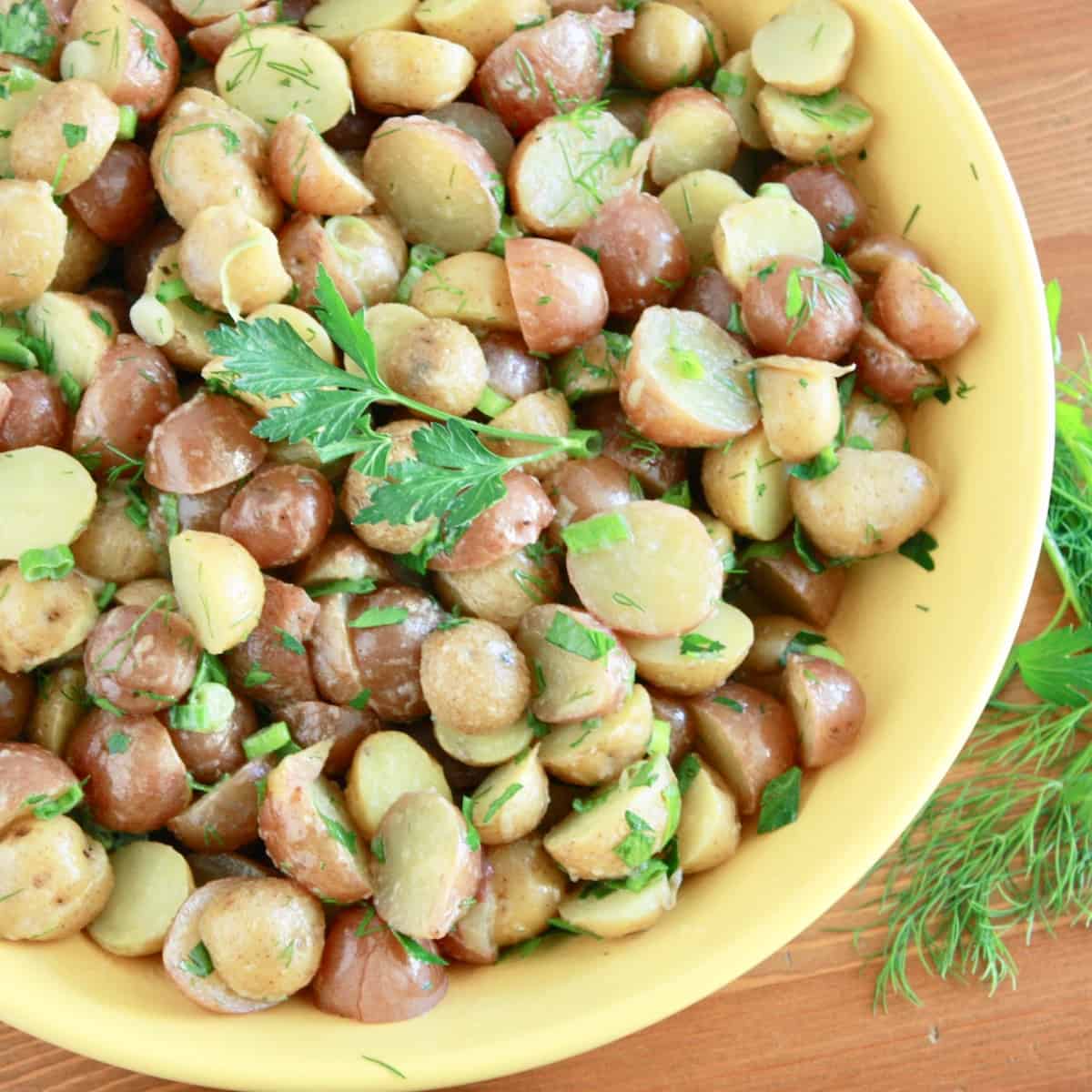 This no-mayo potato salad recipe was inspired by Ina Garten's Barefoot Contessa recipe.  It has small boiling potatoes, fresh herbs, Champagne vinegar, and the classic fresh tangy comfort it has.  The main difference is that this is a vegan version of her potato salad. This recipe does not include the chicken broth that is in her recipe from the Food Network but has all the flavor - it won't be missed trust me.
Jump to:
Why Make French Potato Salad?
Vinegar-based potato salad, no mayonnaise here!
Small boiling potatoes are used, no peeling potatoes!
Fresh herbs elevate; flavor burst and keeps it fresh.
Great for most diets; it is gluten-free, grain-free, vegan, vegetarian, and no dairy.
Stunning presentation, no "gloppy" mayo, or boring white palate thanks to two kinds of potatoes and a burst of green from the herbs.
This No Mayo Potato Salad is Perfect for...
Ingredients for French Potato Salad
The important part of this recipe is to use fresh quality ingredients. The earthiness from the fresh herbs and the zesty brightness from the vinegar-based dressing is simply the best ever.  This easy recipe calls for the following ingredients.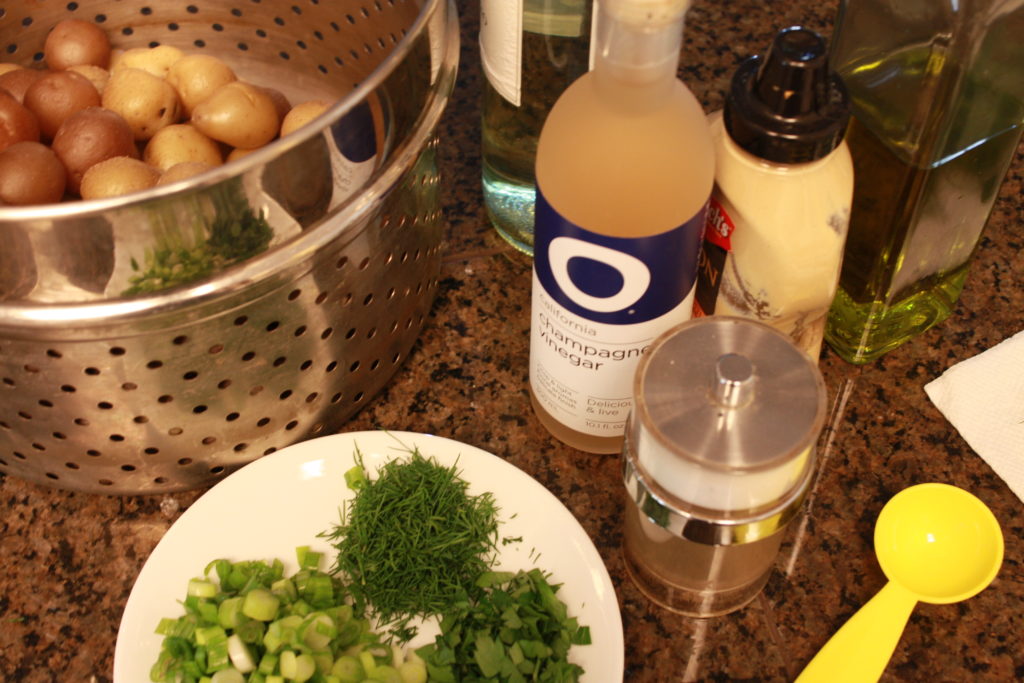 Small Boiling Potatoes - red, Yukon gold, white, or a combination is fine, these thin-skinned potatoes need no peeling
White Wine - use your favorite vintage, just need a few splashes
Champagne Vinegar - the key ingredient in the dressing
Olive Oil -extra virgin is best
Dijon Mustard -bold flavor & emulsifier in the dressing
Fresh Herbs - Dill & Flat Leaf Parsley are best
Green Onions - adds a kick of flavor & holds up well in the dish
Salt & Pepper - the only seasonings you need for this potato salad
See the recipe card for the amounts & full instructions.
Best Potatoes for French Potato Salad
Small boiling potatoes are used for this. No need to peel any potatoes. I recommend using a couple of different kinds of potatoes for color variety. In this potato salad recipe, I use these dynamic duo packs by the Little Potato Company that I get from my local store.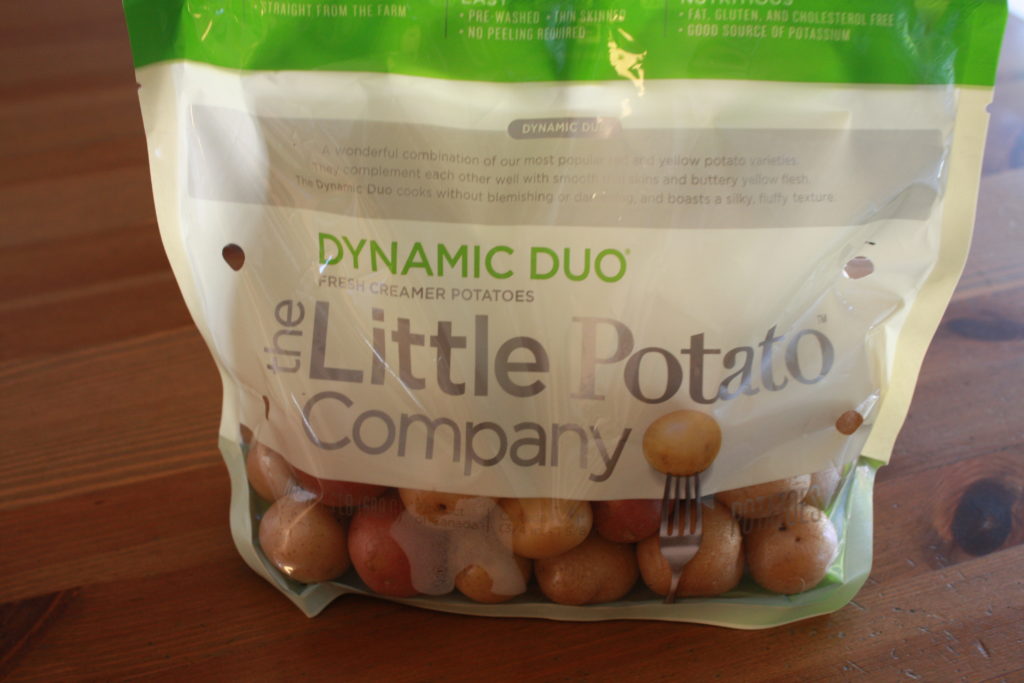 How to Make French Potato Salad
Boil the whole small potatoes under fork tender. In a large pot with simmering water, it should take about 12-15 minutes for these potatoes to be soft. You do not want to overcook them or you will have mushy potato salad. 
Once complete, drain the potatoes and let them cool just until you can handle them. You want them to still be quite warm when you slice them in half. If they are larger potatoes, they may need to be quartered. They should be bite-sized.
The halved potatoes go into a large serving bowl and while still warm, drizzle the white wine over the potatoes. This will allow the potatoes to drink in the white wine - pour a glass for yourself also at this time so the potatoes are not drinking alone! 🙂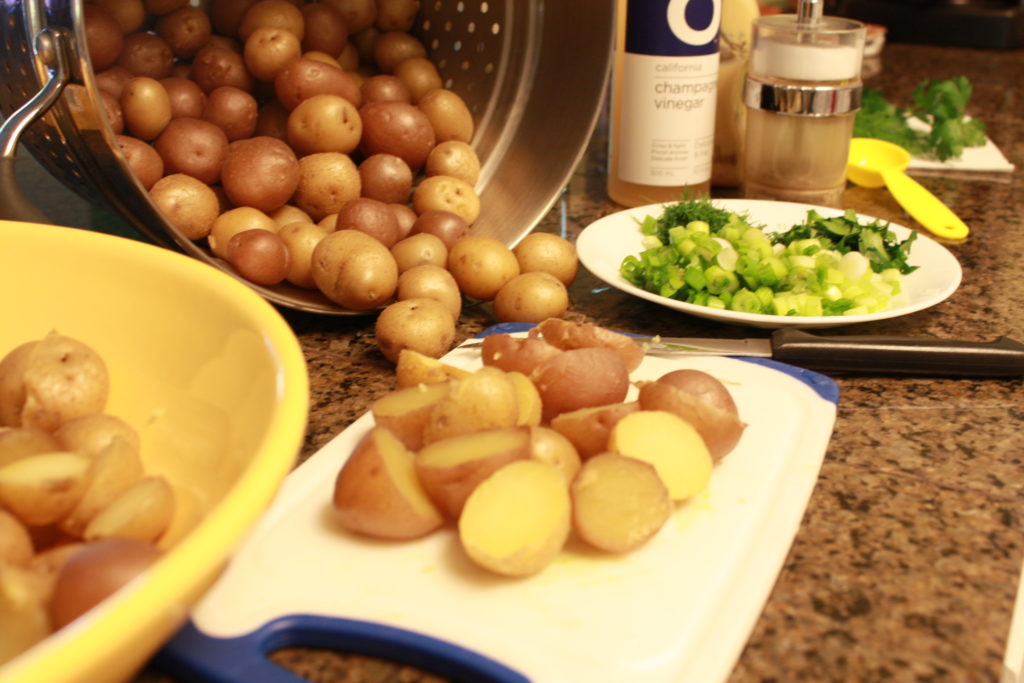 Make the Champagne Dijon Vinaigrette
Mix together the champagne Dijon vinaigrette ingredients. The spicy flavor from the Dijon mustard really makes this potato salad dressing over the top. When combined, pour over the potatoes and mix to combine evenly.   
Add Herbs & Toss Together
Chop the herbs and the green onions.  Add to the potatoes and toss gently. The result is a deliciously warm, tangy, fresh, and comforting bowl of potato salad goodness. It is great immediately. 
I do admit it does get better as it sits and soaks in more of the dressing.  I am always disappointed when there are no leftovers because this is more delicious the next day.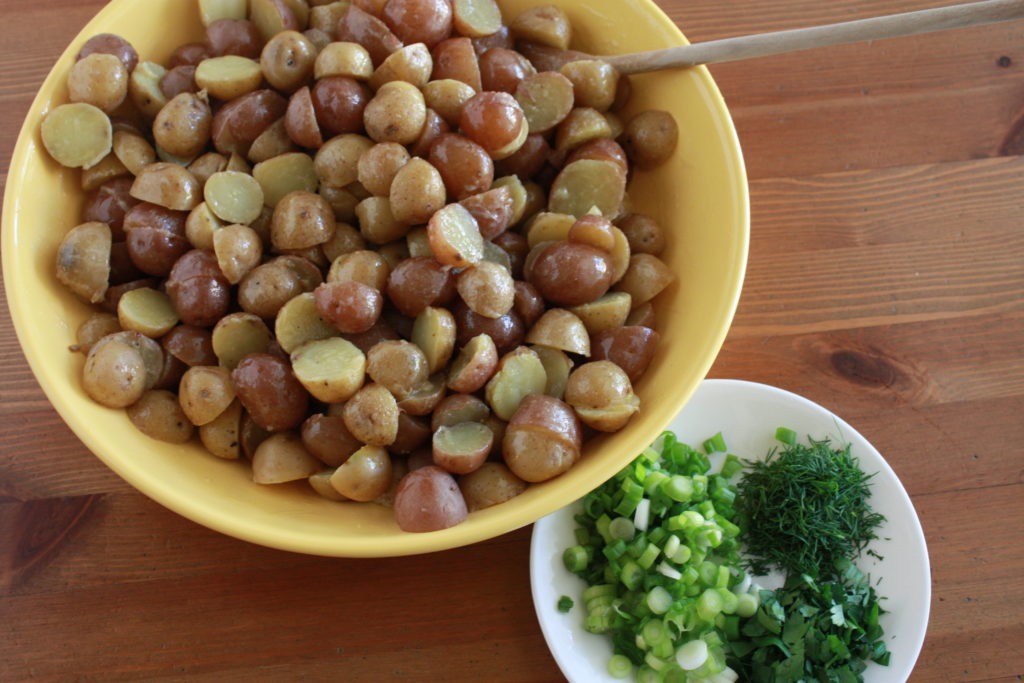 How to Store French Potato Salad
As I mentioned, this potato salad actually gets better as it marinates and sits. Therefore, it is a great make-ahead side dish and perfect for lunches and meal planning.  This is the best potatoes salad without mayo - helping also to store longer than other recipes with mayo.
To store this potato salad, place it in an air-tight container.  It can be refrigerated for up to 5 days.   Enjoy best at room temperature but it is fabulous cold right out of the fridge too.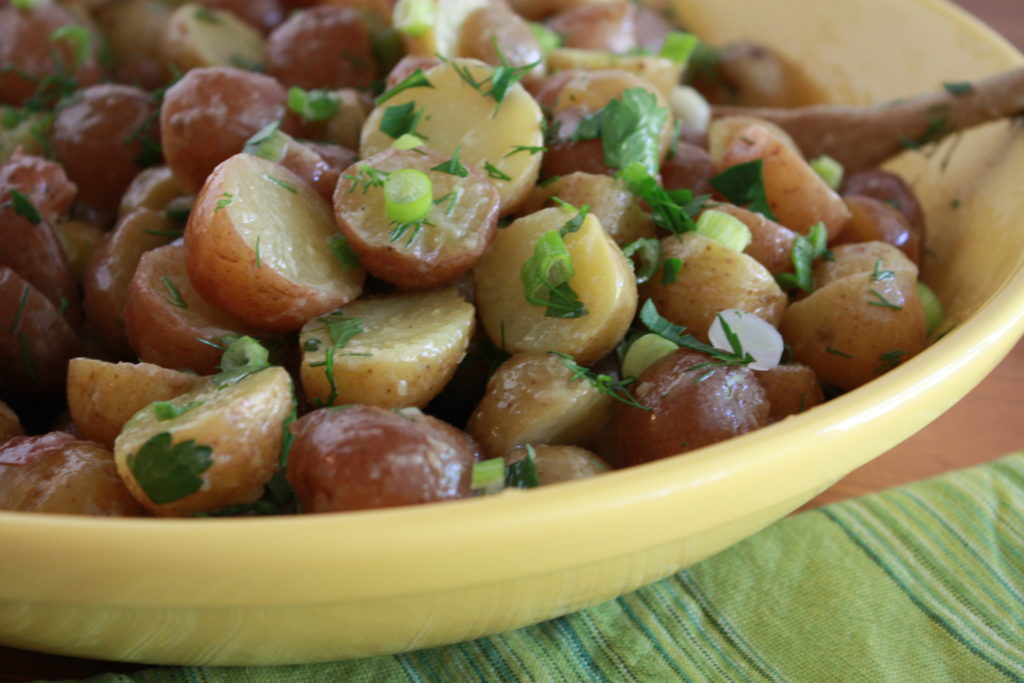 Substitutes & Variations
This simple recipe is classic & traditional. I would not try and change it up too much. However, if you are in a pinch for an ingredient you may be missing, here are some ideas for alternate items & variations you can use.
Tiny Boiling Potatoes - you can use larger red potatoes and cut them into quarters or bite-sized pieces after boiling.
Champagne Vinegar - this may not be in your pantry but you can use apple cider vinegar instead.
Dijon Mustard - use spicy or mild brown mustard instead.
Dill & Parsley - these are the best choices for the flavor profile but you can also use a pinch of dried dill vs fresh dill. Also substitute it for other herbs like fresh basil, chervil, or chives.
This recipe is already vegan, gluten-free, grain-free, dairy-free, & vegetarian - no adjustments necessary.
FAQ
Is French potato the same as German potato salad?
Though both are recipes made without mayo, they are quite different. French potato salad has fresh herbs & a vinaigrette dressing. German potato salad is traditionally served warm in a bacon dressing.
Why are my potatoes mushy?
Mushy potatoes or ones that fall apart when making potato salad are a result of overcooking them. If yours are mushy they may have been cooked too long. Also, DO NOT cut them before boiling them since cut potatoes will absorb water also resulting in a soggy texture. Always cut the potatoes after cooking.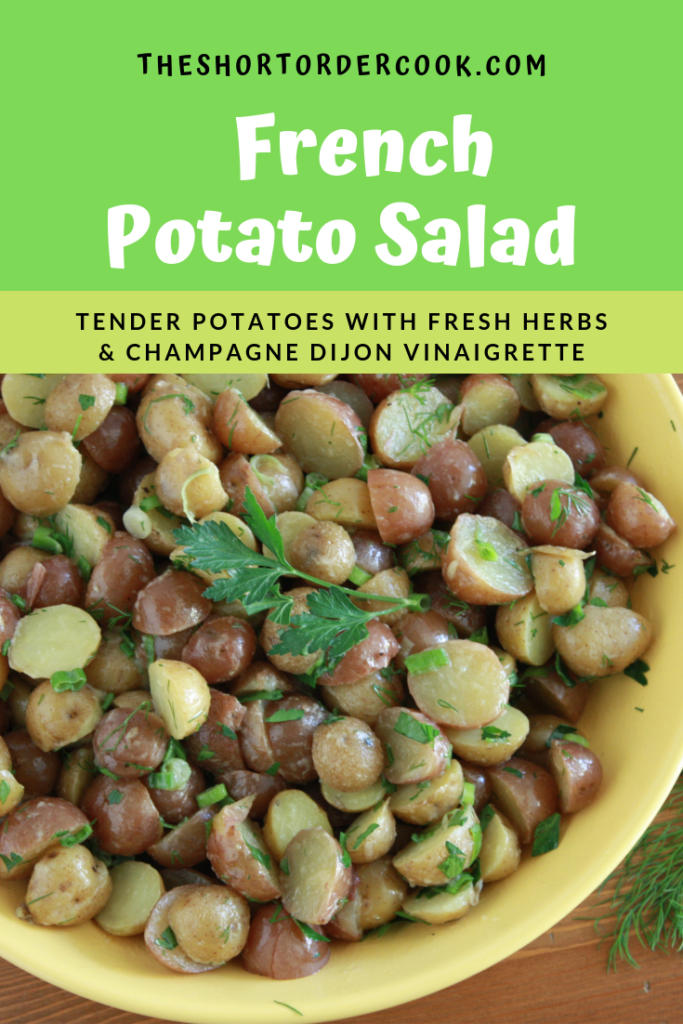 What to Serve with French Potato Salad:
French Potato Salad (no mayo)
Tender potatoes in a Champagne dijon vinaigrette with fresh herbs are bright, tangy, and crowd-pleasing. This is the best potato salad recipe without mayo. French potato salad is great for parties, picnics, & BBQs. The recipe can be made ahead of time & lasts for days. Bonus, it is gluten-free, vegan, & healthy. A fun summer side dish recipe to serve with grilled or smoked meats.
Ingredients
4

pounds

small boiling potatoes

two colors recommended

2

TB

white wine

3

TB

Champagne vinegar

½

C

olive oil

1

TB

dijon mustard

2

TB

fresh dill

minced

2

TB

fresh flat-leaf parsley

minced

¼

C

green onions/scallions

minced (white & green parts)

salt & pepper
Instructions
Boil the potatoes in a large pot of boiling salted water, ensure there is about 2″ of water over the top of the potatoes. Cook about 20 minutes, until fork-tender. (do not overcook or they will be mushy)

Drain immediately and let cook just until they are no longer too hot to touch.

Once cool but still warm, cut each in half or in quarters if medium-sized.

In a large serving bowl, add the potato halves. Sprinkle the warm potatoes with the white wine. Toss gently with a spoon so that all get some wine soaked into the warm potatoes.

Let sit for about 15 min to ensure the potatoes cool more and all the white wine is absorbed.

Combine the vinegar, olive oil, and dijon in a small bowl. Add a pinch of salt and pepper and whisk to combine the dressing ingredients.

Pour the vinaigrette over the potatoes and stir gently. Top with fresh herbs and green onions. Season with salt and pepper to taste. Serve at room temperature.

French potato salad can store in the refrigerator for up to 5 days in an air-tight container.
Notes
Nutrition Facts
Servings: 8
Amount per serving
 
Calories
275
% Daily Value*
Total Fat 13g
17%
Saturated Fat 1.9g
9%
Cholesterol 0mg
0%
Sodium 112mg
5%
Total Carbohydrate 37g
13%
Dietary Fiber 4.1g
15%
Total Sugars 2.4g
 
Protein 4.6g
 
Vitamin D 0mcg
0%
Calcium 41mg
3%
Iron 2mg
12%
Potassium 1077mg
23%
*The % Daily Value (DV) tells you how much a nutrient in a food serving contributes to a daily diet. 2,000 calorie a day is used for general nutrition advice.
Did you make this The Short Order Cook Recipe?
Tag @theshortordercookblog (Instagram & Facebook) or @shortorder_cook (Twitter).
I would love to see your latest creations and kitchen adventures.