Slow cooker corned beef is an easy way to prepare this St Patrick's Day classic holiday recipe. It is also wonderful to enjoy this any time of year. Thanks to this simple recipe, you can have tender corned beef even for a weeknight dinner whenever you crave it. We enjoy this about 3-4 times a year, it is that tasty and easy. Simply dump a few ingredients into the CrockPot and soon the best juicy brisket is ready.
This recipe is how to make corned beef without vegetables and for just the brisket by itself. You can add vegetables if your slow cooker is big enough but I prefer to do it separately so that each item retains its unique flavors. The cooking liquid for this slow-cooked corned beef is robust to help retain all the brine spices that are classic for this dish. This often doesn't translate to the best liquid for potatoes or cabbage that may soak up too much and either become soggy or saturated in the broth base to this.
Ingredients for Slow Cooking Corned Beef
This recipe uses a soda to create the cooking liquid but you can use other liquids too. Many corned beef recipes call for beer, think Guinness, or beef broth. I try to keep this gluten-free so I opt not to use a beer and beef broth is ok but I found the added sugars that a soda brings pairs against the other ingredients. The added grain dijon mustard, molasses, and garlic round out what is needed for this corned beef recipe. 5 ingredients in all for a simple dinner recipe.
I am using a corned beef round that I got from Costco. It comes with the spice packet and the size usually feeds about 6 people. You can also use this easy slow cooker recipe for beef silverside or any cut of corned beef brisket such as the point, flat & round. Whether your cut of meat is brined in the English manner which renders a grey corned beef or corned with nitrates for a red corned beef, it all cooks the same in the slow cooker. For more information check out BEST CUT OF CORNED BEEF.
How to Make the Corned Beef in the CrockPot
The first step is to mix all the ingredients together except for the corned beef. I add the spice packet that comes with the corned beef also to the liquid mixture and whisk. To the slow cooker add the corned beef brisket and pour the liquid over it. I am using corned beef that is fresh and has never been frozen in my CrockPot. If you have frozen corned beef, defrost it in the refrigerator for about 3 days before cooking it in the slow cooker.
How Long to Cook Corned Beef
In the slow cooker, you can choose either to cook it on low or on high. The cooking time suggestions for corned beef are as follows:
Slow Cooker on High for 4 hours
Slow Cooker on Low for 8 hours
This is what mine looked like after Low for 8 hours. It was a huge corned beef round that I used and barely fit into my cooker but still cooked through. I use two sets of tongs and both hands to grab it out of the insert to transfer to a cutting board. Be careful as sometimes it just starts to shred and fall apart since it is so tender. It can then fall back into the hot cooking liquid and splash which is dangerous so CAUTION!
How do You Know When Corned Beef is Done?
The best is to use a meat thermometer. It should read 145° for it to be done and ready to eat. It will likely be above that with this recipe but 145° is the minimum to be safe. Slow cooking is key for this type of meat to ensure it breaks down properly and renders a fork-tender texture.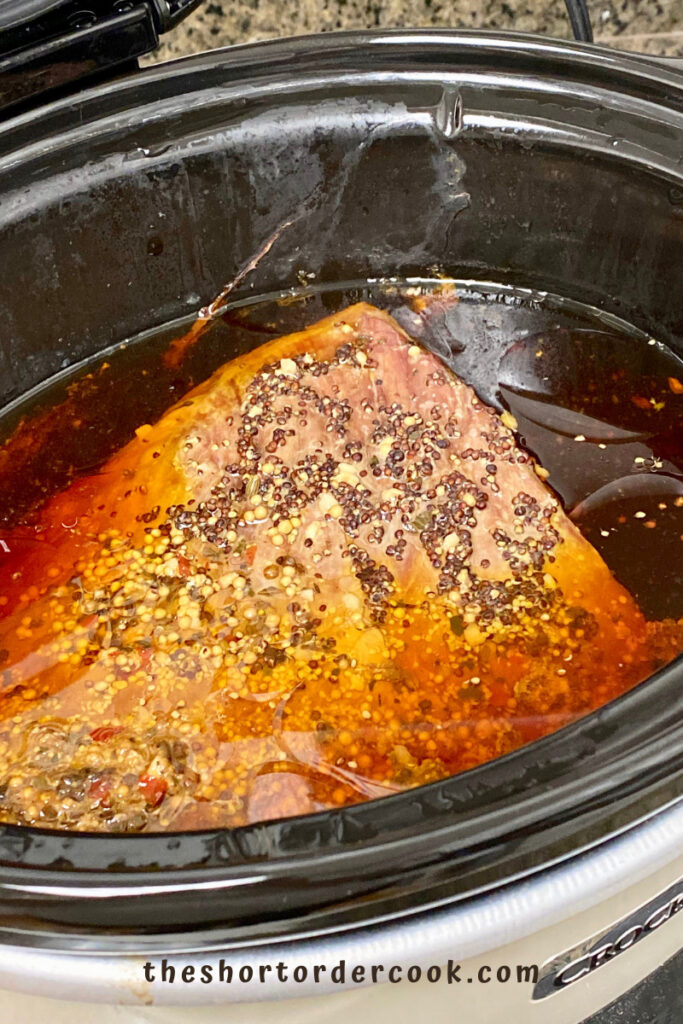 How to Slice Corned Beef
Just like with other roasts and cuts of meat, you always want to cut against the grain when slicing your corned beef brisket. This will create even slices that hold together. If you cut it the other way it will shred and not come out in slices. If you do that by accident at first, no worries it still tastes great and those bits can be used in a corned beef hash the next day at breakfast - yum!
What to Serve with Corned Beef
The classic is corned beef, cabbage, carrots, and boiled potatoes. I like to boil these in a separate pot just before the brisket is ready. I start with the carrots and potatoes and then in the last few minutes add the cabbage which cooks a lot quicker than the other two items. Once they are done, I transfer them to a platter using a slotted spoon and top with butter, salt, pepper, and fresh parsley.
Add EASY HOMEMADE SOFT DINNER ROLLS for a large meal offering.
For a Festive St Patrick's Day Celebration you need something with alcohol and a fun green dessert. Make these delicious ST PATRICKS DAY PUDDING SHOTS.
Leftover Corned Beef Recipe Ideas
Leftover corned beef is amazing so you will want to cook more than you plan to eat the first night. There are lots of options and recipes you can use up your leftover corned beef. Of course, it is great in sandwiches like a Reuben or to top a burger with for a meat lover's special. It is also perfect in a corned beef hash with eggs for breakfast. I have even added it to quiche and to Cottage Pie for a new recipe idea. But I also enjoy leftover corned beef in my POT PIE SOUP.
Storing Corned Beef
Cooked corned beef can be stored for up to 5 days in an air-tight container in the refrigerator. It can also be frozen for later usage for up to 3 months in an air-tight container.
PIN FOR SAFEKEEPING & SHARING!
Product Recommendations for this Recipe #ad:
The Short Order Cook is a participant in the Amazon Services LLC Associates Program. As an Amazon Associate, I earn from qualifying purchases. If you click on a link and make a purchase, I may earn a small commission on the sale at no additional cost to you. This helps with the costs of running the blog. Thank you!
Did you make this The Short Order Cook Recipe?
Tag @theshortordercookblog (Instagram & Facebook) or @shortorder_cook (Twitter).
I would love to see your latest creations and kitchen adventures.