Smoked beef short ribs is a simple recipe that results in the most flavorful and juicy meat. Smoking short ribs so they cook low and slow is the key to having the beef shred and be fork-tender. When using English cut short ribs and a wonderful combination of seasonings for a rub you cannot go wrong with this recipe. The seasoned outer crust is crunchy and caramelized yet the inside is smokey and delicate all for a perfect savory bite.
The best way to make short ribs in my mind is in the smoker. The low and slow method of smoking meat breaks down the meat and renders the fat for the most delicate fall-off-the-bone short ribs you will have ever had. If you love beef smoked baby back ribs or juicy pot roast, this is a must-try cookout recipe for you.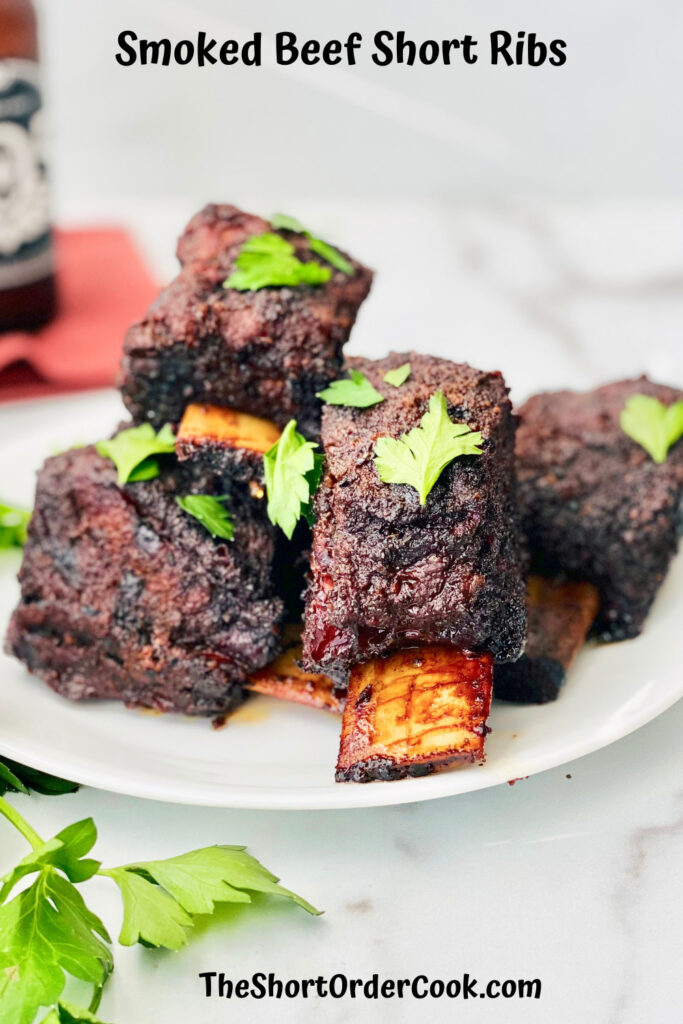 Steps & Timing When Making Beef Short Ribs on the Smoker
To smoke beef short ribs, it is important to be mindful of the process and the timing it needs. If you want to eat at a specific time, you need to walk the steps back in time to ensure they are done when and ready to eat at your designated dinner time. For how long to prep and cook smoked beef short ribs these are the steps:
PREP SMOKER & BRING SHORT RIBS TO ROOM TEMPERATURE - 1 HOUR
ADD SEASONING /RUB TO THE SHORT RIBS - 5 MINUTES
COOK SHORT RIBS ON THE GRATE OF THE SMOKER - 2 HOURS
PREP THE PAN FOR RIBS AND TOP WITH FOIL - 5 MINUTES
COOK SHORT RIBS IN THE COVERED PAN IN THE SMOKER - 2 HOURS
REMOVE RIBS FROM SMOKER & LET RIBS REST - 20 MINUTES
The whole process takes about 5 hours from start to finish. So for example, if you want to eat dinner at 5 pm then you need to start your charcoal smoker at noon. The ribs will go on the grate at 1 pm and cook for 2 hours. You will then prep a pan and get them in there so they cook covered for 2 more hours. Then they will come out of the smoker and rest a bit and should be ready around 5 pm.
How to Prep Smoker to Make Beef Short Ribs
It depends on what type of smoker you have on how to prep it. We have a Weber and we use charcoal and mesquite or hickory wood chips. We start the coals about an hour before we want to get the short ribs smoking. This gives the charcoal time to light and then be added to more coals on the bottom of the smoker with the wood chips. Typically within an hour, the smoker is registering at between 200-250°. To smoke beef ribs, you want to hold your smoker at a steady temperature between 225-250° is ideal.
If you have a pellet smoker, prep that as you typically would in advance. Then pick up on the step where you will want to get the seasoned short ribs on the grates to being smoking. This smoked beef short ribs recipe works great in a Traeger, Kamado, Big Green Egg, Weber, and any charcoal or pellet smoker. For more information on different types of smokers check out this article on Pellet Smoker vs Charcoal Smoker.
HOW TO MAKE SMOKED BEEF SHORT RIBS
Once you have the smoker going, be mindful of the timing which I shared above. As it warms up, also bring your beef short ribs to room temperature. You do not want to be putting cold meat in a hot smoker. Smoking beef ribs like in this recipe, at the right temperature with the right seasoning rub, will become your new favorite smoked meat.
Ingredients for Beef Short Ribs on the Smoker
This recipe only requires a few ingredients. The most important thing is to make sure you have good quality beef short ribs. If you are lucky enough to find that at Costco or your local butcher shop, grab some to make this recipe. For this short rib recipe, I am using what is called English cut. Using something else like a thin-cut flanken short rib will not work for this recipe. To find out more about other cuts, check out Beef Ribs - The Different Cuts.
You will also want to have a zesty seasoning that includes plenty of salt for the short ribs. A rub that is salty, a bit sweet, and has a ton of flavor is the best when smoking beef short ribs. I like a lot of Kinder's brand seasonings, so for this recipe, I use a combination of the Butcher's All-Purpose seasoning and the Buttery Steakhouse rub. This has some sugar in it but if you want a keto, sugar-free, or low-carb rub for your smoked short ribs, you can make your own homemade rub blend or buy another brand. In a pinch, I have also used just salt, pepper, garlic powder, paprika, minced dried onion which is a great keto rub for short ribs.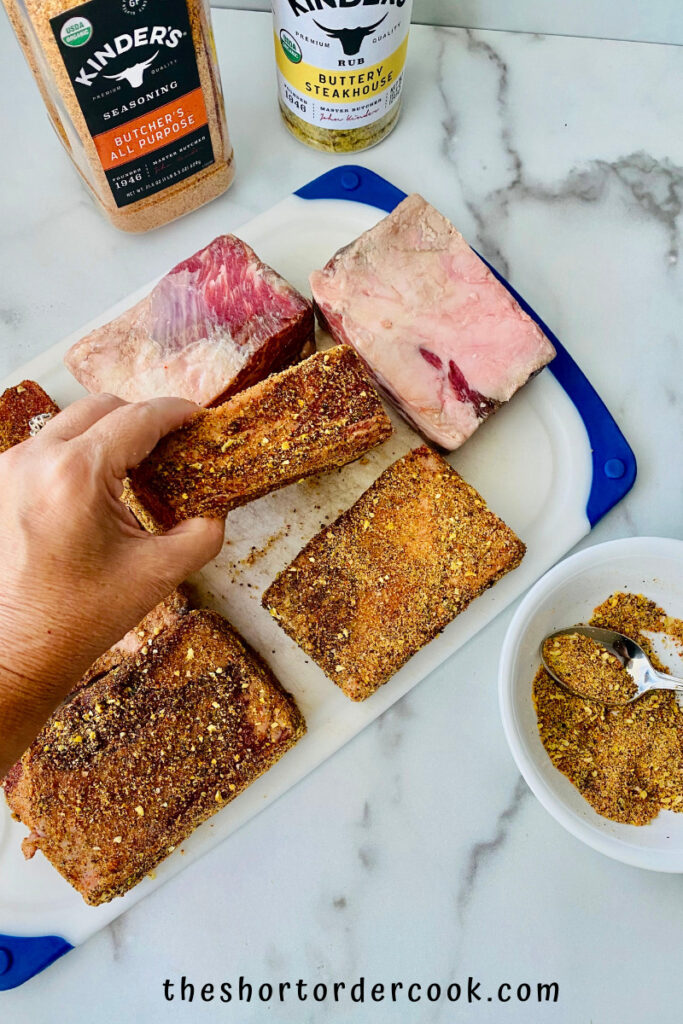 HOW LONG TO SMOKE BEEF SHORT RIBS
There are two stages when smoking beef short ribs. They need to be cooked both directly on the grill racks and also in what is called a "Texas Crutch". Both of these stages when you smoke any sort of ribs are important. It ensures your smoked ribs are both smokey with an outer crust but also tender and juicy. This is key so you do not dry out your meat and instead, you get the perfect short rib and internal temperature when cooking.
Smoking Step 1: Cooking Directly on the Grate of the Smoker
Once the smoker is at the ideal cooking temperature, between 225-250°, the short ribs are ready to go on. This is the first step in the cooking process. Place them on the grill on the highest rack from the coals if you are using the Weber style as we use. Also note, it takes the same about of time to smoke ribs as it does a whole chicken. So why not cook both since you have the coals going, this is what we do often.
Close the lid and let it go for about 2 hours. Check the temperature periodically to be sure you are holding steady in that 225-250° cooking temperature range. Adjust to heat up or cool it down as needed. Some people like to spritz the ribs every 30 minutes with apple juice or apple cider vinegar. We actually like a good bark/crust on our ribs and find that the spritzing adds too much moisture on the surface for our preference but please do whatever you like best.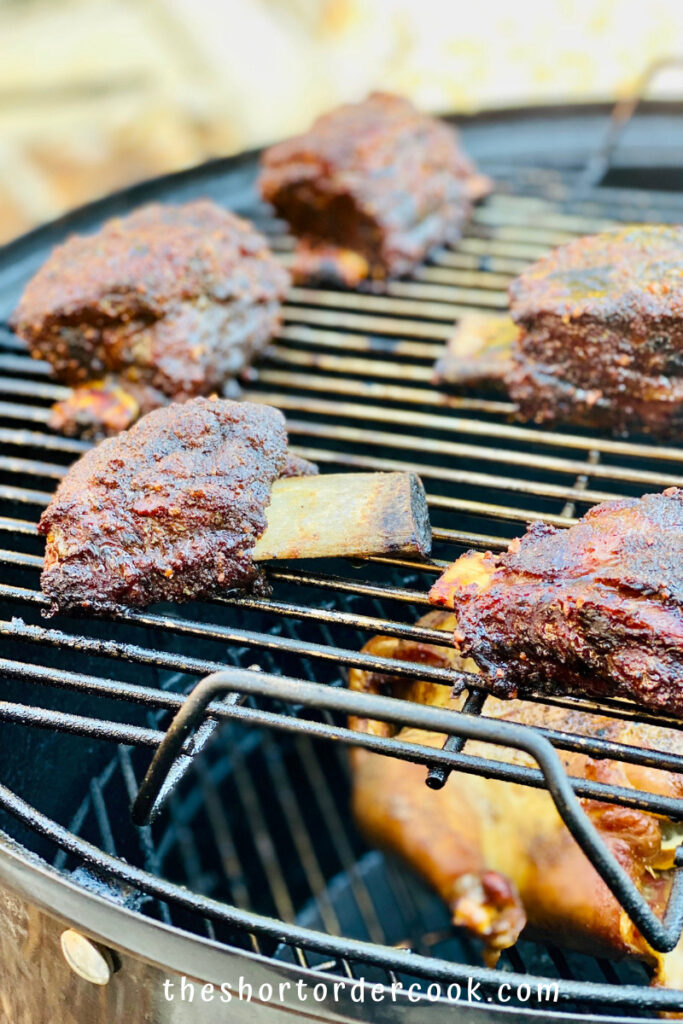 Smoking Step 2: The Crutch Method
After two hours of direct cooking in the smoker, it is time for the second step when smoking beef short ribs. This step is what is referred to as a "crutch or Texas Crutch". There are two reasons to do this, one is to ensure the meat temperature is still rising and does not plateau. Typically smoking meat will have a low and slow rise but it can also stop and for a short or long time, the meat does not continue to rise in temperature. Wrapping it up helps the short ribs not stall but to continue cooking evenly. This is especially true for large cuts of meats like when smoking brisket or pork butts for pulled pork.
In additional wrapping, the ribs' juices remain keeps the meat moist so it does not dry out. To a foil pan that will fit all your beef short ribs, add a tablespoon of butter for every 2 ribs you are making. Then add in a single layer add the short ribs. Make sure there is space between them so they have room to cook. Do not add any liquid to the pan, you do not want to braise them and make them too moist, which will take away from the lovely bark you have already got on them. Finally, wrap in foil and place the pan in the smoker.
How To Tell When Beef Short Ribs are Done Smoking
After about another 2 hours, the beef short ribs should be about ready. You can tell smoked beef short ribs are ready when the internal temperature reaches 205°, and somewhere between 200-210. For bigger or smaller-sized ribs, it could take up to 3 hours of cooking at the crutch stage and that is ok. Use a quick read thermometer and check for doneness at 200-210°.
Let the Meat Rest
Once the short ribs come out of the smoker, let them rest. I like to vent the foil a little bit to let the steam out and to get that crust redeveloped a bit. They will stay warm in the foil tray while you prep the last few things you are making to eat with them.
The pan will have juices and melted butter in it. The beef ribs will have a dark seasoned crust on them. Inside the short rib will be a bit pink from the smoking process, plus flaky and tender. If you cannot wait, you can grab a fork and sneak a bite - admittedly, you know I do this! Someone has to make sure the short ribs are perfectly smoked and delicious.
What to Serve With Beef Short Ribs
To complete your meal, here are some great side dish recipes to serve with smoked beef short ribs: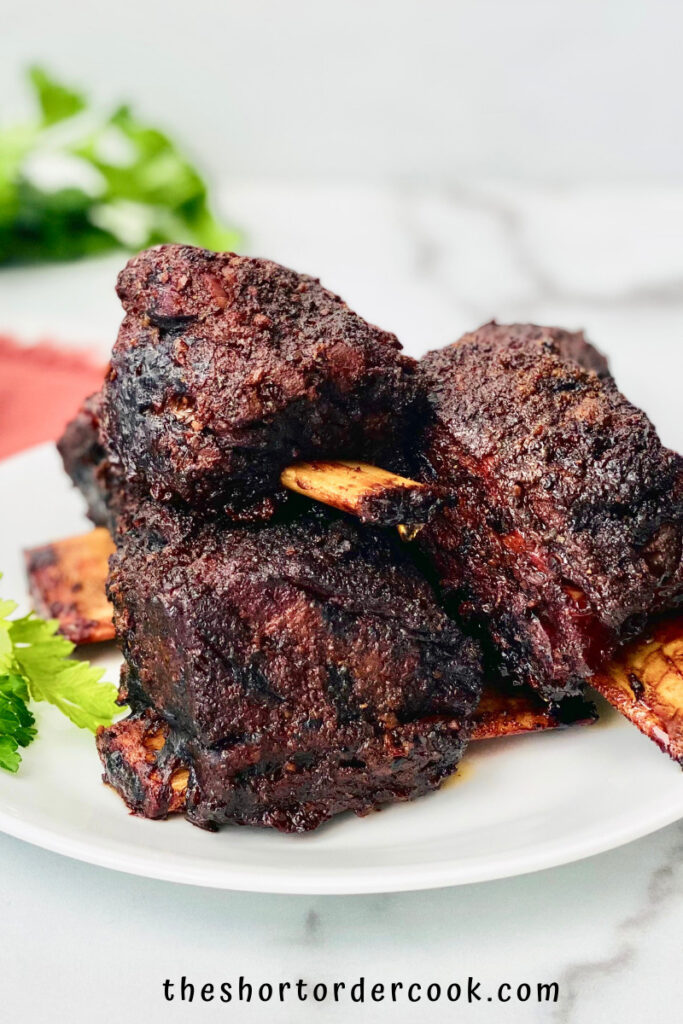 How to Store and Reheat Smoked Beef Short Ribs
If you have any leftovers, you can store short ribs in an air-tight container in your refrigerator for 3 days or the freezer for up to a month. If you freeze cooked short ribs, place them in the refrigerator for about 48-hours to defrost. To reheat, you can microwave for a few minutes or place them in a 400° oven to warm them.
PIN FOR SAFEKEEPING & SHARING!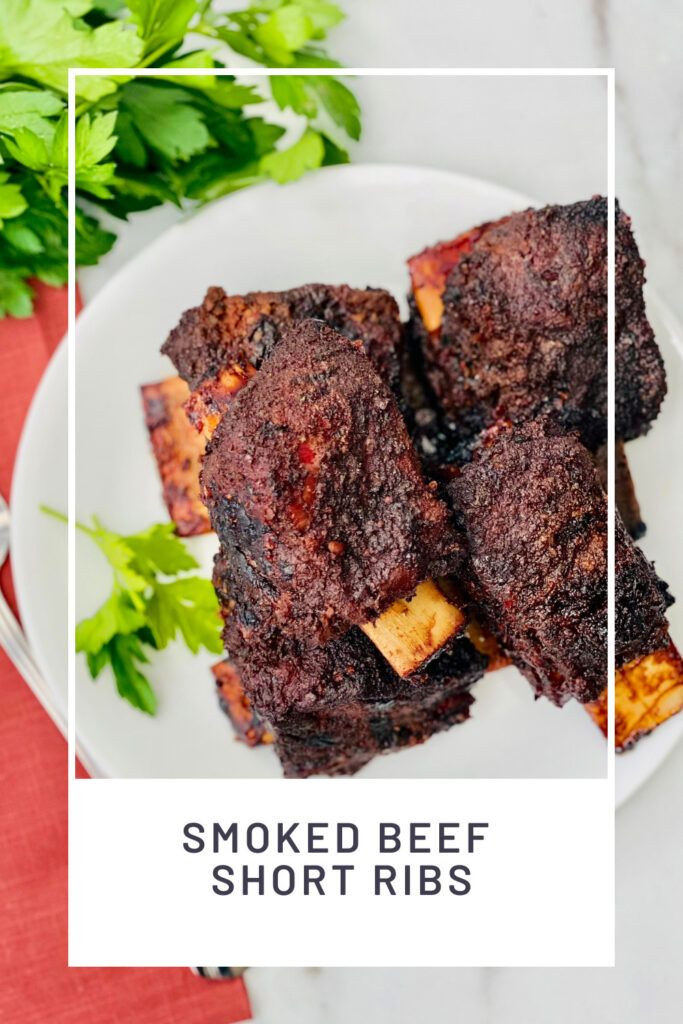 Product Recommendations for this Recipe:
The Short Order Cook is a participant in the Amazon Services LLC Associates Program. As an Amazon Associate, I earn from qualifying purchases. If you click on a link and make a purchase, I may earn a small commission on the sale at no additional cost to you. This helps with the costs of running the blog. Thank you!
Did you make this The Short Order Cook Recipe?
Tag @theshortordercookblog (Instagram & Facebook) or @shortorder_cook (Twitter).
I would love to see your latest creations and kitchen adventures.