Strawberry brownies made from cake mix are a fun & colorful dessert that is so simple to make. All you need is 3 ingredients to make these chewy & moist pink brownies. It's a unique sweet treat you must try.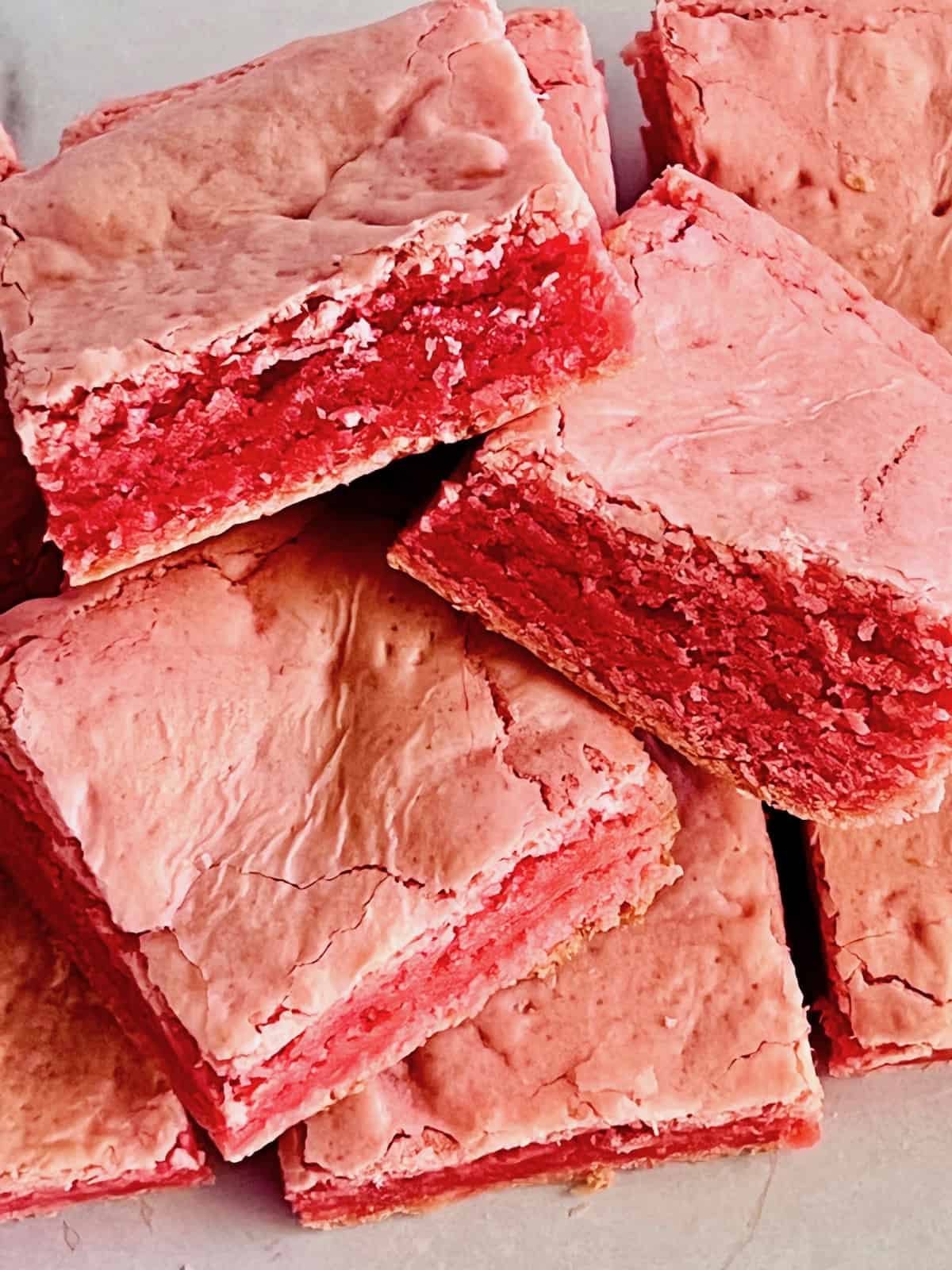 These lovely pastel pink brownies are perfect for Easter, Spring holidays, birthday parties, weddings or baby showers, Mother's Day, or any party where the color pink is the theme. Kids cannot resist these colorful brownies that smell & taste like strawberries.
This was inspired by my recipe for cake mix red velvet brownies. Both are made from a boxed cake mix & are fantastic. This vibrant recipe is hard to resist when it's this pretty in pink.
Jump to:
Ingredients
All you need for this strawberry brownie recipe is 3 ingredients. A boxed cake mix is the key item that helps makes this so easy to bake. You will get a home-baked taste.
Do not follow the instructions or the other ingredients needed on the box. All you need is eggs and oil. Freshly baked strawberry brownies are so effortless that you will be making these all the time.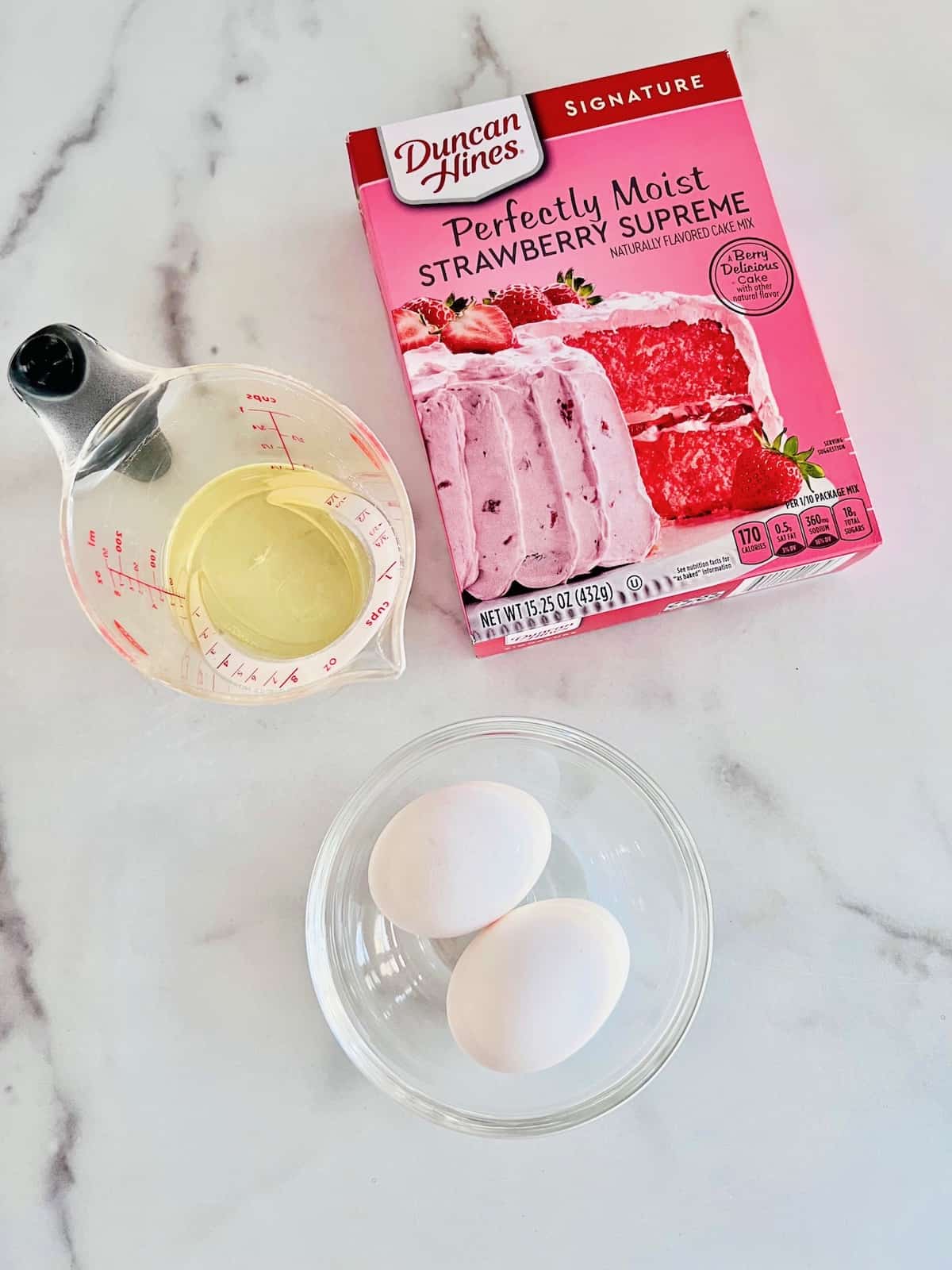 See the recipe card for quantities & full instructions.
How to Make Strawberry Brownies from Cake Mix
It takes just 2 steps to mix this 3-ingredient strawberry brownie recipe. Seriously, is there an easier dessert?
Begin by preheating the oven to 350°. Now begin mixing the batter and getting it into the pan. I am using Duncan Hines but any brand will work.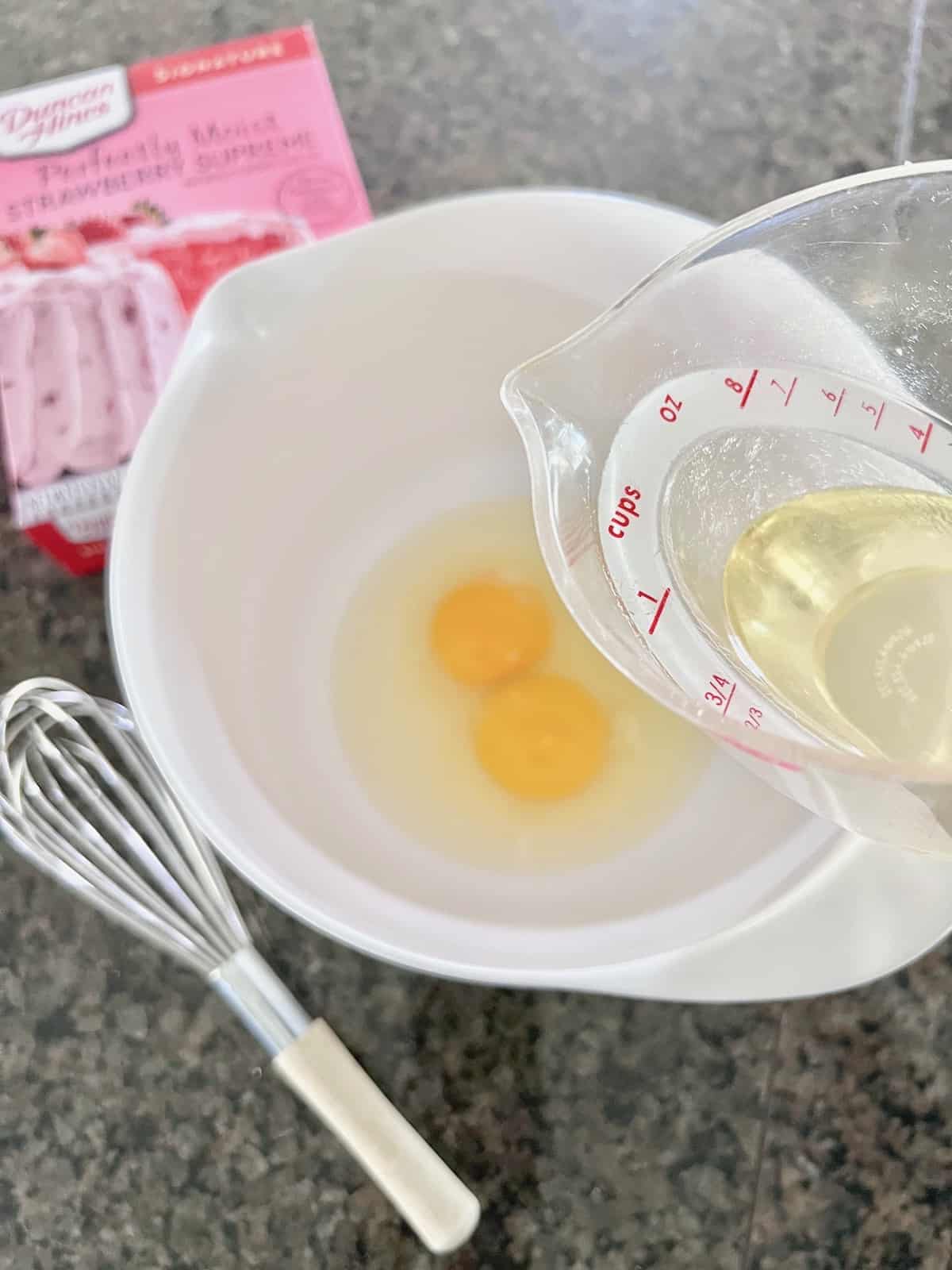 In a medium bowl whisk together the 2 eggs and the vegetable oil.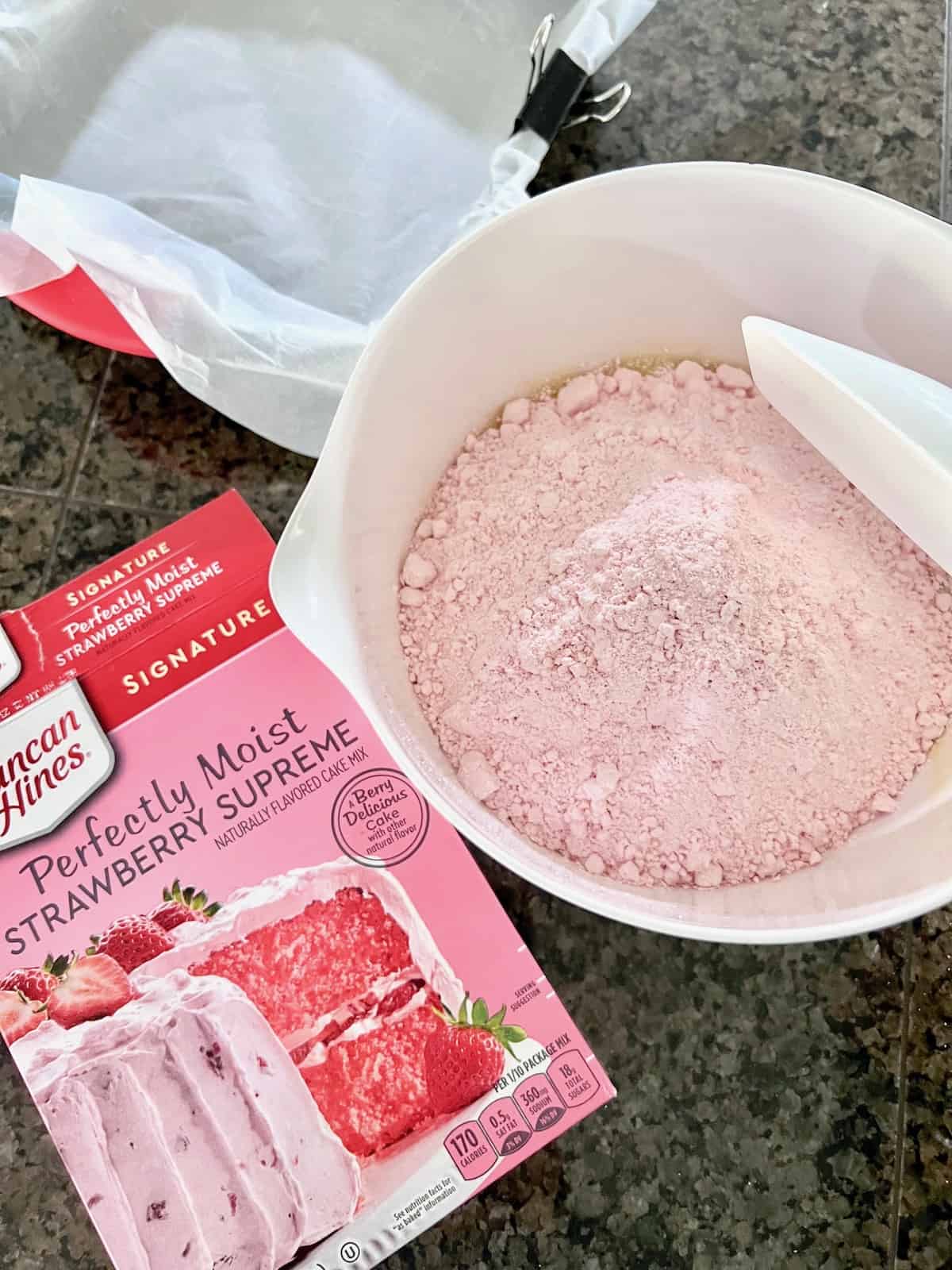 To the wet ingredients add the cake mix & stir using a spatula spoon.
Once the batter is mixed, prep your baking pan with parchment paper. This recipe is made in a metal 8x8 square baking pan. This results in thick brownies that are to die for. They will be soft in the center.
Hint: My trick for making sure parchment paper doesn't move around - BINDER CLIPS! Use them to hold the parchment paper in place. The thick batter will be hard to spread if it keeps moving around. Remember to remove the clips before putting the pan in the oven!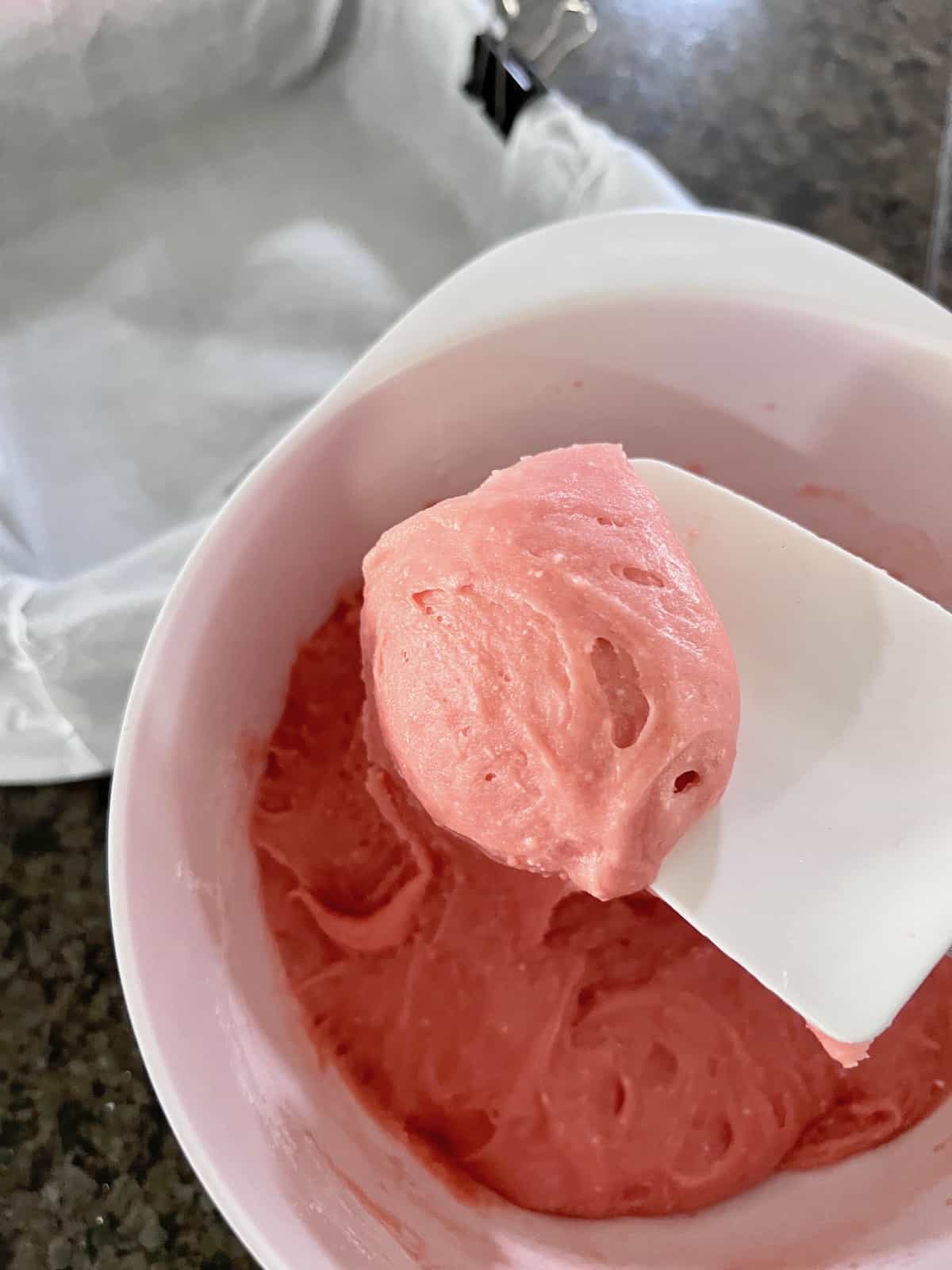 The strawberry brownie batter will be very thick & will not resemble a thin cake batter.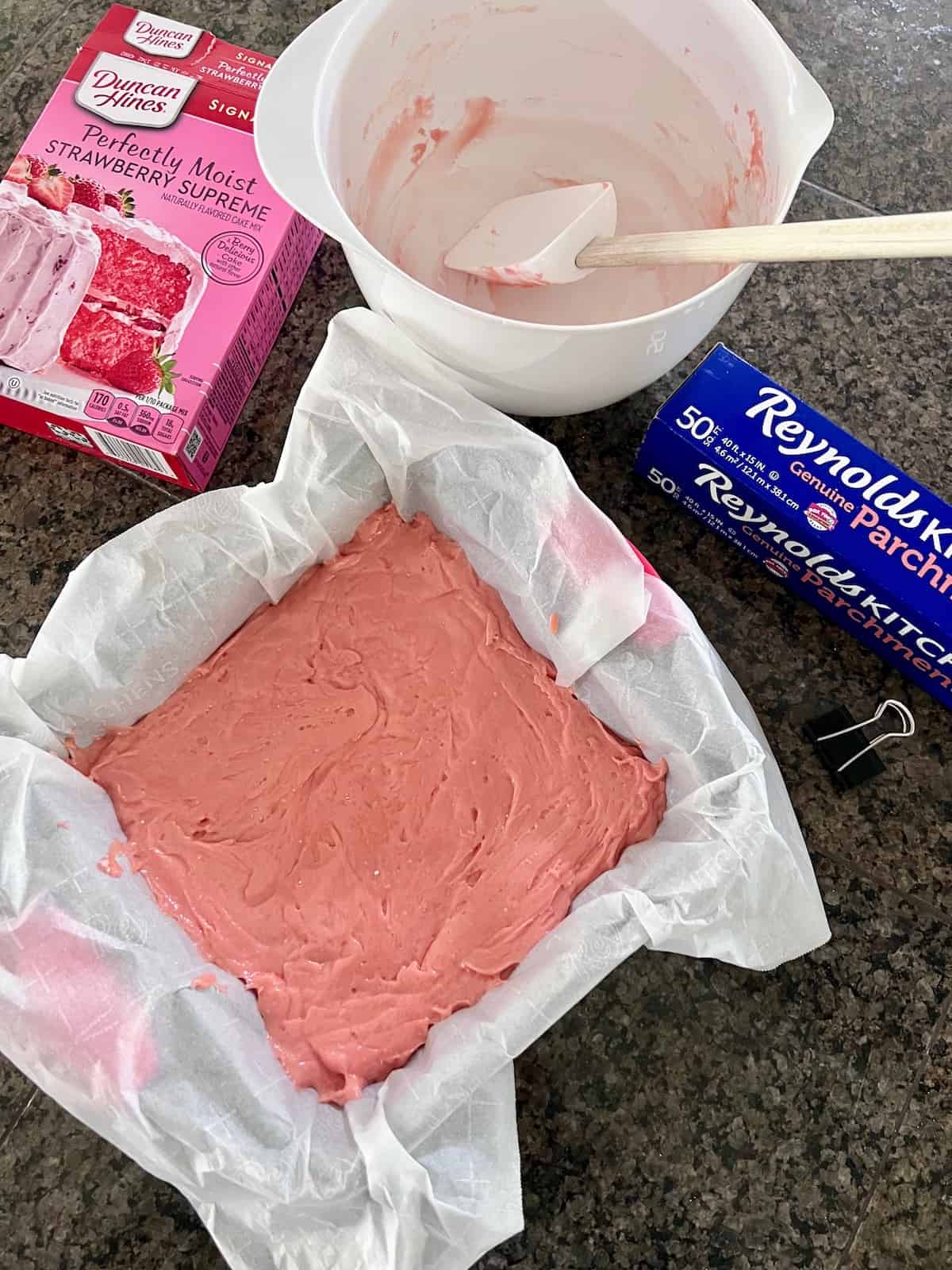 Spread the brownie mix in an 8x8 pan that has been lined with parchment paper.
Baking & Cutting Strawberry Brownies
This quick recipe bakes up in less than 30 minutes. Place the pan in the 350° preheated oven to bake for 22-25 minutes. A toothpick should come out clean when it is ready.
For gooey centers, remove the brownies at the 20-minute mark. They may be hard to cut but if you love sticky desserts, go for it.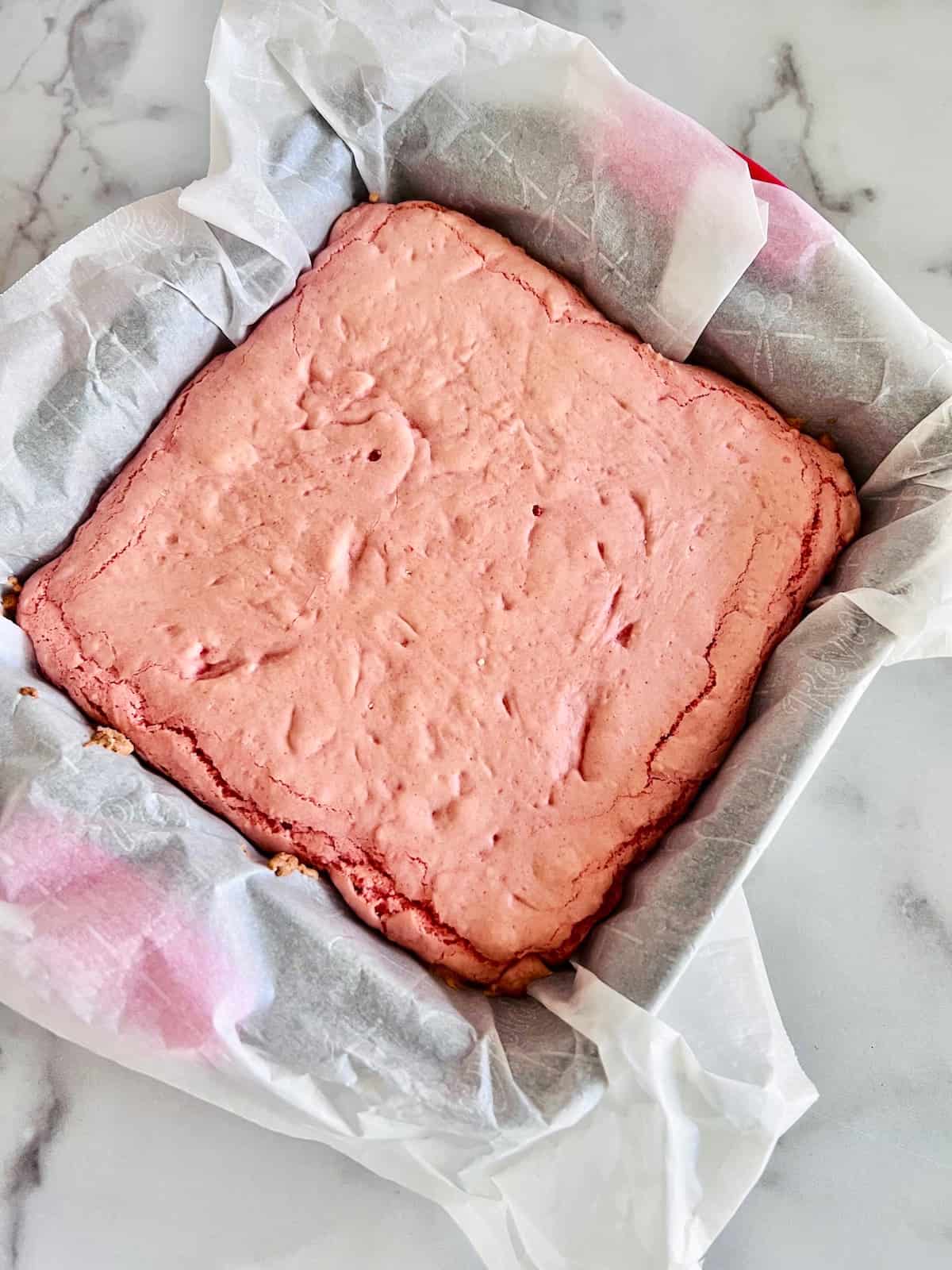 Let the brownies cool in the pan for 30 minutes. Once they are cool, lift them out using the parchment paper. Place them on a cutting board so they can be cut into squares.
BEST WAY TO CUT BROWNIES: The best knife to use for cutting brownies is a chef's knife. The clean edge results in even and smooth cuts. If you have one that is as long as the brownies are wide, that is ideal but it is ok if the blade is shorter.
This recipe makes 9 large squares. You can cut them into smaller ones and get 12 servings if you wish. Using a downward chopping motion, slice through the brownies. Rocking it slightly back and forth to get it to go through is ok. Do not saw them back and forth - that just tears them apart.
** You do not want to use a serrated knife. They typically saw through and crumble the brownies.
Enjoy these right away while they are fresh. We love topping them with whipped cream and fresh strawberries for a strawberry shortcake/brownie mash-up. Or top it with a scoop of vanilla ice cream for a sundae. ENJOY!
Substitutions & Variations
Here are some great recipe variations & ingredient substitutions that can be made. Add, omit, or use one of these ideas for other delicious ways to make strawberry brownies.
Substitution to try:
Vegetable oil- instead of oil, use melted butter
Cake Mix - use any brand such as Pillsbury, Betty Crocker, or store brands.
Variations to try:
Frosted - top with vanilla or cream cheese frosting.
Sprinkles - add rainbow sprinkles to the top before baking or on frosted brownies.
White Chocolate Chips - fold in 1 cup before baking.
Deluxe - do all 3!!
I have not tried making this without eggs or gluten-free. I could not find a strawberry-flavored box mix that was gluten-free to test this.
If you love this gorgeous recipe, check out more recipes for pink food and drinks.
Top Tips
All of these great tips are shared in the post. But these are so good and important they are worth mentioning again so you don't miss them.
Whisk the wet ingredients before adding the cake mix.
Use parchment paper in the pan so they do not stick & easily lift them out for cutting later.
Do not overbake or the brownies will dry out.
Use a sharp chef's knife for cutting the brownies.
Equipment
The right ingredients, supplies, & equipment help recipes taste amazing & turn out well. Here are recommendations for products that are needed for making this recipe.
The Short Order Cook participates in the Amazon Services LLC Associates Program. As an Amazon Associate, I earn from qualifying purchases. If you click on a link and make a purchase, I may earn a small commission on the sale at no additional cost to you. This helps with the costs of running the blog. Thank you!
Storage & Freezing
These brownies store well for up to 5 days. Place leftovers in an air-tight container & place them in a cool dry place like your pantry or counter.
Strawberry brownies can be frozen. To freeze, stack them between layers of parchment paper. Next, place them in an air-tight freezer-safe container. Store in the freezer for up to 30 days. Defrost by placing the container on the counter.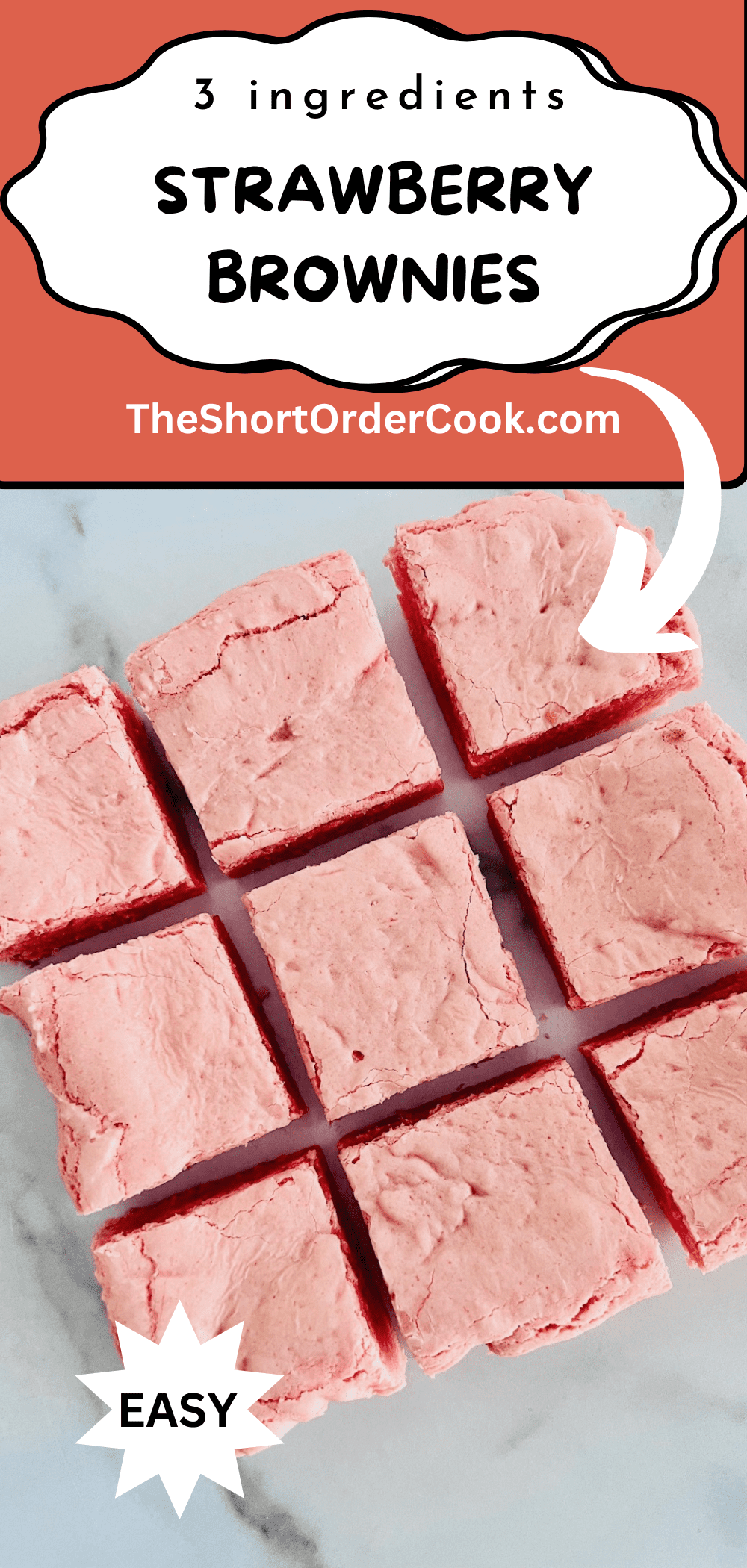 FAQ
Can I make this in a 9x13 baking pan?
If you want thin brownies, you can make these in a 9x13 pan. Bake at 350° for 18-20 minutes.
Do I need to follow the instructions on the box?
No, the cake mix is used to make brownies, not cake. Do not follow the instructions nor use the ingredients seen on the box. For example, there is no water in these brownies but most boxed mixes call for some. Follow the recipe card below only.
Can I use fresh strawberries in brownies?
I do not recommend adding fresh or frozen strawberries to this brownie recipe. The water content will not work well and result in a soggy batter that will not cook or set properly.
Other Cake Mix or Strawberry Recipes
Store-bought cake mix in a box can make some great desserts. Try these easy recipe ideas to make cake mix better with something semi-homemade.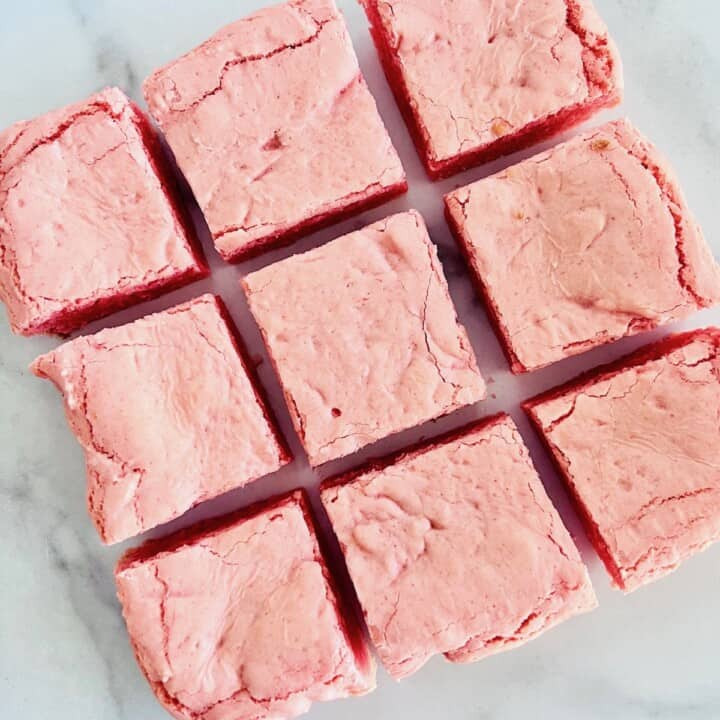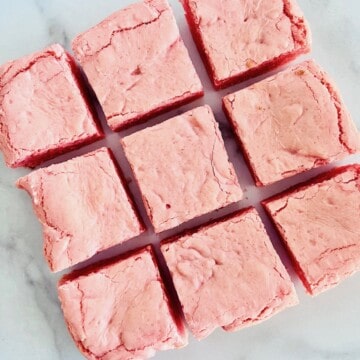 Strawberry Brownies
Strawberry brownies made from cake mix are a fun & colorful dessert that is so simple to make. Just 3 ingredients for chewy pink brownies. A great recipe for Easter, Spring, pink-themed parties, birthdays, showers, & Mother's Day.
Equipment
8x8 baking pan

Parchment Paper
Ingredients
1

box

Strawberry Cake Mix

2

eggs

⅓

cup

vegetable oil
Instructions
In a medium bowl whisk together the 2 eggs and the vegetable oil.

To the wet ingredients add the cake mix & stir using a wooden spoon or spatula spoon.

Prepare an 8x8 baking pan with parchment paper. Use binder clips to hold it in place.

The batter will be THICK! Spoon the brownie batter into the prepared pan. Spread it out so it is even and will bake properly.

REMOVE binder clips if you used them.

Bake in the 350° oven for 22-25 minutes. A toothpick should come out clean.

Let cool in the pan for 30 minutes.

Once cool, lift the brownies out by grasping the parchment paper. Place on a cutting board.

Using a sharp chef's knife, cut the brownies into 9 equal-sized squares.

Enjoy!

Any leftovers can be stored in an air-tight container for up to 5 days.
Notes
nutritional information is based on using the Duncan Hines cake mix as seen in the pictures.  
Nutrition Facts
Servings: 9
Amount per serving
 
Calories
285
% Daily Value*
Total Fat 12.4g
16%
Saturated Fat 3g
15%
Cholesterol 36mg
12%
Sodium 325mg
14%
Total Carbohydrate 40.1g
15%
Dietary Fiber 0g
0%
Total Sugars 22.3g
 
Protein 3.4g
 
Vitamin D 3mcg
17%
Calcium 94mg
7%
Iron 0mg
1%
Potassium 13mg
0%
*The % Daily Value (DV) tells you how much a nutrient in a food serving contributes to a daily diet. 2,000 calorie a day is used for general nutrition advice.