This article has links to products/services that may make us a commission. #ad
Teriyaki chicken on a stick is an easy family favorite recipe.  These tasty marinated chicken teriyaki kebabs are grilled to perfection for the ultimate sweet, salty, and savory bite.  Japanese teriyaki sauce is so easy to make at home and this recipe is wonderful as both the marinade and the basting sauce at the end. What results is a wonderful umami bite of chicken.
Everyone loves chicken teriyaki and serving it on a stick is a fun and delicious idea.  They are amazing as an appetizer, snacks, lunches, or dinners.  These chicken teriyaki skewers are a hit at parties, BBQs, cookouts, and potlucks.   You can serve them so many ways with some great sides or as part of a salad, rice bowl, or lettuce wrap as I share below with more fun ideas.
Ingredients for Homemade Teriyaki Chicken on a Stick
Boneless skinless chicken breasts, thin sliced
Tamari
Brown Sugar
Sesame Oil
Sesame Seeds
Ground Ginger
Garlic
Water
Cornstarch, optional
Chili garlic sauce, optional
See the RECIPE CARD below for full amounts & Instructions.
Best Chicken to use for Skewers
The best chicken to use for chicken teriyaki that will be grilled on a stick is a boneless skinless thinly sliced chicken breast. I can find thin chicken breasts in my store usually.  They are easier to prep as they are already thin enough to easily get through the wooden skewers.
You could use boneless skinless chicken thighs or full breasts too if that is what your family prefers for this teriyaki recipe.  I get most of my meats through Butcher Box (the free pack of ground beef for life is a bonus) and their boneless skinless breasts or thighs work perfectly on this too. To prep, simply cut horizontally through the middle. This will then give you thin pieces of chicken to work with.
How to Make Gluten-Free Teriyaki Sauce
For the teriyaki chicken marinade and sauce, many traditional Japanese ingredients will be used for that lovely umami flavor that is also sweet and salty.  For this easy homemade teriyaki sauce recipe, you will need tamari, brown, sugar, toasted sesame oil, sesame seeds, apple cider vinegar, ginger, garlic, & cornstarch.  If you do not have toasted sesame oil, you can try my SUBSTITUTE FOR SESAME OIL
CALORIES & CARBS IN TERIYAKI CHICKEN ON A STICK =
310 calories & 12.8 net carbs
For Gluten-free, Grain-free, or Keto Teriyaki Sauce
It is easy to alter this teriyaki chicken on a stick recipe to make it grain-free or keto. It is already gluten-free since I use tamari instead of regular soy sauce.  If you also want it grain-free, you can leave out the cornstarch that is used to thicken the sauce a bit.  A thinner sauce is just as good, it will just not glaze or stick to the chicken as well as a teriyaki sauce made with cornstarch.
For the teriyaki chicken recipe to be keto, diabetic-friendly, or low-carb, simply substitute the regular brown sugar with a zero-calorie sugar alternative like Swerve brown sugar. Also, leave out the cornstarch as stated above.   The keto or low-carb teriyaki chicken on a stick will have the following amount of calories and carbs based on the omission of the cornstarch and using Swerve brown sugar vs regular brown sugar.
CALORIES & CARBS IN KETO TERIYAKI CHICKEN ON A STICK =
270 calories & 2.7 net carbs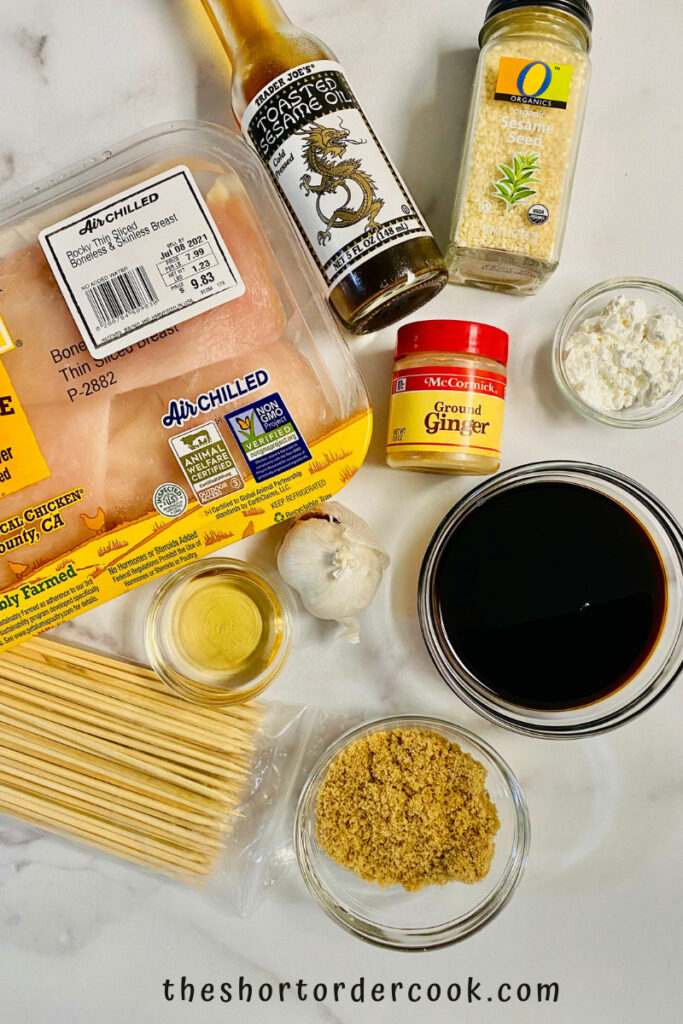 Best Wooden Skewers for Grilling
I like to use bamboo wooden skewers when grilling.  They are economical, sustainable, easy to find, and work great whenever you want to make any recipe that goes on a stick.  They are great for barbecues or even when you do not cook, such as fruit kebabs.   Before placing any food that will be cooked later on a wooden skewer, you will want to soak them first.  For fruit kebabs no soaking. But for anything you will grill, bbq, bake, hold over a campfire or stove; you need to soak the sticks first so they are not dry and flammable.
Soaking Bamboo Skewers
The most important thing to know about using bamboo skewers for grilling, is you want to soak them. If you do not soak them they will light on fire as if they were little matchsticks.  I find soaking them for at least 2-4 hours does the trick, overnight is not needed.   Since this recipe includes a marinade that the sticks may also be submerged in, 2 hours of soaking is plenty.
To soak bamboo skewers before using, simply place the number of wooden skewers needed into a baking dish that is longer than the skewers are.  Also, make sure the dish is at least 2 inches deep.  This is so the wooden skewers can lay flat in one layer and not be stacked (this is not a game of pick-up sticks).   Add enough water so they are submerged and at least ½" of water is above them.  Let soak for 2 hours.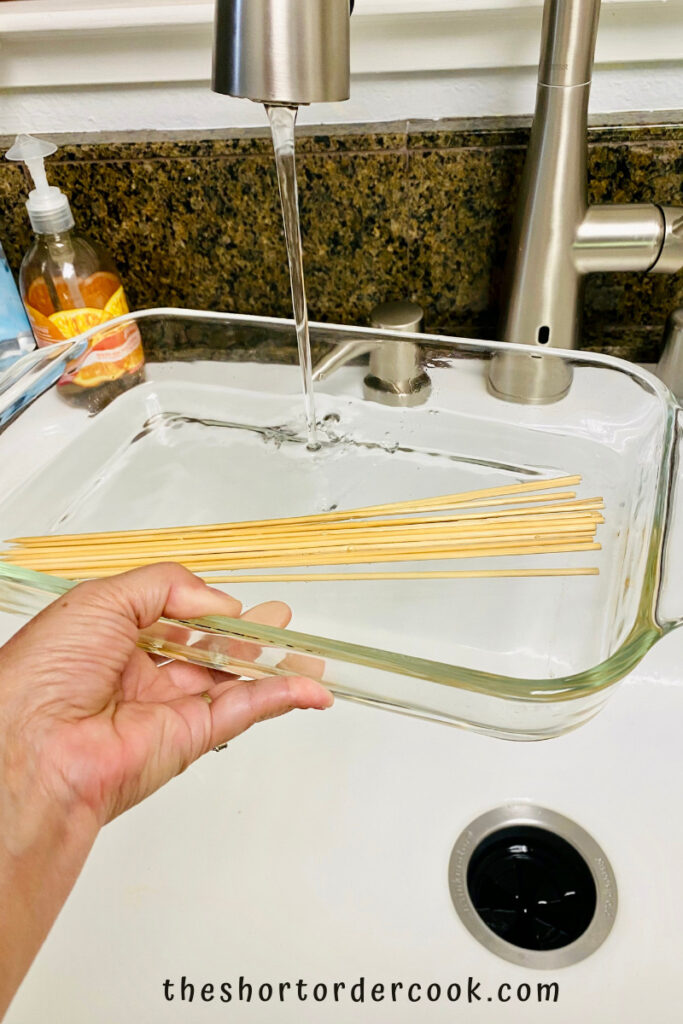 How to Make Teriyaki Chicken on a Stick
I love fair food and anything on a stick is a big hit.  Without the typical fairs going on in our area the last 2 summers, my craving was real. I wanted to recreate how to make chicken on a stick as they have at the fair.  These are not as huge but they are just as sweet, salty, smoky, sticky, and savory as any great fair stands that serve teriyaki chicken on a stick.
Cut and Skewer the Chicken Breasts
Using a sharp chef's knife cut each thin chicken breast into long strips that are much wider than the skewers you are using. See below so that you can visualize that you need quite a bit of meat on each side of the wooden stick to skewer through the chicken.   For each strip of chicken, weave the skewer through the meat 3-4 times to secure it on the stick as shown below.
Prepare the Teriyaki Sauce
To prepare the teriyaki sauce that will be used as both a marinade and a final basting or dipping sauce, here are the easy steps.  Once you have all the ingredients ready it is quick and easy to make the teriyaki sauce. If you want a wonderful spicy teriyaki chicken recipe as an option, you can add chili garlic sauce.
If using the cornstarch, place all the ingredients except the cornstarch and water in a small saucepan.  Over medium heat, stir to combine. Continue stirring until the sugar is dissolved and all the ingredients are warm. Reduce the heat to low.
In a separate small bowl add the water and the cornstarch and stir to dissolve.  Slowly whisk into the teriyaki sauce on the stove to warm.  Shut the heat off once it is combined and thickened.
If NOT using the cornstarch - In a pourable measuring cup or bowl, add the teriyaki sauce ingredients. Whisk together and it is ready.
Pour ¾ of the sauce over the skewered chicken.  Rotate to coat.   Refrigerate and marinate anywhere from 2-4 hours.  Rotate the skewers every hour so that all sides are in the marinade.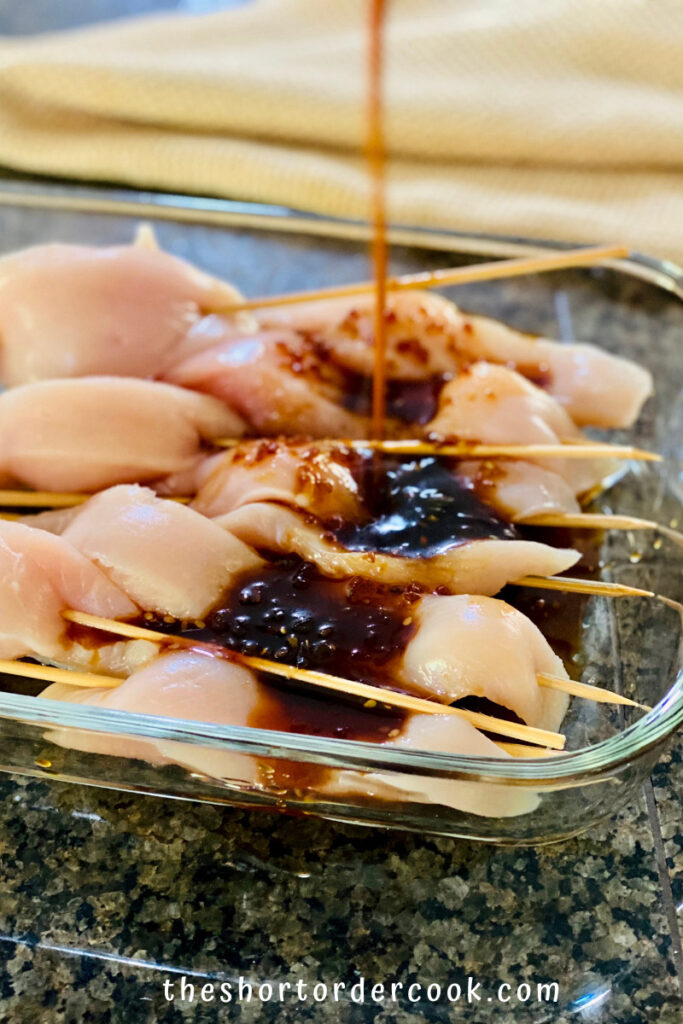 How to Cook Teriyaki Chicken Skewers
The best way to cook these teriyaki chicken skewers is on a grill.  While your grill is warming up or the coals are getting ready, let the chicken come to room temperature by having it rest on the counter.  Once your grill is hot and ready, it is time to cook the skewered chicken teriyaki,
Place the teriyaki chicken that is marinated and on sticks directly on the grill grates.  Cook on medium-high heat with the lid open.  For more of why we do this and read all my tips to grill perfectly like a Grill Master.   Rotate the chicken using tongs so that all sides get crispy on the outside.  Cook for about 15 minutes total.  We like a good char on our chicken but cook it to your liking, just make sure they reach an internal temperature of 165°.
Oven Cooking Method for Teriyaki Chicken
If you do not have access to a grill, you can do these in the oven as well.  Preheat the oven to 375°.  Remove the chicken from the marinade and cook on a broiling pan or a baking sheet.  A baking sheet with a grate would be best but if you don't have it just put them on a foil-lined baking sheet. Next, bake the chicken until it is done and the internal temperature reaches 165‡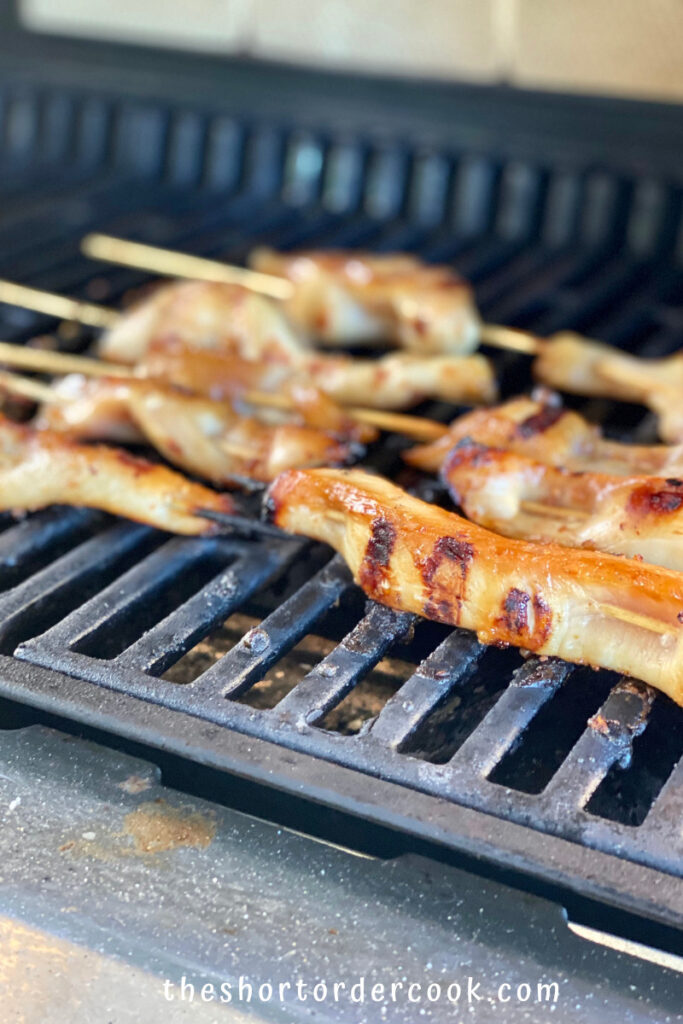 Once the chicken is cooked, remove it from the grill and plate it.  Using a pastry brush, baste the chicken on a stick with the remaining teriyaki sauce. You can also use it as a dipping sauce as well.  Honestly, I do a little of both. A few of us like the extra dip and some of us prefer a lighter teriyaki flavoring on our chicken.  Everyone is happy!
What to Serve with Teriyaki Chicken Skewers
I have made grilled chicken teriyaki on a stick before and then served it on a platter with butter lettuce leaves, pickled vegetables, and sauces to make your own lettuce wraps.  I highly recommend doing this and serving it along with my pickled vegetables.
In addition, here are some great recipes to serve and eat with teriyaki chicken on a stick. All of these recipes pair well with the Asian flavors of this homemade chicken teriyaki.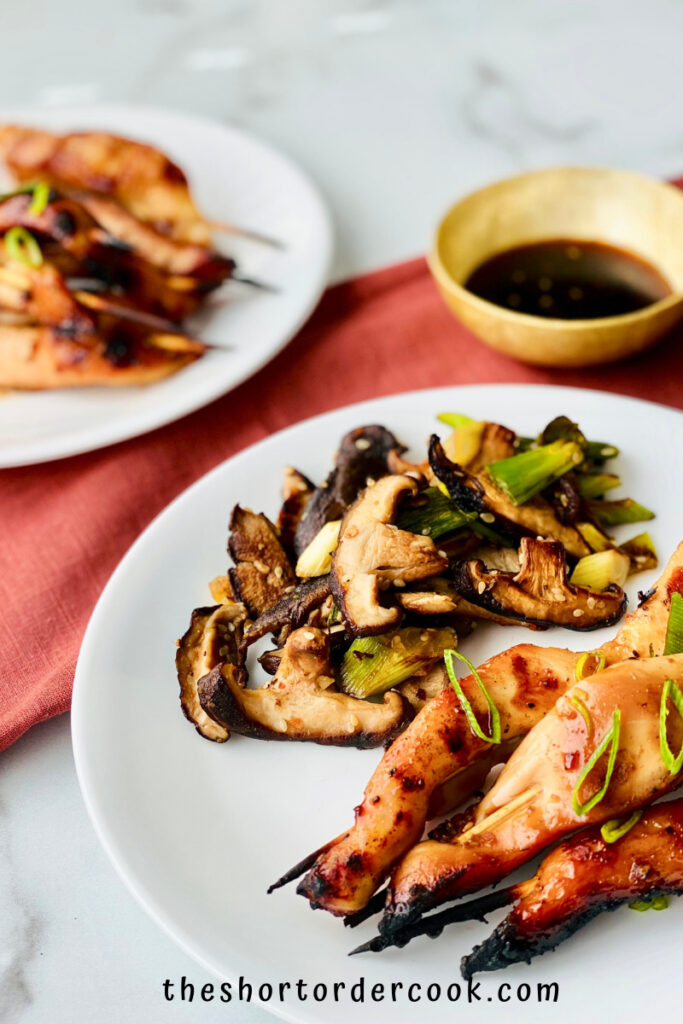 How to Store Teriyaki Chicken on a Stick
If you have leftovers, teriyaki chicken can be stored in the refrigerator or freezer easily.  I suggest removing it from the sticks and placing the teriyaki chicken pieces into an air-tight container.  Then place in the refrigerator or freezer.  Teriyaki chicken can be stored in the refrigerator for up to 3 days and up to a month in the freezer.  Thaw any frozen teriyaki chicken in the refrigerator overnight to defrost.
I like to make a lot of this so that I have leftovers on purpose.  Teriyaki chicken is great diced on a salad or adding to a rice bowl with vegetables.  It is also good in a wrap with rice and pickled vegetables.
PIN FOR SAFEKEEPING & SHARING!
Product Recommendations for this Recipe:
The Short Order Cook is a participant in the Amazon Services LLC Associates Program.  As an Amazon Associate, I earn from qualifying purchases.  If you click on a link and make a purchase, I may earn a small commission on the sale at no additional cost to you. This helps with the costs of running the blog. Thank you! 
Did you make this The Short Order Cook Recipe?
Tag @theshortordercookblog (Instagram & Facebook) or @shortorder_cook (Twitter). 
I would love to see your latest creations and kitchen adventures.