The ultimate party snack mix should be crunchy, salty, sweet, and savory. This easy furikake snack mix is just that and more. It is easy to make and crowd-pleasing so a must for your next get-together or when you want something new.
It is not the same old ordinary Chex or snack mix combination.  The savory, salty, and nutty flavor from the furikake seasoning sends this snack mix over the top.  Plus the addition of soy sauce and Worcestershire sauce in the sticky sweet sauce adds even more layers of umaminess.  If I had to describe this recipe, it is "UMAMI YUM!"
(Umami - the 5th taste along with sweet, sour, bitter, and salt; described as savory/meaty)
Jump to:
What is Furikake?
If you have not already heard of or tried furikake, you will be wondering where it has been all your life after you have tried it. It is a Japanese seasoning blend of dried seaweed, sesame seeds, and salt.
Some blends include kelp powder and/or fish sauce.  A few will include MSG, which I stay away from so read the ingredients carefully if you want to be sure yours too is free of MSG.
Some people associate Japanese seasoning with Hawaii since it is quite popular there.  I have seen recipes termed "Hawaii style" when adding furikake.  It is great on ahi poke nachos, that I know!
Furikake is most commonly sprinkled on rice, noodles, seafood, chicken, and vegetables.  We bought the Trader Joe's brand furikake seasoning months ago. We wanted it for homemade poke bowls and now several of us like to put it on all sorts of other things too. To learn how to make poke bowls check out my fun blog post POKE BOWLS KIDS LOVE TO MAKE AND EAT! 
Ingredients
You will need the ingredients pictured below. There will be items to make it stick & sweet. Plus all the snack foods, I made it with my kid's favorites - goldfish crackers, oyster crackers, and fresh popcorn.
You can use any combination of crackers, popcorn, etc. You can also use potato chips, pretzels, or nuts too if you like. Just make sure you have 6 total cups of the dry ingredients.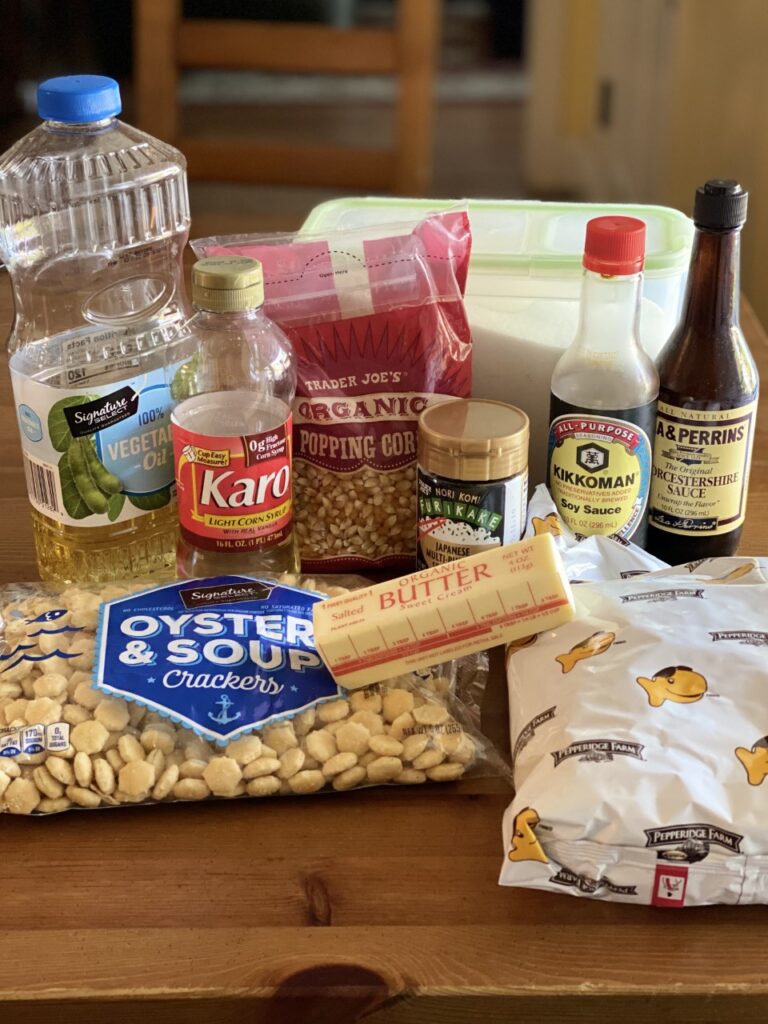 How to Make Furikake Snack Mix
Preheat the oven and get going on the sticky sweet and salty sauce. In a saucepan melt the butter on medium heat and then stir in the sugar until it dissolves. Next, add the oil and the corn syrup and stir.
Lastly, as it is all bubbly and getting thick, add the soy and Worcestershire sauce. Remove from heat.
In a mixing bowl have your crackers, chips, popcorn, etc waiting.  Now pour on the sauce and with a rubber spatula stir to combine.
Once combined, pour onto a foil-lined baking sheet. Spray the foil also with non-stick spray.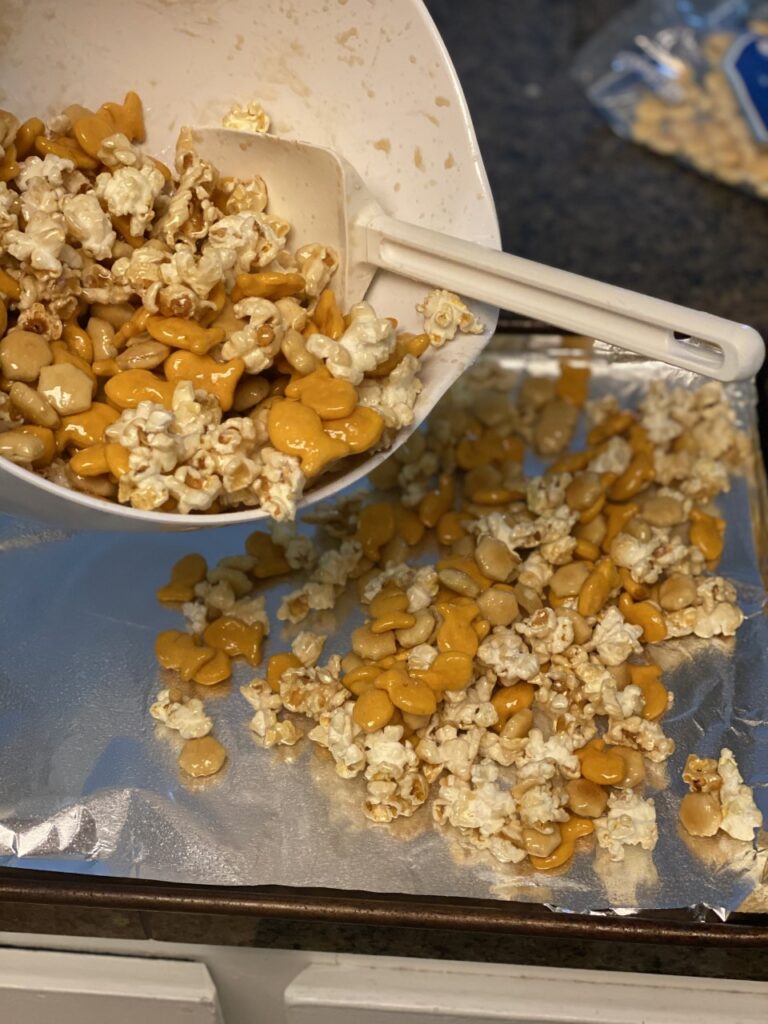 Now sprinkle on the furikake and stir to evenly distribute as seen below.
Bake the Furikake Snack Mix
Bake in the oven for an hour. Make sure to stir every 15 minutes so it cooks evenly.   
Let cool for 15 minutes before enjoying. 
Storage
This keeps for about 2 days max or it gets a bit soft and loses its crunch.  Store in an air-tight container if you have any left after the first day!   You probably won't is all I am saying. Well if you live alone you may have extras. Around here, this is GONE pretty fast.
I do not recommend freezing this snack mix. The texture of the popcorn will be soggy & the sugar-based coating does not hold up well.
PIN FOR SAFEKEEPING & SHARING!
Product Recommendations for this Recipe:
The Short Order Cook is a participant in the Amazon Services LLC Associates Program. As an Amazon Associate, I earn from qualifying purchases. If you click on a link and make a purchase, I may earn a small commission on the sale at no additional cost to you. This helps with the costs of running the blog. Thank you!
Furikake Snack Mix
The perfect sweet, savory, salty, and crunchy snack mix. The umami flavors of the furikake seasoning make this way better than your ordinary party or Chex mix.
Ingredients
6

C

any combination of crackers and popcorn

for this recipe I used 2 C each of goldfish, oyster crackers, and popcorn

¼

C

salted butter

¼

C

granulated sugar

¼

C

light karo syrup

¼

C

vegetable oil

½

TB

soy sauce

½

TB

Worcestershire sauce

¼

C

furikake Japanese seasoning
Instructions
In a medium-sized mixing bowl put in all the dry ingredients.

In a small saucepot, add the butter and melt over medium heat. Once melted, add the sugar and stir to dissolve.

Next, add the corn syrup and vegetable oil and stir to combine. The mixture will start to bubble up and thicken. Add the soy and Worchestershire sauce and stir. Reduce the heat to low and cook about 1 minute.

Remove from heat and pour over the dry ingredients. Using a rubber spatula stir to combine. Make sure all the popcorn and crackers are evenly coated.

Line a baking sheet with foil and spray with cooking/nonstick spray so the mixture will not stick.

Pour the mixture onto the prepared baking sheet. Sprinkle with the furikake and stir gently with the rubber spatula to coat all pieces with some of the seasoning.

Bake in the oven for 1 hour. Stir every 15 minutes. The snack mix will slowly cook to ensure it dries out so that the sauce and seasoning stick.

Let cool about 15 minutes before enjoying.

Store in an air-tight container. Try to enjoy within 2 days as it can become chewy as it ages.
Did you make this The Short Order Cook Recipe?
Tag @theshortordercookblog (Instagram & Facebook) or @shortorder_cook (Twitter).
I would love to see your latest creations and kitchen adventures.