Homemade deep-fried sweet potato fries are a quick and easy family favorite recipe. This fantastic method to deep fry & season them makes the best appetizer or side dish. They are a thousand times better than store-bought frozen sweet potato fries. A bonus is you can have colorful fries too if you use orange, white, or even purple sweet potatoes for the fries.
When frying shoestring cut sweet potatoes to make fries, it is important to have the correct oil and temperature. This recipe ensures you have the perfect seasoned sweet potato fries every time. They will turn out golden crispy on the outside and soft on the inside for that comforting sweet and savory bite. This is not your same old french fry recipe and a great idea to mix up your meals with something new.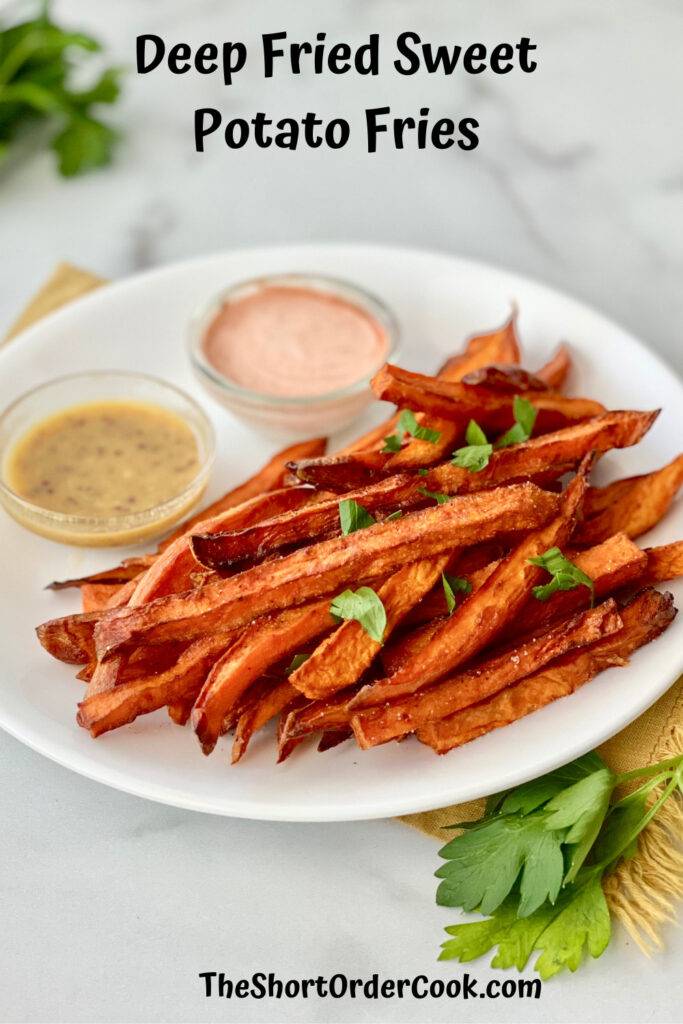 Ingredients for Homemade Sweet Potato Fries
This 3-ingredient seasoned sweet potato fry recipe could not be more simple or more delicious. This recipe calls for fresh sweet potatoes, salt, and paprika. There are no other ingredients needed which is unlike other recipes. These deep-fried sweet potato fries are made without cornstarch or any kind of batter. This keeps them gluten-free and grain-free.
Varieties & Health Benefits of Sweet Potatoes
There are several different types of sweet potatoes. I find that some work better than others when making fries. I think the two best kinds of sweet potatoes to use for fries, are the Jewels & Beauregards. They both have light orange flesh and a good combination of starchiness and sweetness. To find out more about them, check out A FIELD GUIDE TO SWEET POTATO VARIETIES.
Using sweet potatoes instead of russet potatoes for fries is a healthier option. They both are fried foods, so they are not exactly healthy food. However, sweet potatoes have additional health benefits that others do not have. Calorie-wise, both potatoes are about equal, but sweet potatoes offer more fiber, a ton of vitamins A and C, and calcium. The orange and purple ones also are high in anti-oxidants. Russets happen to be lower in sugar and offer more protein, vitamin B6, omega-3s, and iron. The amount of carbs in sweet potato fries is about the same as in regular russet fries.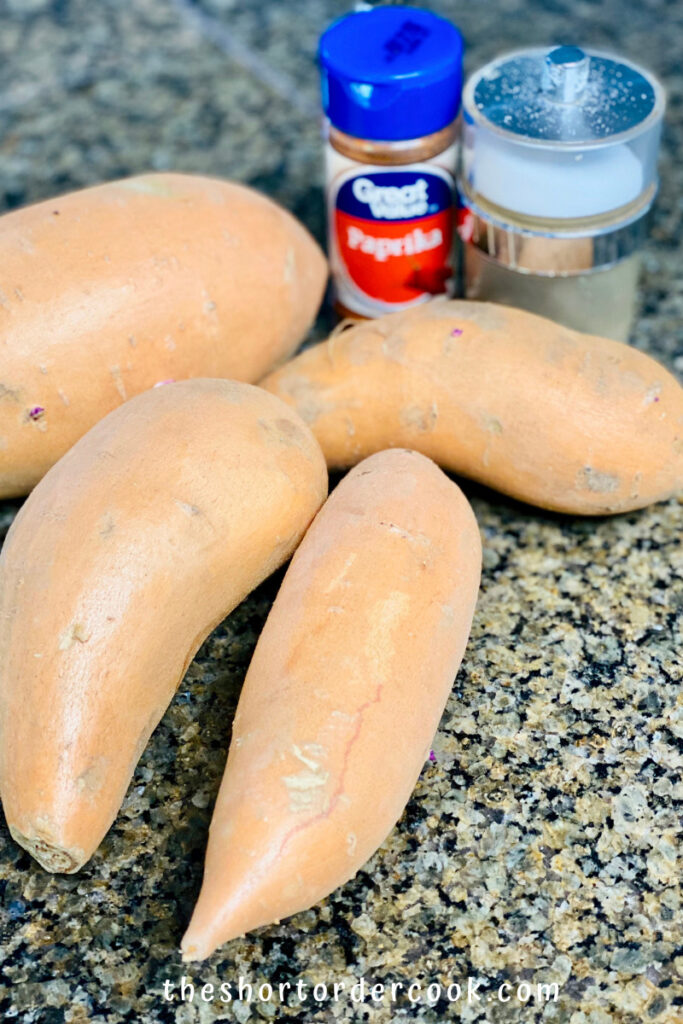 How to Cut Potatoes for Fries
The best way to cut sweet potatoes for frying is into shoestrings. To prepare the sweet potatoes, begin by peeling them. Next, cut them into large round slices about ½" thick.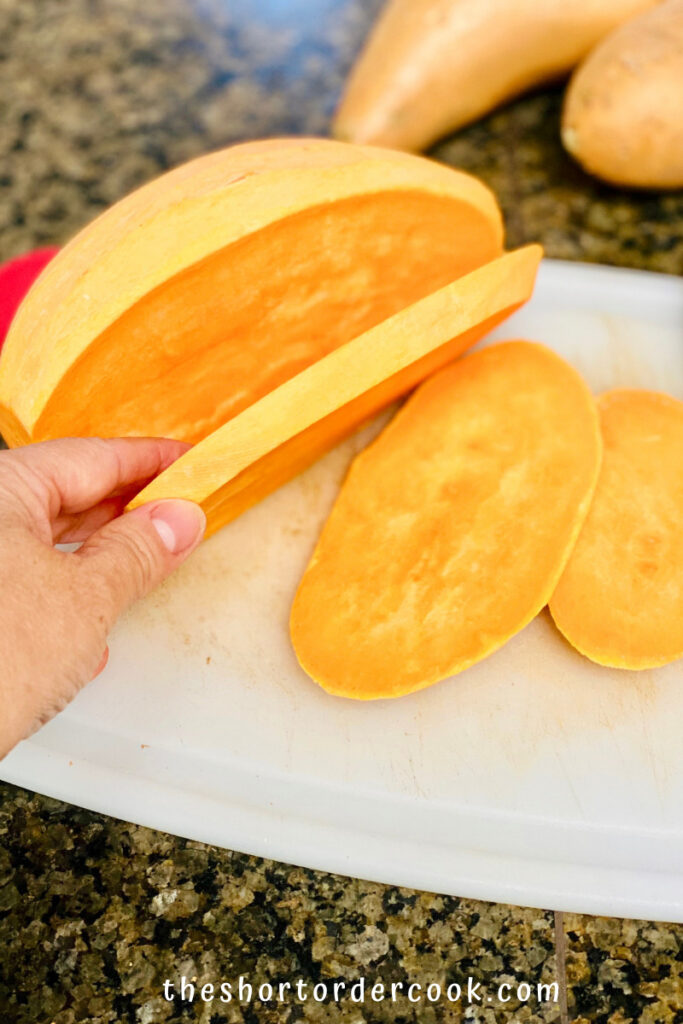 Then you will need to cut each slab of sweet potato into shoestring strips as seen below. Try and make them thick enough so they will hold up once frying. Also cut them into as much as you can into the same width and thickness. Having the potatoes cut into a uniform shape ensures they cook in the same amount of time.
You can also cut wedges to make fries. If you do this, the same rule applies, cut them into uniform shapes so that they will be done all at the same time when frying in the deep fryer. I like to pile them up based on the same size so if I am doing a couple of batches, I can cook those that are similar in size together.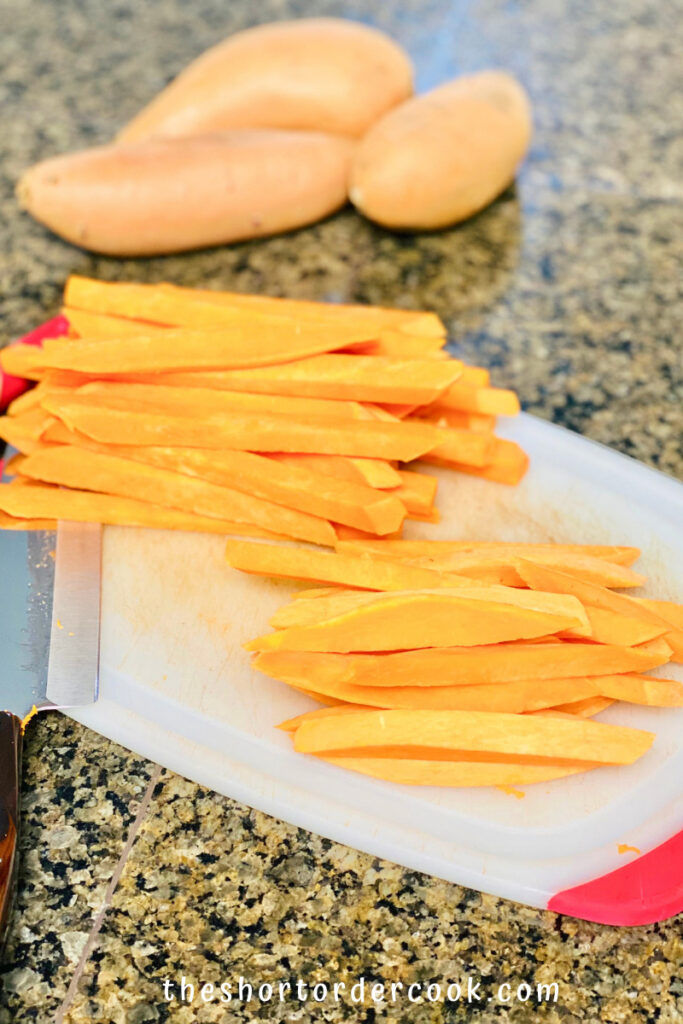 How to Make Sweet Potato Fries
The best oil for frying sweet potatoes is peanut oil. It heats to a high temperature which makes it perfect for deep frying sweet potato fries. Because of that high heat ability, you can get a crispier outside that is more golden brown and delicious. Peanut oil also will not smoke as quickly as other oils.
I recommend using a deep fryer versus a deep pot filled with oil. I feel this is safer and you tend to use less oil. Lastly, the deep fryer models I recommend below are good for storing the oil after you cook it so it can be reused. It is less wasteful than using oil once in a pot and then discarding it appropriately.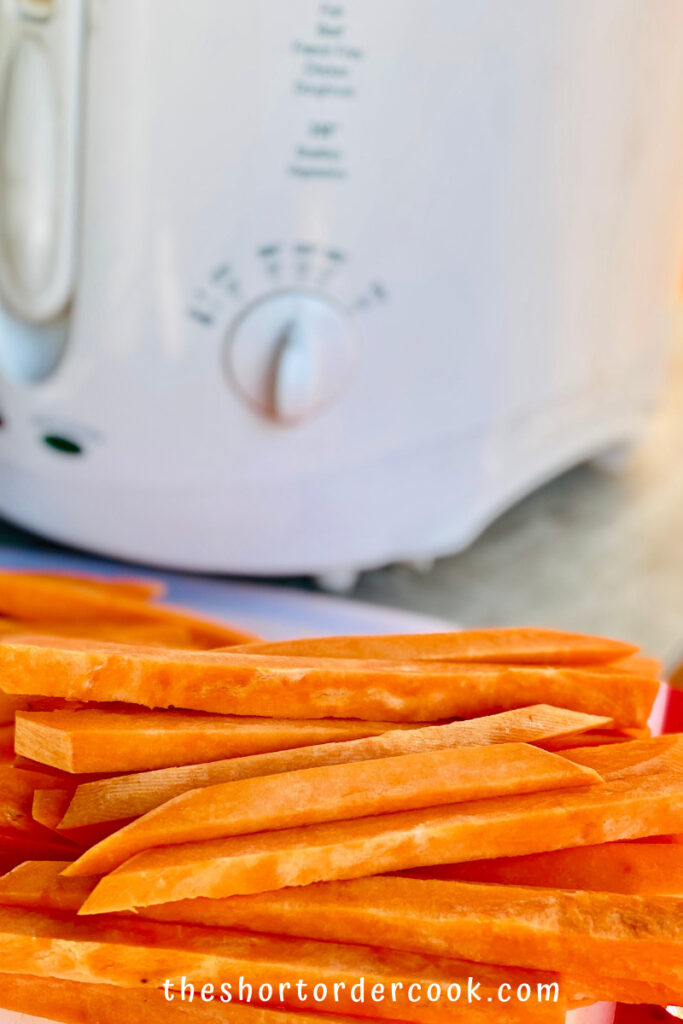 How to Deep Fry Sweet Potato Fries
To make fried sweet potato fries in a deep fryer, begin by preheating the peanut oil. I like to set it at 325° to preheat. Once the oil is heated, you can begin frying the sweet potatoes. To make your fries soft and cooked perfectly on the inside and golden on the outside, you will want to fry them twice.
Begin by frying them once at a lower 325° to cook the sweet potatoes all the way through. This takes about 6-8 minutes and depends on the exact size of your cut. Drain on paper towels. Now, let them rest to cool off for about 2-3 minutes and for the remaining moisture to come back to the surface.
Finally, turn up the heat on the deep fryer for a second cook at 375°. Then add the sweet potato fries back into the deep fryer for a quick 2-minute deep-frying. This allows the outside moisture to cook off and darken the outside to a crispier texture. Here is what each batch would look like, after the first fry and after the second fry.
How to Season Sweet Potato Fries
Make sure you have your seasoning ready before the fries come out of the deep fryer. As soon as the second fry is done on the sweet potatoes and you drain them on paper towels, the seasoning needs to go on. I liberally salt them and then sprinkle on sweet paprika. If you want a spicy sweet potato french fry, you can use hot paprika or even a bit of cayenne and garlic. For a sweet woodsy take, sprinkle these sweet potato fries with cinnamon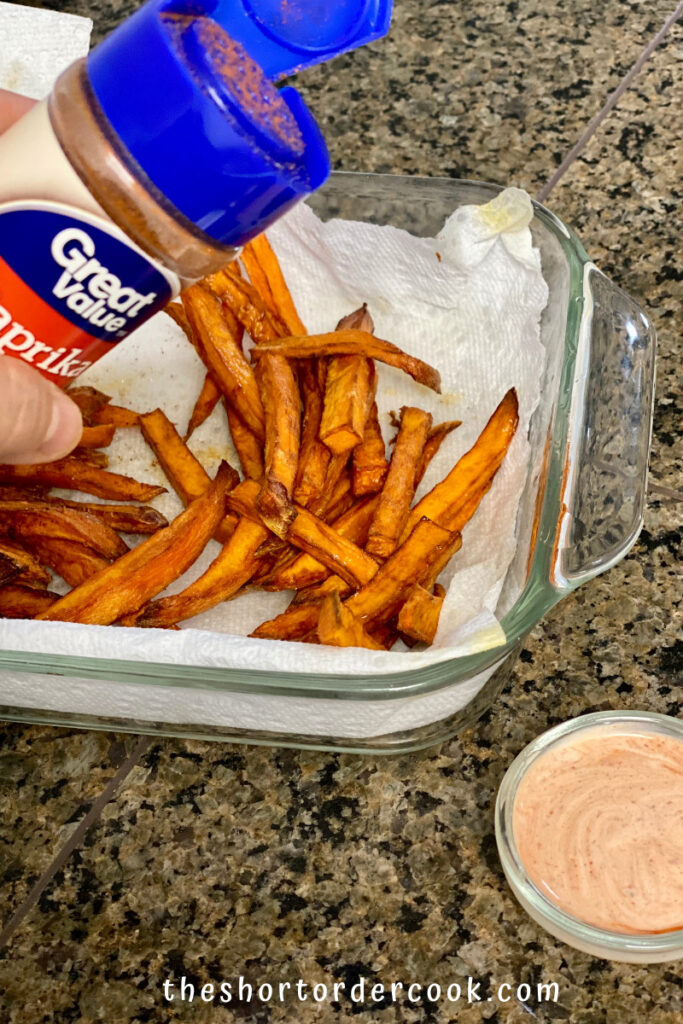 What to Serve with Sweet Potato Fries
Dipping Sauces for Sweet Potato Fries
For the best dips to go with sweet potato fries, try some of these recipes or ideas. Many people want more than just ketchup and I find that many restaurants serve sweet potato fries with a variety of sweet, spicy, and creamy dips. One simple idea in a pinch is a HOMEMADE AIOLI to eat with sweet potato fries.
For two easy yet delicious dipping sauces, try one of my recipes. There is a sweet, tangy, and pungent maple dijon dip. For a creamy spicy dip, try the Siracha ranch (no mayo but thick and creamy. Both are a perfect condiment to go with that crispy, sweet, and salty-sweet potato fry. These dipping sauce recipes only require 3 ingredients each. There is no doubt, that these are the BEST DIPS FOR SWEET POTATO FRIES.
Storing and Reheating Sweet Potato Fries
Sweet potatoes that have been deep-fried are best eaten fresh. If you do end up with leftovers, they can be stored in an air-tight container in the refrigerator for up to 3 days. To reheat, I would not microwave them. The best way to reheat sweet potato fries is in the oven at 400° on a non-stick baking sheet. How long to warm leftover french fries, depends on how many you have but about 5 minutes should be enough.
PIN FOR SAFEKEEPING & SHARING!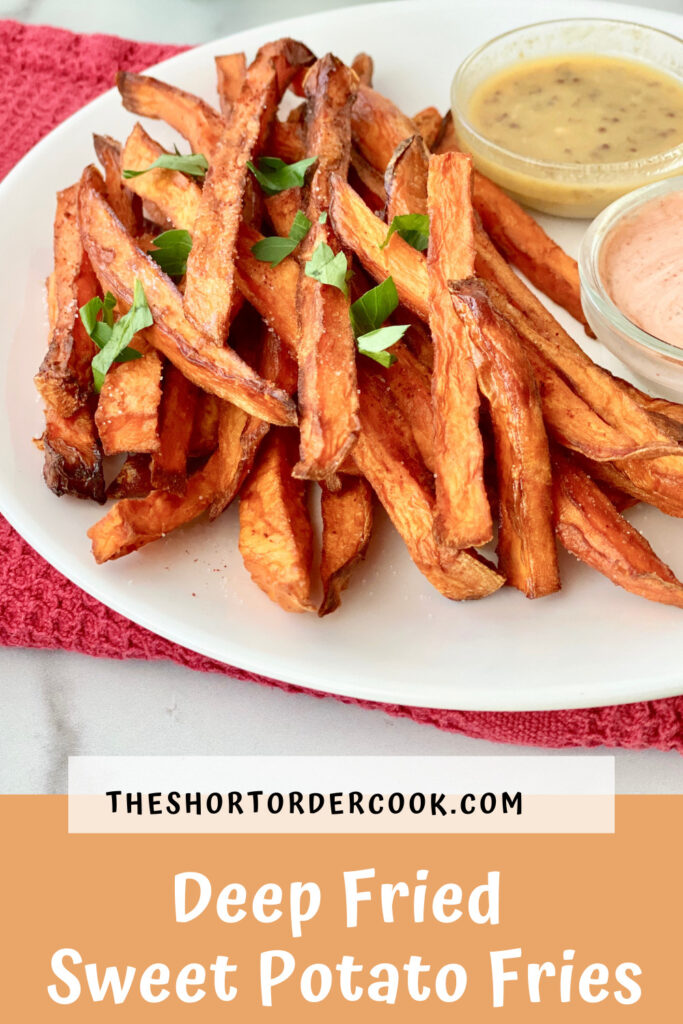 Product Recommendations for this Recipe:
The Short Order Cook is a participant in the Amazon Services LLC Associates Program. As an Amazon Associate, I earn from qualifying purchases. If you click on a link and make a purchase, I may earn a small commission on the sale at no additional cost to you. This helps with the costs of running the blog. Thank you!
Did you make this The Short Order Cook Recipe?
Tag @theshortordercookblog (Instagram & Facebook) or @shortorder_cook (Twitter).
I would love to see your latest creations and kitchen adventures.