Meaty ribs that are seasoned, sauced, & cooked to perfection are a thing of beauty. They are a simple bbq or smoked delicacy that actually has more to offer than "meats the eye" (pun intended). There is a wide variety of cuts, cooking methods, recipes, & more to be learned when it comes to the different types of beef & pork ribs. Lucky for you, all you need to know is right here.
This article links products/services that may make us a commission. #ad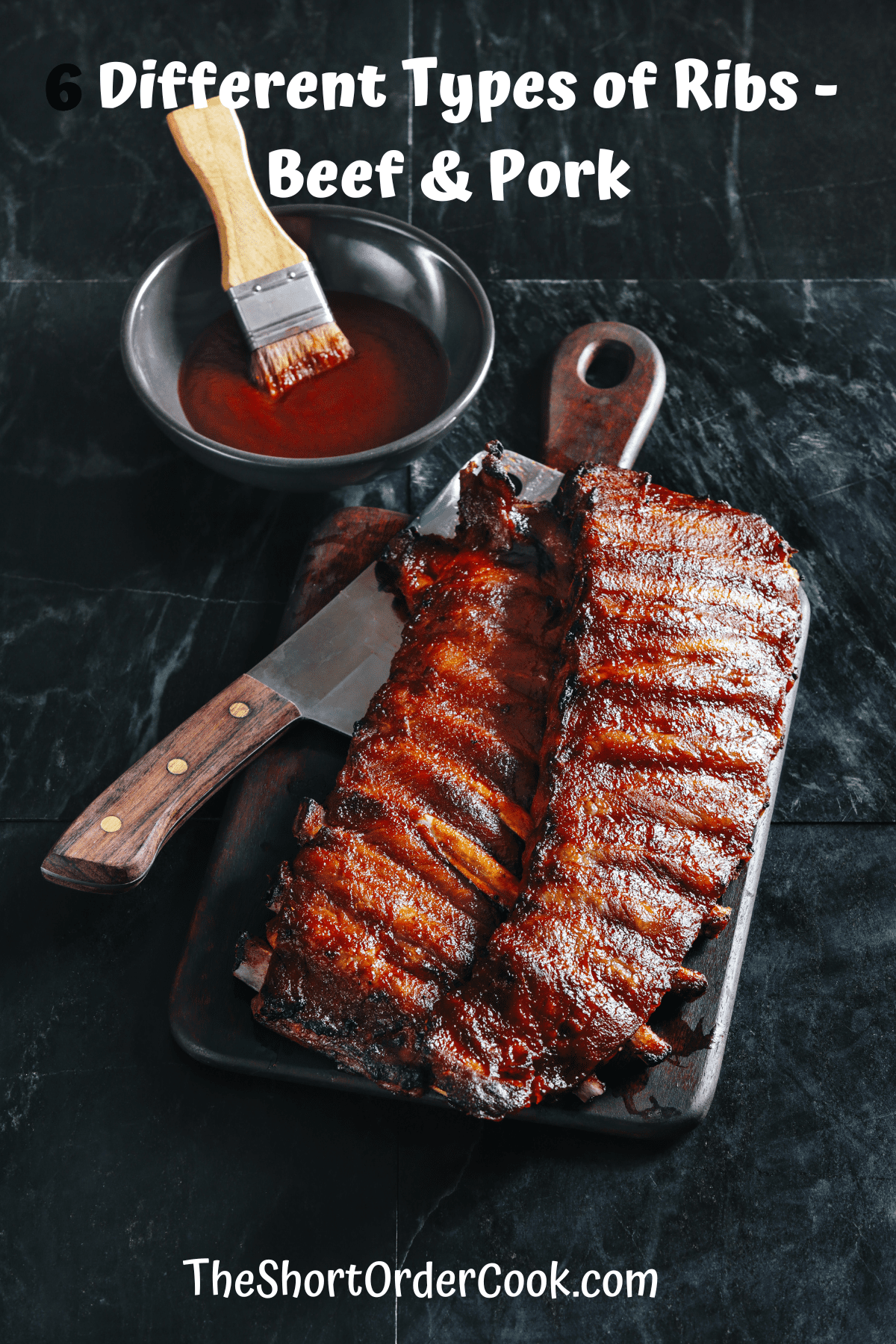 Ian & I have been smoking ribs for years & enjoy a friendly rib cook-off competition now and again. Along the way, we have learned a thing or two and are sharing it here.
This article will help you uncover the differences between all pork & beef rib choices including where the cuts come from. You will also get recipe suggestions, buying tips, & cooking tricks. Here is what you will find in this article.
Jump to:
Different Types of Ribs
There are ribs to be enjoyed from all kinds of types of meat. Though you may enjoy ribs from goats, bison, lamb, or other animals, for the sake of this article I will be covering beef and pork ribs only.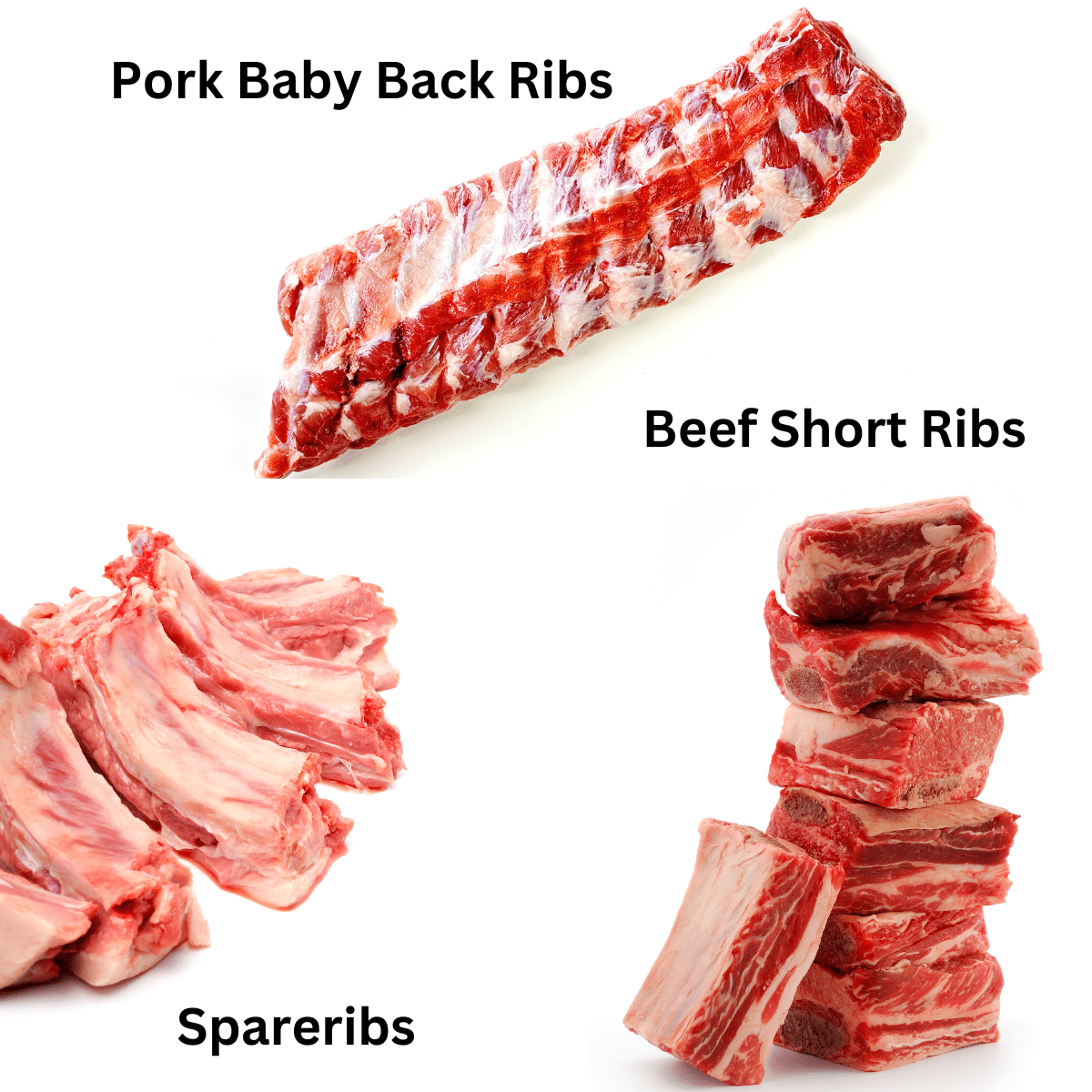 Baby Back Ribs
Have you wondered if baby back ribs are pork or beef? Or why are they called baby back ribs? You are not alone. These smaller pork rib bones are hands down my favorite type of rib and for good reason.
They tend to come out more tender and are meatier than other rib meat from pigs. For that reason, I think of these as the King of all ribs. They are our personal favorites.
I recommend smoking ribs for that perfect fall-off-the-bone rib. Baby back ribs also come out great roasted slowly in the oven or pressure cooked.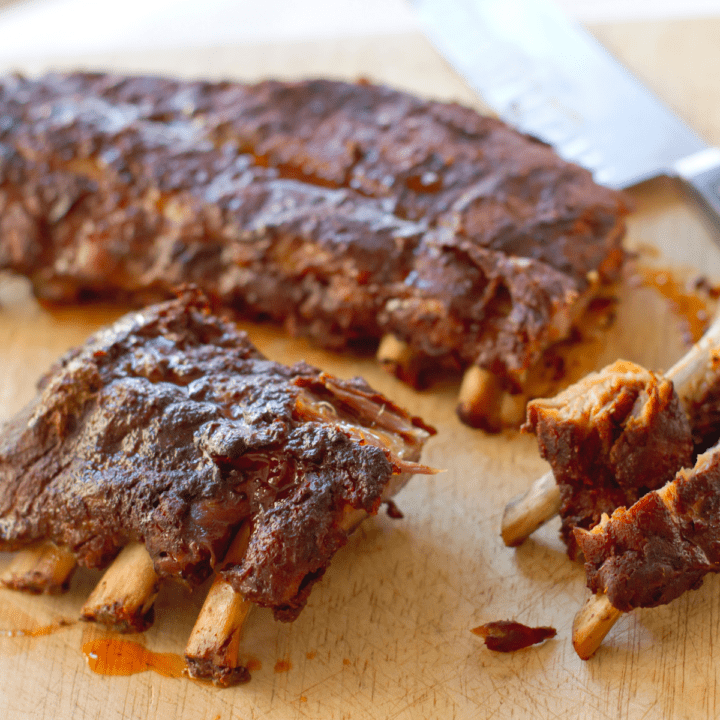 St. Louis Style Ribs
These ribs are cut from the lower section of the ribs of a pig. They are thought to have been first trimmed this way in St. Louis, giving them their name. Think of them as the bigger fattier cousin of the baby back rib.
This type of rib is best cooked so that they retain moisture or they can dry out easily. Add liquid or spray with apple juice. I recommend wrapping the ribs to keep them juicy, what's known as the crutch.
Spare Ribs
Spare ribs come from the ends of baby back ribs around the belly region. They tend to be shorter and fattier than other pork ribs. They are a great smaller more compact rib option.
This fatty cut of pork is also tougher; therefore, it does well with a slow cook either smoking or braising. Cooking spare ribs in the CrockPot or a Dutch oven in the oven works great to break down the meat & render the fat.
Country Style Ribs
These pork ribs come from the upper shoulder end of the loin. So they are not actually a "rib" from a pig. They are most often found boneless and great for cooking low & slow. They are technically strips of the loin with just a bit of bone attached at the end.
These tender slabs of meat & fatty streaks come out tender & delicious when cooked correctly. Country-style ribs are great in a sauce, gravy, or casserole with other flavors and ingredients. Braising country ribs in beer is the ultimate recipe for game day.
Beef Back Ribs
Similar to pork ribs, beef back ribs come from the upper part of the ribcage or sternum area of the cow. This hearty cut is what is most common to people when you think of beef ribs.
The ribs are often trimmed to have very little meat. This is because they are so close to the rib-eye and prime rib that when butchering the meat is retained on those two cuts vs the ribs.
The less meaty type of rib is often mostly bone, cartilage, and fat. I personally prefer a pork rib over a beef rib for this reason. But if you love beef or do not eat pork, enjoying beef ribs is still possible. Slow-cook beef back ribs in a smoker or slow cooker. Or simply buy a different cut - short ribs in my opinion are the superior cut of beef rib.
Short Ribs - English-Style or Flanken
Wondering what are short ribs? They are simply not beef ribs that are just shorter. Beef short ribs come from the beef chuck and not the rib cage.
Flanken-style ribs are beef ribs that do not come from the chuck of the cow. These ribs are thin and each one often has several small bones in them. They are typically between 1-2" in thickness.
The thin style makes them easy to marinate and can be cooked quickly. The most common recipe for this type of rib is Galbi, Korean-style short ribs.
English-style short ribs are cut so that each has one bone in them. This is different than the flanken style as described above. Short ribs come out tender and shred easily. They remind people of pot roasts and are best cooked low and slow.
They make great comfort food with a lovely gravy, like in my pressure cooker recipe for Instant Pot Short Ribs & Gravy. My favorite way is Smoked Beef Short Ribs. They are seasoned with an amazing crust and are juicy and tender on the inside.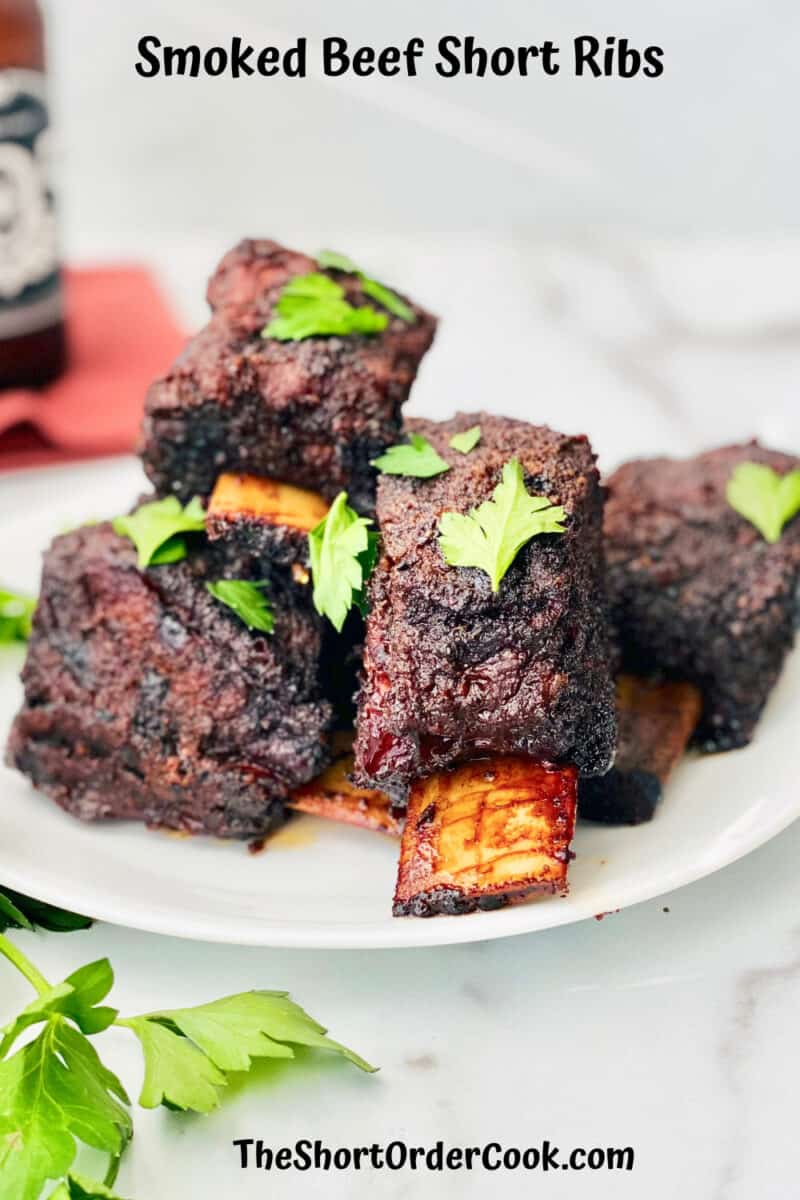 Pork Versus Beef Ribs
There are differences between pork and beef ribs. I hope you learned something today. Here are some of the top things to note and highlights of the article.
Baby back ribs are pork & the best choice for meaty, flavorful, & juicy ribs.
Pork back ribs are meatier than beef back ribs.
For a beef rib with plenty of tender beef, choose English-style short ribs.
Country-style pork ribs are a great boneless option.
Not all ribs are cut from the ribcage.
Where to Buy Quality Ribs?
If you want quality budget-friendly ribs, these are a few places I highly recommend. Ribs are a labor of love so when you spend the money and time making them, you want them to turn out amazing. There is nothing worse than spending hours smoking a rack of ribs for it to turn out dry or be so fatty that you do not enjoy them.
Here are where I usually buy baby back ribs, short ribs, or other types of ribs. They are always meaty, tender, and tasty, & you get a lot for your money (not just bones!)
Costco ribs are great. The vacuum-sealed packages of baby back ribs are often a 3-rack pack at a great price.
The baby back and St Louis-style ribs from Butcher Box are the best. Whenever we plan to have company over and smoke some meat, we always make sure we order these ahead of time to share the meat love.
Local butcher shops or the butcher counter at your grocery store is another place to buy quality ribs. They often can help with trimming them and tips for seasoning & cooking.
I also find them sometimes on sale at my local grocery stores around the summer holidays. So look for ribs on sale and at a discount around Memorial Day, 4th of July, Labor Day, and for the Super Bowl too. Stock up and freeze some for later if you can.
This article has links to products/services that may make us a commission. #ad
Final Notes
No matter which type of rib you love to eat or want to learn to cook, you cannot go wrong with any of these cuts. Whether you cook them on the grill, in a smoker, in the Instant Pot, or roast them in the oven, make extras because they are that good. You will be happy to have leftovers that taste amazing and reheated in the air fryer.