Gorgeous chewy red velvet brownies made with cake mix could not be more fun & delicious. Rich, decadent, gooey & fudgy texture, & loaded with white chocolate chips for a bite that is chocolate heaven. All of that yumminess from this super quick & easy recipe.
No joke, cake mix red velvet brownies are the best. They make Betty Crocker's red velvet cake mix better. So when you cannot decide between cake or brownies make these - sweet satisfaction for sure.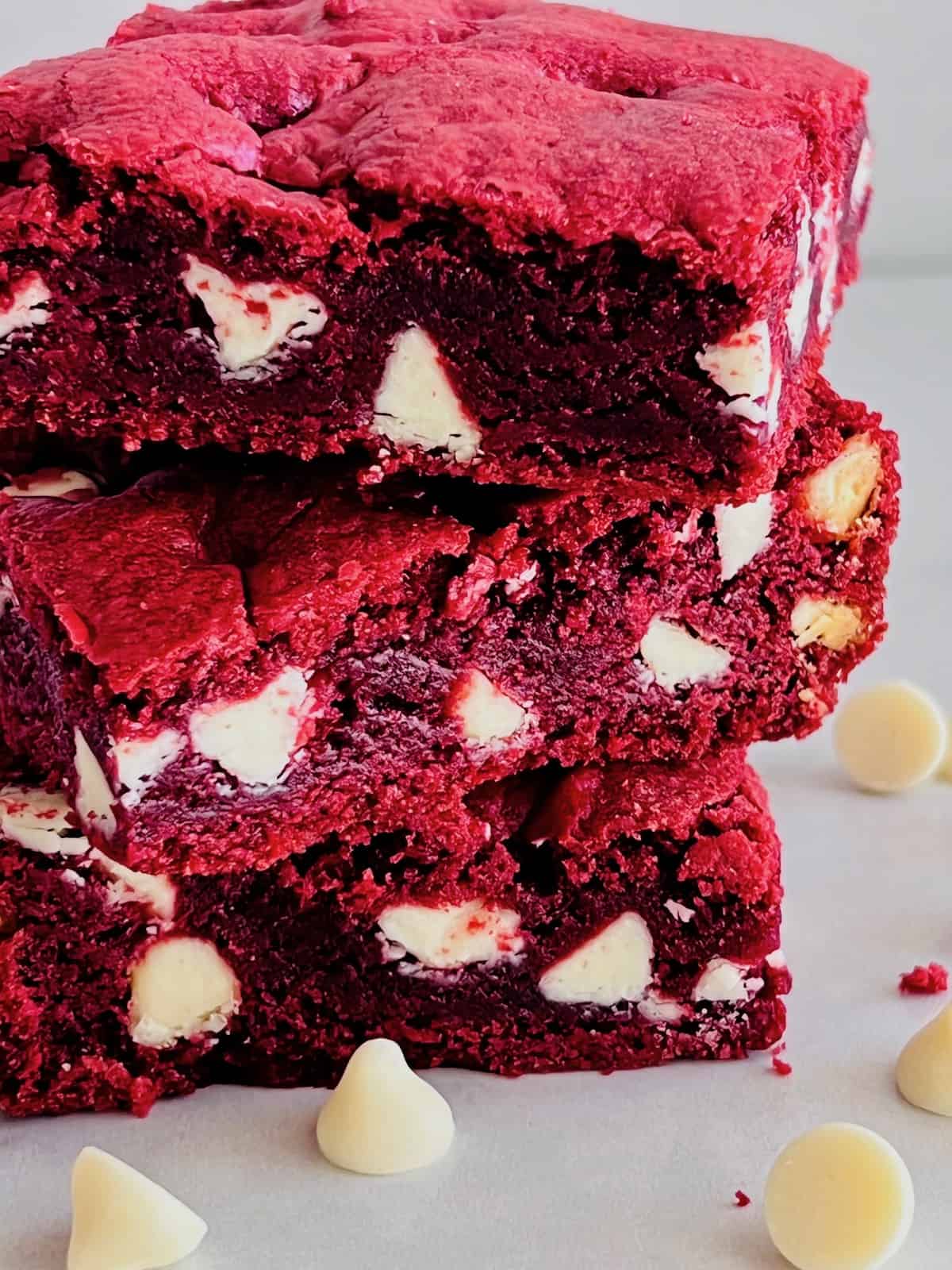 Using store-bought shortcuts when baking is so easy. Boxes of cake mix are a common ingredient in quick & easy desserts like this recipe for red velvet brownies. Keep a cake mix in your pantry and if you need a last-minute dessert idea, bake this for guests. I love these time-savers. It is what makes my 2-ingredient Cinnamon Roll Pie one of my most popular holiday recipes.
If you love this recipe and want more of a baking challenge, try my Red Velvet Crinkle Cookie Sandwiches with Cream Cheese Frosting. These are chewy, chocolatey, & fantastic.
Jump to:
Ingredients
This red velvet brownie recipe only needs 5 ingredients. A box of your favorite brand of red velvet cake mix is the star of this brownie recipe. I am using Betty Crocker but you can use any kind: Duncan Hines or Pillsbury will work too. I still consider this a fresh-baked homemade brownie recipe.
You can make this with fewer ingredients, just the cake mix, eggs, & butter for the ultimate shortcut. But I recommend not skipping the white chocolate chips or vanilla extract - adds so much flavor. This is an inexpensive budget-friendly dessert recipe with lots of pizzazz.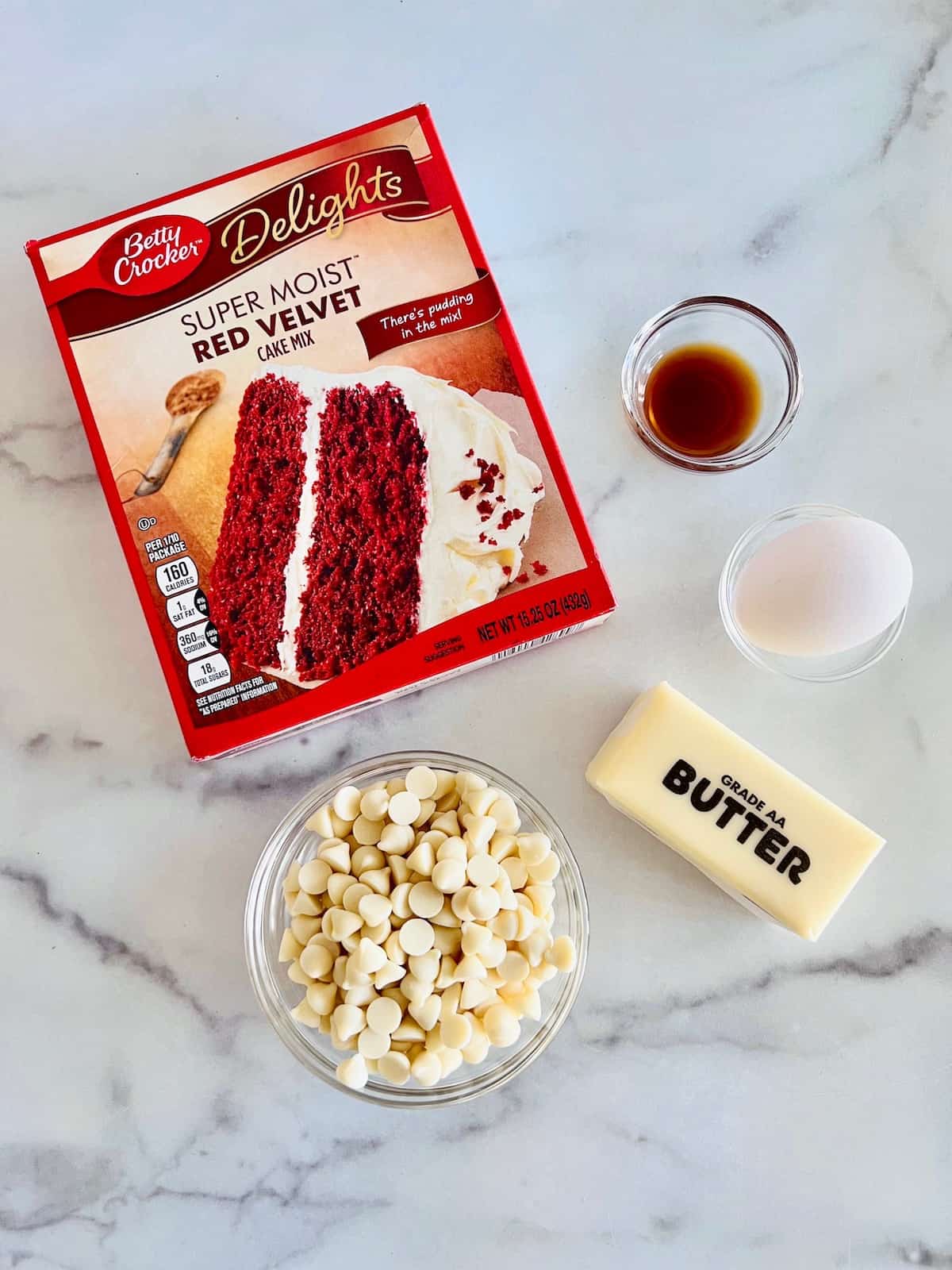 Egg
Salted Butter
Vanilla Extract
Optional - white candy melts or cream cheese frosting
See the recipe card for quantities.
How to Make Brownies from Cake Mix
This recipe is so quick & easy. Begin by setting the oven to 350° to preheat. It will take the oven longer than you to be ready. So do that right away.
I like to use a room-temperature egg because I find they mix easier. But if you don't have that additional time, 20 minutes, you can use an egg straight from the refrigerator.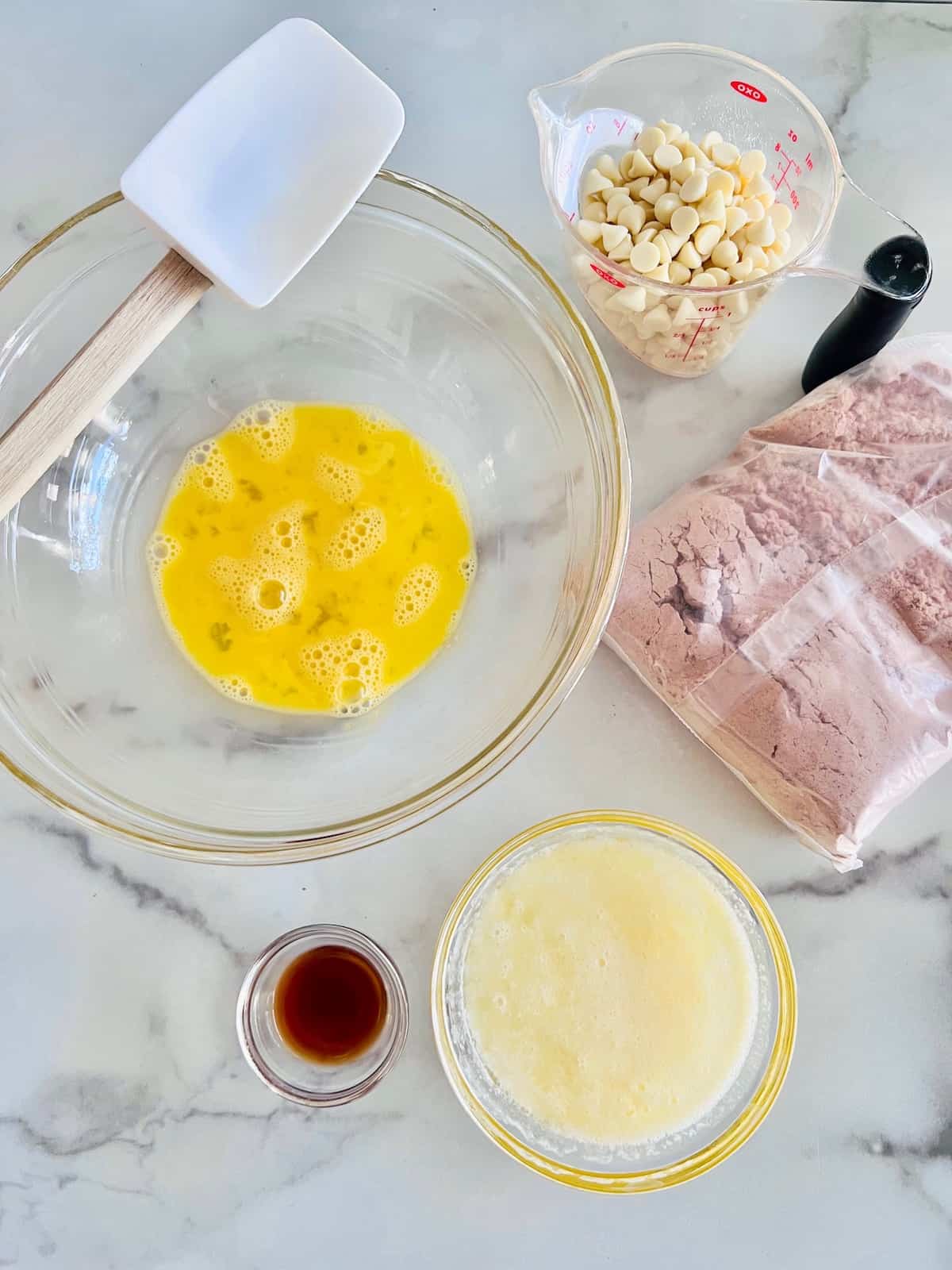 In a large mixing bowl, whisk the egg until frothy.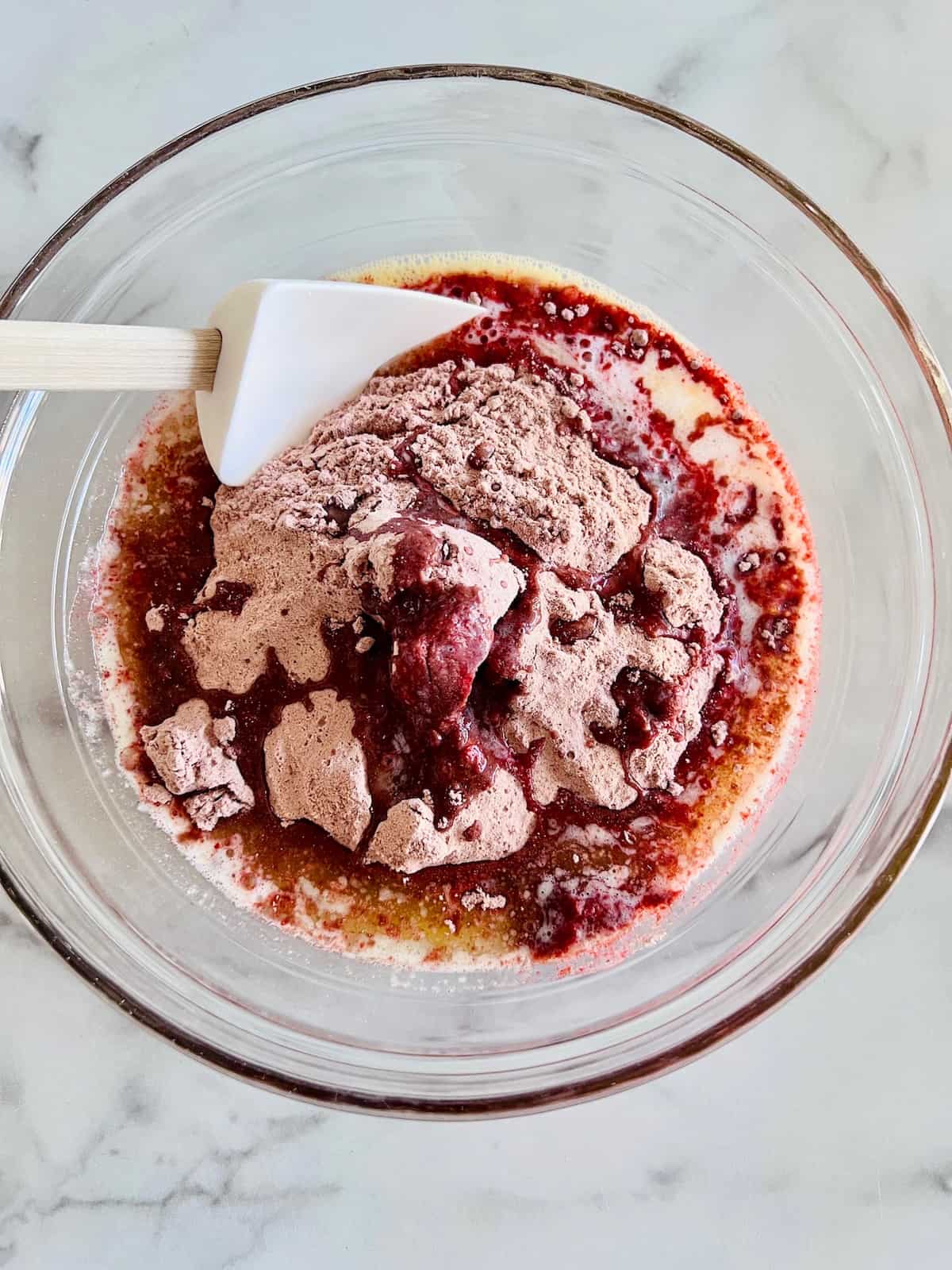 Next add the red velvet cake mix, melted butter, & vanilla extract.
Using a wooden spoon or spatula spoon (spoonula) mix the ingredients together. As soon as all the wet ingredients are combined with the cake mix, stop mixing. Do not overmix.
Sprinkle in the white chocolate chips and fold them into the batter. Try to get them evenly distributed so every brownie is loaded with tons of chips. You can omit but I wouldn't. The combination of vibrant red & cool white makes these brownies almost too pretty to eat.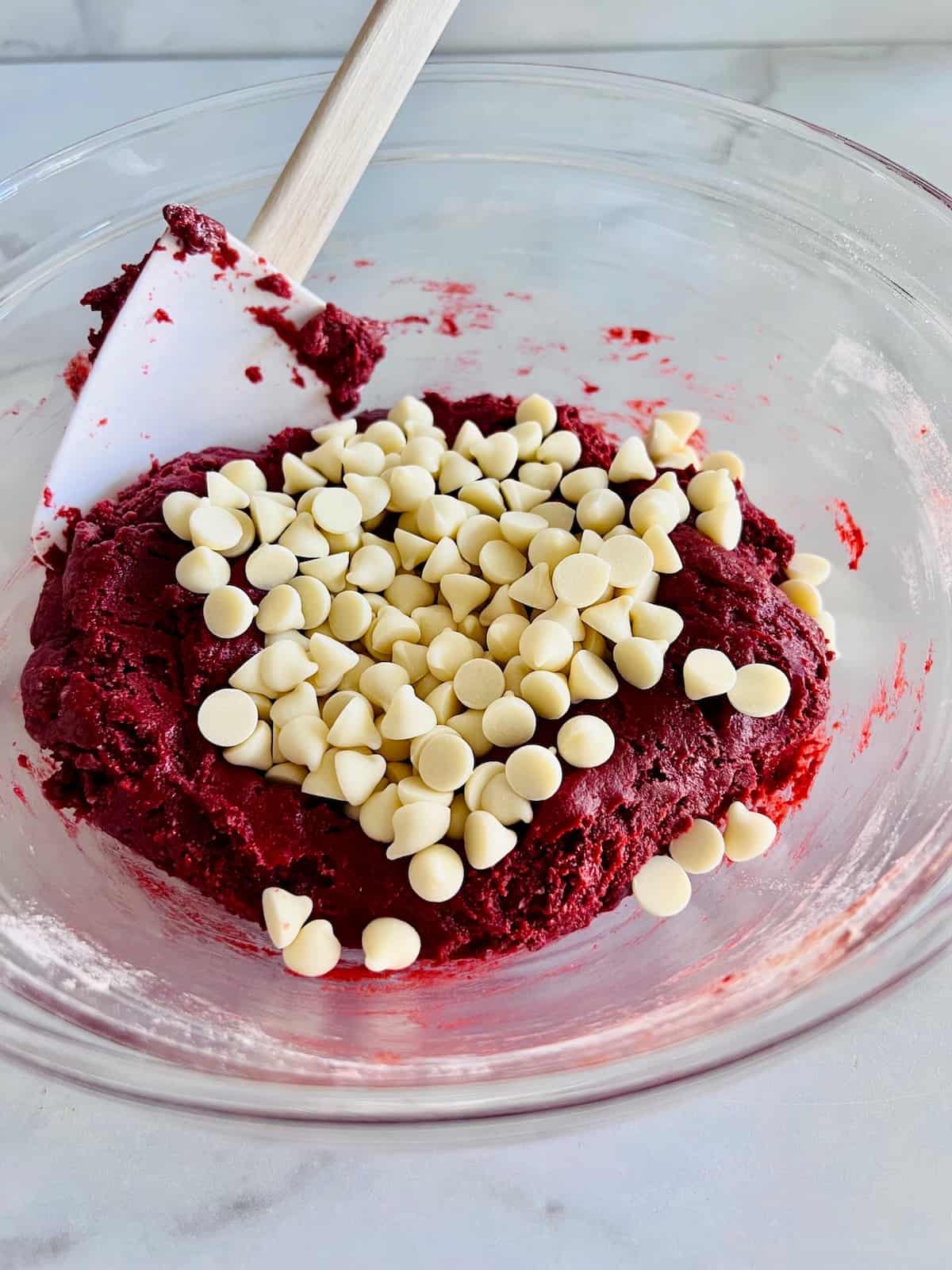 The batter will not be thin and cake-like. It will be firm and stiff. It is exactly how it should be if you really have to dig it out of the bowl to get it into the pan.
While it preheats, prepare an 8x8 square brownie pan with parchment paper. I like to you binder clips on two sides to hold it in place - kitchen hack!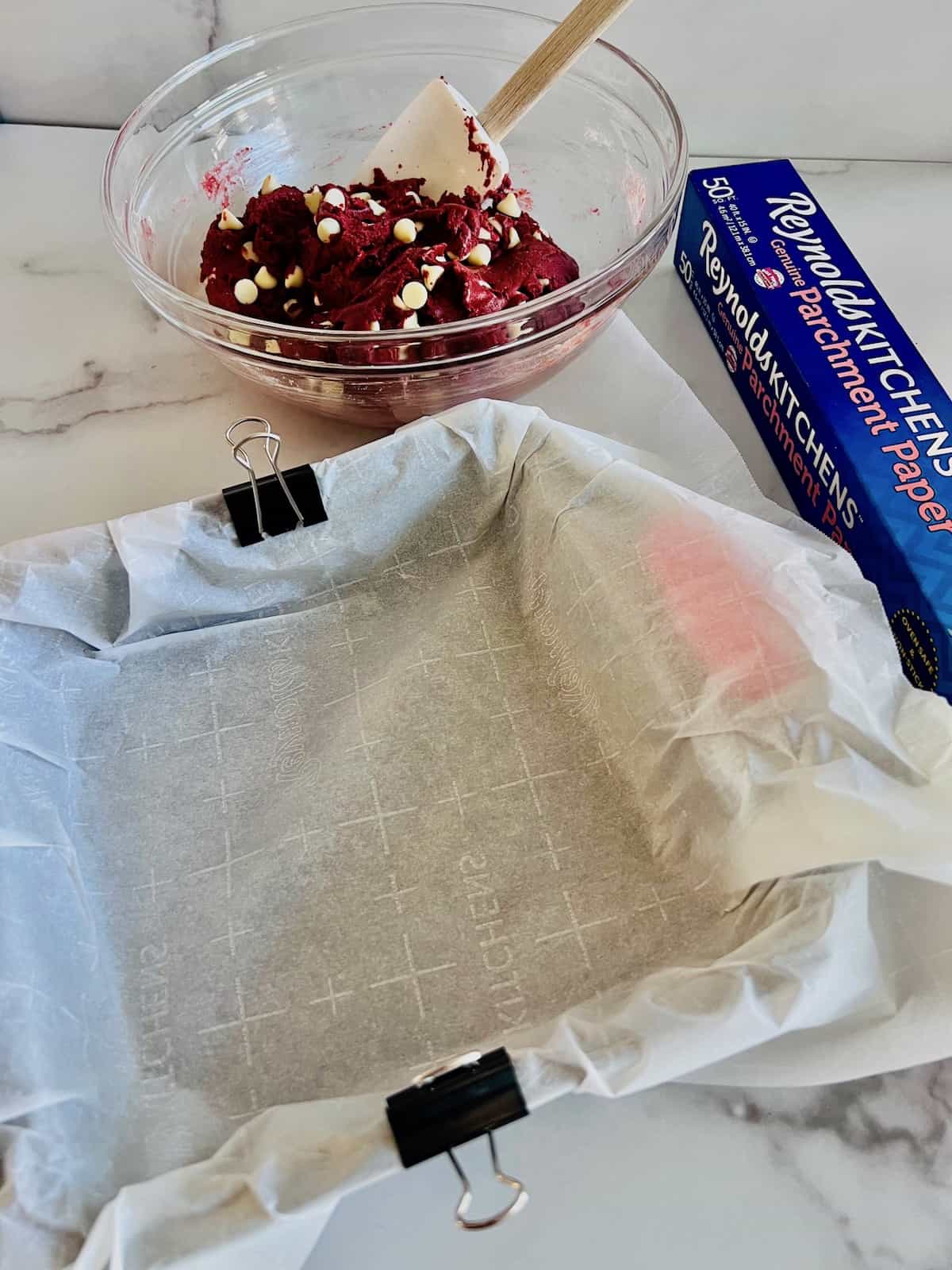 Time & Temperature to Bake Brownies
Once the oven is preheated to 350°, the red velvet brownie batter with white chocolate chips is ready to go in the oven.
Scoop the batter into the prepared brownie pan. The red velvet brownie batter will be thick. Press it in the pan so it is evenly distributed and the same thickness in all edges, corners, & center of the pan.
Optional - add a few extra white chocolate chips to the top & press in the batter.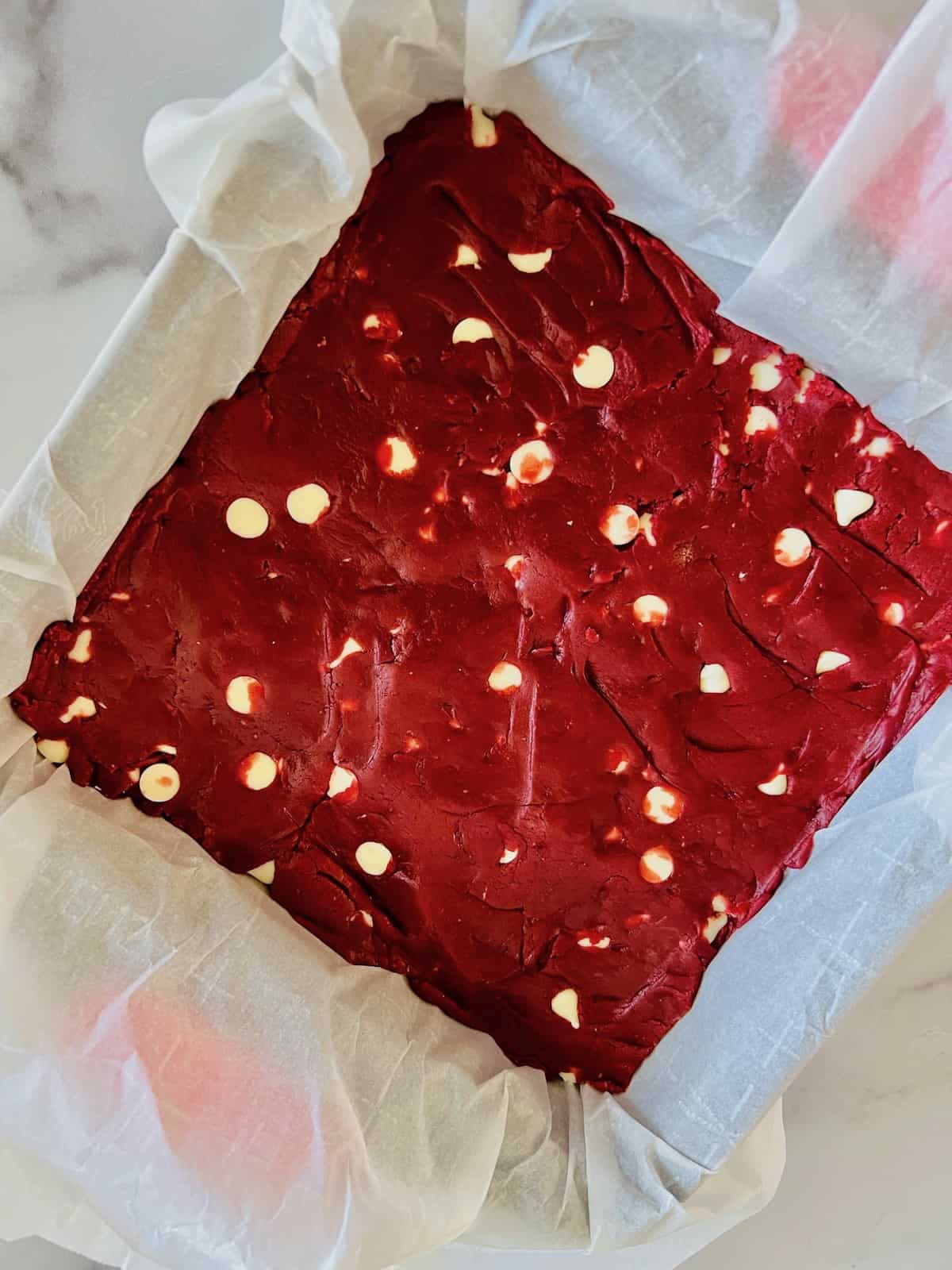 Place the brownies in the oven and bake for 20-25 minutes. My 8x8 metal pan took 23 minutes.
DO NOT overbake the brownies. You want the edges to just be set and the center should have a slight give when you carefully touch it. The top will be firm but just under you can tell it is soft in the center. This is when they are done and ready to come out!
Remove them from the oven carefully using oven mitts. Let the brownies cool in the pan until they are set. This takes 30 minutes minimum. Once they are cool enough to lift the parchment-lined brownies out of the pan without sagging or falling apart, they are ready to cut.
Best Way to Cut Brownies
Hopefully, you used parchment paper to easily lift the red velvet brownies out of the pan. Place the parchment and brownies on a cutting board.
The best way to cut brownies is to use a sharp chef's knife. A straight blade works so much better than a serrated knife. When cutting the brownies use an even downward chopping & rocking motion. If you "saw" back & forth the brownies will tear
Hint: If the brownie sticks, you can use nonstick spray on the knife so it cuts cleanly. Or simply wipe the knife carefully to clean between cuts.
Top Tips
All of these great tips are shared in the recipe. But these are so good and important they are worth mentioning again so you don't miss them.
Use parchment paper to ensure the brownies do not stick & lift out of the pan easily. Even if you have a nonstick pan, this is a top tip. Simply lift them out of the pan without the brownies falling apart.
Only mix by hand or fold the ingredients. Do not use a hand mixer which will over-mix the batter and make it tough.
Do NOT overbake or they will be dry & crumbly. The brownies should have a slight giggle in the middle. As they cool in the pan they will set up.
Use a sharp straight-blade knife to cut into nice even squares this way. Wipe the knife clean between cuts so that the brownies do not fall apart
Make a Red Velvet Brownie Sundae
Make a yummy brownie sundae! Top the red velvet brownie with vanilla ice cream, hot fudge, & sprinkles. Nothing better than making a brownie sundae at home.
This makes a great holiday dessert when using different colors to make it festive. Add green sprinkles for Christmas, pink & red for Valentine's Day, or blue for any patriotic holiday.
Substitutions
This recipe for red velvet brownies with cake mix is so simple and easy. There are not many changes you can make when you have a dessert with only 5 ingredients. But here are a few small substitutions you can make when making red velvet brownies. Try these alternate ingredients.
Butter - use ½ cup vegetable oil instead of melted butter.
White Chocolate Chips - omit or use milk or dark chocolate chips instead.
Variations
I think these red velvet brownies are decadent and to die for just as they are. But if you want something a bit different or even more divine, try one of these quick variations.
Cakey - use 2 eggs instead of 1 for a cake-like brownie.
Frosted - cream cheese, vanilla, or chocolate frosting works best with red velvet.
Deluxe - melt additional white chocolate chips & drizzle over the tops of the brownies.
Nutty - add ½ cup chopped walnuts or almonds to the brownie batter.
Christmas - top with cream cheese frosting & green sprinkles.
4th of July - top with white frosting & blue sprinkles.
Valentine's Day - top with cream cheese frosting & conversation hearts.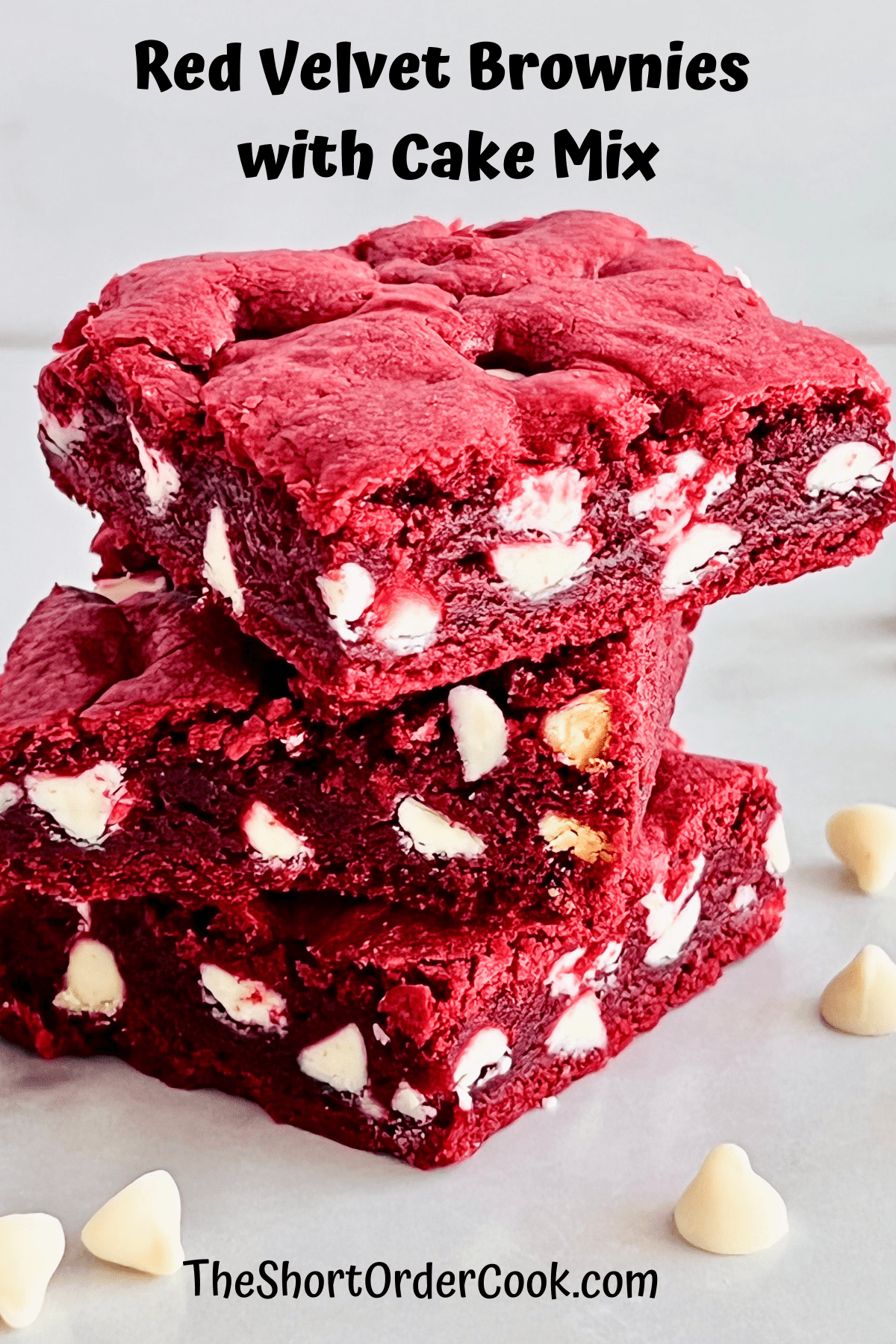 When to Bake Red Velvet Brownies
These cake mix brownies are great whenever your sweet tooth has a craving. They can make any day feel special. When a recipe is this effortless, you can have dessert any time.
But what I love most about this red velvet brownie recipe is the red color makes them ideal for Valentine's Day, Independence Day, Christmas, or any holiday and even that is red-themed. Also fun & one of the best recipes for potlucks, bake sales, church or school functions, & birthdays.
Equipment
Other than a square baking pan you do not need any special equipment to make these brownies. Here are a few kitchen tools & ingredients that will help you make these semi-homemade cake mix red velvet brownies in no time.
The Short Order Cook is a participant in the Amazon Services LLC Associates Program.  As an Amazon Associate, I earn from qualifying purchases.  If you click on a link and make a purchase, I may earn a small commission on the sale at no additional cost to you. This helps with the costs of running the blog. Thank you!  
Storing Brownies
Brownies are best enjoyed with fresh, slightly warm, & gooey. However, if you have leftovers, red velvet brownies store easily. Place in an air-tight container and store in a cool dry place like your pantry, cupboard, or kitchen counter.
To keep them well stored, ensure they are not exposed to heat or sun. I also do not recommend storing them in the refrigerator but you can. Simply bring them to room temperature before enjoying them.
How to Freeze
Once the brownies are completely cool and cut into squares, you can freeze them easily. I recommend wrapping individual pieces in plastic wrap. Place wrapped pieces in a single layer, like on a baking sheet, in the freezer.
Once individual brownies are frozen, they can then be placed in an air-tight container or Ziploc bag. Store in the freezer for up to 3 months.
How to Defrost
When you want to enjoy frozen red velvet brownies, remove one or more from the freezer. Place on a plate on the counter until thawed, soft, & ready to eat.
FAQ
How to make brownies less fudgy & more cakey?
If you like brownies that are gooey, this recipe is for you. However, if you like a cake-like brownie, this red velvet recipe still works with one simple change. For a cakey brownie, add two eggs instead of one.
How can I decorate these for Valentine's Day?
Red velvet brownies are perfect for baking in February for Valentine's or Galentine's Day. I would top them with pink frosting. For an easy pink frosting, add a few drops of red food coloring to store-bought cream cheese frosting. Stir & then spread on the brownies. Add some red sprinkles or conversation hearts too.
What is the best knife to use to cut brownies?
I do not recommend using a serrated or bread knife. These types of knives tend to stick to the brownies when cutting them into squares.

I recommend using a sharp knife with a straight blade, such as a chef's knife. When cutting "chop" straight down. Do not use a back & fourth or sawing motion. This will only tear the brownies apart and make a mess.
Can't I just add food coloring to a brownie mix instead of using a cake mix for this recipe?
I do not recommend coloring a brownie mix to make red velvet brownies. The boxed mix is so deeply dark and rich, it would take A LOT of red food coloring to make them red & honestly I am not sure it would ever be red enough.

Using a cake mix is the best option for making red-colored brownies. Brownie mix and cake mix are often the same exact ingredients. It is all about what you add to the boxed ingredients that make it a cake or a brownie. For example, fewer eggs make the texture fudgier like brownies.
Can I bake a double batch of brownies?
Yes, these are so good you will want to share and have plenty. To make a double batch, you can double all the ingredients together in one bowl. Or you can just mix twice if you worry about dividing the batter.

However, I do not recommend baking it in a bigger pan. I suggest dividing it in half evenly and still baking it in two 8x8 pans. this way the brownies cook evenly for a crunchy edge & gooey center red velvet brownie. The time and temperature should remain the same as found in the recipe card.
Related
For more easy-to-bake dessert recipes, try one of these reader favorites. They may be your new favorite too. If you love cake mix recipes the 4th of July Poke Cake is a holiday favorite.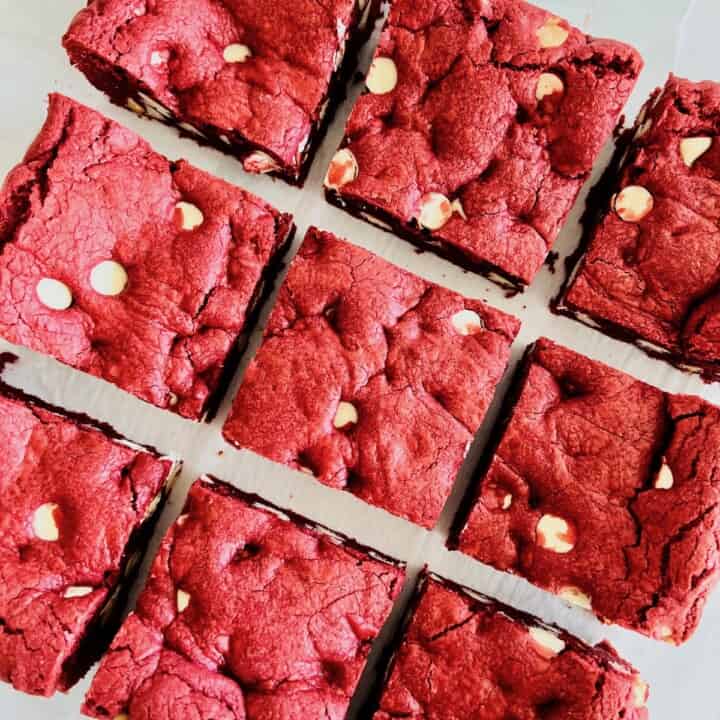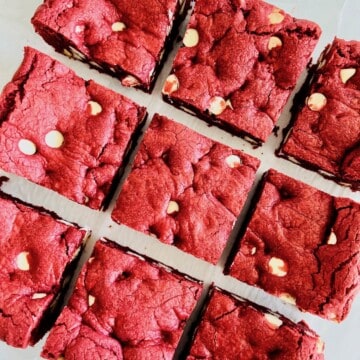 Red Velvet Brownies with Cake Mix
For an easy recipe for red velvet brownies, uses a store-bought cake mix. These yummy moist, fudgy, & rich brownies are packed with white chocolate chips. They look & taste gourmet but only take 5 minutes & 5 ingredients to mix up. Great for Valentine's Day, Christmas, parties, & potlucks.
Equipment
9x9 or 8x8 square baking pan
Ingredients
1

egg

room temperature

1

Red Velvet Cake Mix

Betty Crocker or other brands

½

cup

salted butter

melted

2

teaspoon

vanilla extract

1.25

cups

white chocolate chips
Instructions
Preheat oven to 350°.

Prepare the square backing pan by lining it with parchment paper.

In a medium-sized mixing bowl, add the room-temperature egg & whisk.

Melt the stick of salted butter in a microwave-safe bowl.

To the egg add the cake mix, butter, & vanilla. Using a wooden spoon or spatula spoon, stir to combine.

Do NOT over mix, only mix until the dry ingredients are mixed it. It may have small lumps and bumps - that is ok. This is a dense batter.

Pour in the white chocolate chips and fold them to combine so they are evenly distributed. The batter will be thick/

Spoon the batter into the prepared baking pan. Spread it out so it is even in the pan and all edges and center have the same thickness. This ensures it cooks evenly.

Bake uncovered for 20-25 minutes. The edges will be set but the center will still have a slight give if you lightly press on the top. This allows for a gooey rich center.

If you want a firmer brownie, bake for an additional 5 minutes for a total of 30 minutes.

Remove from oven when done and let cool for 30 minutes. Once completely cool, lift the parchment paper from the pan and place it on a cutting board.

Cut into 9 squares. Enjoy!

Optional - melt white candy melts and drizzle on the top. Or top them with cream cheese frosting.

Store leftovers in an air tight container. Place in the pantry or other cool dark place. Brownies will stay fresh for up to 3 days.
Notes
The information here is shared using the Betty Crocker cake mix box - 
Nutrition Facts
Servings: 9
Amount per serving
 
Calories
245
% Daily Value*
Total Fat 18.5g
24%
Saturated Fat 11.3g
57%
Cholesterol 50mg
17%
Sodium 141mg
6%
Total Carbohydrate 18.1g
7%
Dietary Fiber 0.1g
0%
Total Sugars 16.1g
 
Protein 2.3g
 
Vitamin D 9mcg
44%
Calcium 62mg
5%
Iron 0mg
2%
Potassium 86mg
2%
*The % Daily Value (DV) tells you how much a nutrient in a food serving contributes to a daily diet. 2,000 calorie a day is used for general nutrition advice.