If you are a lover of thin tortillas, these tortilla presses are the best you can buy. Check out my recommendations for the best tortilla press for making thin tortillas in your home kitchen. There is one for any budget, so get shopping today and make some homemade tortillas soon.
They are all easy to use, inexpensive, have great reviews, & help you make delicious homemade tortillas in minutes. All the standard sizes are reviewed from small 5" to large 10". Great manual and electric tortilla-making tools.
Whether you want to make corn, wheat, or gluten-free tortillas at home, one of these presses is perfect for you. Many presses are also great for making wraps, roti, & other flatbreads.
I love making fresh tortillas to go with my sweet & spicy homemade watermelon salsa. Check out the listings below. There is bound to be one perfect for your household.
Jump to:
Best Manual Tortilla Press for Thin Tortillas
This is hands down the best manual tortilla press on the market for making tortillas and so much more. With this one kitchen tool, you can make a lot of wonderful recipes. It comes in various sizes and is easy to use.
This tortilla press is commercial grade but at a price perfect for the home cook. Made of reinforced cast iron that is preseasoned and will last a lifetime. It is also inexpensive and it does so much - this is a must-buy. Victoria continues to be one of the best brands for tortilla presses year after year for good reason.
Use this tortilla presser to make homemade flour, corn, gluten-free, paleo, & wheat tortillas! Also use it as a roti maker or to make quesadillas, empanadas, arepas, patacones, & smash plantains to make tostones.
Best Electric Tortilla Press
For a tortilla maker that is electric, this product is the best. It has great reviews and is easy to use.
This 10-inch size can have you making anything from small corn tortillas for street tacos to large wheat tortillas for wrapping big burritos. Press and heat your tortillas in one machine. Tortillas may come out thicker if you use too much dough so be careful.
Other Great Tortilla Presses to Buy
Here are some more models that are authentic and easy to use. All of these tortilla presses are the best on the market. Here are my recommendations and scroll to the end to find the latest prices - some are so cheap you may want to buy a few and give one as a gift.
Check out the different sizes and buy the one or two that are right for your family. Some make small tortillas only. Or get a larger 10-inch press to make tortillas big enough for a large burrito. The big ones also allow you to make smaller ones - just roll out smaller dough balls.
Cheapest/Budget-Friendly Tortilla Press
At this time this aluminum tortilla press is one of the least expensive models while also being high-quality. Use a small amount of dough to ensure you get thin even tortillas every time with this press.
Best 10" Manual Tortilla Press
This 10" cast-iron press for tortilla-making is my recommendation for your kitchen. Use a small amount of dough and this large press will give you thin tortillas.
Grab some parchment paper and get pressing. This large surface press is great for all sized but I find it ideal for large burrito-size flour tortillas, roti, & flatbreads. It is heavy-duty, preseasoned, & easy to use & clean.
Best Tortilla Press for Small Tortillas
If you want thin tortillas that are small for gorditas or street tacos, this is the best press. This tiny 5" model is small and easy enough that you can get the kids involved in pressing the masa into tortillas.
The small size is great for a small kitchen, stores easily, & is a workhorse. Wonderful for tostones too.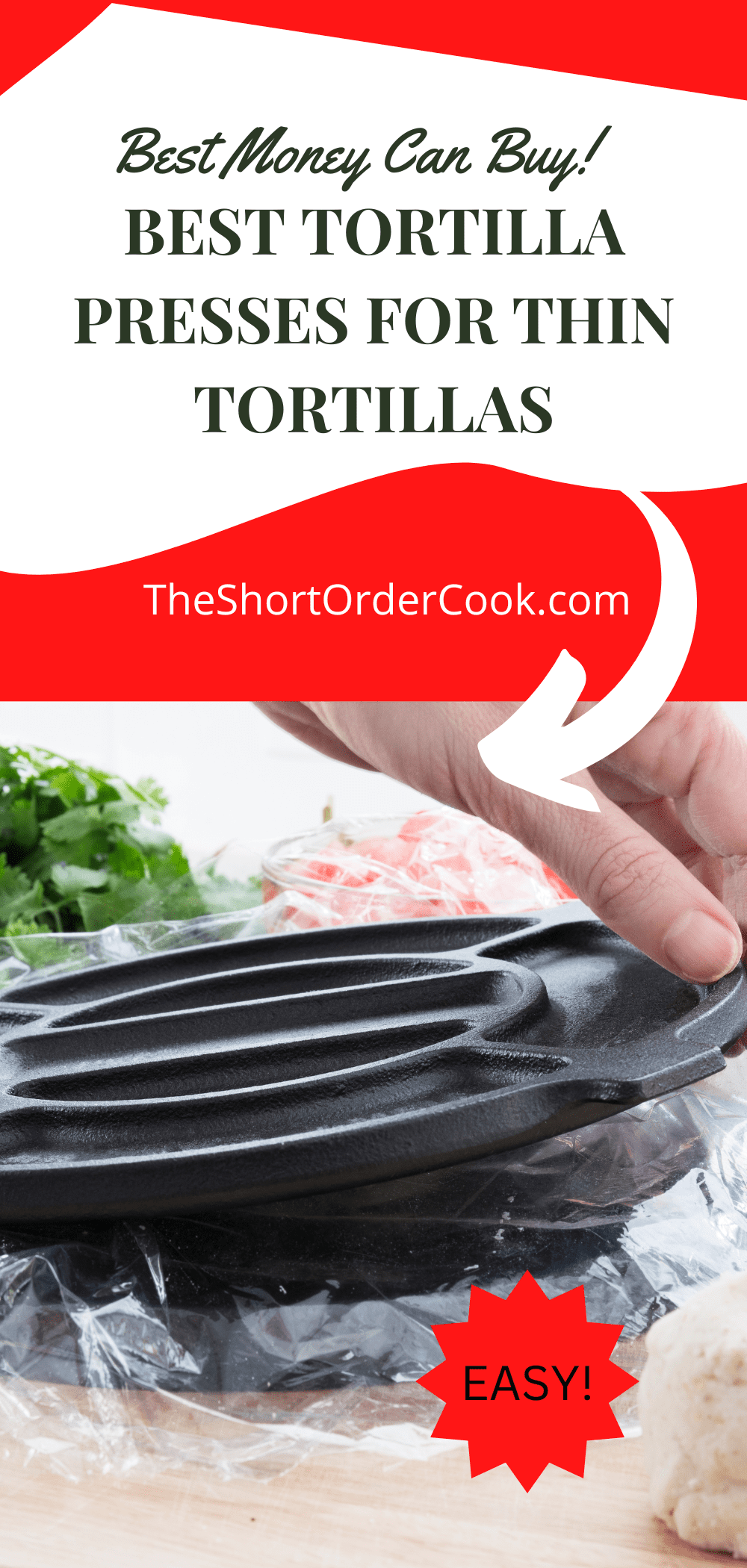 FAQ
Is a metal or wood tortilla press better?
I find that heavy-duty tortilla presses do better than ones made of wood. They tend to last longer but also the weight of the cast iron or metal helps to make a thinner tortilla.

The benefit of metal vs wood tortilla press is also the ease of use. Some cast-iron models will be seasoned and non-stick. The metal kinds are also easy to clean.
Can I freeze my freshly made dough or tortillas?
Both the dough and the already-made tortillas can freeze easily. You can freeze the dough in balls in plastic wrap that is tightly covering the dough. Place into a freezer-safe ziplock bag and store for up to 3 months.

The pressed dough can be frozen also. Make sure to place parchment between raw tortillas that have been pressed. Place in a ziplock bag and freeze for up to 3 months.

Check out my guide on how to freeze cooked corn or flour tortillas. Everything you need to know about if you can freeze tortillas, thaw them, u0026 how cook with them.
Do I need waxed paper, parchment, or plastic wrap when I press the dough?
Most tortilla presses are to be used with one of these options. If your model is well-seasoned and non-stick you can skip this step. However, I find using parchment paper squares is the best when pressing dough in a tortilla press.
Current Tortilla Press Prices & Reviews
For the latest prices on the best tortilla presses, money can buy. Read great reviews and features as well. Then pick the one right for you.
The Short Order Cook is a participant in the Amazon Services LLC Associates Program. As an Amazon Associate, I earn from qualifying purchases. If you click on a link and make a purchase, I may earn a small commission on the sale at no additional cost to you. This helps with the costs of running the blog. Thank you!