There is nothing like fresh lemonade. Making homemade lemonade concentrate from fresh lemons and freezing it for later results in the most delicious pitcher of lemonade. So when you have loads of lemons - grab this recipe & get prepping! You will be glad you did.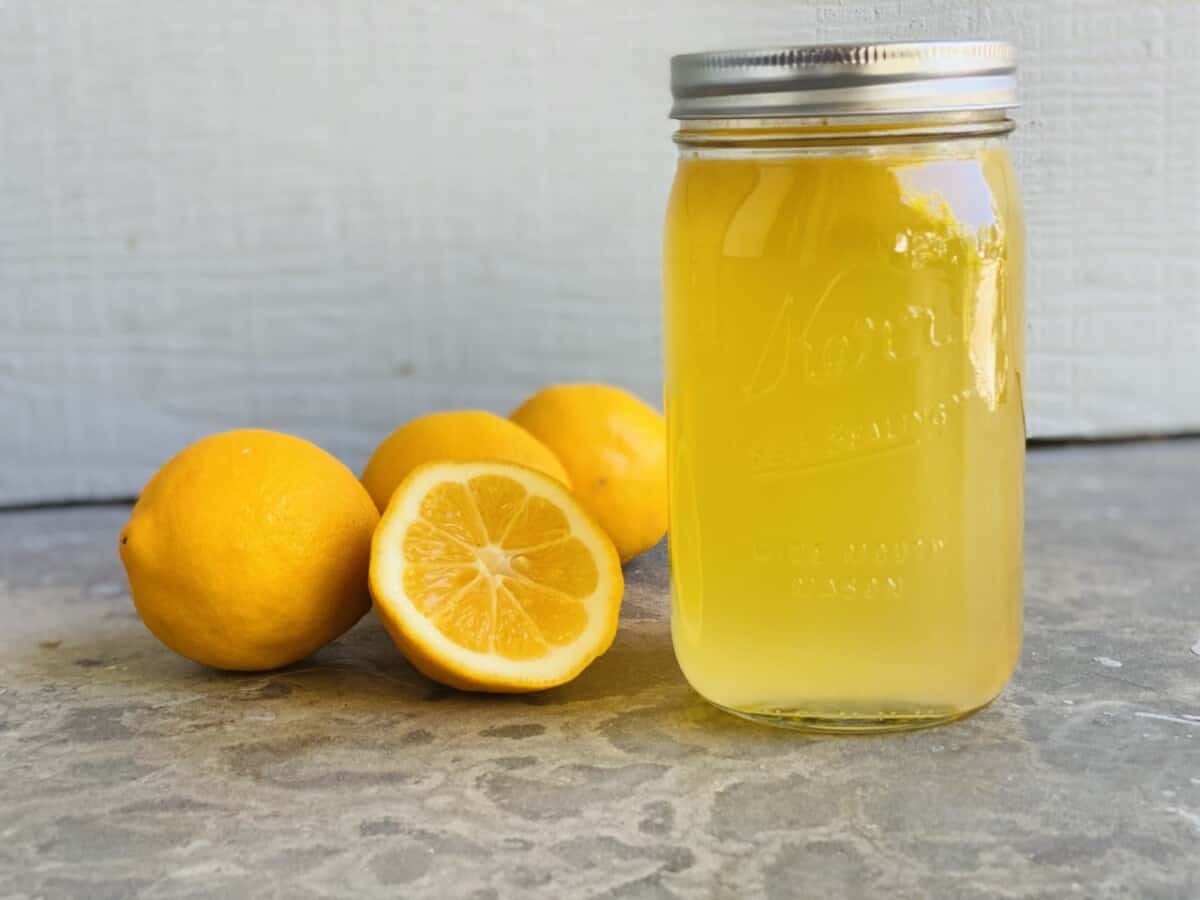 The sweet, tart, and bright flavors of lemons make for a combination that is the quintessential summer drink. And pick some extras to make a creamy, sweet, & tart North Carolina Lemon Pie.
Each batch makes a half-gallon of lemonade and it can be frozen for months to enjoy later.  You will never want to buy store-bought Minute Maid lemonade concentrate again once you make it homemade.
Jump to:
Why Make Lemonade Concentrate at Home
Unfortunately, lemons are at their peak of the season in late winter and early spring. Still a great time to have homemade lemonade (I mean really - my kids will drink lemonade any time). But when you want fresh homemade lemonade in summer, honestly the lemons are just not the same.
Will fresh home-grown lemons be so much better than the frozen canned lemonade concentrate you get at the store? YES! It is the best!   Here are some great reasons why you need to make your own lemonade concentrate.
You not only know where your food came from, especially if they are your own lemons
You can use organic sugar if you want.
You can make it tarter or sweeter if you want.
You can use real sugar or even a low or no-calorie sweetener.
Storing small batches of concentrate takes a lot less fridge or freezer space than entire batches of lemonade.
This is why making this recipe to enjoy later is a great idea. Making this homemade lemonade concentrate can preserve your lemons when they are at their peak.
Picking Lemons to Make Concentrate
We have a large lemon bush in our yard that bursts with so much fruit each year, it is hard to use them all up. We share them with neighbors, friends, and family but still so many. Well, this year I decided to make lemonade often but wanted to preserve some for later.
In the past, I would juice the lemons and freeze just the juice. It is like homemade lemon juice concentrate.   I freeze or refrigerate it and later use it for hot water with lemon or when I want lemon juice for a cocktail - say Lemontini!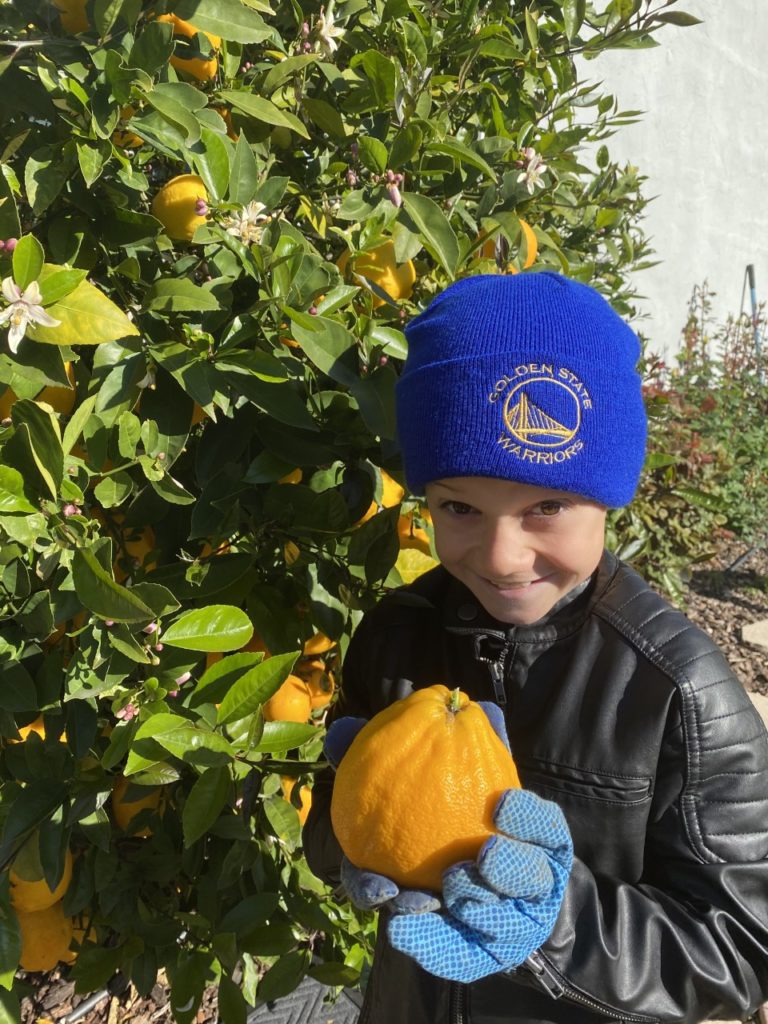 How to Make Lemonade Concentrate from Scratch
To make the best homemade lemonade concentrate recipe, it starts with fresh lemons, of course. A few more ingredients and a delicious homemade lemonade will be ready to enjoy in no time.
Many of us know just how freshly squeezed lemons, sugar, and ice-cold water makes the perfect drink. Unfortunately, lemons are not always in season so if you could make lemonade concentrate and save it for later, preserving lemons for lemonade would be fantastic.
Then it hit me!  Why not make homemade lemonade concentrate.? Then it is ready whenever we want in the months to come.  All I would have to do is defrost it a bit and add water.  I googled some recipes and there are not many out there. 
To be honest, it was just not the right amount of sweet to tart for me.  After a few tries and even a KETO LOW CARB VERSION, I came up with two recipes that are foolproof and amazing for lemonade!

Concentrate with Fresh Lemon Juice
Making this recipe calls for fresh lemon juice and a few other ingredients. It is a quick and simple way to make batches of concentrate to later turn into gallons of fresh lemonade.
Why is it called "lemonade" and not lemon juice? Well, simply it is an ade because it includes lemon juice, sugar, and water. Compared to orange juice, which is simply just fresh-squeezed juice from oranges with no added ingredients. To learn more about the history of lemonade, check out more on HOWSTUFFWORKS!
INGREDIENTS FOR HOMEMADE LEMONADE CONCENTRATE
You only need 3 ingredients to make lemonade concentrate.  These 3 ingredients you likely already have in your home or in your garden which make this a simple recipe just about anyone can make. 
There is no reason to buy canned concentrate when you can use whole ingredients, including organic lemons if you have them, to make the best concentrate for mixing up fresh lemonade. 
How many lemons to make homemade lemonade?
It is based on the size of your lemons and how juicy they are. To make one gallon of lemonade using lemons, you likely need 8-10 lemons. Our home-grown lemons are HUGE as you can see. So for each batch of concentrate to make homemade lemonade we use about 6. But when we have some store-bought lemons it takes more and that is what I estimated for this recipe since that is what most people will be using.
The lemonade concentrate can be frozen for later. Each batch of this homemade lemonade concentrate recipe will later make a gallon of lemonade once you mix it with the additional water.  For a half-gallon of homemade lemonade, use a one-quart-sized bag of this concentrate recipe.
Ingredients for homemade lemonade concentrate[/caption]
How to Make Homemade Lemonade Concentrate
The 4 simple steps to make this recipe are:
Wash & Slice lemons in half
Squeeze juice from the lemons
Make the simple syrup
Stir to combine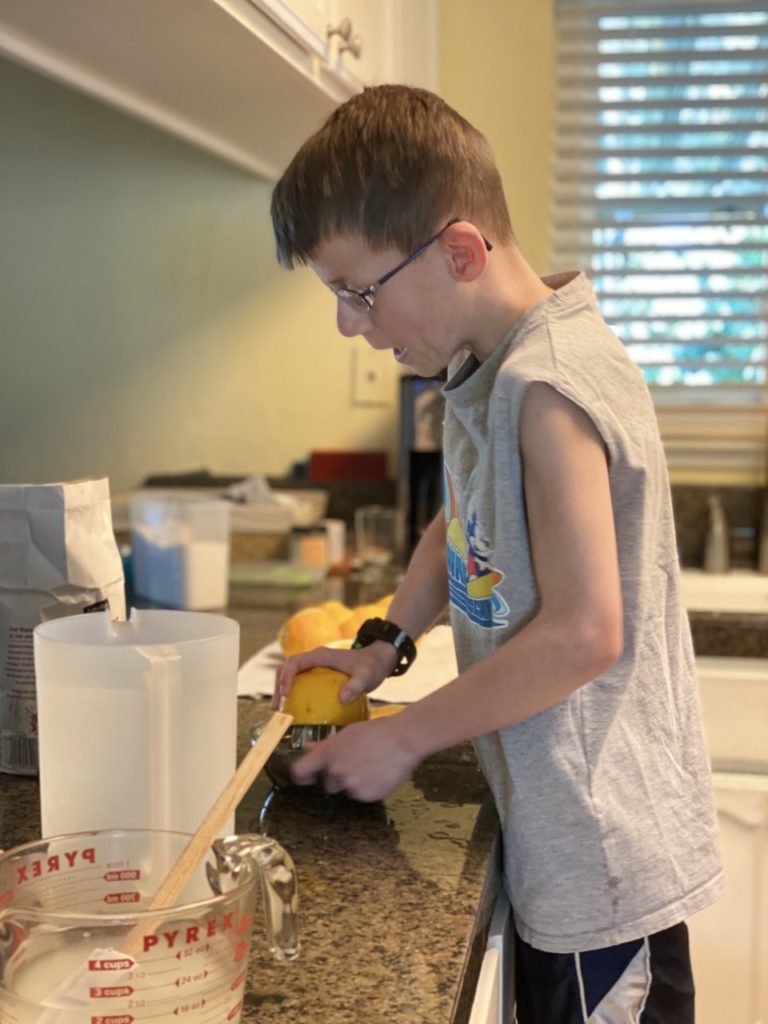 What is Simple Syrup?
For this lemonade concentrate recipe, you will need to make a batch of simple syrup. What is simple syrup? It is a cooked mixture of equal parts water and sugar. It is cooked so that the sugar dissolves and a thick sweet syrup is made.
How to Make Simple Syrup 
To make simple syrup, simply (hence the name) boil water and add equal amounts of sugar. Stir to dissolve.  Once the sugar dissolves it will create a slightly thick sweet compound, simple syrup.  Let this cool before the next steps in making the lemonade concentrate.
How to store the concentrate
Save in sealed mason jar or quart-sized Ziploc bags
Can keep for 3 weeks in the refrigerator
Can keep for up to 6 months in the freezer
Lemonade Recipe from Homemade Concentrate
Making homemade lemonade with this recipe is so easy and makes the best drink any time of year. When the time comes to enjoy the fruits of your labor,  get ready to be so happy you prepped it weeks or months ago.   
If you froze your concentrate, remove it from the freezer to defrost.  For the Ziploc bags, I place them in a pie dish in the fridge overnight. The next morning they are soft enough to unzip and dump into my pitcher. If you have the concentrate in a jar, just pour it into your pitcher.
Homemade Lemonade Ratio :
One Batch of Concentrate + 3 Cups of Cold Water = ½ Gallon of Fresh Homemade Lemonade
Two Batches of Concentrate + 6 Cups of Cold Water = 1 Gallon of Fresh Homemade Lemonade
Product Recommendations for this Recipe:
The Short Order Cook is a participant in the Amazon Services LLC Associates Program. As an Amazon Associate, I earn from qualifying purchases. If you click on a link and make a purchase, I may earn a small commission on the sale at no additional cost to you. This helps with the costs of running the blog. Thank you!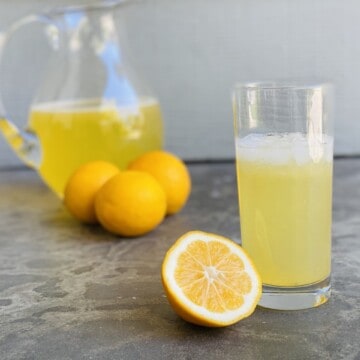 Homemade Lemonade Concentrate
The perfect glass of lemonade can be enjoyed all summer thanks to making homemade concentrate when lemons are at there peak each year.
Ingredients
1.25

C

fresh-squeezed lemon juice

about 8-10 lemons

1.25

C

hot water

1.25

C

sugar
Instructions
Pick lemons from your tree if you have one. Use fresh lemons from the store or farmer's markets too. Wash the lemons and cut in half.

Squeeze the juice from the lemons. You will need 1 and ¼ cups of fresh juice. Add to a large mason jar or big pyrex measuring cup to hold.

Boil water in a large measuring pyrex or tea kettle.

In a medium-sized bowl or your pyrex measuring cup, stir together the boiling water with the 1 and ¼ cup of sugar. Stir to dissolve.

Once cool, add to the lemon juice. Stir.

Store in mason jars or pour into a quart-sized Ziploc bag. The lemonade concentrate can be stored in the refrigerator for up to 3 weeks. It can be stored in the freezer for up to 5 months.
WHEN READY TO MAKE THE LEMONADE:
Each recipe will make a half-gallon of lemonade. Add one batch of the concentrate to 3 cups of cold water in a pitcher. 2 batches plus 6 cups of water for a gallon of lemonade. Stir and serve over ice. Enjoy!
Did you make this The Short Order Cook Recipe?
Tag @theshortordercookblog (Instagram & Facebook) or @shortorder_cook (Twitter).
I would love to see your latest creations and kitchen adventures.