For the best leftover ham recipes, this list of ideas from some of the best food bloggers really has it all. Whether you have a little or a lot of ham stored in your refrigerator or freeze, enjoy it with a new recipe. Great for enjoying spiral, honey-baked, or canned ham leftovers. Be ready to make a new recipe with it for something yummy. Try these recipes for using up leftover sliced, cubed, diced, or chunks of ham.
Repurposing ingredients like ham is so easy when you have recipes for main dishes, sides, casseroles, soups, and more. There is something for everyone in this post, including those on special diets or who want something healthy. If you have holiday ham leftovers after feeding a crowd, save them to make another recipe in the days to come. You will be eating well with these tasty ideas.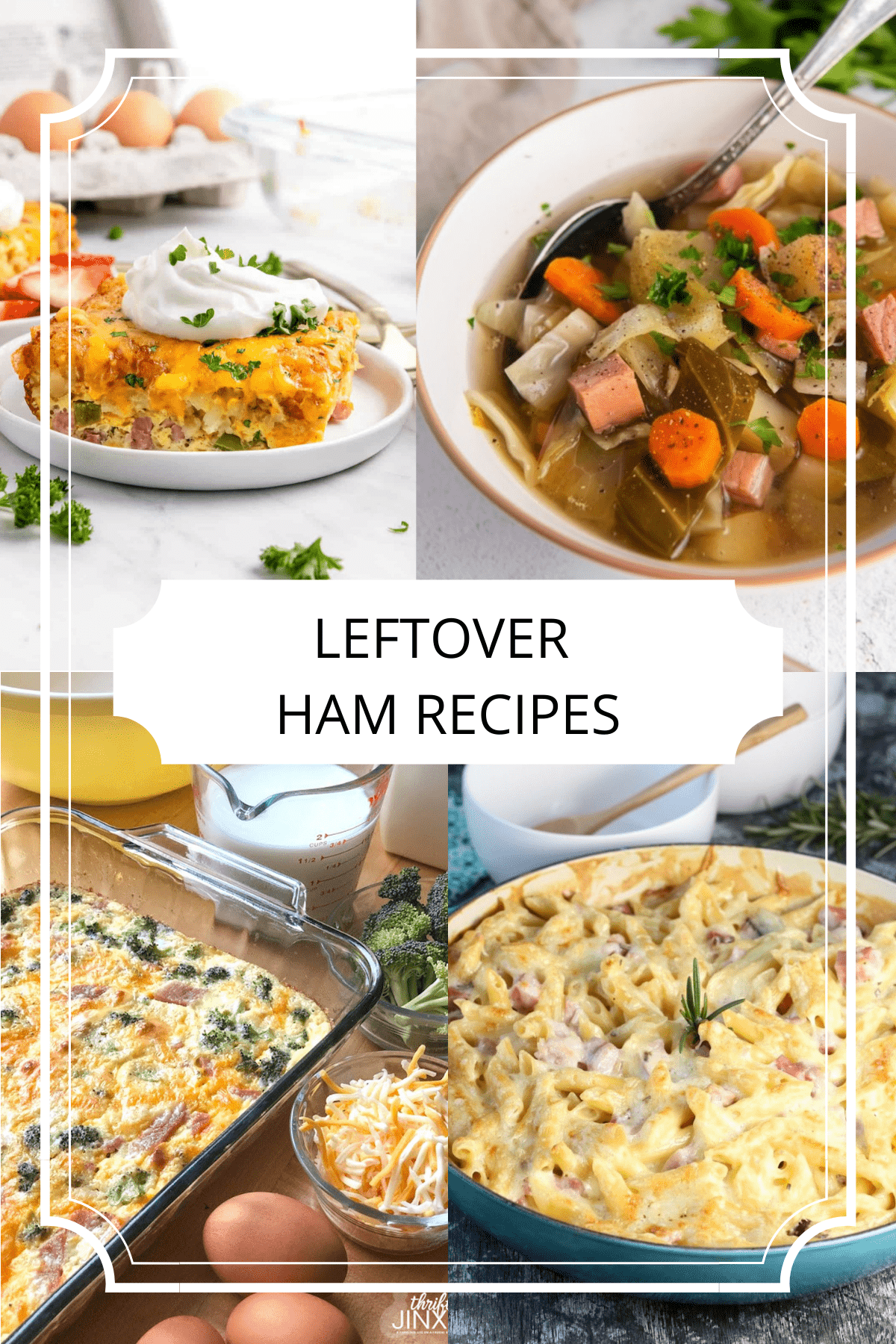 Ham is a holiday main course favorite for Easter, Thanksgiving, Christmas, and Mother's Day. It is served at dinner and brunches for parties and big family meals. Because ham is a large cut of meat, there are often leftovers. That is where all these great recipes come in to save the day. There are leftover ham recipes for breakfast, lunch, or dinner.
So the next time you order your holiday ham from somewhere like Honey Baked Ham - order plenty. You will crave the leftovers for one or more of these recipes. Though all these recipes are wonderful, I continue to have a staple that I make time and time again with leftover meat. My creamy POT PIE SOUP is simply divine. It has all the taste of a classic pot pie, without the crust & is perfectly gluten-free.
Jump to:
Recipe Categories
As I mentioned, there is something for everyone here. For a leftover ham recipe that fits your family and lifestyle glance through the categories below to find what you may be looking for. There are healthy, gluten-free, grain-free, Paleo, Whole30, & diabetic-friendly leftover ham recipes shared here.
I have also broken it down by course. This may help you decide what to make depending on if you have a little or a lot of ham to use up in a recipe. Many of these recipes work with any protein such as other cuts of pork, chicken, or even seafood. So give them a try and experiment too.
APPETIZERS
BREAKFAST
LUNCH
DINNER
Appetizers
Savory small bites make the best appetizers. Here are some tasty recipes to make with leftover ham. From a salty ham and pickle dip to several ham & cheese delights, there is something for everyone to love. These ham appetizer recipes are great for parties, holidays, and events.
Breakfast
Ham and eggs is a classic American breakfast. It is a good way to enjoy leftover ham but it is not an amazing way to use up leftovers. However, all these recipes are delicious and there is no better way to use up some ham. Transform your leftovers into a great brunch or breakfast dish with these quick & easy ideas.
Lunch
There is more to enjoying ham at lunch than a ham sandwich on rye. These fantastic recipe ideas for soup, sandwiches, and kinds of pasta will make anyone happy they had some extra ham to cook with. Whip up one of these recipes for a light lunch at home, school, or work.
Dinner
Ham leftovers are the base of some great dinner recipes. Repurpose it into something new and exciting so no one realizes they are having the same ham several days in a row. Comfort food classics and light dinner recipes are all here. Try these recipes are the best for a yummy ham dinner. Great air fryer recipe for leftover ham cannot be missed.