Rum raisin ice cream sundaes with grilled pineapple and a homemade brown sugar caramel rum sauce are so decadent. The boozy treat we all need in our life. The easy recipe for an amazing Bacardi rum sauce is the star of this rum raisin ice cream delight. Drizzle it over vanilla or rum raisin ice cream that is scooped on top of a juicy grilled pineapple slice. The perfect combination of flavors reminiscent of a tropical vacation hit your tastebuds. No better way to have an island staycation than making this recipe all summer long.
Before we start getting into the makings for this sweet treat, let's make sure you enjoy this to the fullest. Also, do not worry, this can be kid-friendly or alcohol-free with a small tweak. But also if you want to boost up the rum party, one extra step can make this a serious party. Continue on and I will share how to adjust and make this the perfect rum raisin ice cream sundae that everyone will love.
Does Rum Raisin Ice Cream have Alcohol?
Here in the United States, rum raisin ice cream may or may not contain alcohol. Most store-bought brands or ice cream shops make their ice cream by soaking the raisins in a bit of rum. That is typically the only place the rum is used in the recipe. Some brands may use "rum flavoring" which doesn't contain any alcohol. If you want to know if what you purchase has or does not have alcohol, check the label for the list of ingredients. Most of the time the final ingredient in the list is rum, such as here where you can view the rum raisin ice cream label for the Haagen Daz brand - probably one of the most popular here.
How to Make Rum Raisin Pineapple Sundaes
The ingredients needed for these amazing sundaes include fresh pineapple, vanilla or rum raisin ice cream, Bacardi, and a few more items to make the rum raisin caramel sauce. Using brown sugar is key to making a rich buttery caramel sauce that pairs perfectly with the sweet and tart fresh pineapple. Here is what you need.
How to Slice a Fresh Pineapple
To start, cut off the top and the bottom of the pineapple.
Next, trim the outer edges by cutting down slowly along the outside to remove the spikey skin and the "eyes". As long as you cannot feel the skin or eyes if you run your hand down the edge, you have trimmed off enough. You may lose some pineapple flesh but this is the best way to ensure you cut deep enough to get all the rough outsides off.
Turn the pineapple on its side and now cut ½" slices to make large round slices.
If you have a corer, you can use that now to remove the inside core. If not, just use a sharp knife to remove the inner circles.
How to Grill Pineapple Slices
Preheat a grill to medium-high heat. Sear each slice for about 5 minutes on each side. Keep the grill lid open so that they cook on the outside but do not "bake" through and become too soft and soggy. You want them to still be firm enough to hold up as the base for the sundaes but soft enough to be able to break apart with your spoon as you eat. Once they are done, let them cool and put them in the refrigerator so they are cool. The last thing you want is your ice cream to melt immediately if you scooped it onto hot pineapple.
FOR ADDED RUM FLAVOR - drizzle the grilled pineapple with some rum while it is cooling. It will infuse into the fruit and make for a boozier dessert ready for any party menu!
Make the Homemade Caramel Rum Sauce
In a small saucepan, melt the butter and add the brown sugar. Mix to combine and melt.
Add the rum and the vanilla extract. (leave out the rum if you want this alcohol free) Whisk together and cook on medium-high heat. Make sure you stir constantly as this will start off thin but thicken soon.
Stir constantly and continue to cook for about 7-10 minutes. The sauce will thicken and reduce to about half. It will be bubbly and a richer color once it is ready. To test for doneness, dip a spoon into the sauce and let cool about 5 seconds. It should coat the back of the spoon and then swipe your finger along the back of the spoon. It should wipe clean down where you swiped and stay that way and be thick like the image below.
Turn off the burner, add the raisins to the sauce. Stir to combine and set aside while you assemble the sundaes.
Assemble the Sundaes
The last step is to plate a slice of pineapple, scoop on the ice cream, and drizzle with the warm rum raisin caramel sauce. For added fun, you can squirt on whipped cream and sprinkle with more raisins! OH YEAH! The flavor is simply amazing!
PIN FOR SAFEKEEPING & SHARING!
Product Recommendations for this Recipe:
The Short Order Cook is a participant in the Amazon Services LLC Associates Program. As an Amazon Associate, I earn from qualifying purchases. If you click on a link and make a purchase, I may earn a small commission on the sale at no additional cost to you. This helps with the costs of running the blog. Thank you!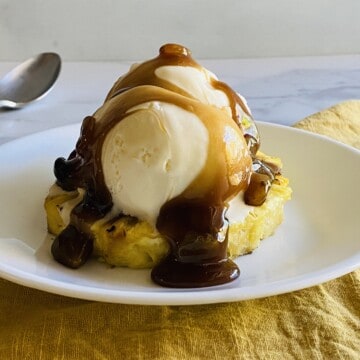 Rum Raisin Pineapple Sundaes
Rum raisin caramel sauce drizzled over ice cream and grilled pineapple is the boozy tropical treat to enjoy all summer.
Ingredients
6

TB

salted butter

1

C

brown sugar

packed

⅓

C

rum

1

teaspoon

vanilla extract

⅓

c

raisins

golden and/or regular

6

slices

fresh pineapple

½" thick

2

pints

ice cream

rum raisin or vanilla

whipped cream

optional

additional raisins

optional
Instructions
Cut pineapple into slices as instructed above.

Grill each pineapple slice over medium heat on your barbecue. (a grill pan indoors on your stove can be used also) Sear each side with the lid open on your grill for about 3-5 minutes each. You want the pineapple to be cooked but not too soft. This way it will hold up to the rest of the sundae ingredients.

Place the cooked pineapple slices in the refrigerator while you make the rum sauce. This way they will be cool and not melt your ice cream once you start assembling.

Melt the butter in a small saucepan over medium-high heat. Add the brown sugar and whisk to dissolve. Add the rum and vanilla and whisk to combine. Continue to cook over medium-high heat and stir constantly.

Continue to stir and cook about 7-10 minutes. This will bubble and start to thicken. Cook the sauce until it is reduced by about half. It is ready when you dip a spoon into the sauce and it coats the back of the spoon. If you let it cool a few seconds and then drag your finger carefully down the back of the spoon, a trail should be left in the middle of it if it is thick enough. Remove from heat.

To assemble the sundaes, place a slice of pineapple on a plate. Top with a scoop of ice cream and then drizzle on the rum raisin sauce. Add whipped cream and additional raisins if desired.
Did you make this The Short Order Cook Recipe?
Tag @theshortordercookblog (Instagram & Facebook) or @shortorder_cook (Twitter).
I would love to see your latest creations and kitchen adventures.