If you are eating to reach some weight gain goals for any reason, these high-calorie smoothies are the best tasting. These easy-to-make smoothies and shakes are typically packed with protein & carbohydrates to up the calorie count in the recipes. There are over 15 yummy smoothie recipes so gaining weight has never tasted so good.
My Pineapple Banana Protein Shake comes in at about 700 calories when not split into 2 servings. It packs in 60gr protein & 70gr carbohydrates for one of the best smoothies for weight gain. If you are adding muscle or bulking, make these smoothies part of your diet. Make it part of your routine, along with these other recipes for high-calorie smoothies.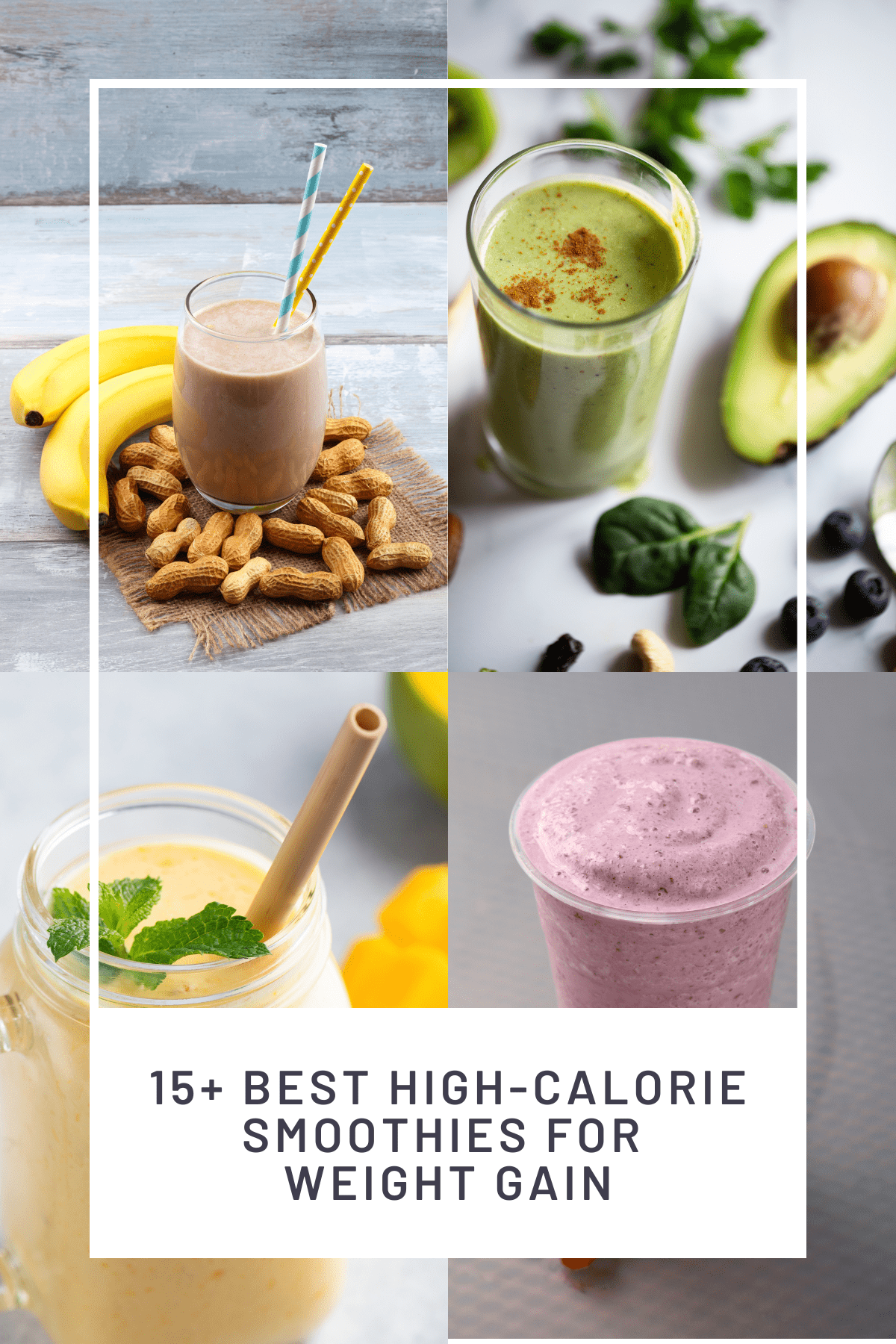 All recipes found here are over 500 calories. Most are between 500-1000 calories & all taste amazing. These calorie-dense smoothie recipes are not only fattening but they are sweet, healthy, & help you add weight. Most are high-fat & high-carb to get that high-calorie nutritional amount.
So grab your blender and make these smoothie and milkshake recipes for breakfast, lunch, snack, dinner, or dessert. Whether you like fruit, chocolate, green veggies, or something nutty, these are the best-tasting high-calorie smoothies.
Jump to:
How to Make a High-Calorie Smoothie or Shake
If you wonder what you can add to a smoothie to increase calories, you are not alone. Picking the right ingredients is key to making a shake or smoothie for weight gain. You want ingredients that are calorie-dense & blend well. And taste great too, of course.
Proteins such as nuts or powders are one way to add calories to a smoothie. Healthy fats also add a lot of calories to smoothies quickly. But foods like grains and starches are good too. Finally, adding a sweetener really ups the calories and flavor.
Here are some common ingredients that are also the best to add to smoothies or shakes to increase the calorie content. I have broken them down into categories - proteins, sweeteners, fats, & grains/starches. I recommend combining several ingredients from different categories to make the best balanced and tasting weight gain smoothie or shake.
Best Proteins for High-Calorie Smoothies
Whole nuts - macadamia, coconut, almonds, cashew, hazelnuts, peanuts, pine nuts, & walnuts.
Nut & Seed Butter - peanut, almond, sesame, sunflower, & cashew.
Dairy Proteins - heavy cream, whole milk, full-fat yogurt, & cream cheese.
Protein Powders - vanilla, chocolate, or other flavored whey, pea, hemp, egg, or brown rice powders.
Seeds - flax, chia, sesame, sunflower, & pumpkin.
Others - silken tofu, beans, & legumes.
For more seeds and nuts with calorie content information check out the calorie info in this chart.
Best Sweeteners for High-Calories Smoothies
Processed Sugars - white, brown, coconut, corn syrup, rice syrup, molasses, cane syrup, & cane juice.
Natural Sugars - maple syrup & honey.
Fresh/Frozen Fruits - dried fruits (figs, dates), avocados, bananas, blueberries, coconut, mango, &
Other - ice cream, sweetened yogurts, Nutella, & flavored syrups like chocolate sauce or caramel.
Consuming sugar is best to be kept to a minimum, especially for those with health concerns such as diabetes. Please always consult with a physician. Artificial or natural sugar-free sweeteners such as monk fruit may be best for you.
Best Fats for High-Calorie Smoothies
Oils - avocado, flax, olive, coconut, or MCT oil.
Dairy Fats - heavy cream, butter, or ice cream.
Other - avocado, coconut milk, or mayonnaise.
Best Starches/Grains for High-Calorie Smoothies
Grains - cooked rice, oats, buckwheat groats, and bulgur.
Starches - beans or legumes.
Vegetables - beets, kale, sweet potatoes, & peas.
High-Calorie Banana Smoothie
Here is a quick recipe for a high-calorie smoothie with banana & protein powder. It is also listed in the recipe card below. So save the recipe to Pinterest, print, & bookmark it so it is always easy to find & blend.
Ingredients include:
Banana
Half & Half
Greek Yogurt
Honey
Ice cubes
For amounts & full instructions see the recipe card below.
High-Calorie Berry Smoothie
This recipe for a berrylicious smoothie that packs on the calories is so amazing. The combination of berries, bananas, & high-fat ingredients makes this one of the best smoothies for weight gain.
Blend the following ingredients in a blender and enjoy! It has 800 calories, 36g fat, 70g carbs, & 55g protein.
Tropical Fruit Smoothie
This is my favorite fruit smoothie for weight gain. It tastes like you are on a tropical island enjoying some relaxation. So if you want a high-calorie smoothie that makes you feel like you are on an island vacation and tastes like a pina colada, this is the recipe. With pineapple, coconut milk, & more this is the smoothie for you.
Blend the following ingredients in a blender and enjoy! It has 855 calories, 29g fat, 93g carbs, & 57g protein.
1 cup fresh or frozen pineapple chunks
1 cup Taste of Thai coconut milk (not low-fat)
1 tablespoon honey
½ cup half & half
1 cup ice cubes
Peanut Butter Smoothie for Weight Gain
Ok, this one is for the peanut butter fans that want a high-calorie smoothie that is 100% amazing. This creamy, nutty, & tasty smoothie is one of the best on this list. The peanut butter & banana combination is a family favorite.
Blend all the ingredients in your blender until smooth. It has 780 calories, 42g fat, 76g carbs, & 35g protein.
½ cup Fage 2% Total Greek Yogurt
1 medium banana
¼ cup creamy peanut butter
1 tablespoon honey
1 cup whole milk
1 cup ice cubes
Vanilla Protein Powder Smoothie
This is my favorite smoothie for breakfast. The classic vanilla protein is a simple and satisfying way to start your day with a high-calorie & high-protein boost. It is a bit lower in fat than other recipes on this list. If you love vanilla, peaches, & cream, go for this smoothie. No yogurt in this recipe.
Blend all the ingredients in your blender until smooth. It has 730 calories, 22g fat, 78g carbs, & 57g protein.
Chocolate Protein Powder Smoothie
Yes, we got chocolate. This rich smoothie recipe with chocolate protein powder & ice cream is perfect for dessert. If you need to gain weight, blend this calorie-dense smoothie recipe & enjoy.
Blend all the ingredients in your blender until smooth. It has 830 calories, 38g fat, 87g carbs, & 46g protein.
1 medium banana
1 cup chocolate ice cream
1 cup whole milk
2 scoops chocolate peanut butter protein powder (Optimum Nutrition)
1 cup ice cubes
Dairy-Free High-Calorie Smoothie
This dairy-free smoothie recipe is also vegan. It is loaded with fruit, mango & berries. No banana in this recipe but it is still thick & creamy without any milk. This is a high-carb recipe that has some healthy fat from olive oil & is low in protein.
Blend all the ingredients in your blender until smooth. It has 540 calories, 19g fat, 96g carbs, & 5g protein.
1 whole fresh mango diced
1 cup sliced fresh or frozen strawberries
1 tablespoon olive oil
1 tablespoon maple syrup
1 ½ cups sweetened almond milk
1 cup ice cubes
Green Smoothie for Weight Gain
This green smoothie is packed with yummy fruits and vegetables. It is also packed with calories thanks to some healthy fats like avocado & olive oil. This recipe is so good & sweetened with maple syrup. Even the kids will happily sip this high-calorie green smoothie. This low-protein smoothie recipe is vegan, dairy-free, high-carb, high-fat, & high-calorie.
Blend all the ingredients in your blender until smooth. It has 780 calories, 57g fat, 70g carbs, & 7g protein.
1 cup fresh spinach
1 medium avocado
1 medium banana
1 tablespoon olive oil
1 tablespoon maple syrup
1 ½ cups sweetened almond milk
1 cup ice cubes
Dessert Shakes for Weight Gain
These decadent shakes and smoothies are the perfect dessert at the end of the day. They are sweet, rich, & delish.
Oreo fans will dive into this cookies & cream recipe. Blend until creamy & dreamy. It has 930 calories & 58g of protein in this Oreo cookie-inspired smoothie.
Sometimes children need to gain weight, not just adults. If that is the case for your little one, here is a great recipe that is 100% kid-approved. It is just under 500 calories which are great for smaller bodies that are still growing. If you need a bit more in the calorie count, throw in one of the optional add-ons that are suggested. Both my preemie twins were on diets to gain weight for years and smoothies & protein drinks are great.
Other 500+ Calorie Smoothie Recipes
Try either of these recipes for a 500-calorie snack or dessert. They are a great way to get extra calories in your diet if needed for health, fitness, or weight-maintenance reasons.
Three favorites blended into one great-tasting smoothie. This smoothie has almost 700 calories per serving & is carb heavy. It will satisfy you & keep you full.
The classic with only 4 ingredients is a sweet treat any time of day. This recipe is just under 500 calories but I suggest adding your favorite unflavored protein powder to it. This will add protein & bulk it up.
This tropical fruit smoothie is 300 calories for the whole recipe. I like to add protein to it when making it as a meal replacement recipe. I add two scoops of vanilla cream whey powder by Optimum. It then packs in over 500 calories plus adds 48g of protein.
Other 1000+ Calorie Smoothie Recipes
These smoothie recipes all have over 1000 calories. They are easy to make & will fill you up.
If you love peanut butter & jelly, this is the recipe you will just love. Strawberries & creamy peanut butter blend up in this calorie-dense smoothie.
The oats, peanut butter, & 3 kinds of fruit are a complete meal in a smoothie. This is the best high-calorie smoothie recipe with oats you can make. It has 1281 calories & 45g of protein. Bulk up some muscle mass with this tasty smoothie.
Best Blenders & Protein Powders for Smoothie Making
Here are the best blenders & protein powders for smoothie making. All of these will ensure your smoothies & milkshakes are creamy, without lumps, and packed with protein & calories.
Other Recipes over 500 Calories a Serving
If you want to try some other recipes besides smoothies, these all are over 500 calories per serving. Try these yummy recipes that are high in calories and big in flavor.
Philly Cheesesteak Pasta Skillet Casserole
This fantastic one-pan casserole recipe combines a classic Philly cheesesteak and pasta that any cheese lover will rave about. Thinly shaved beef is tender plus peppers, onions, 3 kinds of cheese, and rotini pasta are cooked together in the skillet for a family-favorite meal. So the next time you crave a Philly cheesesteak, skip the roll and make a pasta dish instead.
Philly Cheesesteak Pasta Skillet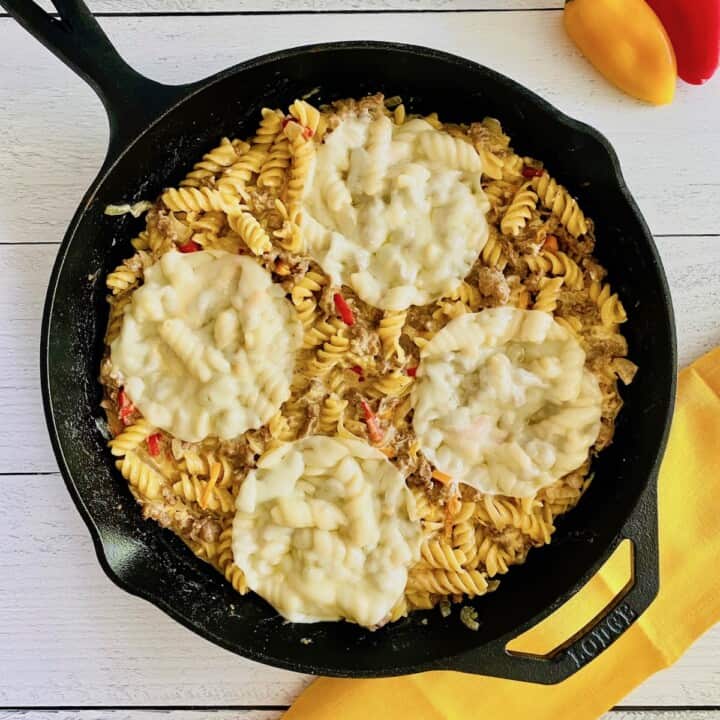 Fried Spaghetti with Eggs
Fried spaghetti with eggs is a great way to enjoy leftover spaghetti in a delicious meal that is great for breakfast, brunch, lunch, or dinner. This simple recipe results in crispy spaghetti, fried eggs, with a creamy garlicky sauce that pulls it all together in just minutes. 
Fried Spaghetti with Eggs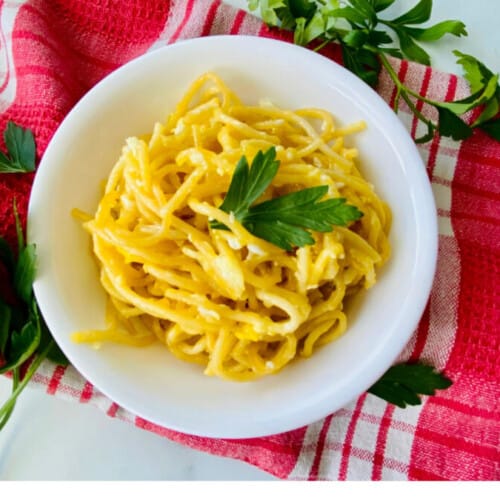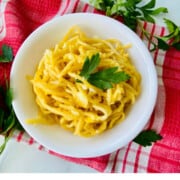 Zucchini, Chickpea, and Potato Curry
This vegan Indian curry recipe is full of zucchini (courgette), chickpeas (garbanzo beans), and potatoes. This coconut milk curry is medium spiced and has a rich savory flavor that is velvety and satisfying. 
Zucchini, Chickpea, & Potato Vegan Curry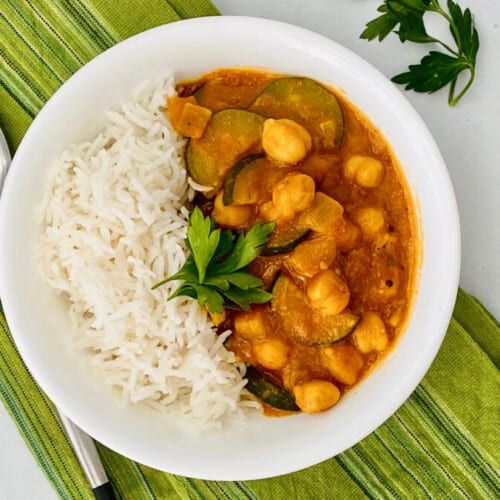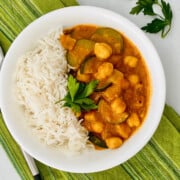 Baked Shrimp Scampi
This quick & simple sheet pan recipe makes the best garlic, butter, and lemon shrimp scampi. In 20 minutes the baked shrimp scampi with tomatoes and zucchini is ready. A wonderful low-carb & keto-approved weeknight dinner that the whole family will love. An Italian classic made easy in your oven.
Sheet Pan Shrimp Scampi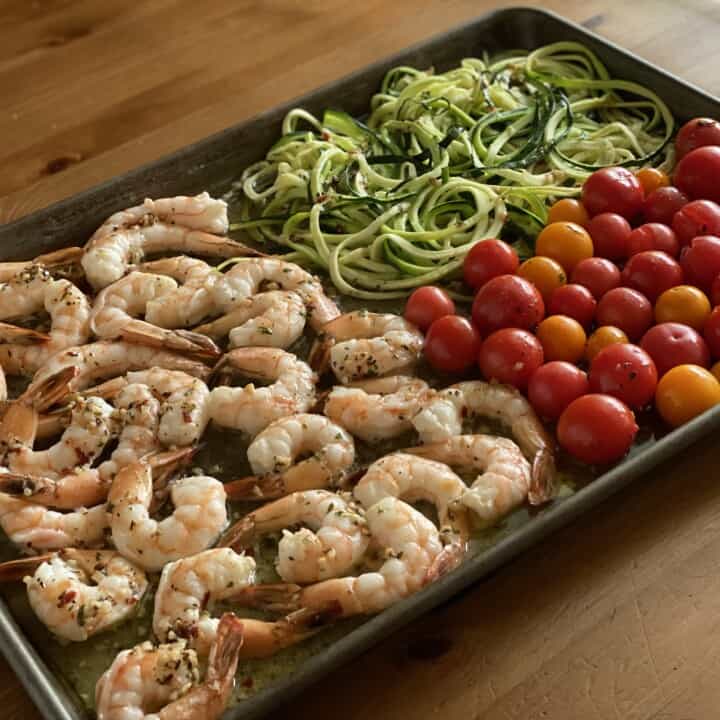 15+ Best High-Calorie Smoothies for Weight Gain (Banana Smoothie Recipe)
This easy-to-blend recipe for a high-calorie banana smoothie is creamy, thick, & delicious. A healthy way to gain weight or hold where you are. It has over 800 calories & is so yummy.
Ingredients
1

medium banana

½

cup

2% Total Fage Greek Yogurt

2

scoops

365 Whole Foods Brand Vanilla Whey Protein Powder

1

cup

half & half

2

tablespoons

honey

1

cup

ice
Instructions
In the blender bowl or container, add the ingredients.

Blend on low and work up to blend on high. It is ready to eat when it is smooth and has no visible chunks of ice or banana.

Pour into a drinking glass and enjoy!
Notes
The nutritional information is based on the ingredients and brands used as listed in the recipe card. Different yogurt, protein powders, or banana sizes may alter the calorie count.
Nutrition Facts
Servings: 1
Amount per serving
 
Calories
812
% Daily Value*
Total Fat 32.5g
42%
Saturated Fat 19.2g
96%
Cholesterol 141mg
47%
Sodium 219mg
10%
Total Carbohydrate 82.5g
33%
Dietary Fiber 3.2g
11%
Total Sugars 67.8g
 
Protein 50.1g
 
Vitamin D 0mcg
0%
Calcium 496mg
38%
Iron 1mg
4%
Potassium 919mg
20%
*The % Daily Value (DV) tells you how much a nutrient in a food serving contributes to a daily diet. 2,000 calorie a day is used for general nutrition advice.