This irresistible smoothie has a protein punch to help sustain your energy plus fresh fruit to satisfy your sweet tooth.  Tart juicy fresh pineapple, potassium-rich bananas, vanilla protein powder, and rich coconut milk create a whirlwind of flavors in this creamy protein shake.  It is a great weight loss smoothie as it really fills you up thanks to the whole fruits and the fiber in pineapple and bananas.
A fresh pineapple banana protein smoothie is a great way to start your day or have it as a midday snack.    In the summertime, it is also a perfect cool dessert. I include both a vanilla protein powder and some greek yogurt into my smoothies to boost the protein calories and to help thicken the smoothie so it feels more like a meal versus a drink.  Doing this helps keep me going early in the day and I find I am not exploring the cupboards for a mid-morning snack.
My husband got me a NINJA blender a few years ago and it is amazing on any beverage where ice is involved.  There is nothing worse than wanting a nice blended smoothie or pina colada to only find you are chewing the big ice chunks at the bottom.  This machine is a rock star at grinding those ice cubes down and blending all the ingredients evenly. The single-serving containers are a bonus too and perfect when you want to make a single beverage.
This recipe is for two smoothies but since I take mine usually to work with me, I make this twice in a single container.  Landon usually gets the first one and drinks it at home before school. I take the other to go with me in the car.    On weekends we fancy it up with bendy straws and real glasses!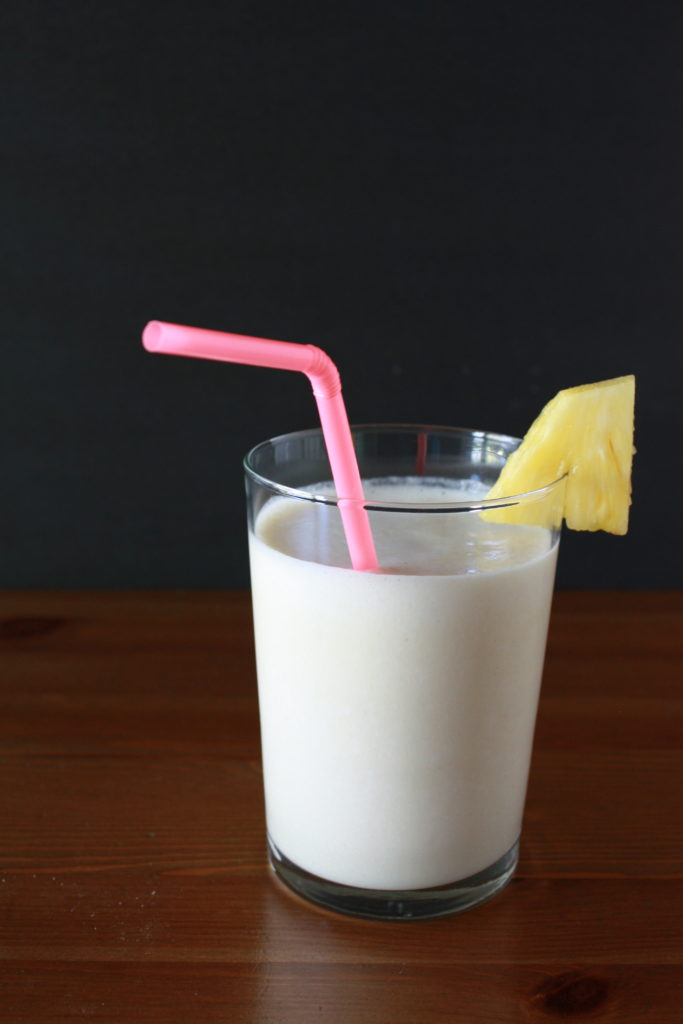 Ingredients for Pineapple Banana Smoothie
This recipe makes the best healthy pineapple banana smoothie.  You will need fresh pineapple, a ripe banana, greek yogurt, almond milk, coconut milk, and vanilla whey protein powder.  The pineapple banana smoothie can be made vegan but leaving out the yogurt and using a vegan protein powder, like pea protein.
How to Make a Pineapple Banana Smoothie
As I mentioned, I make these with the Ninja blender in the single serving size containers as seen here.  Simply add ½ of the ingredients as listed in the recipe below and blend/pulse for about 30 seconds.  I pour that into a glass and then make a second one with the remaining ingredients.
Since pineapples are so large, you will have leftover pineapple chunks. If you do not want to eat it right away, save it for later.  Pineapple can be frozen and enjoyed later.  I like to place the pineapple chunks in a single layer on a baking sheet that is lined with parchment paper. Once they are frozen, I transfer them to a Ziplock bag. They will last for up to 3 months in the freezer.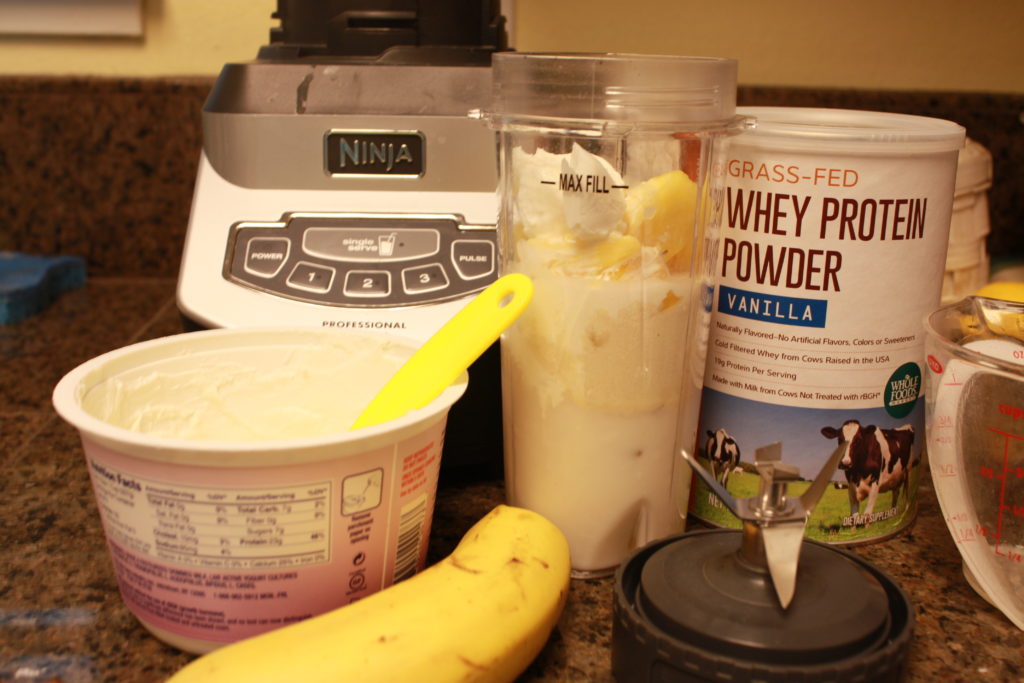 Product Recommendations for this Recipe:
The Short Order Cook is a participant in the Amazon Services LLC Associates Program.  As an Amazon Associate, I earn from qualifying purchases.  If you click on a link and make a purchase, I may earn a small commission on the sale at no additional cost to you. This helps with the costs of running the blog. Thank you!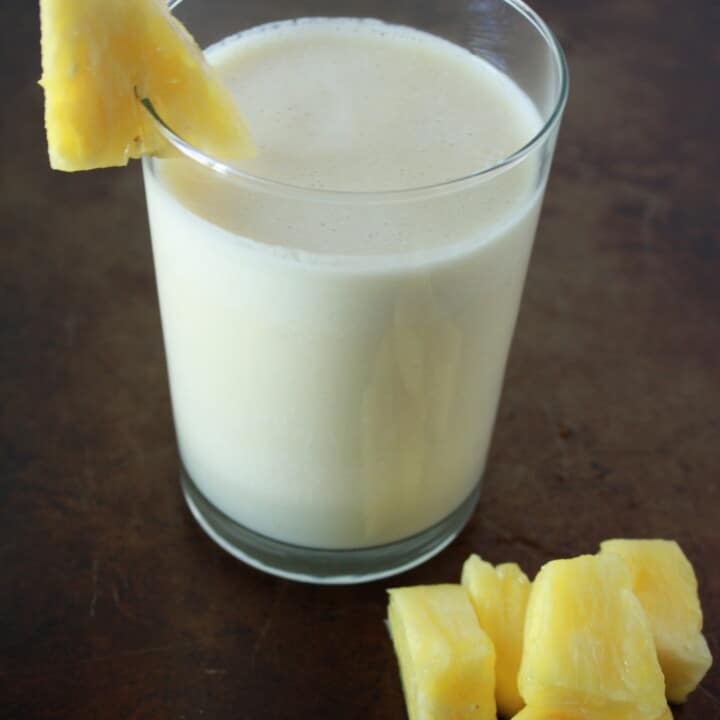 Pineapple Banana Protein Smoothie
Tart juicy fresh pineapple, potassium-rich bananas, vanilla protein powder, and rich coconut milk create a whirlwind of flavors in this creamy smoothie. A healthy fresh fruit snack or breakfast that is great for weight loss.
Ingredients
1

C

fresh pineapple

chunks

1

banana

chunks

1

C

unsweetened almond milk

1

C

ice cubes

2

scoops

vanilla protein powder

½

C

coconut milk

can shaken

2

tablespoon

plain greek yogurt
Instructions
Blend all ingredients in a blender until smooth.
Notes
Nutrition Facts
Servings: 2
Amount per serving
 
Calories
349
% Daily Value*
Total Fat 8.8g
11%
Saturated Fat 4.6g
23%
Cholesterol 136mg
45%
Sodium 115mg
5%
Total Carbohydrate 34.6g
13%
Dietary Fiber 2.7g
10%
Total Sugars 20.6g
 
Protein 31.8g
 
Vitamin D 0mcg
0%
Calcium 150mg
12%
Iron 1mg
3%
Potassium 441mg
9%
*The % Daily Value (DV) tells you how much a nutrient in a food serving contributes to a daily diet. 2,000 calorie a day is used for general nutrition advice.
Did you make this The Short Order Cook Recipe?
Tag @theshortordercookblog (Instagram & Facebook) or @shortorder_cook (Twitter). 
I would love to see your latest creations and kitchen adventures.