These are the best Hawaiian roll slider recipes for an easy appetizer, snack, or meal. Whether you want a pull-apart slider for breakfast, brunch, lunch, or dinner, these delicious recipes are family favorites. Make any of these recipes on soft sweet or savory Hawaiian rolls & be ready for something amazing.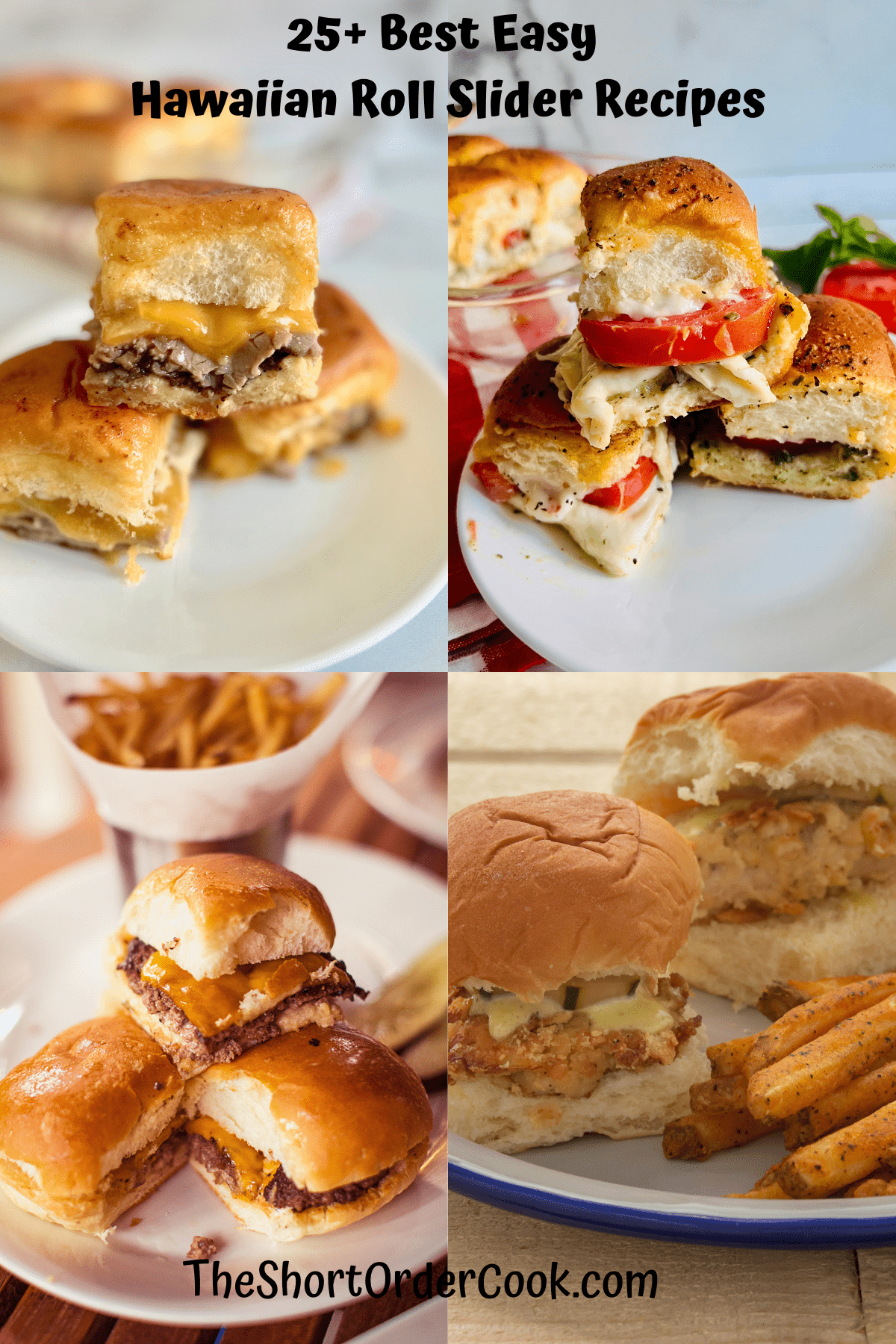 I am sharing with you great recipes for hot or cold sliders. The hot oven-baked sliders are comforting and often include melty gooey cheese. These warm sliders are great as a hot appetizer for parties.
Or try a cold slider that is perfect for packing for picnics, lunch at work or school, or parties. These small sandwiches pack a flavor punch. All are great for feeding a crowd, parties, potlucks, & snacks. There are even dessert sliders!
Jump to:
I have separated the recipes into different sections. So no matter what you looking for, you will find the perfect slider recipe. There is everything you can imagine. Some have meat but also vegetarian options. Scan the categories and get ready for the best slider recipes.
Since Hawaiian rolls have flour, butter, and eggs, they are not an option for vegan or gluten-free diets. These recipes are also not low-carb or keto-friendly. Some are dairy-free & nut-free.
Sliders by The Short Order Cook
These are my personal favorites. All of these recipes are from right here on the blog. I have you covered from morning to night with these. The breakfast slider is a great way to start your day. Plus more sliders for any time of day.
Hawaiian Roll Breakfast Sliders
This quick & easy recipe for baked breakfast sliders using Hawaiian rolls is sweet, savory, & hearty. Great for weekend brunch, holidays, & busy weekday mornings. Layers of pork sausage, fluffy scrambled eggs, and gooey cheddar cheese are perfect. In 30-minutes these mini sandwiches are ready plus make-ahead tips.
Check out this recipe
Caprese Sliders
These oven-baked Caprese sliders on Hawaiian rolls are a yummy appetizer, small bite, snack, or meal. Fresh tomatoes, pesto, & mozzarella combine for an easy Italian sandwich recipe. The perfect vegetarian recipe for parties, holidays, & game day.
Check out this recipe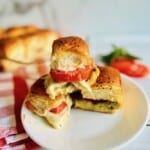 Roast Beef, Cheddar, & Caramelized Onion Sliders
These oven-baked roast beef & cheddar sliders on Hawaiian rolls are a yummy appetizer, small bite, or meal. Sliced beef steak, cheddar cheese, & sweet caramelized onions combine for an easy slider sandwich recipe. Great for parties, game day, Super Bowl, birthdays, lunch, dinner, or snack.
Check out this recipe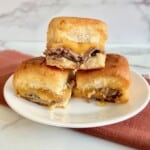 Sliders with Turkey or Chicken
If you are a poultry lover, these recipes for sliders made with turkey or chicken are for you. These easy recipes include cold and hot options.
The trifecta of all things delicious is in this baked slider recipe. Sliced turkey, ranch dressing, white cheddar, & bacon bits come together for a flavor explosion. The Hawaiian rolls are brushed with butter, brown sugar, and poppy seeds for a rich crunchy topping.
These are a favorite after Thanksgiving when the leftover turkey is plentiful. But let's be honest. These sliders are fantastic any time of year. Tender turkey, sweet & tart cranberry sauce, & cheese are more than a holiday favorite.
For a southwest twist on a turkey sandwich, these sliders are anything but boring. Pepperjack cheese, green chiles, & cayenne pepper heat things up in this spicy turkey slider.
The classic combo of turkey, American cheese, & bacon is a favorite fr good reason. They are simple but simply tasty. This recipe requires no cooking and is a great cold slider option. Since no oven is needed, these sliders are wonderful no matter where you are; home, camping, RVs, & dorm rooms.
Saucy and sensational. That is the best way to describe these BBQ chicken sliders. The pineapple barbecue sauce & jack cheese are my favorite parts of this recipe. They are sweet tangy, & cheesy.
If you like sweet& salty, these sliders piled high with pulled chicken in teriyaki sauce are for you. I love these for parties and potlucks. Keep the chicken warm in the crock pot & let guests make their own sliders. Bonus: this is a great slider recipe without cheese (Dairy-free!)
Soft rolls topped with crispy crunchy fried chicken are a match made in heaven. Fry up small chicken pieces that fit perfectly with slaw & pickles on Hawaiian rolls. Serve warm, at room temperature, or cold on a picnic.
All the yummy of a Philly cheesesteak but with chicken instead of beef. Don't get me wrong, these are just as good as the classic sandwich. This quick recipe transforms rotisserie chicken, peppers, and onions into a hot slider everyone will love.
Sliders with Roast Beef or Pork
If you have a hearty appetite and want something meaty, these slider recipes with beef or pork are what you are looking for. These slider recipes using Hawaiian rolls are a meat lover's dream.
There is no resisting these roast beef sliders with a savory au jus to dip them in. The French dip was actually invented in Los Angeles, but don't let that stop you. You don't want to pass up making these.
If you love Italian flavors, these sliders with roast beef & provolone are the way to go. Spicy pepperoncini peppers plus garlic butter tops elevate these Italian sliders. Pair them with my Caprese Sliders & offer your guests a vegetarian slider along with this meaty Italian one.
When you think beef sliders, a small meatball sandwich often comes to my mind. This easy meatball slider recipe uses frozen meatballs & a jar of sauce for a quick shortcut without compromising taste. Easy, peasy, & cheesy!
If you love hamburgers and sliders, these cheeseburger sliders are the best of both worlds. They are beefy, cheesy, & hearty. This is the ultimate game day appetizer if you ask me.
I had to include the classic combo of ham and cheese. There is no better slider recipe for feeding a crowd. This one is also great when you have leftover ham from Christmas, Thanksgiving, Easter, or other holidays. Great for brunch & lunch.
The summer favorite for barbecues and cookouts also makes an amazing slider. Pile up some BBQ pulled pork on Hawaiian Rolls and provolone cheese. Use my recipe for smoked pulled pork to make these outstanding instead of using store-bought pulled pork.
If you have not had a Cuban sandwich, making these sliders will tell you why these ham & cheese morsels are amazing. This double pork recipe uses ham and pulled pork as a meat lover's favorite. Plus pickles and cheese - no way you can resist this one.
These little sandwiches remind me of banh mi. With similar flavors, the ground pork is topped with cucumber, peppers, & mayo. Add some cilantro for Vietnamese influences.
Vegetarian Sliders
If you want a delicious slider recipe without meat, these vegetarian ideas are just the ticket. There are healthy, fresh, & wonderful options for getting in your servings of vegetables. My Caprese-inspired sliders with mozzarella and tomato are also a great recipe - see above for that recipe.
For a meatless slider, enjoy a spicy black bean burger on a Hawaiian roll. Along with a Mexican blend of cheeses and chili lime dressing, the Southwest flavors of this slider are unmistakable.
For hearty appetites that want something vegetarian, these portobello mushroom and cheese sliders are satisfying. Sauteed mushrooms with garlic and balsamic are the star of this sandwich. Topped with white cheddar for a gooey "meaty" bite.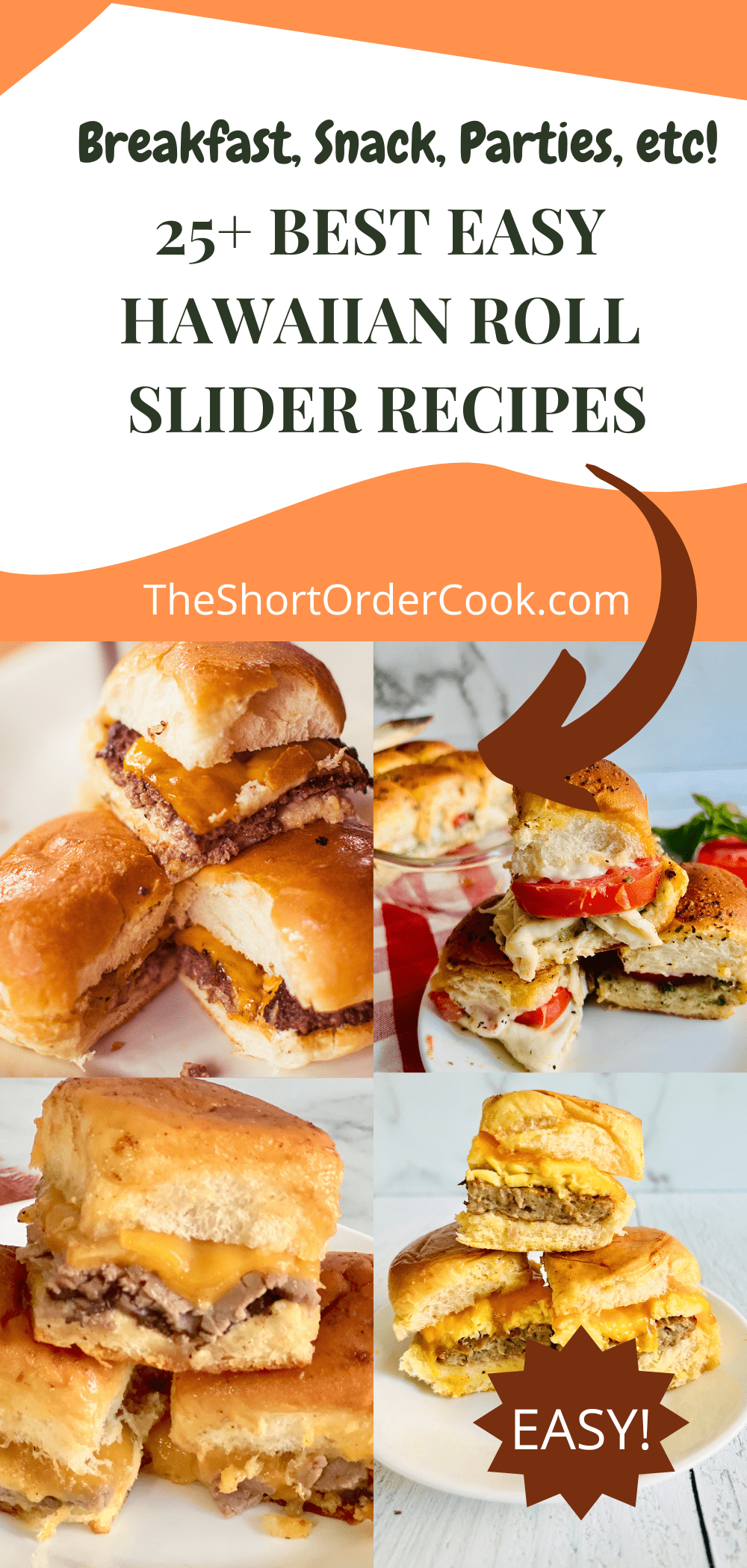 Breakfast & Brunch Slider Recipes
If you are hankering for something early in the day, these sliders are the best. Start your day with a complete meal in a soft Hawaiian roll. Many can be assembled the night before so all you have to do is bake them in the morning. Great for busy weekday mornings or holidays.
Yes, they are named so because they are so addicting. Cheddar, bacon, & eggs on a sweet Hawaiian roll topped with ranch butter for something special. No better way to start your day.
Fluffy scrambled eggs and breakfast ham are the traditional combo on these breakfast sliders. The honey butter basting sauce ensures these are sweet & savory in every bite. Make a fruit salad & have the ultimate brunch combination.
If you want a vegetarian breakfast slider, this recipe is it. There is no meat in this slider but you won't miss it. Soft scrambled eggs & cheddar pair up in this breakfast sandwich. The everything bagel seasoning on top is fun & delish.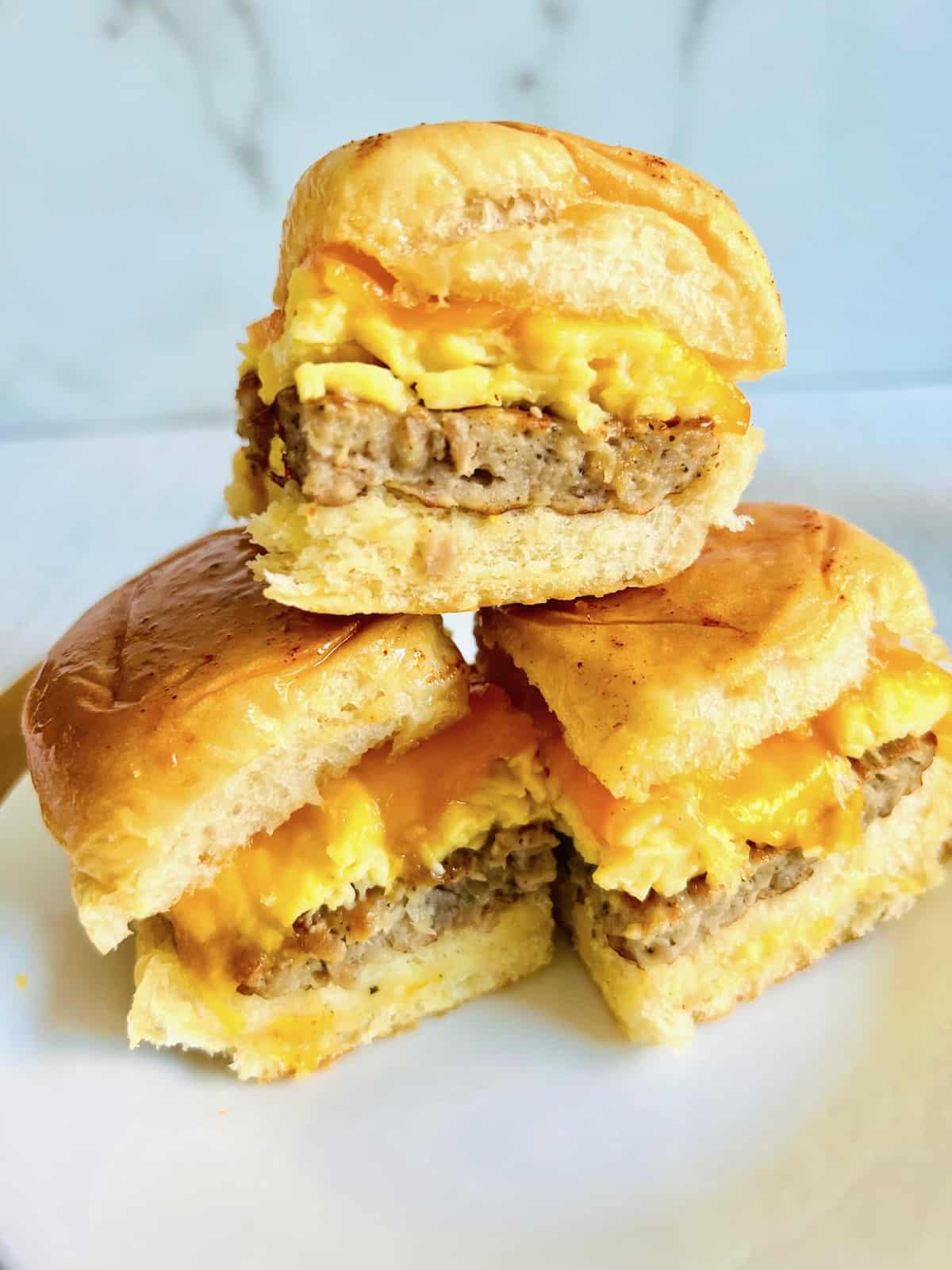 Dessert Slider Recipes
Yes, sweet sliders perfect for dessert are a thing. These recipes on sweet Hawaiian rolls will satisfy your sweet tooth. So don't forget to finish the meal or your day with one of these recipes.
That's right, cheesecake in a handheld slider recipe. Sweet Hawaiian rolls with a sweet cream cheese filling and cherry pie filling come alive in this dessert. The glaze and graham cracker topping ensures it has real cheesecake vibes.
The perfect finish to your BBQ; peaches and cream dessert sliders. This will be a summer favorite once you try it. Fresh peaches and sweet cream are light & heavenly in this recipe.
25+ Best Easy Hawaiian Roll Slider Recipes
All the best easy Hawaiian roll slider recipes. These ideas are often cheesy but can be vegetarian or with beef, pork, turkey, or chicken. Including breakfast, brunch, lunch, dinner, appetizer, snack, dessert, party, game day, & Super Bowl sliders.
Ingredients
Caprese Sliders

Breakfast Sliders

Cheeseburger Sliders

Roast Beef & Cheddar Sliders

Cuban Sliders

Pulled Pork Sliders

Cherry Cheesecake Sliders

Bacon & Cheese Sliders

Turkey Cranberry Sliders

Portobello Mushroom Slisders

Many More!
Instructions
Pick one or more recipes to make.

Enjoy with sides like fruit, salad, fries, or soup. Enjoy!