For an easy foolproof method for cooking frozen potstickers in the air fryer, try this recipe. They will be hot on the inside and crispy on the outside with just the right amount of time to cook in the air fryer. You will never want to cook potstickers any other way after air-frying them. This is healthier than pan-frying in oil and then steaming at the end which is a two-step cooking process. This recipe works for air frying any potsticker or dumpling whether they are pork, chicken, tofu, vegetarian, or shrimp in just one easy step.
Dumplings, such as gyoza, mandu, or potstickers can be cooked in the air fryer so easily with this quick recipe. Potstickers are also known as jiaozi or guo tie or jian jiao, if pan-fried or in this case air-fried.  It is so quick and easy with minimal preheating when you air fry frozen potstickers.  Serve them with a delicious dip or sauce. They will turn out hot on the inside and crispy on the outside without having to do a boil, steam, and pan-fry process that is typically two steps.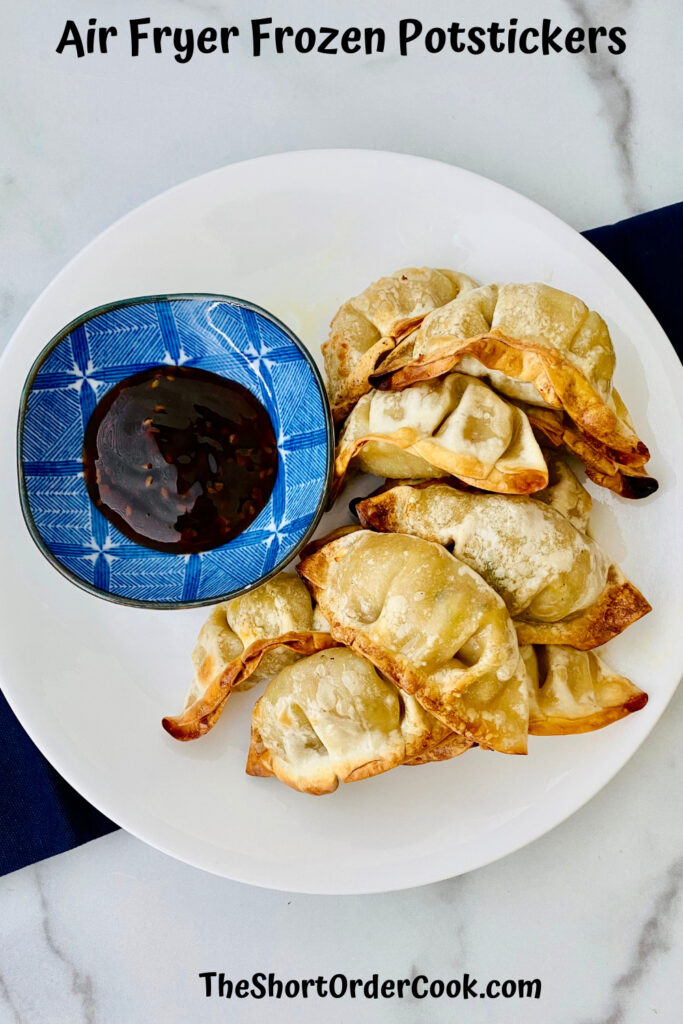 Ingredients for Air Fryer Potstickers
All you need is 2 ingredients to cook frozen potstickers in the air fryer.  First, you need your favorite frozen potstickers, such as Trader Joe's, Ling Ling, Whole Foods, or PF Changs. Then to air fry, you will need a high-heat oil spray such as avocado oil. The avocado oil is needed for air frying frozen dumplings so that they do not dry out, but crisp up and fry instead. 
HOW TO AIR FRY FROZEN POTSTICKERS
Place the frozen potstickers into a single layer in your basket or tray for the air fryer. Try and space them apart for full heat circulation around all sides. Spray both sides with avocado spray.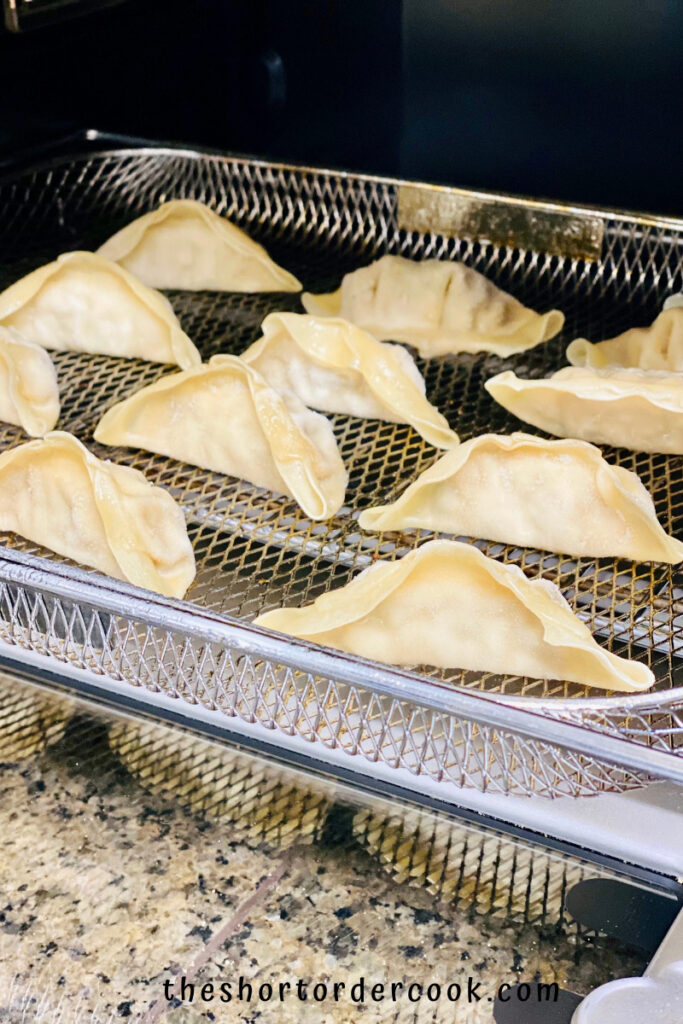 DO YOU NEED TO PREHEAT AN AIR FRYER?
An air fryer does take some time to heat up before cooking. However, you do not need to wait to put your food until after it is preheated. When you set your air fryer for the temperature and time needed, it will begin preheating immediately. Once it is at the right temperature it will begin counting down the minutes you have set for it.
I find it best to put the food in and then set it; therefore, the food can be inside while preheating. I worry that I won't be right there when it beeps as the preheat stage ends. This will then delay me getting the food in and the time will tick down without the food actually in the air fryer. For cooking frozen potstickers, there is no need to preheat or wait to get the food in.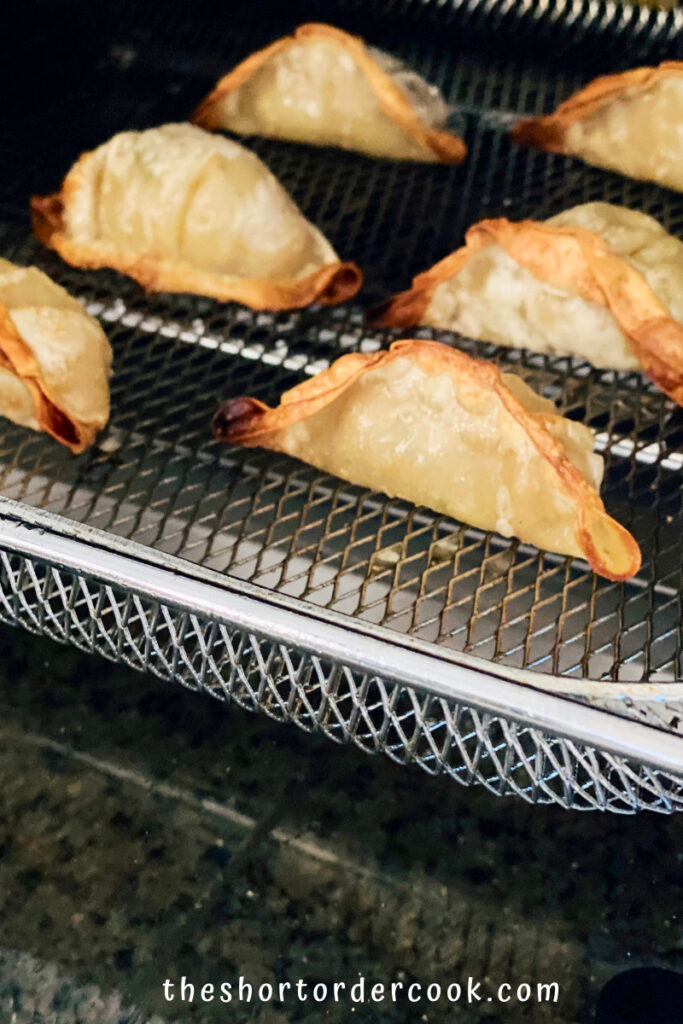 HOW LONG TO COOK POTSTICKERS IN THE AIR FRYER
Set the air fry function and the temperature to 375. Next set it for 10 minutes when cooking potstickers. DO NOT preheat - just get them in there and set it.  If they are spread out enough, there is no need to shake or rotate them.  But if you have a small basket and they are touching in a single layer, at the 5-minute mark, shake or rotate them around.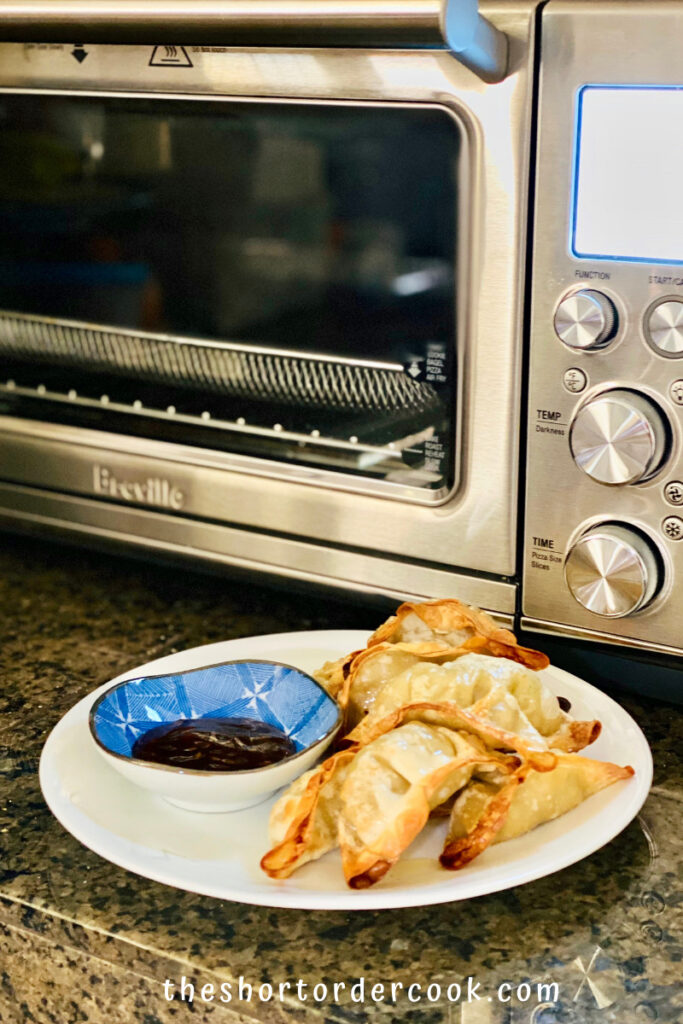 HOW DO YOU KNOW WHEN AIR FRYER POTSTICKERS ARE DONE
They will be brown and crispy on the edges with this amount of time. If you want your potsticker to be less crispy, set the air fryer to 350° and cook for 10-12 minutes. They will be piping hot when they come out so use tongs to remove and plate them. The inside will be hot and the outside will be crispy and brown.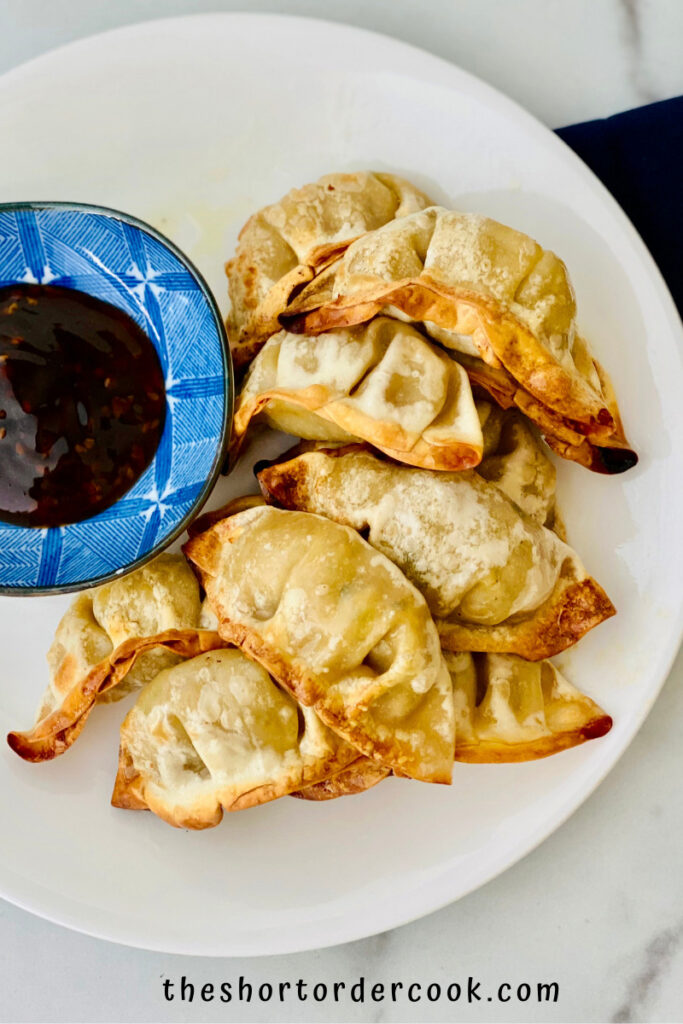 WHAT TO SERVE WITH POTSTICKERS
Frozen potstickers that have been cooked in the air fryer are a great snack, appetizer, or side dish.  These air-fried potstickers are great for parties, Chinese New Year, dinner, and more.  Once the potstickers are done air frying, serve immediately with dipping sauce. 
For ideas that go well with potstickers, try these recipes.  Dumplings, such as gyoza, mandu, or potstickers can be served with any of these recipes for a complete meal. In winter I love these hot potstickers with a bowl of Tom Yum Noddle Soup or in summer with an Asian-Inspired Coleslaw with Peanuts & Avocado.
Teriyaki Chicken on a Stick
Teriyaki chicken on a stick is an easy family favorite recipe.  These tasty marinated chicken teriyaki kebabs are grilled to perfection for the ultimate sweet, salty, and savory bite. This is a gluten-free recipe with keto options as well.
Check out this recipe
Asian Avocado Peanut Coleslaw
If you want an easy peanutty coleslaw recipe, this Asian avocado peanut coleslaw is the best. This chopped slaw recipe is bursting with fresh vegetables that are dressed in a homemade Asian-inspired dressing that is salty, sweet, and spicy. This slaw is vegan and gluten-free and sure to be one that everyone loves.
Check out this recipe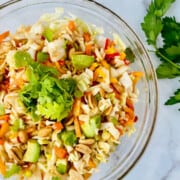 Vietnamese Grilled Chicken Breasts
Thin chicken breasts are marinated for at least one hour in a salty, tangy, and sour marinade. When grilled the Asian basting sauce adds the final punch of flavor.
Check out this recipe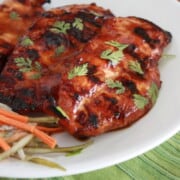 Tom Yum Soup with Noodles
Tom Yum soup is a seafood coconut milk soup that has hot and sour flavors. This Thai recipe has shrimp, vegetables, and rice noodles for a flavorful comforting bowl of soup.
Check out this recipe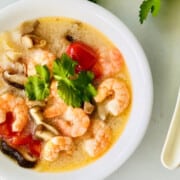 PIN FOR SAFEKEEPING & SHARING!
Product Recommendations for this Recipe - #ad:
The Short Order Cook is a participant in the Amazon Services LLC Associates Program. As an Amazon Associate, I earn from qualifying purchases. If you click on a link and make a purchase, I may earn a small commission on the sale at no additional cost to you. This helps with the costs of running the blog. Thank you!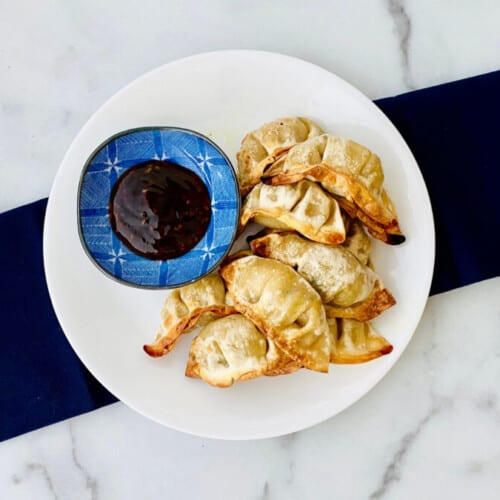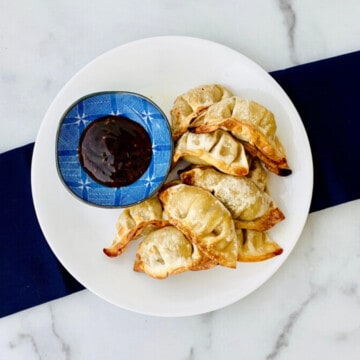 Air Fryer Frozen Potstickers
For an easy foolproof method for cooking frozen potstickers in the air fryer, try this recipe. They will be hot on the inside and crispy on the outside. Air frying is an easy way to cook dumplings, gyoza, mandu, and any pork, shrimp, vegetarian, or chicken potsticker.
Ingredients
1

bag

frozen potstickers

avocado oil spray
Instructions
Add frozen potstickers to your air fryer basket or tray. Spray both sides with avocado spray. 

Depending on the size of your air fryer basket or tray, add only as many as will fit without overcrowding.  Be sure to leave some space between the fries and that they are in a single layer.   

Once the frozen potstickers are in the air fryer, set to air fry.   Set the air fry temperature at 375°.  Next set the timer for 10 minutes. 

It will take a few minutes to preheat and then the 10 minutes will countdown.

When they are done cooking, carefully remove them from the oven and plate.  They will be HOT!

Serve with your favorite dip. Enjoy.
Did you make this The Short Order Cook Recipe?
Tag @theshortordercookblog (Instagram & Facebook) or @shortorder_cook (Twitter).
I would love to see your latest creations and kitchen adventures.