If you want an easy peanutty coleslaw recipe, this Asian avocado peanut coleslaw is the best. This slaw has cabbage, avocado, sweet peppers, green onions, and peanuts plus a savory tamari and peanut butter dressing. It is crunchy, fresh, colorful, and healthy. It is the best quick and easy vegan and gluten-free coleslaw recipe. Also, depending on your diet choices, this coleslaw recipe is also low carb, vegetarian, diabetic-friendly, and keto. (see carbs and calories shared below)
This chopped slaw recipe is bursting with fresh vegetables that are dressed in a homemade Asian-inspired dressing. This coleslaw recipe has no mayo, instead, a wonderful peanut and sesame dressing with tamari and a little bit of garlic chili sauce adds a ton of flavor. A bonus with this Asian slaw recipe is that since it is made without mayo, it doesn't get soggy or has a chance of spoilage if it sits out. It actually tastes better as the flavors come together and the longer it sits. I recommend this coleslaw as a make-ahead salad recipe that is ideal for barbecues, cookouts, potlucks, picnics, and school or work-day packed lunches.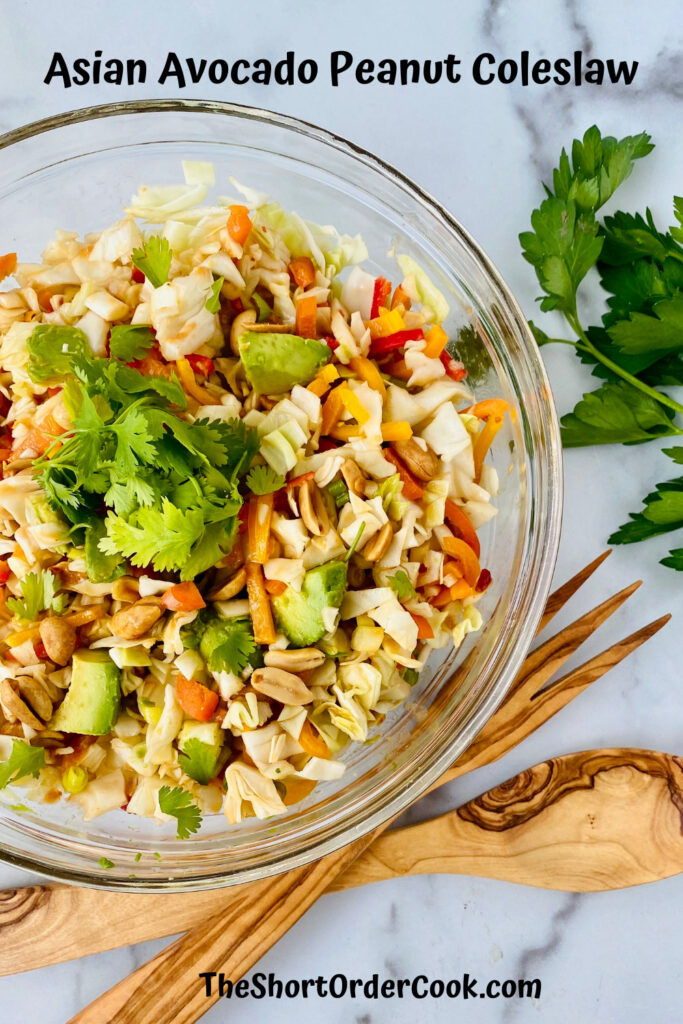 Ingredients for Asian Coleslaw with Peanuts
The fresh ingredients for the coleslaw recipe include cabbage, avocados, sweet bell peppers, green onions, and cilantro. From your pantry, you will also need olive oil, white wine vinegar, sesame oil, tamari which is a gluten-free soy sauce, peanut butter, and garlic chili sauce. If you do not have sesame oil, try my amazing Substitute for Sesame Oil. These will bring the Asian flavors to the salad in the form of an easy homemade coleslaw dressing.
I recommend the peanuts from Trader Joe's. There is something about those blistered ballpark salted peanuts that my family just loves. I also buy a lot of avocados from Trader Joe's since they have a bag of small ones. For this, you can use one large avocado or two small, as long as you have about ¾ a cup of diced avocado chunks. I also like to use tamari instead of regular soy sauce in this coleslaw so that it is gluten-free.
Calories & Carbs in Coleslaw?
This Asian coleslaw recipe is gluten-free, grain-free, vegetarian, and vegan. This peanut coleslaw as written has 221 calories and 12.7 net carbs per serving. Compared to other coleslaw ingredients that have a lot of calories due to the sugar and mayo in the dressing, this is a healthier and low-calorie coleslaw recipe. For example, to compare, 1 cup of KFC coleslaw is 275 calories with 30 carbs and 18 sugars - wow.
You can also have this coleslaw recipe on a keto, diabetic, or low-carb diet. If you have the macros in your daily count of carbs, this homemade Asian peanut coleslaw is keto-approved. The use of green onions which has fewer carbs than red or white onion keeps this keto-friendly. However, you can also omit the peanuts and bring this coleslaw recipe to 177 calories with only 4.4 net carbs and 16 g fat.
How to Make Asian Avocado Peanut Coleslaw
This recipe is very easy and comes together in less than 30 minutes if you are hand chopping the vegetables. If you have a food processor, it is done in about 15 minutes. Either way, start off by chopping the cabbage into small pieces. Follow that with thinly slicing the bell peppers as seen below. I like to use red, orange, and yellow mini bell peppers so that all those colors are included in the coleslaw. Finally, chop the green onions and leave the dicing of the avocado for last so it does not brown while you are prepping the other ingredients.
Make the Asian Coleslaw Dressing
Next make the Asian coleslaw dressing that has Thai flavors thanks to the spicy garlic chili sauce, salty with the tamari sauce, and sweet with the peanut butter. To make this simple dressing, in a medium-sized bowl whisk together all the ingredients.
Prep the Salad Ingredients in a Serving Bowl
In a large serving bowl add all the coleslaw ingredients, excluding those you used to make the dressing. I like to add cilantro to the salad and added on top at the end. I leave the peanuts whole for the salad; however, optional you can add finely chopped to garnish at the end as well.
Add the Dressing to the Coleslaw
For the next step, pour the freshly whisked dressing over the peanut coleslaw ingredients that are in the serving bowl. Toss gently so that the avocados stay intact and the other ingredients are all coated evenly with the dressing.
What to Serve with Asian Avocado Peanut Coleslaw
This coleslaw is salty and savory and a little bit spicy. I love it as a meal just as is for either lunch or a light dinner. To make it more filling, I recommend adding chicken, shrimp, or grilled pork to it for a hearty complete meal. This Asian coleslaw is a vegan recipe that you can add edamame, tofu, or your favorite vegan meat substitute to as well. You cannot go wrong with this recipe whether it is the main entree or a side dish.
Main Entree Recipes That Goes Well with Coleslaw
If you wish to enjoy this recipe as a side dish, here are some great recipes to serve with Asian Avocado Peanut Coleslaw:
Ready to Eat
Once it is combined, this Asian coleslaw is ready to eat. However, I like to make this ahead of time and let the flavors come together about 30 minutes before serving. I then add additional cilantro and sometimes additional peanuts that I have finely chopped.
Can You Freeze Coleslaw?
If you are wondering if coleslaw can be frozen, the simple answer is yes. However, freezing this recipe once it is all together and mixed with the dressing is not advisable. But you can freeze cabbage on its own. To find out more, read up on CAN YOU FREEZE CABBAGE?
How to Store Coleslaw?
As I mentioned, this coleslaw stays fresh and crisp for a while. It is not like other mayo-based coleslaws that get watery or soggy the longer they sit. To store this coleslaw, place any leftovers in an air-tight storage container. Store in the refrigerator for up to 3 days. Add more fresh cilantro to bring back some freshness into the coleslaw if you wish.
PIN FOR SAFEKEEPING & SHARING!
Product Recommendations for this Recipe:
The Short Order Cook is a participant in the Amazon Services LLC Associates Program. As an Amazon Associate, I earn from qualifying purchases. If you click on a link and make a purchase, I may earn a small commission on the sale at no additional cost to you. This helps with the costs of running the blog. Thank you!
Did you make this The Short Order Cook Recipe?
Tag @theshortordercookblog (Instagram & Facebook) or @shortorder_cook (Twitter).
I would love to see your latest creations and kitchen adventures.