If you're in the market for a coffee grinder for your French press, these are the best you can buy. These grinders turn your favorite beans into perfectly ground coffee ready for your slow-drip French press. It will be the best part of your morning & no need to thank me.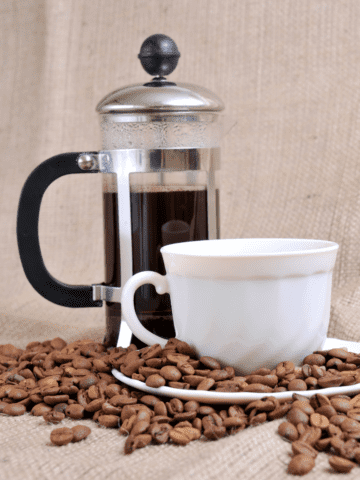 Whether you want dishwasher-safe, lightweight, inexpensive, professional quality, or all of the above, I have you covered. There are different categories and prices so you are sure to find the right coffee grinder for yourself or for a gift for someone.
#ad the post contains affiliate links
Jump to:
Why Buy a Grinder?
Below I will review the best coffee grinders for the home, RV, dorm, or office. Whether you want something easy or to up your barista skills there is something for everyone. All are quality products, offering a wide range of prices, great customer reviews, & coffee-making tips.
These grinders will ensure you are ready for the best cup of French press coffee at home in no time. I even chill my coffee for later to make my summer favorite drink, Philz Copycat Mint Mojito Iced Coffee. Before deciding which one to buy, check out all you need to know about using a French press & coffee making.
What is a French Press?
A French press is a simple-to-use kitchen tool for making coffee. It has been around since 1852 and has a long history. It may also be known as a cafetière, cafetière à piston, caffettiera a stantuffo, press pot, coffee press, or coffee plunger
A French press is easy to use. The brewing is done by using pressure to force coffee to the bottom of the pot or vessel. This slow brewing process lends to a more concentrated flavor. The results are deep; dark and bold-flavored. Coffee purists rave about French-pressed coffee.
Coarse or Fine Grounds for a French Press?
The French press brews coffee using an immersion method. Simply put, this means that the beans extract for a longer and slower time than in other methods. The slow steady brew in a French press lends to a better cup when you use a coarse ground coffee.
The coarser grind allows for a slow extraction and avoids over-extraction. The pour-over method with the plunging press works so much better when there is space between the grinds for the hot water to "flow". But make sure it is not too coarse or your coffee may be weak or not strong enough to your liking.
A finer grind can "clog" or impede the brewing. That lack of brewing with a smooth water flow is why I don't recommend using a fine grind in any French press. A finer grind will make ensure the coffee is not weak. However, there is a greater chance for grounds to make it through the press and end up at the bottom of your coffee cup.
Best Manual Coffee Grinders
If you want to give it some muscle, these manual coffee grinders are the best on the market. With a few turns of the handle and transform your beans into the best grind for your French press. The best part of a manual grinder is that it is quieter than an electric model.
With over 20K 4-star ratings, this is by far the most popular and best-reviewed manual coffee grinder on the market. It has 18 settings, so you can easily get the coarse grind needed for a French press. It is compact which makes it great for small kitchens, travel, RVs, & dorms. Ideal for espresso too. Easy to clean and use, lightweight, & gives a consistent grind - all at an economical price.
An almost 5-star rating makes this the top-rated manual grinder on Amazon. It has a capacity of 25g for the ultimate grind. Offered in 6 colors, including gold, black, & white. Easy to adjust and use - Youtube videos on how to use it also.
Best Electric Coffee Grinders
If you want to grind your beans fast, an electric grinder may be for you. Electric models are not only faster, they often grind more at a time. So if you want coffee fast and for a crowd, an electric model may be for you.
The one main con to an electric grinder is louder than a manual model. They are not quiet and may wake people in the morning. If that is not your worry, here are the best electric coffee grinders to buy.
This electric grinder for making French press coffee has great customer reviews & an economical price. 16K customers cannot be wrong. You can get coarse and fine ground with this model. It is easy to clean with a brush which makes it ideal for multiple tasks. Grind spices and herbs too.
Mr. Coffee is a household name that has been around for decades and rightfully so. This quality grinder has a setting to grind anywhere from 2 to 18 cups. The large capacity bowl is ideal for large households/families, offices, & other places that want to make a lot of coffee.
It has 18 grind settings from coarse to ultra-fine. Easy-to-clean brush included. The auto-shutoff feature is a bonus. One of the best all-around coffee grinders you can buy.
Best Grinders $20-$25
For the best inexpensive coffee grinders, check out these models. All will get you the coarse ground you are looking for in your French press coffee maker. The best part, each one is under $20 or $25, has great customer reviews, & is easy to use.
This electric coffee grinder can make up to 12 cups of coffee. The grinding bowl is dishwasher-safe. It has only one setting so not a lot of variety in the size of the grind. Otherwise, a quality product at an inexpensive price.
You can get coarse or fine ground from this coffee grinder by Dr. Mills. For less than $25 this electric grinder is a steal. Yields up to 7 cups of coffee. Easy to clean & simple to use with one press.
FAQ
Here are some other tips, tricks, & other helpful information for using and enjoying your French press and grinder. For the perfect cup of coffee, it doesn't have to be complicated.
What are the best-size grinds for a French press?
The French Press method of brewing lends best for a coarse grind. The grind size I recommend should be between .75 mm and 1 mm.

If the grind is too coarse it will make the coffee taste weak. If it is too fine, it will impede the water flow in the French press.
Which whole beans are good for French press coffee?
Everyone seems to have their own favorite coffee so it can be based on personal taste. If you like a dark to medium roast that is rich, I have always regarded ILLY CLASSICO as my favorite. Great for espresso too.
Which French Press do you recommend?
My favorite French press is easy to use and pretty too. It also has a ton of great customer reviews & is inexpensive too. If you are in the market for a new French press, the Bodum Chambord French Press is amazing.
Current Prices & Reviews
For the latest prices on the best coffee grinders, money can buy check these out. Also, read great reviews and find out about all the features as well. Then pick the one that is right for you or for a gift.
Also some of the best coffee and French presses you can buy. Everything here to make a great cup of joe.
The Short Order Cook is a participant in the Amazon Services LLC Associates Program. As an Amazon Associate, I earn from qualifying purchases. If you click on a link and make a purchase, I may earn a small commission on the sale at no additional cost to you. This helps with the costs of running the blog. Thank you! Â