This quick and easy Mint Mojito Iced Coffee recipe is the best copycat of your order from Philz Coffee. It is chilled, minty, creamy, and sweet perfection. All things wonderful about having an iced coffee in summer or any time of year.  It is like a mint-flavored latte.  A mint mojito coffee is a combination of muddled fresh mint, sweetened cream, and good coffee that all infuse together when shaken and poured over ice.
The first time I had this at Philz, I knew I wanted to have a lot more of it but didn't want to break the bank on buying it at a coffee shop all the time. So to save money and my time driving over there often, I experimented at home. It was not too hard since we grow fresh mint and have all the other ingredients at home.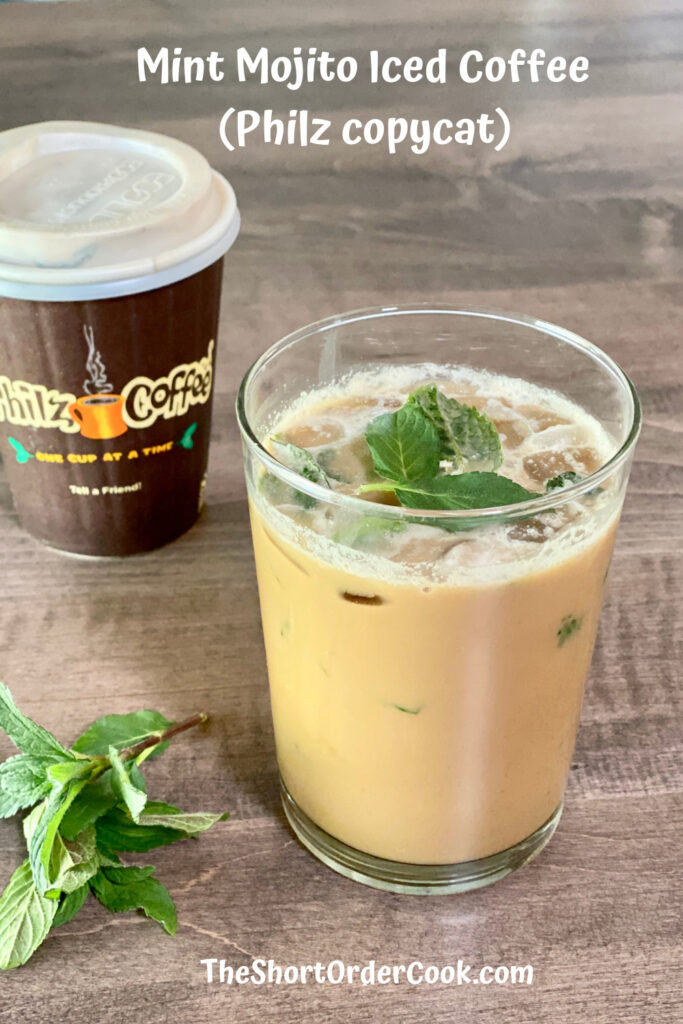 This recipe is what I came up with and it really is the best mint mojito iced coffee!  If you like anything mint and are a coffee lover, such as peppermint mochas from Starbucks, this will be your new favorite mint iced coffee recipe.
How to Make a Mint Mojito Coffee at Home
First, you need to gather a few ingredients. You only need a few ingredients to make this Philz coffee copycat recipe.  If you have coffee, cream, and sugar you are almost there with what you need to make a mint mojito coffee. The hardest part of this recipe is making sure you have fresh mint leaves.
I am making this a traditional way as close to what as I order at Philz. It has real heavy cream and sugar.   I tried it also with simple syrup instead of sugar and it was just as good. But using the granulated sugar to smash/muddle with the fresh mint is key.  If you like a sweeter version or less fat or dairy-free, I listed a section for substitutions below.
Muddle & Mix Everything
It may sound funny but you need a martini shaker for this recipe.  In the martini shaker, add the fresh mint leaves and the sugar.  Using the back of a wooden spoon begin to muddle (crush/smash) the two together. This is what helps release the mint oils from the leaves. This is where all the flavor and fragrance come from that is key for this coffee drink.
DO NOT break the leaves down too much. You do not want small tiny bits as they will just float up through your straw or will result in small bits in your coffee. You do not want to actually drink the leaves but more of have them as a garnish and flavoring.
Once the leaves are ready, add the cold brew or chilled coffee, cream, and ice.   Place the lid on the martini shaker and make sure it is tight.  Now just shake it all up for about 15 seconds so that everything is chilled and very cold.
Enjoy Your Homemade Mint Mojito Iced Coffee
Once everything is chilled and mixed, pour the full contents into a tall glass. You can add more ice if needed. I recommend topping it with more fresh mint and you can use a straw if you want as well.
Enjoy!  You now can make the perfect Mint Mojito Iced Coffee (Philz copycat) at home any time you have a craving.
Substitutions to Personalize Iced Coffee
There is a reason why baristas get a long list of substitutions and varieties with almost every coffee order, everyone has a personal favorite.  The beauty of making a copycat Philz Mint Mojito Ice Coffee at home is you can do all the substitutions easily if you want it to be your favorite.  This recipe is made with heavy cream, strong coffee, granulated sugar, and fresh mint.
Here are some suggested substitutions to make this mint mojito iced coffee your own:
Instead of Cream - use low-fat, non-fat, or whole milk for a lower calorie/fat mint mojito coffee
Instead of Cream - use almond or coconut milk for a dairy-free or vegan mint mojito coffee
Instead of Sugar - use monk fruit, erythritol, stevia, or xylitol for a keto/low-carb mint mojito coffee
Use Decaf Coffee - watching your caffeine,  use decaf or half-caff instead
Other Optional Add-Ins to Iced Coffee
This mint mojito iced coffee is amazing just as is. I would NOT change anything about it.  (ok, I do partake in the first one listed below) But if you want some more options, here are more ideas to expand your barista skills while you are at it.
Add collagen peptides - my favorite!
Add MCT or coconut oil - keto fans
Add an extra shot of espresso - caffeine junkies
Add a splash of vanilla extract - flavor boost
Use flavored beans like chocolate-flavored beans/ground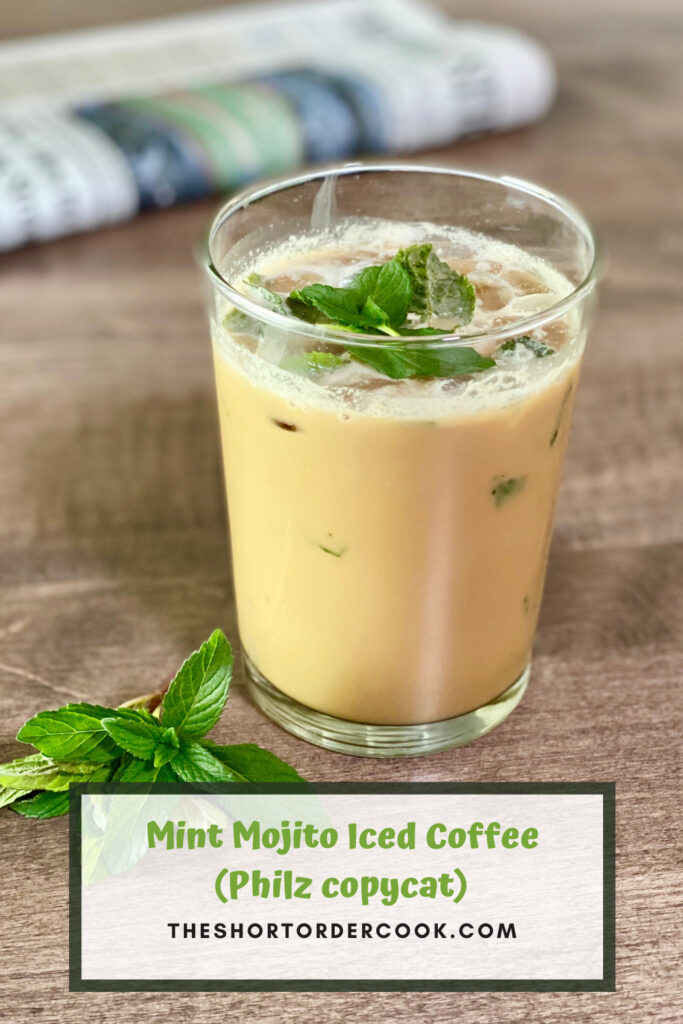 If you love iced tea beverages too, you will love my earthy, creamy, and sweet Starbucks copycat recipe for ICED MATCHA LATTE.
PIN FOR SAFEKEEPING & SHARING!
Product Recommendations for this Recipe:
The Short Order Cook is a participant in the Amazon Services LLC Associates Program.  As an Amazon Associate, I earn from qualifying purchases.  If you click on a link and make a purchase, I may earn a small commission on the sale at no additional cost to you. This helps with the costs of running the blog. Thank you!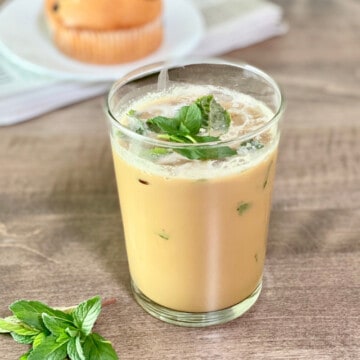 Mint Mojito Iced Coffee (Philz copycat)
The easiest copycat recipe for your favorite Philz coffee, the mint mojito ice coffee. It is all things cool, minty, creamy, and sweet in one perfect sip.
Equipment
coffee maker

Martini Shaker
Ingredients
1

C

cold brew or chilled coffee

2

teaspoon

sugar

¼

C

fresh mint leaves

¼

C

heavy cream

(or milk, half/half, coconut or almond milk)

1

C

ice cubes
Instructions
Make your favorite cold brew or regular coffee. You want a stronger than usual and cold coffee.

In a martini shaker, add the sugar and the whole mint leaves. Using a muddler or the back of a wooden spoon, muddle/smash the two together. This breaks down the mint a bit and also releases the fragrance and flavor.

Do NOT tear up the leaves, you want them as in tack as possible so they do not break up and float up through your straw when drinking.

Add the coffee, cream, and ice cubes.

Put the top of the shaker on tightly. Shake vigorously for about 15 seconds, until your coffee is now ice cold.

Remove the top of the shaker and pour the entire contents, ice, and all into a tall glass. Add additional fresh mint leaves for garnish and more ice if desired.
Notes
This is based on the original recipe using heavy cream and sugar.
Nutrition Facts
Servings: 1
Amount per serving
 
Calories
240
% Daily Value*
Total Fat 21.2g
27%
Saturated Fat 13.1g
66%
Cholesterol 78mg
26%
Sodium 33mg
1%
Total Carbohydrate 11.9g
4%
Dietary Fiber 1.6g
6%
Total Sugars 8.5g
 
Protein 2.2g
 
Vitamin D 29mcg
147%
Calcium 87mg
7%
Iron 3mg
15%
Potassium 263mg
6%
*The % Daily Value (DV) tells you how much a nutrient in a food serving contributes to a daily diet. 2,000 calorie a day is used for general nutrition advice.
Did you make this The Short Order Cook Recipe?
Tag @theshortordercookblog (Instagram & Facebook) or @shortorder_cook (Twitter). 
I would love to see your latest creations and kitchen adventures.