If you are in the market for a stand mixer that is the best for making pizza dough, these models are all highly recommended. All can mix and knead in one big bowl making it so easy. Check out the brands I recommend below. All have great reviews & prices for any budget.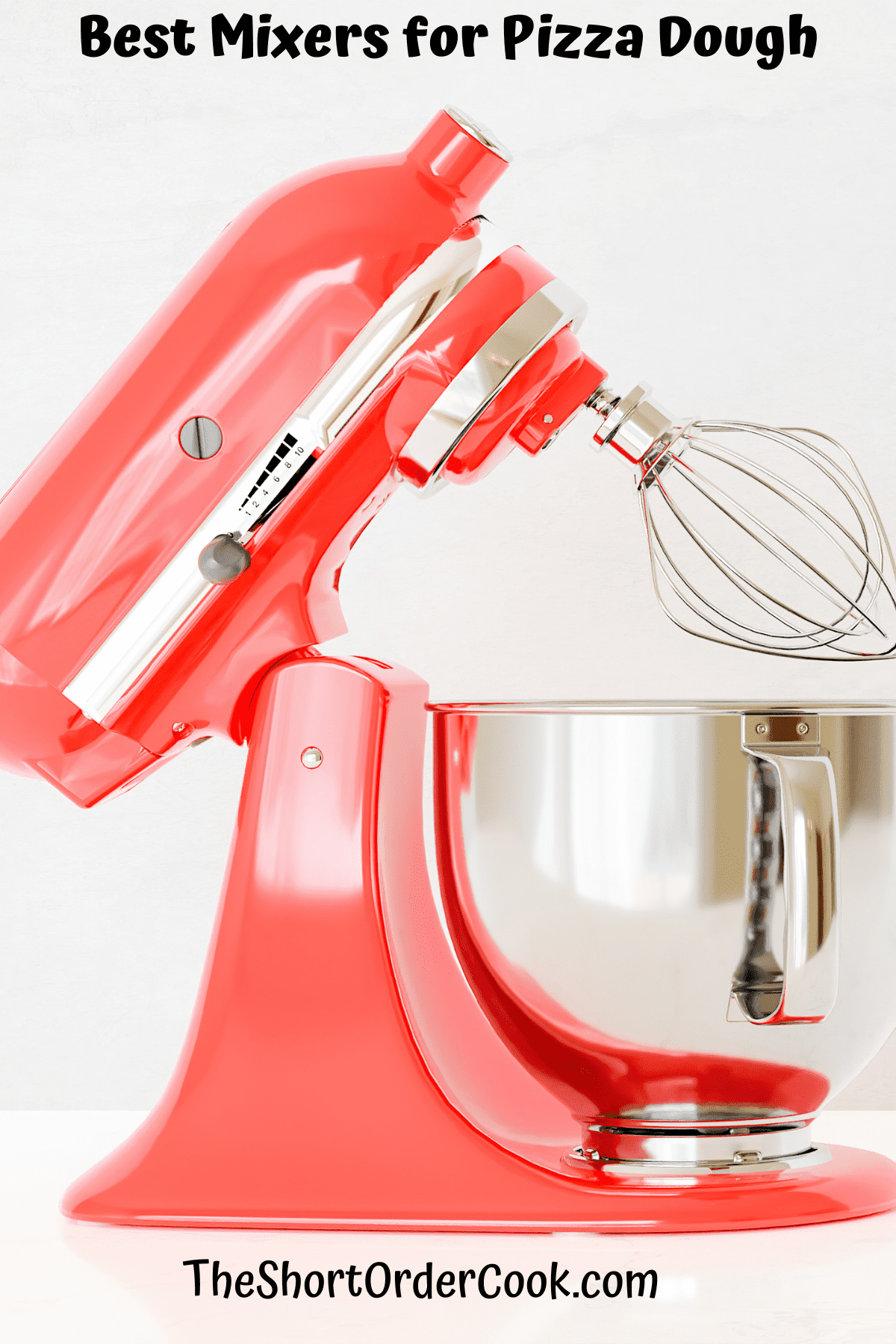 We love making pizza at home. I always use my stand mixer to combine the ingredients. I then switch to the dough hook on my Kitchenaid for kneading the dough.
Since it is so easy, pizza night at home with the kids can be done any night of the week. We like to make 4 medium-sized pizzas at a time to ensure we have plenty for leftovers. Warming up pizza in the air fryer the next day is the perfect snack or lunch. So make plenty!
#ad This article contains affiliate links.
Jump to:
Pizza Dough-Making Tips
When making pizza dough, developing gluten is important. That gluten helps the pizza dough stretch, hold its round shape, and develop air pockets and the ability for it to rise as it bakes. To develop the right amount of gluten in pizza dough, using a stand mixer really helps.
Making the dough is a 3-step process that includes mixing the ingredients, kneading it, & letting it proof or rise. My mother passed down her stand mixer to me a decade ago. She had it for decades before that. It still works great and is my go-to piece of equipment for mixing, kneading, & proofing pizza dough.
This is why I recommend a good quality stand mixer if you plan to make pizza at home. Buy one and for decades a high-quality stand mixer will make mixing, whisking, kneading, & more so much easier. It is worth the investment, trust me.
Kneading Pizza Dough by Hand vs Mixer
Pizza dough requires kneading to develop the gluten. This step is essential in having a tender chewy dough that rises & tastes amazing. You can knead it either by hand or using a stand mixer. Here are the advantages of kneading by hand vs kneading pizza dough using a dough hook in a stand mixer.
Kneading by Hand Advantages
No additional equipment needed
Can make dough anywhere: camping etc. (no electricity needed)
Kneading with Stand Mixer Advantages
No manual labor
Hands are free to do other things
Develops gluten easily
Kneading done evenly & faster
Why Buy a Mixer to Make Pizza Dough
Here are all the benefits of using a stand mixer when making homemade pizza dough at home. When compared to doing things by hand, a stand mixer is a life changer. If you are wondering if it is worth the money and kitchen space to purchase a stand mixer, here are the many reasons why it is great for pizza making.
Saves times
Reduces manual work
Frees your hands to do other things
Develops more gluten
No flouring a surface, hands, etc.
Mix, knead, & proof in one bowl
Easy to use & clean
And let's not forget that many stand mixers help with many kitchen tasks - mixing cookie dough, whipping cream, kneading bread dough, making sausage, making homemade pasta, and 1000 other things. This multi-functional piece of kitchen equipment is a workhorse.
Best Stand Mixers
Here are my recommendations for the best stand mixers for making pizza dough. Several of them come in fun pretty colors, so if you want a pink, aqua, lavender, yellow, red, green, or blue stand mixer, the first one is for you. All have dough hooks for kneading dough and bowls big enough for making lots of yummy pizzas at home.
Yes over a dozen gorgeous colors for this Kitchenaid stand mixer. Not only will it match your kitchen, but it is also my top pick for the best stand mixer. I have this one and cannot recommend it enough. I can make enough pizza dough for 4 individual or 2 large pizzas in the 5-quart bowl.
It mixes and kneads in just minutes thanks to 10 different speeds. I then let the dough rise in the stainless steel bowl for an all-in-one piece of kitchen equipment. It also can work with 12 other attachments for pasta making, shredding cheese, & more. With over 12k great customer reviews, I am not the only one that agrees this Kitchenaid is the best buy.
This mixer by Hamilton Beach has a 5-Quart bowl, big enough for pizza dough for 2 large pizzas. It comes with a whisk, dough hook, and paddle for all your mixing and kneading needs. You can also buy attachments for pasta-making and more.
This mixer comes at a lower price than the Kitchenaid for those looking for a cheaper option that still is quality. Another thing to love about this model is it does weigh less than the Kitchenaid. So if you are moving it around for storage and use, this may be a big bonus.
Best Large Capacity Stand Mixer
If you want to make a lot of pizza dough, this stand mixer has an 8-Quart mixing bowl. This is great for commercial pizza making. Also ideal for a home kitchen that wants to make enough dough for several pizzas at once.
As mentioned, Kitchenaid makes the best stand mixer. They last for decades and are great for many tasks. It is worth the money to spend on this Kitchenaid stand mixer. It has high customer satisfaction & a
This 10-speed mixer has a large bowl, great for making a lot of pizza dough. The mixer includes the bowl, whisk, flat beater, and dough hook. It can make enough dough for 4 pizzas at once. It has a beautiful red color (others available) and a stainless steel bowl.
Best Stand Mixers under $200
If you want to make homemade pizza, the best mixers under $200 to make dough are these models. These budget-friendly stand mixers are great for the home cook with a small budget. The bowls have a capacity big enough for making pizza dough and the hook will do all the kneading.
This stand mixer comes with a beater, whisk, & dough hook. It is an Amazon Top Choice that has over 14K customer reviews. The bowl is big enough to mix up 4 individual or 2 large pizzas with ease. You cannot go wrong with this best buy at under $200 for a quality stand mixer.
This small model has a smaller bowl so it may not get your two large pizza doughs. The capacity is good for small families, couples, or those living alone. This is the best mixer at a cheap price for making enough dough for one large pizza or 2-3 individual ones. It can mix and knead without taking up a lot of kitchen space. Comes in several colors for something pretty and functional.
Best Stand Mixer under $100
If you want to make homemade pizza, the best mixers under $100 to make dough are these models. At this price, you cannot go wrong with getting a little help kneading your pizza dough versus doing it by hand.
This model has a dough hook, whisk, & beater paddle for all your kitchen needs. Its almost 5-quart capacity will allow you to make 2 pizza doughs at once or 4 individual-sized pizzas. Comes in 6 colors and all for under $100!
Current Prices, Reviews, & Info
Here is a quick overview of all the stand mixers shared here. To find the latest prices, reviews, features, and additional information click on the links below. These models and brands are the best mixers for pizza dough. Including my favorites - KitchenAid, Hamilton Beach, & Frigidaire.