For an easy dry spice rub for chicken on the smoker, this tasty recipe is the best. This homemade seasoning blend is sweet, salty, savory, & spicy. This super flavorful dry rub recipe is versatile and can be used whether you are smoking or baking chicken. It is so easy to make, never use store-bought again.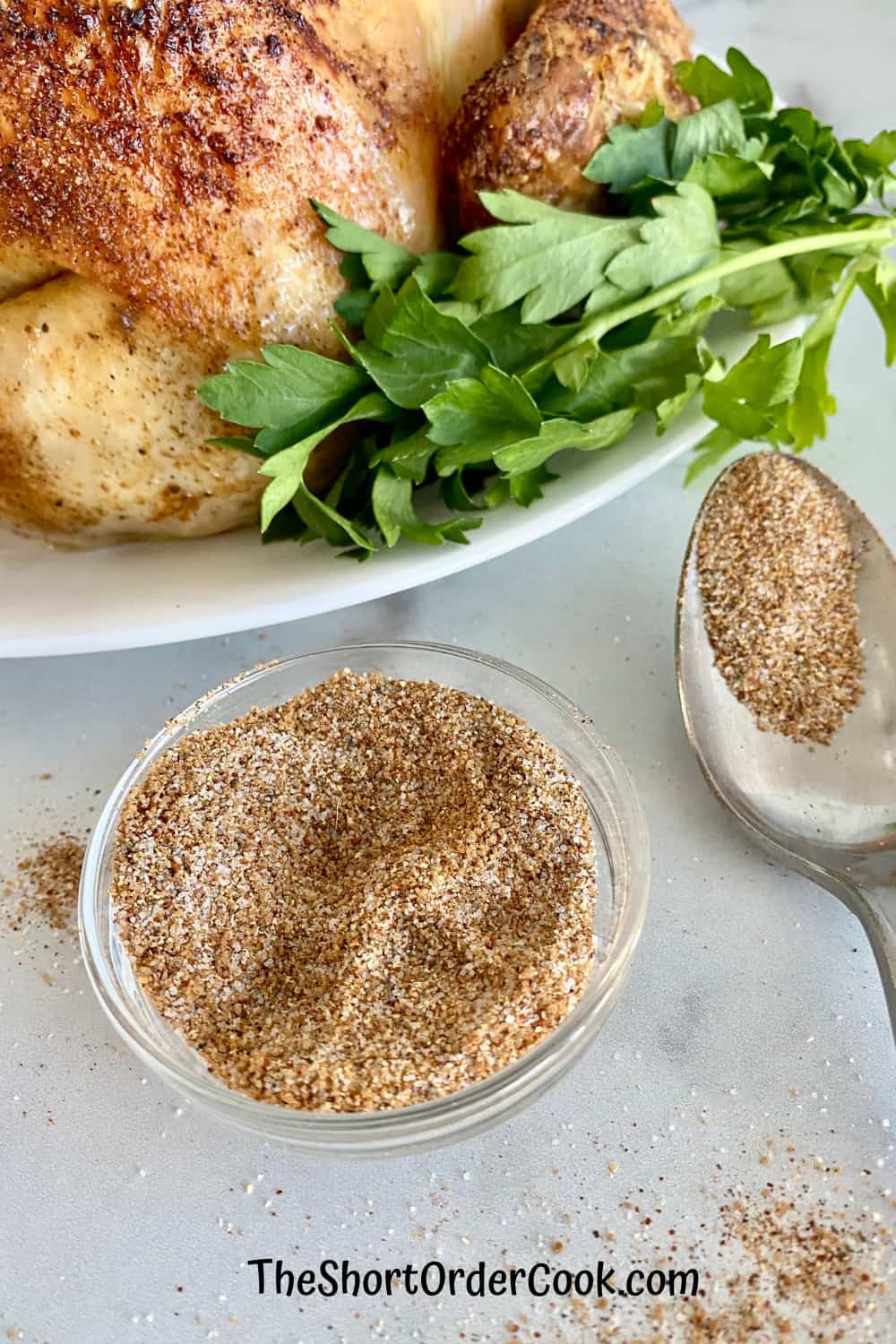 For an easy dry rub for any poultry, this spice blend recipe will be the only one you will ever need again. It has sweet, spicy, and bold seasonings that are great whether you cook your whole chicken in a smoker or roast it in the oven.
Jump to:
What is a Dry Rub?
A dry rub is a combination of ground spices that are "rubbed" all over raw meat. In this case, we are working with raw chicken. Homemade rubs, like marinades, add so much flavor without a lot of effort or calories. Dry rubs may also be called BBQ rub, spice rub, seasoning rub, or rubbing spices.
Rubs also help crisp up the skin thanks to the salt content. Plus the added sugar in this recipe helps caramelize the skin making it not just crunchy but irresistible.
The dry rub I use in my Smoker Beef Short Ribs or the homemade teriyaki sauce on my chicken skewers transforms those recipes from good to extraordinary. That is what you will have with this recipe too so make a large batch and keep any leftovers in an air-tight container for all your chicken needs.
What Spices Go Well with Chicken?
The salty smoky combination of seasonings is irresistible and you will start putting it on everything. This dry rub combines multiple spices to get that flavor profile. Chicken can be pretty bland so bold flavors from paprika, garlic, & salt are just the beginning.
It is tasty for oven-roasted chicken, making that crispy skin a gorgeous color. But also, when smoking chicken or turkey, start with a dry brine and together you will have the best flavor. Then take a few minutes to mix this together and discover what a winner your chicken dinner can be.
Why Make a Homemade Rub for Chicken
Making your own dry rub ensures you control the ingredients and know exactly what you are putting on your food. All of the ingredients in this recipe are gluten-free, nut-free, and dairy-free & it has no MSG.
Many store-bought seasoning blends have hidden ingredients that may have gluten or MSG which is not great. No worries here, just quality spices and seasonings.
Ingredients for Simple Chicken Dry Rub
The dry spiced rub is 6 simple ingredients that all complement chicken perfectly. There is the ideal blend of sweet, savory, and salty in this recipe.
This zesty spice blend comes together in minutes and smells amazing thanks to pungent paprika, spicy pepper, and savory poultry seasoning. There is brown sugar too to balance all that off.
Smoked Sweet Paprika - the smoky depth that paprika has is essential for a dry rub. Also known as capsicum annuum.
Garlic Powder - brings a bold flavor in a subtle way.
Poultry Seasoning - the spice combination is savory with a blend of sage, thyme, & more.
Brown Sugar - that sweet balance that brings it all together.
Salt - is the flavor enhancer that all chicken needs.
Black Pepper - for a spicy kick that is mild and not overpowering.
OPTIONAL - spicy paprika or cayenne pepper for extra heat
See the recipe card for quantities.
How to Make the Best Dry Rub for Chicken
This isn't rocket science, a dry rub is basically a blend of seasonings. Simply put, you add all the spices to a bowl and mix. Instructions for this recipe for the best dry rub for chicken are that quick.
To make the dry rub, combine all spices in a medium-sized bowl and mix thoroughly. Combine & make sure there are no clumps. Stir until it is evenly blended.
Hint: Don't wait until the last minute to make the rub. You want it to do its magic for a while. It is best applied a bit before cooking and not immediately beforehand. Prepare it at least 30-60 minutes before you want to cook the chicken
Best Chicken for Smoking
I personally love smoking a whole chicken. If you go through all the time to set up the smoker and get it going, I want a wonderful reward at the end. When you smoke a chicken it comes out juicy, and tender, and the skin is crispy and amazing. It is so good so make sure you have enough chicken to serve per person.
We have a large Weber smoker and it has a few racks in it. My favorite is to smoke a whole chicken also with 1-2 racks for pork baby back ribs. I get them all through my BUTCHERBOX subscription. They each take about 4 hours in the smoker so they cook beautifully all at once.
How to Apply a Dry Rub to Chicken
This homemade seasoning blend is the best way to add so much flavor to the skin and meat of any chicken so you want to apply it the right way. The most important thing when applying a dry rub is to make sure the meat is dry. The best way to get crispy seasoned chicken skin is to apply this rub to skin that has no moisture on it.
Do not apply any butter or oil before a dry rub. Here is how to best season your bird -
Pat the Meat Dry- using paper towels pat all the surfaces of the chicken so there is no remaining moisture on the skin or meat.
Add the Dry Rub - using your own clean and dried hands, sprinkle seasoning into the palms of your hands. Next, pat and "rub", hence why it is called a rub, the spices all over the surface of the chicken.
Double Check

-

Press down in some places if you find it is not sticking as much as you would like. Be sure to get the top, bottom, between the wings, and every nook and cranny. The image below is me just getting started.
Top Tips for Dry Rub for Smoked Chicken
Wondering when is the best time to apply a dry rub? Apply the rub for at least 30 minutes before you plan to smoke or roast the chicken. The best way to use dry rubs is to give it a bit of time to work into the skin and meat to flavor it before cooking. It is safe to add the dry rub and have the chicken be at room temperature for up to 30 minutes.
I do not recommend adding the dry rub any earlier than that and leaving it on too long. If you have it on the chicken for too long, the salt will draw out moisture from the chicken and turn the dry rub into more of a mushy paste. Once it is ready, cook your chicken as planned.
Always remember to cook your chicken to an internal temperature of 165°. See more guidelines at USDA.gov.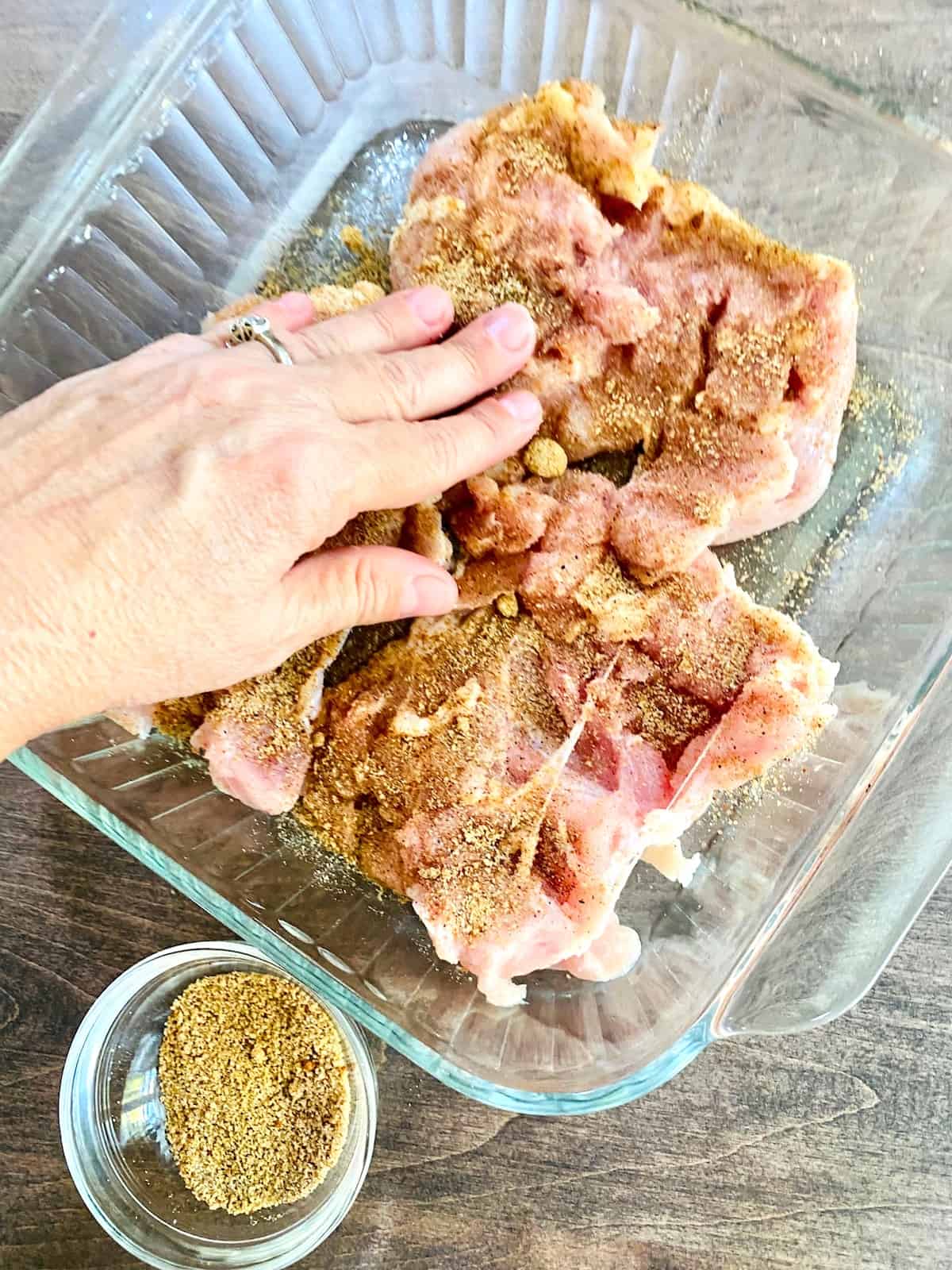 How Much Rub Does This Make?
This makes enough rub to cover a large whole chicken. This dry rub makes enough to cover up to a 6-7 pound chicken. It is also a tasty rub recipe for other poultry like turkey, quail, duck, pheasant, and other game birds.
This versatile recipe for a homemade spice blend is great for any piece of chicken. So cut up your whole chicken and coat it. Or use it on 3 pounds of your favorite chicken parts. This is the best rub for smoking wings, thighs, whole legs, breasts & drumsticks.
Recipe Variations
Make this dry rub your way with just a few easy tweaks.
Spicy - add ¼ teaspoon of spicy paprika or cayenne pepper.
Low-Sodium - only add 1 teaspoon (½ the normal amount) - the original nutritional information is in the recipe card below to help you decide what is best for your diet.
Lemon Pepper

- instead of just regular black pepper, add lemon pepper

for a citrus burst of flavoring.
If you love lemon pepper with your chicken, you will want to try out my super easy recipe for THE BEST LEMON PEPPER MARINADE.
Storing Dry Rub
One of the best things about making a dry spice rub is that it stores very well. This recipe makes enough for a large whole chicken or about 2 dozen chicken drumsticks for comparison.
You can easily double this recipe and store the extras so it is ready the next time you cook any poultry. DO NOT STORE ANY DRY RUB THAT HAS COME INTO CONTACT WITH RAW MEAT.
To store homemade spice blends, ensure they are dry without any moisture on any of the spices. Then make sure to seal them tightly in a ziplock bag, sealed jar, or air-tight container. Next, store the dry rub in a cool dry place such as your pantry or cupboard for up to 3 months.
FAQ
Do you oil meat before adding a dry rub?
If you want crispy skin on your chicken, you do not want to add any additional moisture to the surface. It is best to pat dry the poultry so it is dry. The dry rub will sick just fine when you use your hands to press it on as best you can.

If you do want to add a bit of oil, only add about a tablespoon to your hands and rub it on the skin directly. This will make sure it is a very light layer on the top. Then add the dry rub.
How can I season my chicken like a pro or chef?
My top tip for seasoning chicken is to coat it inside and outside. This dry rub is amazing on the skin, but don't forget the cavity of your chicken. Sprinkle this inside too so every bite of your chicken is flavorful and tasty.
Can I apply the dry rub the night before?
My top tip above reviews adding the spice rub at least 30-60 minutes before cooking. That is the ideal time, I do not recommend adding the rub to the site overnight. This is because the salt will draw out some moisture from the chicken making the dry rub moist and paste-like.
Do dry spice rubs penetrate the meat?
Like most marinades, dry rubs do not penetrate the meat very much. They add a nice flavor and a crust with some texture to the outside of the chicken. Add this dry rub inside the cavity of the whole chicken for extra flavor.
Can I use this chicken dry rub recipe on turkey?
Of course, you can. It is great on any form of fowl or poultry. Since turkeys are typically larger than chickens, you may want to double the amounts to make sure you have enough to cover a 12-15# turkey.
Product Recommendations for this Recipe - #ad:
The Short Order Cook is a participant in the Amazon Services LLC Associates Program. As an Amazon Associate, I earn from qualifying purchases. If you click on a link and make a purchase, I may earn a small commission on the sale at no additional cost to you. This helps with the costs of running the blog. Thank you!
Best Chicken Rub for Smoker
For an easy dry rub for smoking chicken, this flavorful recipe will be the only one you will ever need again. This homemade seasoning blend is the best way to add so much flavor to the skin of any chicken. It has sweet, spicy, and bold seasonings that are great whether you smoke it in a smoker or roast your chicken in the oven. Enough to cover 2-3# of chicken pieces - wings, thighs, drumsticks, etc.
Ingredients
1

Tablespoon

brown sugar

2

teaspoon

salt

2

teaspoon

sweet paprika

1

teaspoon

garlic powder

1

teaspoon

black pepper

⅛

teaspoon

poultry seasoning

¼

teaspoon

cayenne pepper or spicy paprika

OPTIONAL for a SPICY version
Instructions
Combine all spices into a medium-sized bowl and mix thoroughly. Make sure there are no clumps and it is evenly blended.

Add the rub to your whole chicken that has been patted dry.

For full instructions on how best to apply the rub, see above.

Store any leftover dry rub that has not touched raw meat. Place it in a small jar or container that is air-tight, or in a ziplock bag. Place it in a cool dry place such as your pantry or cupboard for up to 3 months.
Notes
This is for the FULL recipe of dry rub - It should be enough to cover a whole chicken or up to 2-3# of pieces. 
Nutrition Facts
Servings: 1
Amount per serving
 
Calories
57
% Daily Value*
Total Fat 0.6g
1%
Saturated Fat 0.1g
1%
Cholesterol 0mg
0%
Sodium 4656mg
202%
Total Carbohydrate 13.5g
5%
Dietary Fiber 1.9g
7%
Total Sugars 9.9g
 
Protein 1.1g
 
Vitamin D 0mcg
0%
Calcium 23mg
2%
Iron 1mg
7%
Potassium 146mg
3%
*The % Daily Value (DV) tells you how much a nutrient in a food serving contributes to a daily diet. 2,000 calorie a day is used for general nutrition advice.
Did you make this The Short Order Cook Recipe?
Tag @theshortordercookblog (Instagram & Facebook) or @shortorder_cook (Twitter).
I would love to see your latest creations and kitchen adventures.