If you need a dinner idea and hoping to find out if you can marinate frozen chicken to save time, here is all that you need to know. The best way to marinate chicken to add flavor to the meat is to do so while it is fresh or previously frozen and now thawed. However, if you forgot to defrost it, here is what you can do to still marinate it.
I am about to share some myth-busting here. When you marinate chicken, it does not tenderize it and it doesn't add a ton of flavor to the meat. Marinating adds flavor to the outer surface area of the chicken. Keep this all in mind when figuring out the best way to marinate frozen chicken.
How to Marinate Frozen Chicken
Ok, now that you know that when you add marinade to the chicken, it doesn't penetrate the meat. Marinating simply adds some flavor to the surface of chicken breasts, thighs, legs, and wings. Now that you are aware of what marinading will do, figuring out how to do it when the meat is not defrosted is easy.
As chicken defrosts, it does so from the outside first. Since the surface of the piece of chicken will be thawed first, it will be ready to take on the flavor that the marinade has. Therefore, you can marinate it even when frozen. Here is all you need to know to do it correctly.
Can you Put Frozen Meat in Marinade?
You can put frozen chicken pieces into your favorite homemade or store-bought marinade. It is safe to do so and will not spoil the marinade or chicken. It will work best on smaller pieces of chicken like drums or wingettes. For bigger pieces of chicken like chicken breasts, the marinade will not add as much flavor when still solid and frozen.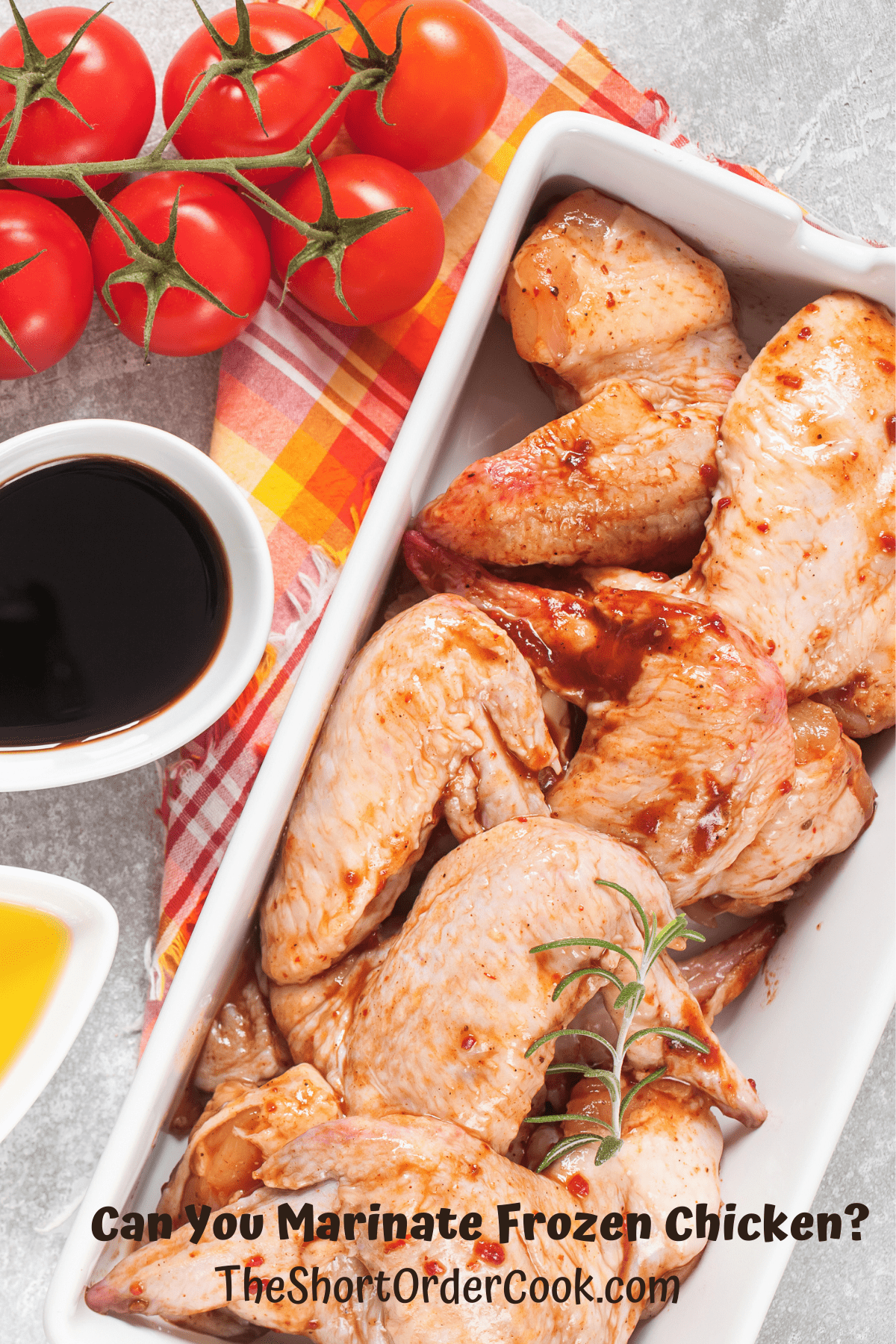 What Happens to Marinade with Frozen Chicken?
Ok, so you want to start marinating chicken while it is still frozen. Just know, that this will do little to add flavor. That is because as the chicken thaws, it will release some juices. Those juices will mix in with the marinade and "water it down" thus rendering it less flavorful.
The best way to really add marinade flavor to a frozen chicken is a method that is sort of a "marinate twice" recipe. As the juices start to release in the thawing process, pouring off the first round of marinade and then adding fresh new marinade will help. See the recipe card below on the best way to do this double marinade process.
Defrosting Chicken to Marinate
As with any meat, defrosting in the refrigerator is best. If you plan ahead, place any frozen chicken pieces or packages in your refrigerator 2-3 days before you want to marinade and cook it.
I always suggest putting packaged meat into a baking dish or rimmed plate. This is because it will often leak raw meat juices as it defrosts. You do not want that to get in your refrigerator and have any cross-contamination.
How Long can you Marinate Chicken in the Fridge?
As mentioned earlier, the flavors will get on the surface of the chicken as it sits in the marinade. Marinating for longer times does very little to add more flavor. For the most flavor marinade chicken for 8-12 hours. Any more time beyond that does little to penetrate any more meat. For the fully thawed chicken, I like to get it in the marinade early in the morning so it is ready for dinner time.
Can you marinate the chicken overnight in the fridge? Yes, you can marinate it overnight. It will be safe and does not harm the chicken in any way. Just know that the longer you do have chicken sit in the marinade, the mushier the surface will become. This may render less of a crust that you may like when grilling.
Great Recipes with Marinade for Chicken
Here are some of my favorite marinade recipes. Also, a few recipes where a bit of marinating adds some flavor for a great meal that everyone will love. I hope you try one or more of these and find a new family favorite to make part of your mealtime rotation.
Equipment Recommendations
Having a good-quality rimmed marinading container or dish makes it so much easier. If you have a small refrigerator or one that is always very full (this is us with our family of 5!), a container with a lid is highly recommended. This way you can add your chicken, pour in the marinade and snap on the lid. Get it in the refrigerator for the day and you can stack something on top of it if needed. I have had my Tupperware Marinating Container for decades and still love it!
I also love to make my own marinade. My favorite for chicken is the Best Lemon Pepper Marinade. It is bright, fresh, and tangy. The strong combination of lemon juice and black pepper really adds a punch of flavor. I make a big batch at a time in a mason jar or large container with a tight-fitting lid. This recipe doubles as a great salad dressing so anything unused is stored in the refrigerator to enjoy later.
The Short Order Cook is a participant in the Amazon Services LLC Associates Program. As an Amazon Associate, I earn from qualifying purchases. If you click on a link and make a purchase, I may earn a small commission on the sale at no additional cost to you. This helps with the costs of running the blog. Thank you!
How to Marinate Frozen Chicken
It is best to marinate thawed chicken but if it is still frozen, here is the best recipe for doing it. You want to make sure you get the most flavor into the chicken while marinating.
Ingredients
1

pound

chicken breasts, thighs, legs, etc.

marinade
https://theshortordercook.com/the-best-lemon-pepper-marinade/
Instructions
Place frozen chicken pieces in a marinading container with a lid. If you do not have one, a large baking pan that has a tall rim will do.

Try and separate any pieces that you can so they are not sticking.

Pour ½ of the marinade over the chicken pieces. Rotate and flip them over so both sides have a bit of marinade on them.

Snap the lid on, if you have one. Otherwise, cover with plastic wrap or foil. Place the container of chicken & marinade in the refrigerator.

Reserve the rest of the marinade in the refrigerator as well.

Let the chicken defrost while in the marinade for 12 - 24 hours. It will depend on how large the chicken pieces are.

Once the chicken is about 80% defrosted, drain off the juices and the marinade that is in the container or dish.

Add the remaining ½ of the marinade. Let the chicken sit in the marinade for the remaining hours until the chicken is completely thawed out and ready to cook.

When ready to cook, remove the chicken from the marinade. Discard the marinade.

Grill, smoke, bake, or saute your chicken as desired.