The best lemon pepper marinade is quick, easy, and delicious thanks to fresh ingredients. This marinade recipe is the only one you will need for fish, chicken, vegetables, and more.  You can marinate just about anything in this and have a winning dinner. Whether you are grilling, broiling, baking, or even slow cooking, this lemon pepper marinade adds so much flavor to your food and only takes a few minutes to prepare.
The key to an amazing marinade is having the main ingredients be fresh and of good quality. Having freshly-squeezed lemon juice, good quality olive oil, and fresh minced garlic is the trio of bright flavors that makes this marinade the ultimate recipe. Add some dried herbs (or fresh if you have it!) and seasonings and you are ready to grill, bake, or slow cook for the tastiest results.
If you will be enjoying this marinade with the food you plan to grill, make sure you are grilling the right way.  Check out my story - Grilling with the Lid On or Off - All You Need to Know
This Marinade Recipe is Great with Everything
Whether you are a vegetarian or a carnivore, this is your perfect marinade recipe. Here is how versatile it is, it goes so well with the following ingredients.  The amount this recipe makes is enough to marinate 1.5 pounds of food.  So just shake up this lemon pepper recipe to marinate anything including; seafood (salmon, shrimp, ), chicken (thighs, breasts, legs), pork (tenderloin or chops), any type of kebobs, all vegetables, and even steaks!  Hungry yet?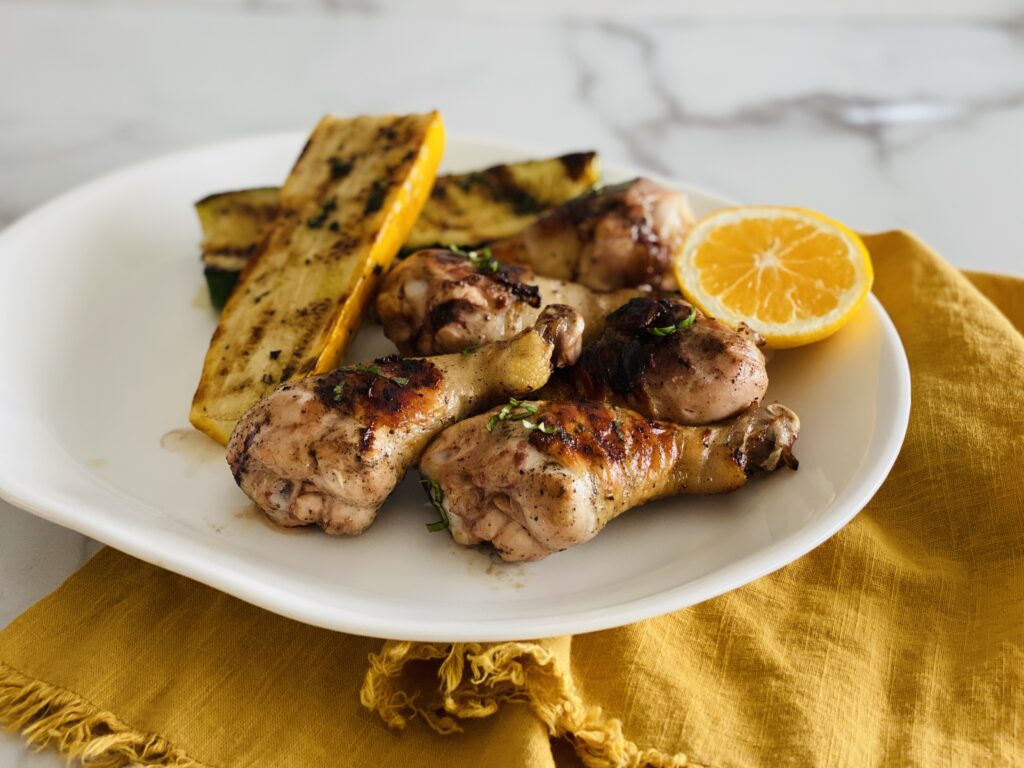 Ingredients for a Quick & Easy Marinade
This is the only lemon pepper marinade you will ever need. Seriously!  Many marinades use lemon pepper seasoning to make that citrus and spice combo. But not this recipe. Instead, this recipe uses key ingredients like freshly-squeezed lemon juice and minced garlic to enhance the recipe to a whole new amazing level.  In addition, you will need seasoned salt, black pepper, and dried (or fresh) parsley flakes.
Once you gather all your ingredients, all you need to do is mix them together in a small bowl with a whisk or shake them up in a container with a tight-fitting lid. I like to make marinades and salad dressing in mason jars.  So fun to just pour all the ingredients in, tighten the lid, and shake - shake - shake!  I will be honest, for this marinade, I do make a double batch as it is also a great salad dressing!  Two uses in one quick recipe - oh yeah, you are welcome!
Once the marinade is ready, add to your vegetables, seafood, pork, beef, or chicken.  Let marinate for up to four hours for pork, chicken, or beef. For vegetables or seafood, you only need about an hour with this marinade to infuse so much flavor.
You can reserve some of this marinade to use for basting as you grill, broil, or bake. I sometimes drizzle some on my food after done cooking for a final fresh pop of flavor.
REMEMBER TO NEVER REUSE MARINADE THAT
RAW MEAT CAME INTO CONTACT WITH.  
PIN FOR SAFEKEEPING & SHARING!
Product Recommendations for this Recipe:
The Short Order Cook is a participant in the Amazon Services LLC Associates Program.  As an Amazon Associate, I earn from qualifying purchases.  If you click on a link and make a purchase, I may earn a small commission on the sale at no additional cost to you. This helps with the costs of running the blog. Thank you!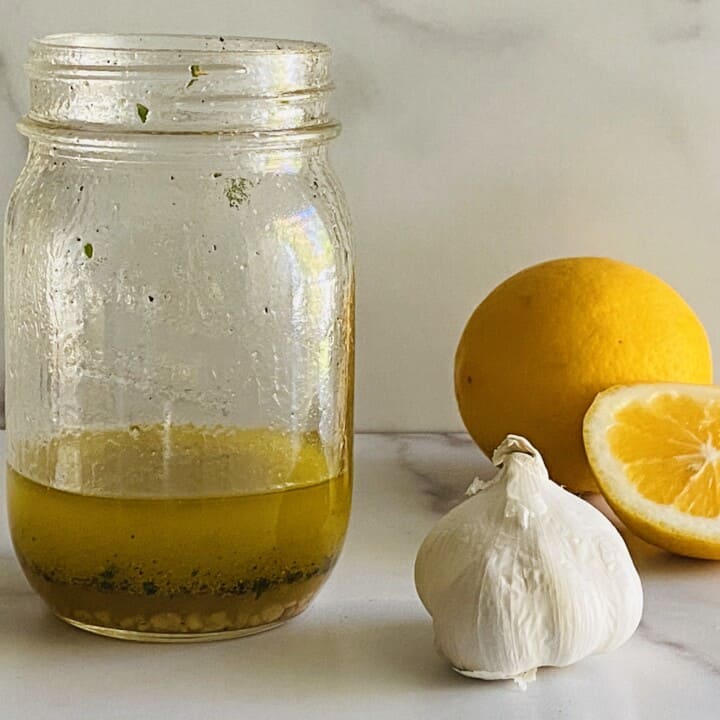 The Best Lemon Pepper Marinade
This quick and easy recipe is bursting with lemon pepper flavoring. It is perfect with vegetables, chicken, seafood, pork, and steaks!
Ingredients
½

C

olive oil

⅓

C

lemon juice

freshly-squeezed

2

cloves

garlic

minced

1

teaspoon

dried parsley flakes

1

teaspoon

seasoned salt

1

teaspoon

black pepper

additional black pepper

for sprinkling on food before cooking

lemon wedges

to serve with
Instructions
Add all ingredients to a small mixing bowl or container that has a tight-fitting lid.

Whisk all the ingredients together to combine. If using a container, tighten the lid and shake all ingredients together.

Add marinade to your food of choice and marinate for the desired time.

Before cooking, add more pepper to your food beforehand for added pepper flavor.

Unused marinade (whatever has NOT touched any raw foods) can be stored for up to 2 weeks in the refrigerator. Can also be used as a salad dressing.

Serve with lemon wedges to squeeze on added lemon flavor at the end. Enjoy!

THIS RECIPE MAKES ENOUGH MARINADE FOR 1.5 POUNDS OF FOOD
Did you make this The Short Order Cook Recipe?
Tag @theshortordercookblog (Instagram & Facebook) or @shortorder_cook (Twitter). 
I would love to see your latest creations and kitchen adventures.