Whether you are feeding your family, a crowd, or a special occasion, knowing how much ham to serve per person can be tricky. There are a few easy calculations that can be done to ensure you have the right amount of baked ham to serve. No more worries if you will not have enough or have too many leftovers. Be confident that you will know exactly how many slices of ham to serve each guest.
Once you take into account what the full menu is and how much other food you will be cooking, it will be easy to complete the meal. Below are all the quick tips, calculations, and guides on how much ham to cook per person. This will ensure whether it is a whole bone-in ham, a spiral honey-baked ham, or slices of thick ham steaks you will be serving the right amount to feed everyone.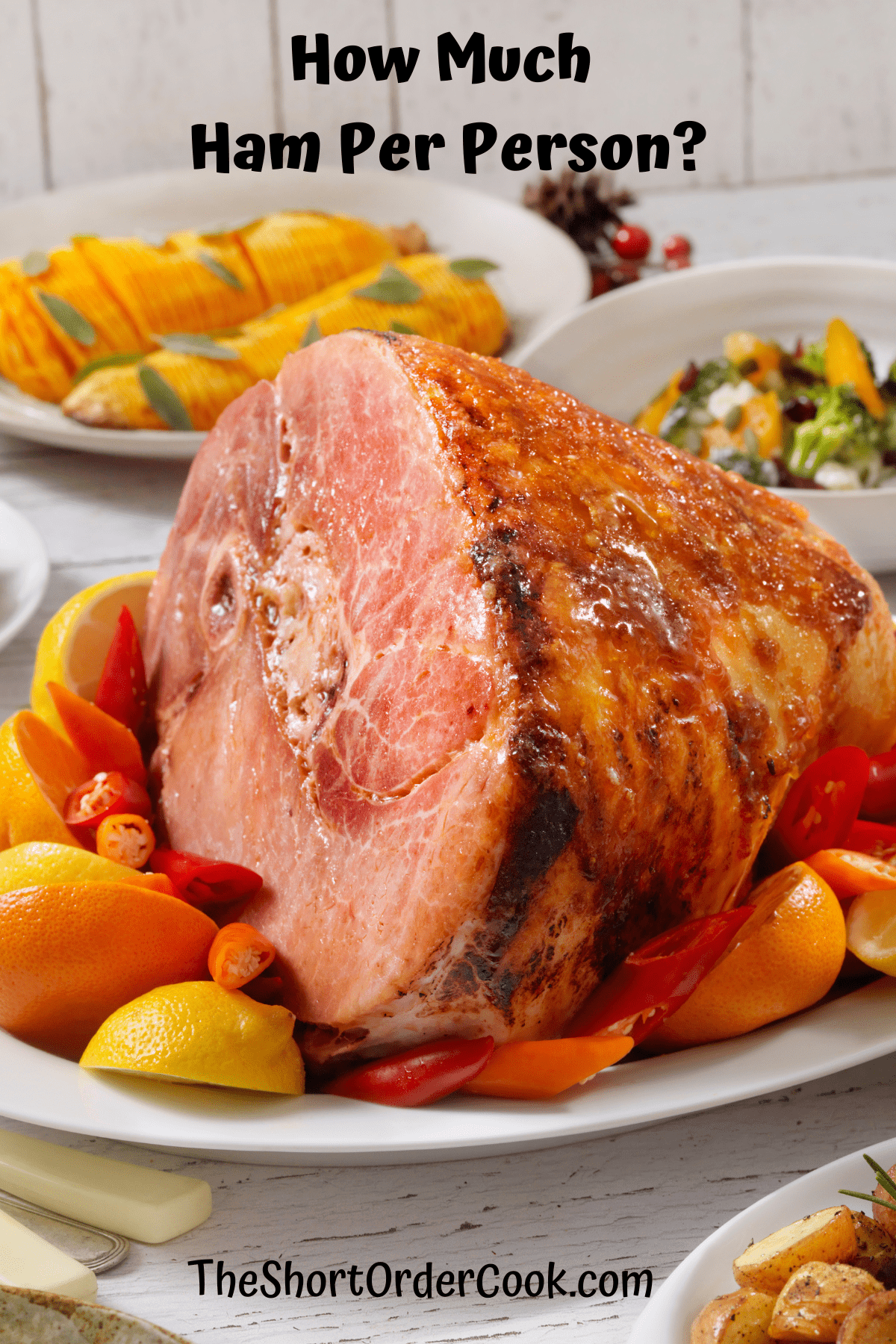 Ham is great for holidays such as Christmas, Easter, and Thanksgiving. During those times you typically are serving more than your usual family. This may make it confusing what size ham to buy and cook.
No worries, read on and have a perfectly tasty meal. Everything you need to know about ordering, buying, prepping, or cooking enough ham for everyone to enjoy.
Jump to:
Plan the Full Menu to Decide
Consider the role of the ham in the overall menu. When the meat is the main course, like oven-roasted ham and there are no other proteins (like turkey or a plant-based option) you will want more per person. When the ham is accompanied by other items say in a casserole or soup, you will want less per person.
Now that you understand that all servings are not created equal, let's continue. Because if you have a large buffet with a ton of sides, you may want to serve less than if you have a plated meal with only 1-2 sides. So plan your menu and then continue on to figure out how to calculate how much ham to buy and cook for your meal.
When Ham is Part of the Main Course
When the ham is part of a main course entree along with other ingredients, the portion is smaller. This is true for example when serving it as part of a hearty sandwich or soup as a main dish. This is the best way to figure out how much ham to add to pasta, stews, or casseroles. This is also typically when using cut-up pieces in a recipe.
When you are making a recipe where the meat is about ½ of the total ingredients, it is best to use ⅙ of a pound per person. This is when about 2-3 ounces of ham per person should be used. An easy way to think of this also is that one pound of ham is in a pasta dish that serves 6. For a soup where vegetables are the star like my Pot Pie Soup, less ham is used.
Bone-In Honey-Baked or Uncooked Ham
When buying a ham with the bone, you want to calculate more per person than you would the boneless option. For a pre-cooked ham, such as those you get from a store that is already baked and spiral sliced, you need less than you would a raw ham that hasn't shrunk due to cooking yet. Because the weight of the bone is included with these cooked hams, I suggest you get ½ pound, 8 ounces, or .22kg per person.
When you are buying a bone-in raw ham from a store or butcher, you need to take into account the weight of the bone. You also need to account for the fact that as the ham cooks, it will shrink in size and weigh less after you cook it. For this reason, I suggest when buying uncooked ham for the holidays, you calculate ⅔ pound, 10 ounces, or .3kg.
Ham for a Party or Buffet
Here is a good cheat sheet for bone-in hams & how much to buy to make. Based on per person and with ham being the star of the meal, here are the recommendations to follow for a large gathering or crowd:
| | | | |
| --- | --- | --- | --- |
| ENTREE | Per Person | 25 people | 50 people |
| Bone-In Cooked Ham | ½ pound | 13 pounds | 25 pounds |
| Bone-In Raw Ham | ⅔ pound | 17 pounds | 34 pounds |
** estimates when there are 2-3 side dishes & adult portions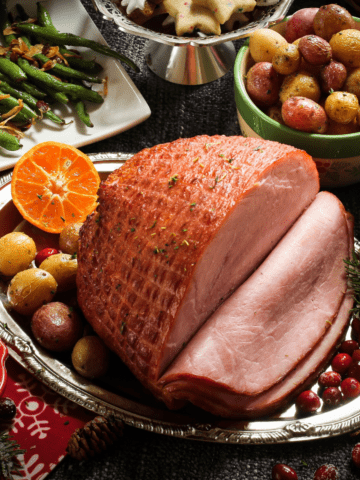 Boneless Cooked or Raw Ham
When buying precooked or raw boneless ham, all of the weight includes edible meat. Therefore, you do not need to account for any extra weight a bone may add to the overall roast. For a boneless spiral-cut ham, for example, you want to buy enough for each person to enjoy ⅓ pound, 5 ounces, or .15kg.
For an uncooked boneless ham, round up a bit more than you would be compared to one that is already cooked. For this, buy a ham that will feed everyone. Work on a calculation of ½ pound, 8 ounces, or .22kg per person.
All are estimates and are not exact science. Keep in mind that this is for when this is the main meal of the day and not a light lunch. Guest makeup may also be taken into consideration - for example, are they all adults, some children, etc?
Adults vs Kid Portions
All of the calculations here are for adult portions. When you are cooking for your family, on holidays, or at events where kids are in attendance, you may need different calculations. You will need to know your guests to figure this out. For example, a 2-year-old toddler will eat a lot less than most adults but a 17-year-old teenager may eat more.
My best advice is for kids aged 3 and under, I typically do not count them. They typically eat very little or none at all. For kids between ages 4 - 12, I calculate ½ the portion as I would adults. Then for teens 13+, they get the same portion as an adult would when eating ham.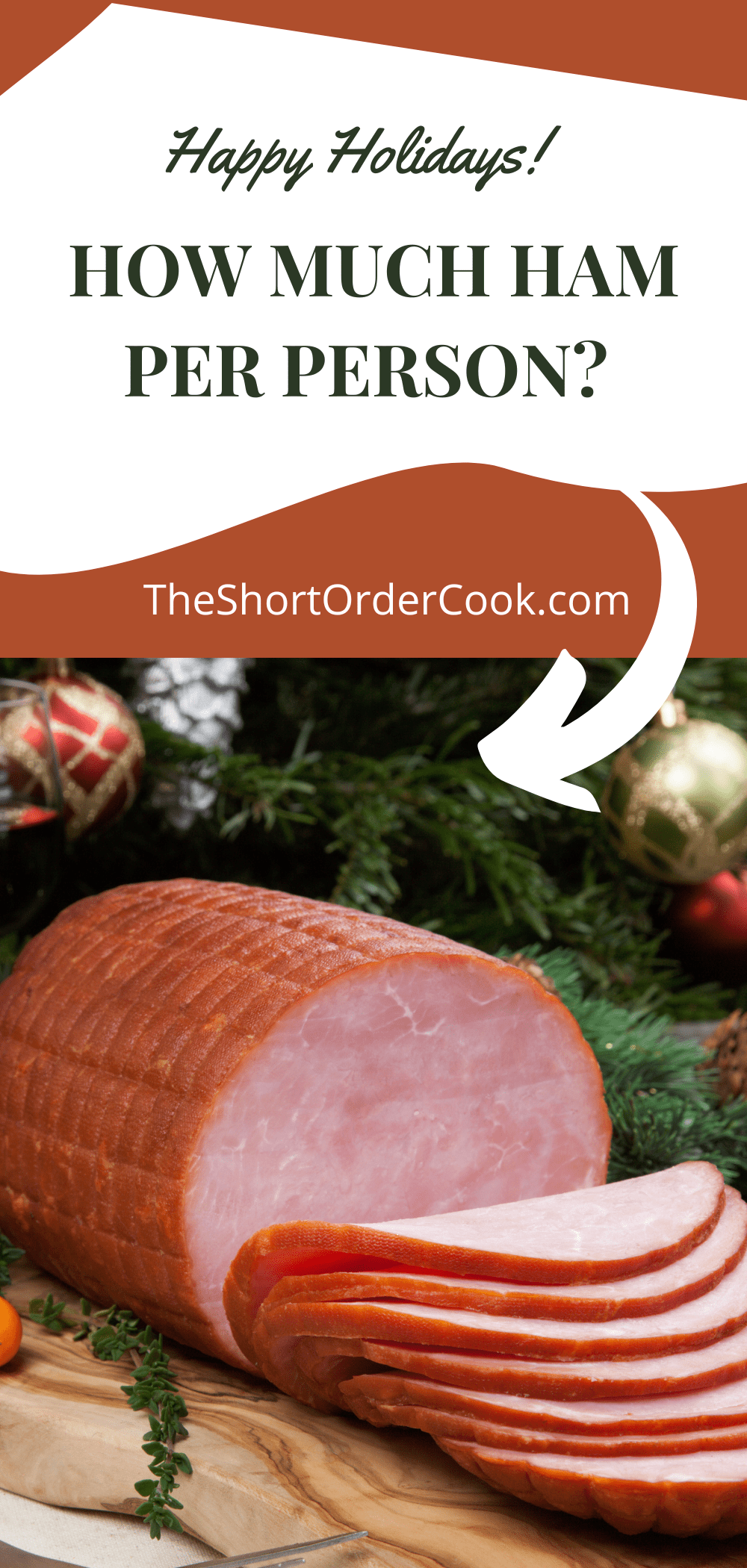 Ham Serving Calculator
Now that you have all the information, here is a quick tool that may also help. This calculator will assist in figuring out how many pounds or Kg of ham you need to make. There is an option for either boneless or bone-in. So hopefully this HAM CALCULATOR will take the guesswork out of your meal prepping.
FAQ