There is nothing better than a good brown sugar & mustard Pineapple Glaze for Ham. Slather and baste your holiday ham with this sweet, savory, salty, & sticky glaze recipe for a ton of flavor & those irresistible crunchy edges.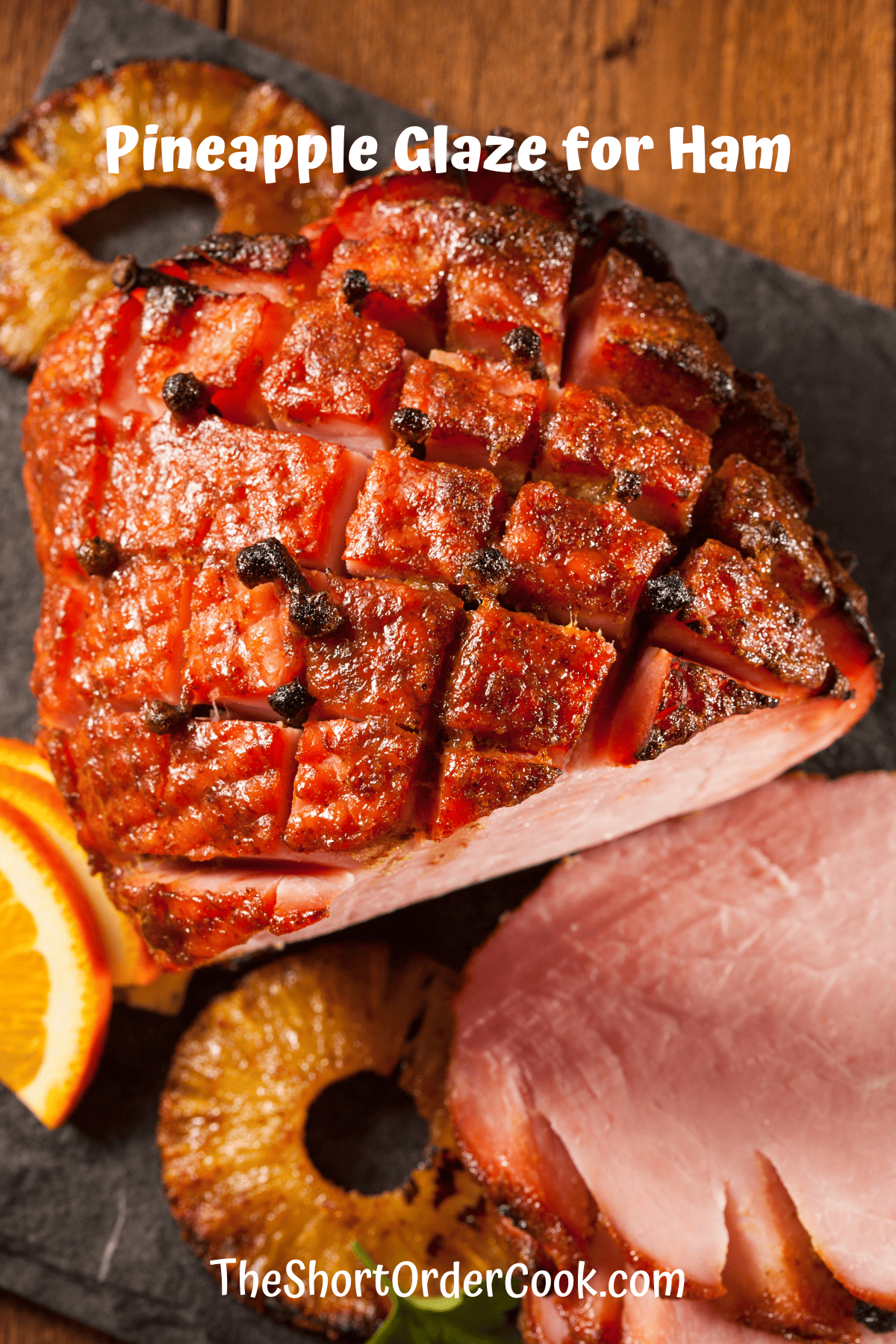 This recipe for a homemade brown sugar pineapple juice glaze will make your baked ham the best. This will be your go-to ham recipe for all the holidays; Easter, Thanksgiving, Christmas, Mother's Day brunch, & parties.
Jump to:
Ingredients for Homemade Pineapple Glaze
This recipe calls for just a few simple ingredients. You likely have them already in your refrigerator or pantry which makes this a great last-minute idea to jazz up ham before baking it.
Pineapple Juice - the sweet & tart fruit juice pair well with salty ham.
Brown Sugar - to thicken and sweeten the glaze plus it gives it that pretty caramel-like color.
Honey - another sweetener and this one helps create the sticky texture for the glaze to adhere to the ham & crunchy edges.
Dijon or Stoneground Mustard - the savory condiment balances out the sweetness and is a classic pairing with ham.
Salted Butter - to add richness, thin the glaze, & offset all the sugars.
Garlic Powder - for a flavor boost.
Cloves - the classic spice for baked ham.
Cayenne Pepper - OPTIONAL for a spicy version
** This makes enough glaze for a 5-6 pound ham.
See the recipe card for quantities & full instructions.
How to Make Pineapple Glaze for Ham
Whether you buy a fancy spiral, fresh, frozen, boneless, bone-in, or country ham, this is the best way to elevate the flavor. It also works on ham loaf, gammon, or on smoked ham. In just 5 minutes, this brown sugar dijon glaze with pineapple juice comes together.
Here are the easy steps for making pineapple glaze for ham:
Cook Glaze on the Stove
Baste with the Glaze and Cook the Ham
Rest the Ham, Slice, and Serve
1 - Cook Glaze on the Stove
This recipe is made in a saucepan and all the ingredients are warmed on the stovetop. For the amounts used in this recipe, a medium-sized pot will work.
In a pot add the butter and melt over medium-high heat. Once melted pour in the pineapple juice and add the mustard.
Stir or whisk to combine & bring to a low boil. Immediately drop the heat to medium so it does not burn.
Add all remaining ingredients to the pot. Stir or whisk until smooth. Continue to cook over medium heat for 3 minutes while stirring.
The brown sugar will melt and the sauce will begin to thicken. Turn off the heat and let the glaze rest and cool while you prep the ham.
2 - Baste with the Glaze & Cook the Ham
Any glaze with sugars is best to add near the end of cooking. This is so the glaze does not burn or turn rancid from prolonged cooking.
Cook the ham in a roasting pan according to the package or recipe. Once the ham is 30-45 minutes from being ready (internal temperature of about 110°F) it is time to start basting.
Using a pastry or basting brush, slather ⅓-1/2 of the glaze all over the exterior of the ham. Don't forget the sides and bottom.
Every 10-15 minutes, repeat and brush on more pineapple glaze on the ham. Continue to cook the ham until it reaches 145°F on an internal meat thermometer.
If you have any remaining glaze, brush it on at the end.
3 - Rest the Ham, Slice, and Serve
Once the ham is done cooking, remove it from the oven. Tent the ham with loose foil & let it rest for 15 minutes before slicing and serving.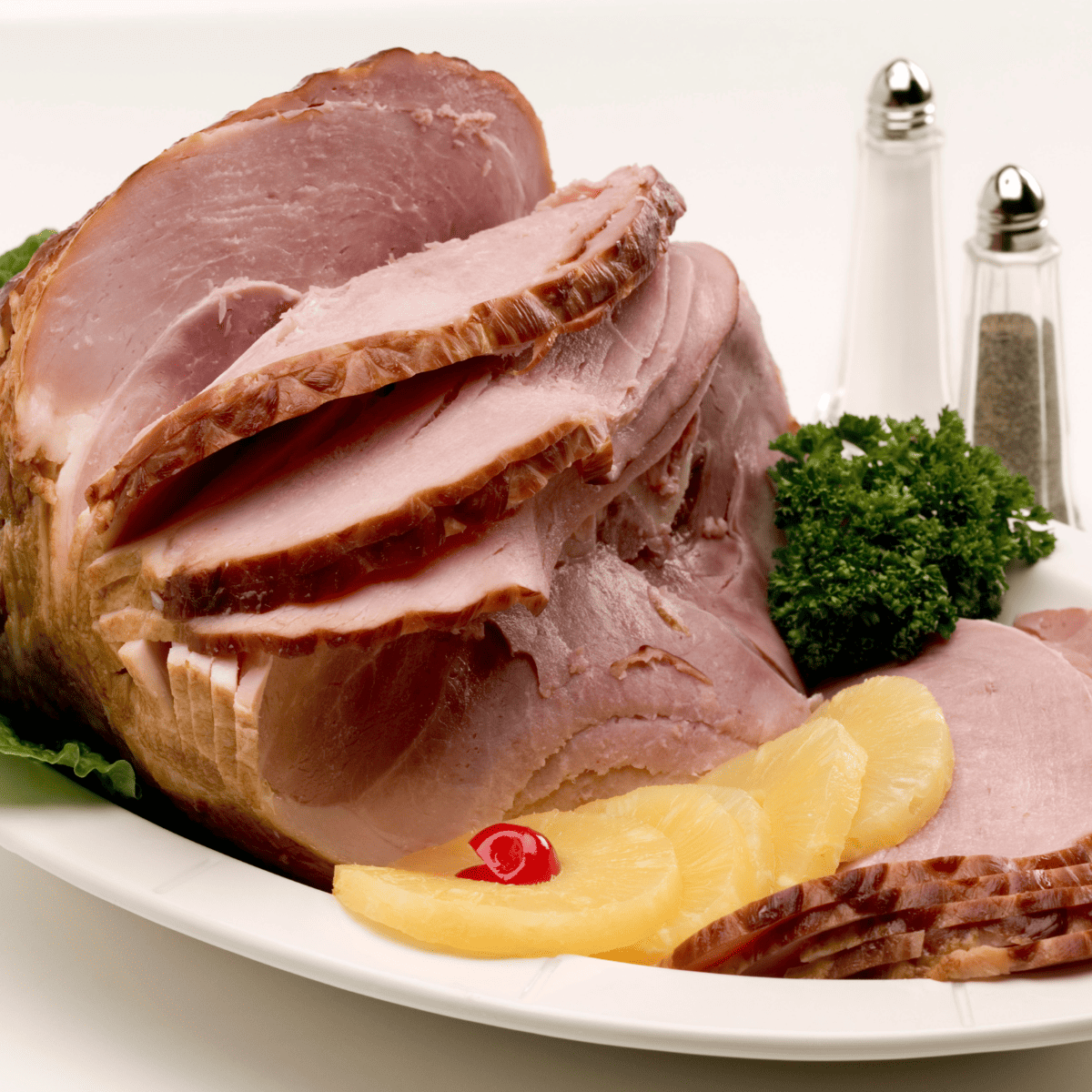 Hint: resting the ham ensures the juices redistribute and aren't lost once you start carving. This ensures a moist and tender ham with tons of flavor.
How Much Glaze Per Pound of Ham
To make sure you have enough glaze for the size ham you are making, follow these tips. The glaze amounts in the recipe card makes about 1 ½ cups which is enough for a 5-6 pound ham.
1 cup glaze = 4 pounds of ham
1.5 cups glaze = 5-6 pounds of ham
2 cups glaze = 7-8 pounds of ham
2.5 cups glaze = 9-10 pounds of ham
3 cups glaze = 11-13 pounds of ham
Substitutions & Variations
Try a recipe option with these variations and ingredient swaps. Modify, add, exclude, or replace to create a delicious recipe catering to a variety of cultural, dietary, health, or personal nutritional needs & tastes.
Substitutions
Brown Sugar - try any of these brown sugar substitutes if you are out or want a replacement.
Butter - omit or use margarine for a dairy-free ham glaze.
Honey - if allergic to honey or want a replacement, use maple syrup or additional brown sugar in the same quantity.
This glaze is gluten-free & nut-free as written.
Variations
Spicy - add the optional cayenne pepper listed in the recipe card.
Chunky - add ½ cup canned crushed pineapple.
Cloves - stick whole cloves over the surface of the ham for a beautiful presentation and added flavor.
Equipment Needed
The right ingredients, supplies, & equipment help recipes taste amazing & turn out well. Here are recommendations for products that are needed for making this recipe. Shop this recipe & buy these top-rated items today.
The Short Order Cook is a participant in the Amazon Services LLC Associates Program. As an Amazon Associate, I earn from qualifying purchases. Clicking on links and making purchases may earn me a commission, supporting the blog's operational expenses. Thank you for your support!
Storing & Reheating
This glaze can be made up to a week ahead of time. Store in the refrigerator in a container with a tight-fitting lid. It is a great time saver for those busy holiday cooking schedules.
The butter & sugars may solidify in the cold fridge. To thin it back out, reheat it in the microwave at 15-second intervals until it is ready for basting.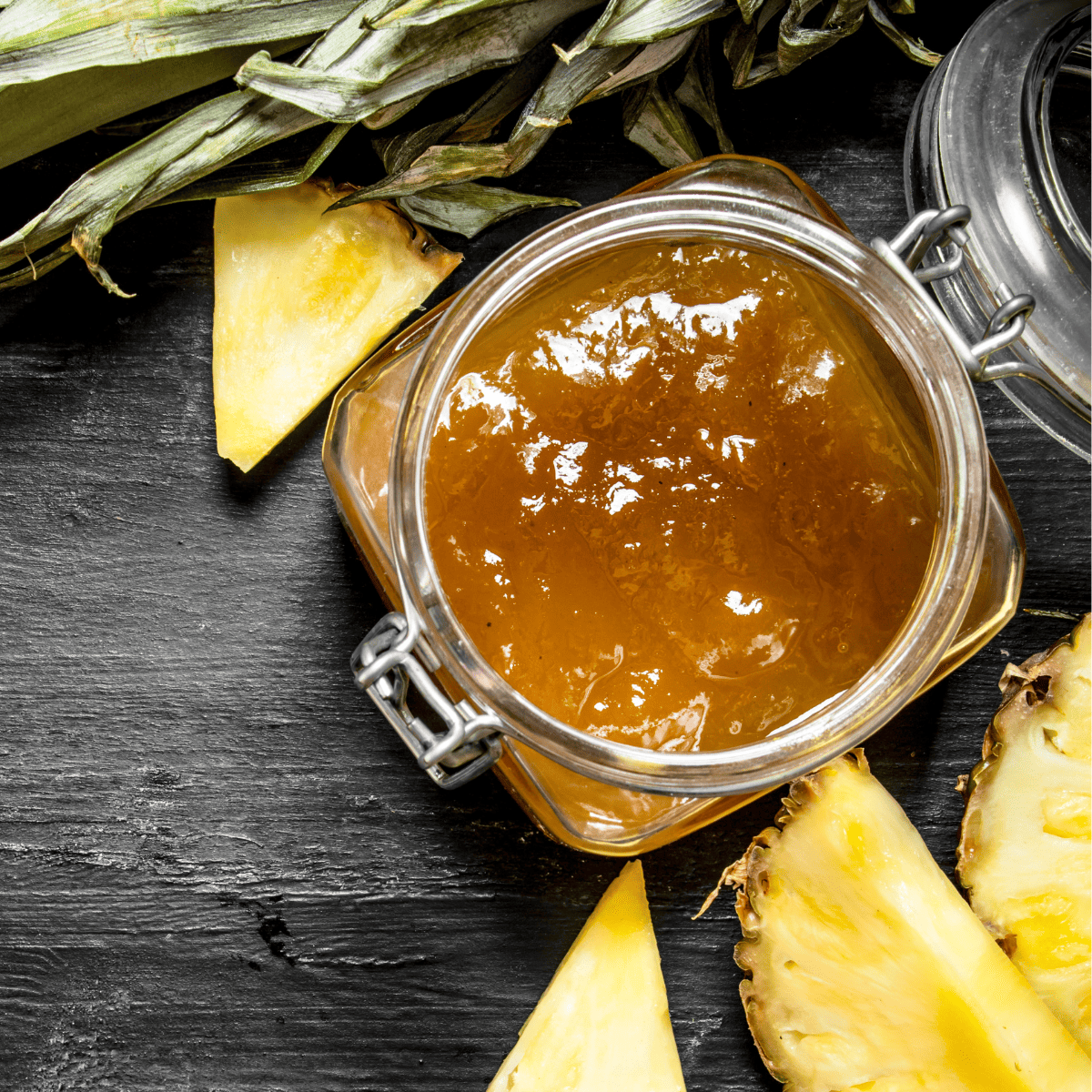 Top Tips
All of these great tips are shared in the post. But these are so good and important they are worth mentioning again so you don't miss them.
Follow my guide to ensure you are making enough glaze for the size and pounds of ham you are cooking.
Make the glaze ahead of time so there is one less thing to make on the holiday.
Do not add the glaze until the ham is almost done cooking otherwise, it will burn due to the high sugar content.
Let the ham rest before slicing to retain moisture and stay juicy.
FAQ
How do I carve a ham?
Whether it is a boneless or bone-in ham, trying the figure out how to carve can be intimidating. I found this article on how to carve any type of ham very helpful.
Why is the glaze too thin and not sticky?
If you didn't use honey it may not be sticky. The mustard and honey should make it thick so check the measurement used. It will still taste great no matter what consistency.
Do I need to remove the ham rind (thick fat) before glazing?
That thick layer of fat known as the ham rind is what keeps it flavorful and juicy while baking or roasting. Make sure to keep that on and score it.

However, I recommend removing a good portion of what hasn't been rendered down before adding the glaze. Otherwise, as the remaining fat melts away, all that yummy brown sugar glaze will too.
What to Serve with Pineapple Glazed Ham
These are my favorite dishes to serve with ham: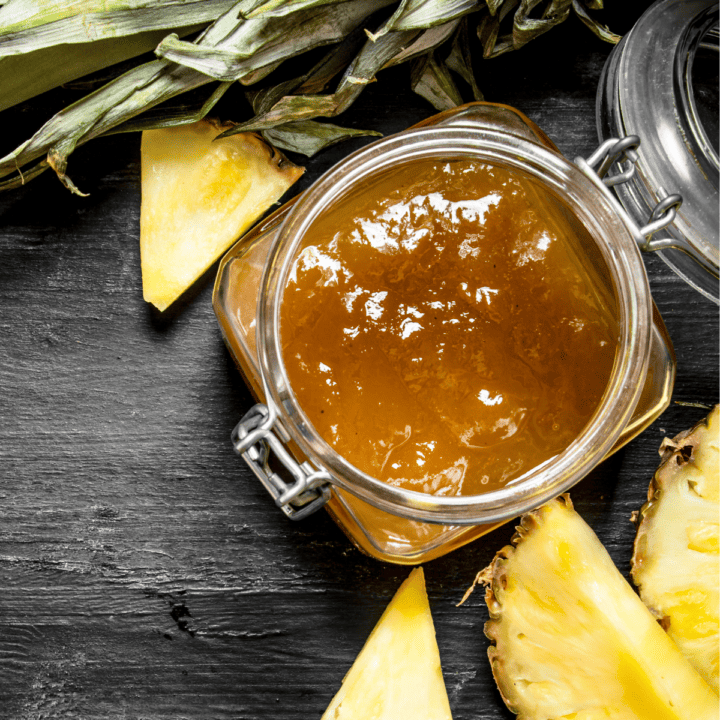 Pineapple Glaze for Ham
The best sweet, savory, & sticky glaze recipe. This Brown sugar Pineapple Glaze for ham is a holiday favorite. So easy to make in just 5 minutes. Adds a ton of flavor to any ham - spiral, boneless, bone-in, country, or whole - for a great Christmas, Thanksgiving, or Easter ham.
Ingredients
1

tablespoon

salted butter

½

cup

pineapple juice

1

cup

brown sugar

½

cup

honey

3

tablespoons

Dijon or stoneground mustard

¼

teaspoon

garlic powder

¼

teaspoon

cloves

¼

teaspoon

cayenne pepper

OPTIONAL for a spicy version

5-6

pound

spiral ham
Instructions
In a medium-sized pot, melt butter with pineapple juice & mustard over medium-high heat. Whisk or stir and cook until bubbling and a low boil for 1 minute.

Turn the heat down to medium-low. Add remaining ingredients, brown sugar, honey, garlic powder, & cloves. Stir to combine.

* add cayenne pepper for the optional spicy version.

Cook for 3-4 minutes until the brown sugar has dissolved and the glaze has thickened. Turn the heat off the stove and set the pot to the side to use on the ham.

** Let cool completely before storing in the refrigerator to use later.
Basting & Cooking on Ham
Cook your ham as directed on the package or recipe. This glaze goes on during the final 30-45 minutes of cooking.

Once the internal temperature reaches 110°F, it is time to add the glaze.

Using a basting brush, coat, and slather all sides of the ham with ⅓-1/2 of the pineapple glaze. Let it continue to cook in the oven.

Every 15 minutes, brush on a bit more glaze. Continue and repeat this step until the ham is done cooking.

Once the ham reaches an internal temperature of 145°F for a raw/uncooked ham or 140°F for a precooked ham, it is ready. Remove the ham from the oven. Tent it with a loose piece of foil & let it rest for 15 minutes.

Once it is done resting, it is time to carve slices and serve.
Notes
The glaze can be made ahead of time. Store in the refrigerator for up to 7 days. Let it come to room temperature or warm in the microwave for 15-30 seconds so it can be brushed on the ham easily. 
This makes enough glaze to feed 10 people on a 6-pound ham. 
Nutrition Facts
Servings: 10
Amount per serving
 
Calories
127
% Daily Value*
Total Fat 1.4g
2%
Saturated Fat 0.7g
4%
Cholesterol 3mg
1%
Sodium 67mg
3%
Total Carbohydrate 30.1g
11%
Dietary Fiber 0.2g
1%
Total Sugars 29.3g
 
Protein 0.3g
 
Vitamin D 1mcg
4%
Calcium 18mg
1%
Iron 0mg
2%
Potassium 52mg
1%
*The % Daily Value (DV) tells you how much a nutrient in a food serving contributes to a daily diet. 2,000 calorie a day is used for general nutrition advice.

Recipe analyzed by 
Ham Food Safety
Follow these food safety tips when cooking ham.
Cook to a minimum temperature of 145 °F (63 °C) for raw ham - precooked only needs to reach 140°F when warming it up.
Do not use the same utensils on cooked food, that previously touched raw meat
Wash hands after touching raw meat
Don't leave food sitting out at room temperature for extended periods
See more information at ham internal temperature guide.