These cool and sour refrigerate quick pickles are so easy to make and are a kid favorite in our house.  We are a fan of acidic and briny foods in our house.  This simple quick refrigerator pickle recipe uses a fast but basic pickling method using vinegar, sugar, and salt.  This Asian-inspired condiment is great to pair with spicy food, grilled proteins, or hearty sandwiches.
To make a snack out of vegetables is a sure-fire way to get my kids to eat more vegetables.  When they help make them, it is even more exciting for them to try them.  Plus I get the added bonus of having a sous chef in the kitchen.  The use of a mandoline is a fun aspect for kids too.  I recommend purchasing one if you do not have one since they are a huge time saver and inexpensive.
What is a Quick Pickle?
Quick pickles, also known as refrigerator pickles, are vegetables stored in a solution while refrigerated. The solution used here and most common is a combination of water, salt, and sugar. These final results can be eaten in as little as an hour later or after waiting a few days.
The beauty of quick pickling is that it doesn't require the long process of canning nor all the extra equipment that it takes. Sure you can quick pickle in mason jars but you do not have to. Any container with a lid will do.  And who does not have a ton of containers and lids in their kitchen at all times? The challenge for me is finding a container with a matching lid amongst the pile in my drawer.
Homemade Pickled Vegetables are Easy and Economical
Jars of store-bought pickles last one lunch at our house and they are not cheap. I don't know about you but that isn't my idea of an economical side garnish to a sandwich.  I figured I needed to learn how to make these on my own as a way to save money.  Plus it became a fun reason to plant extra cucumber plants in our yard every spring.
Besides saving money, making these homemade lets us decide what vegetables we want in the jars and how sour, salty, or sweet we want them. Controlling all the ingredients and often using homegrown organic items is so rewarding and delicious. This easy quick pickle recipe includes vinegar for tartness and sugar for sweetness; staples for most homes.
How to Make Quick Refrigerator Pickles
For this quick pickled veggies recipe, we are using carrots, daikon, and seedless cucumber.  This is traditionally what I have been served in Korean restaurants.  Other Asian restuarants, especially Vietnamese sandwich shops in the Bay Area, serve similar julienne cut vegetables. They are irresistible and thankfully they are a healthy addiction!
They are such think matchstick cuts that they are ready quickly in the recipe for the pickling brine. We have a mandoline that makes this so easy.  Set your mandoline on ⅛" julienne matchstick-size on the dial.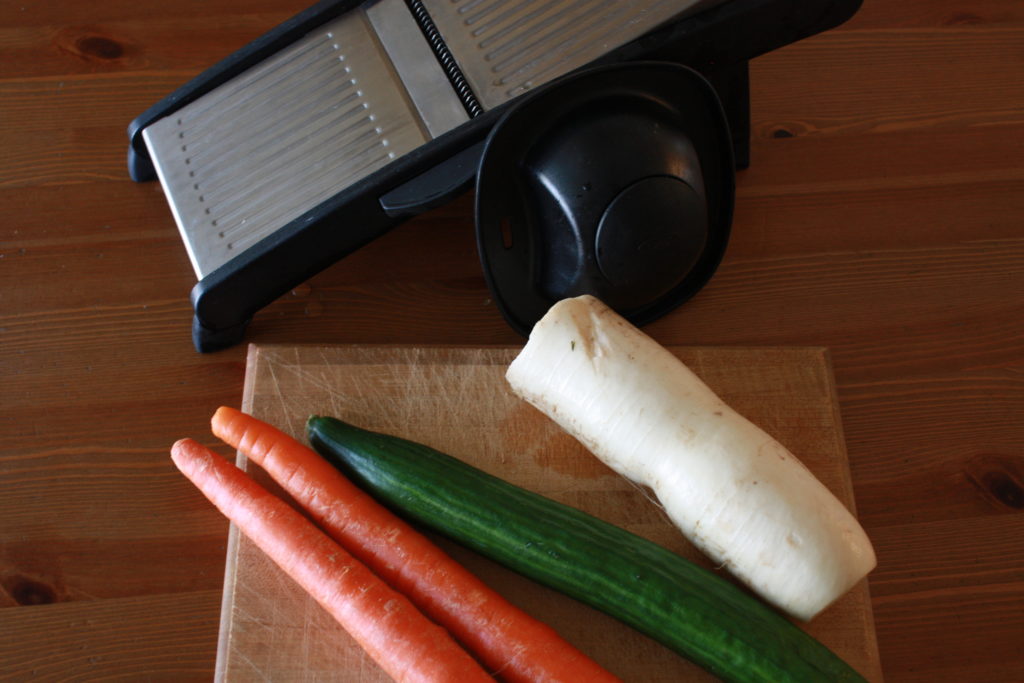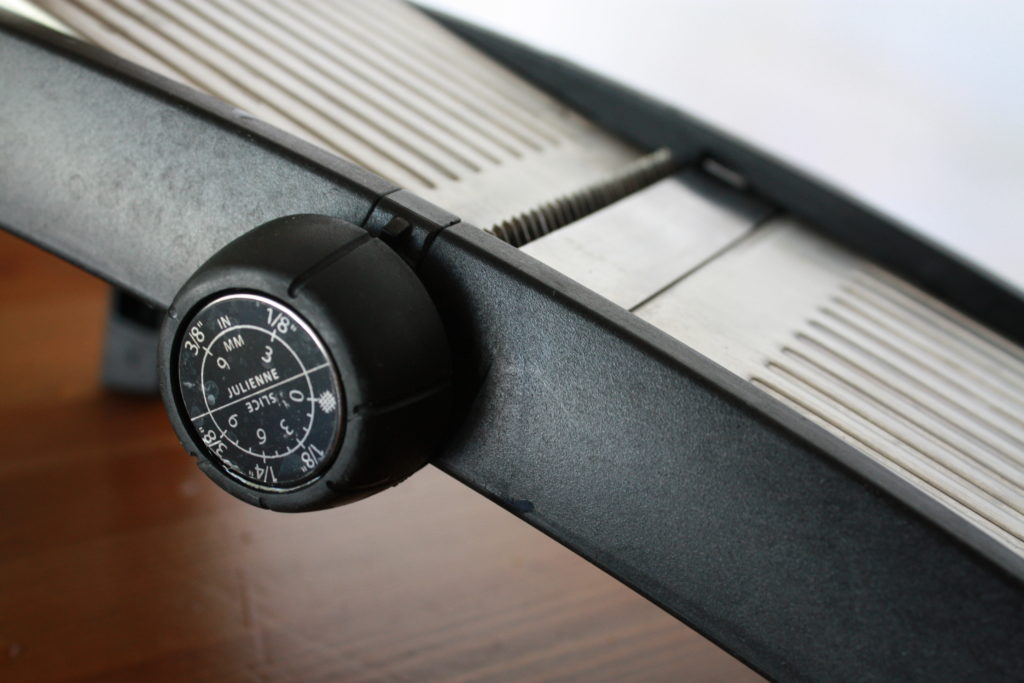 CUT - First, cut the vegetables so each section is the same length. We did them about 2" long so they fit nicely on the mandoline holder. Then grate them on the mandoline into matchstick-size pieces. The kids like to use it but sometimes the harder vegetables are not easy to cut. That is when I get to step in and use a bit of "mommy muscle".
MIX - Now mix together the pickle solution of water, vinegar, salt, and sugar.  Once the sugar has dissolved, pour that over the vegetables in a medium-sized bowl. Toss to coat.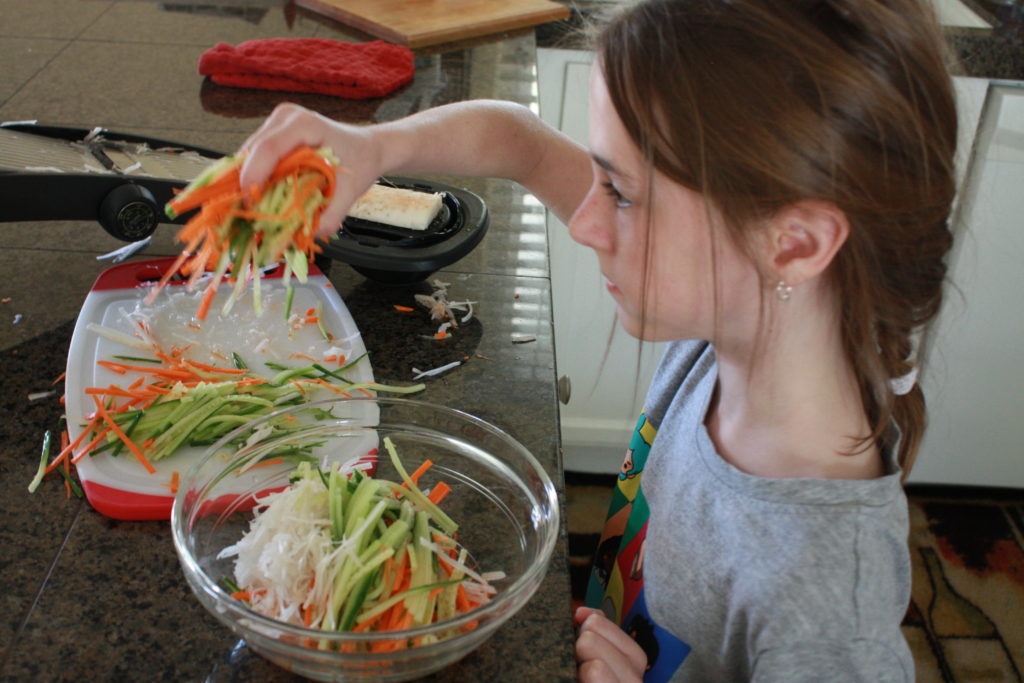 STORE - Use tongs to put vegetables into jars or containers.  Pour pickling liquid over the vegetables to submerge them but leave ½" space on top for closing the jars or containers. This is a cool liquid and not a hot pickling liquid so there is no need to let the jars cool on the counter first. You can refrigerate immediately.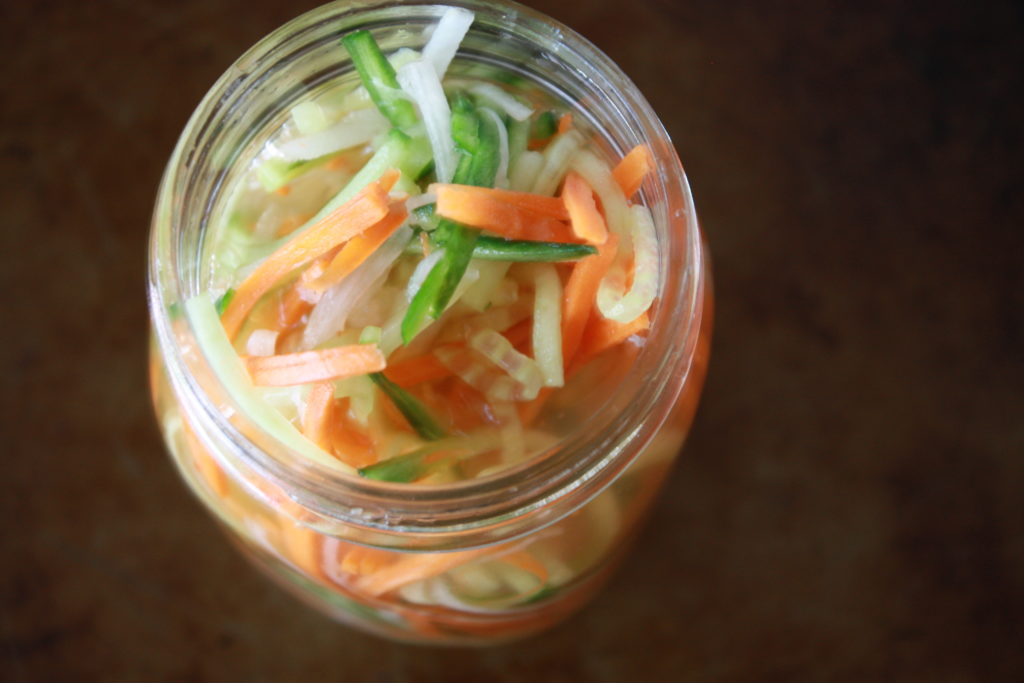 And let the pickling begin!
You can enjoy these wonderful salty-sour vegetables in as little as an hour.  If you want to enjoy refrigerator pickled vegetables while they are crisp, enjoy them the same day.  It is best to eat these within 4-5 days for a bright tart flavor.  This mixed vegetable pickling recipe is healthy thanks to it being made with less salt and sugar than the store-bought brands.
How Long Do Korean Pickles Last?
They can be stored for about 2 weeks but they never last that long in our house. They will lose their crispness the longer they stay in the solution so if you like a crisp pickle eat them in the first few days. If you like a softer and sourer pickle, wait a week and then enjoy.  This recipe yields two mason jars full and requires no canning.
This quick refrigerator pickle recipe is the best way to pickle something. It works with also with the following thinly sliced ingredients:
jalapenos, banana, bell, or other peppers
green beans
onions
radishes
okra
cabbage
celery
cauliflower
What to Serve with Pickled Vegetables
On a sandwich, Banh Mi heaven
In a salad
On top of a homemade POKE BOWL
Garnish seafood or an omelet
Straight out of the jar
PIN FOR SAFEKEEPING & SHARING!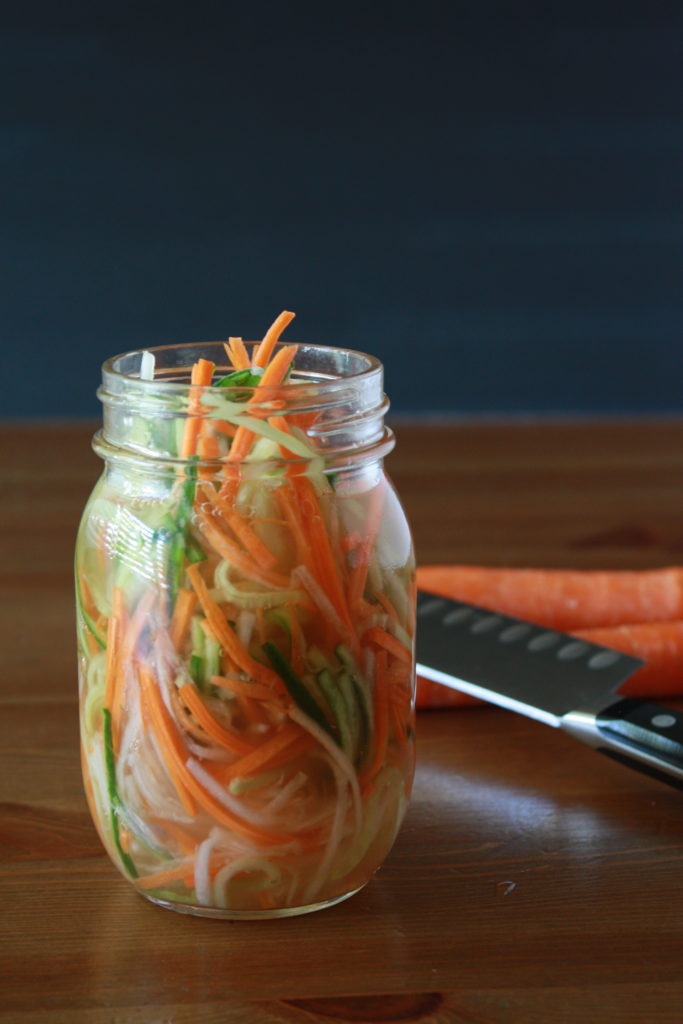 Product Recommendations for this Recipe:
The Short Order Cook is a participant in the Amazon Services LLC Associates Program.  As an Amazon Associate, I earn from qualifying purchases.  If you click on a link and make a purchase, I may earn a small commission on the sale at no additional cost to you. This helps with the costs of running the blog. Thank you! 
Did you make this The Short Order Cook Recipe?
Tag @theshortordercookblog (Instagram & Facebook) or @shortorder_cook (Twitter). 
I would love to see your latest creations and kitchen adventures.