The best way to reheat leftover McDonald's McNuggets is in the air fryer. They come out hot, crispy, and just as good as fast-food fresh. You will want to have extra chicken nuggets every time you get an order from the McDonald's menu just so you can have a snack, lunch, or dinner later too. The whole family will crave these little nuggets of chicken goodness fresh from the piping hot air fryer.
For an easy way to warm up chicken nuggets, air frying cannot be beaten. It is the no-mess, quick, & tasty way to reheat fast food breaded chicken. The inside will remain juicy while the hot circulating air in the fryer ensures the breaded coating of the nuggets gets crunchy. So grab your favorite sauces and be ready to dip away.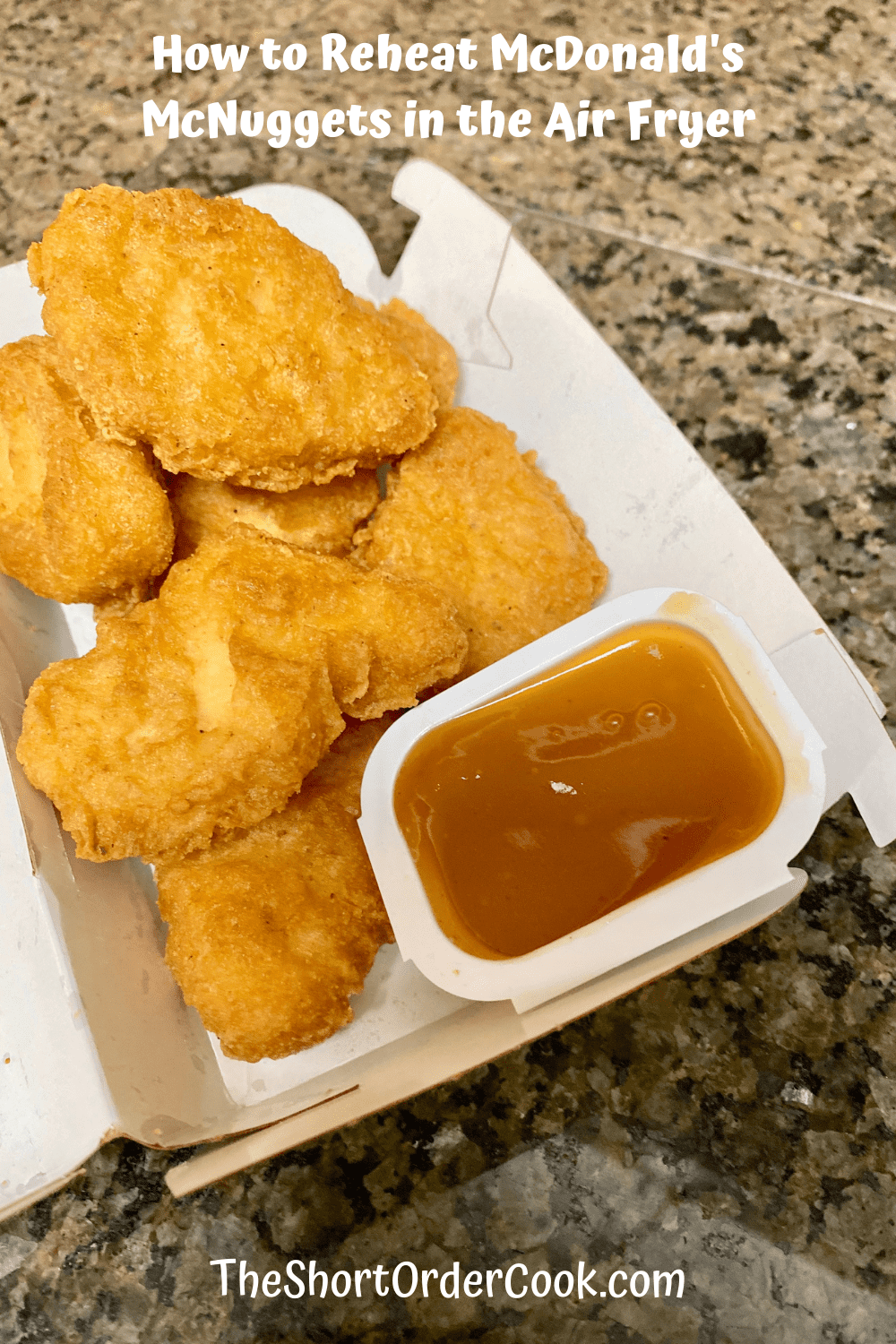 Shortly after I got my Breville Smart Oven, I was excited to start warming things up using the air fryer option. In the first week of owning it, we had some leftover fast food that the kids wanted to save for later.
So the next day, I took out the refrigerated leftover nuggets and french fries. Within just a few minutes the smell was calling the kids and they knew that something yummy was ready. Viola - easy peasy. Never will we reheat nuggets in the microwave or oven again - air fryer for the win!
Jump to:
Ingredients
The ingredient list for this recipe isn't long. Simply put, you need your leftover chicken McNuggets from McDonald's. This quick how-to recipe on reheating nuggets works on any number that you have as long as they fit in the size air fryer you have. If you have room for a few leftover french fries too, that is a yummy bonus.
As long as they were refrigerated and stored properly, they are safe to reheat and eat. See below for guidance on the proper storing of leftover chicken nuggets. This works for air frying leftover nuggets from Burger King, Wendy's, Jack in the Box, KFC, or Popeye's. You can also learn HOW TO REHEAT CHICK-FIL-A NUGGETS IN THE AIR FRYER.
Instructions
Begin by placing the leftover McNuggets in the air fryer basket or tray. Make sure they are in a single layer so the heat reaches all the surfaces. This ensures they get hot and crispy evenly.
Set the machine to AIR FRY and to 400°. Then set the timer for 5 minutes. There is no need to preheat. They will be perfectly hot and ready as they warm up through the preheat and cook times. This is for a crunchy crispy coating on the nuggets.
If you like yours just warm and a bit soft, set it to 380° and for 4 minutes. The inside will be warm but the batter on the nuggets will not be super crispy. This is often how younger kids like them so adjust according to your family's liking.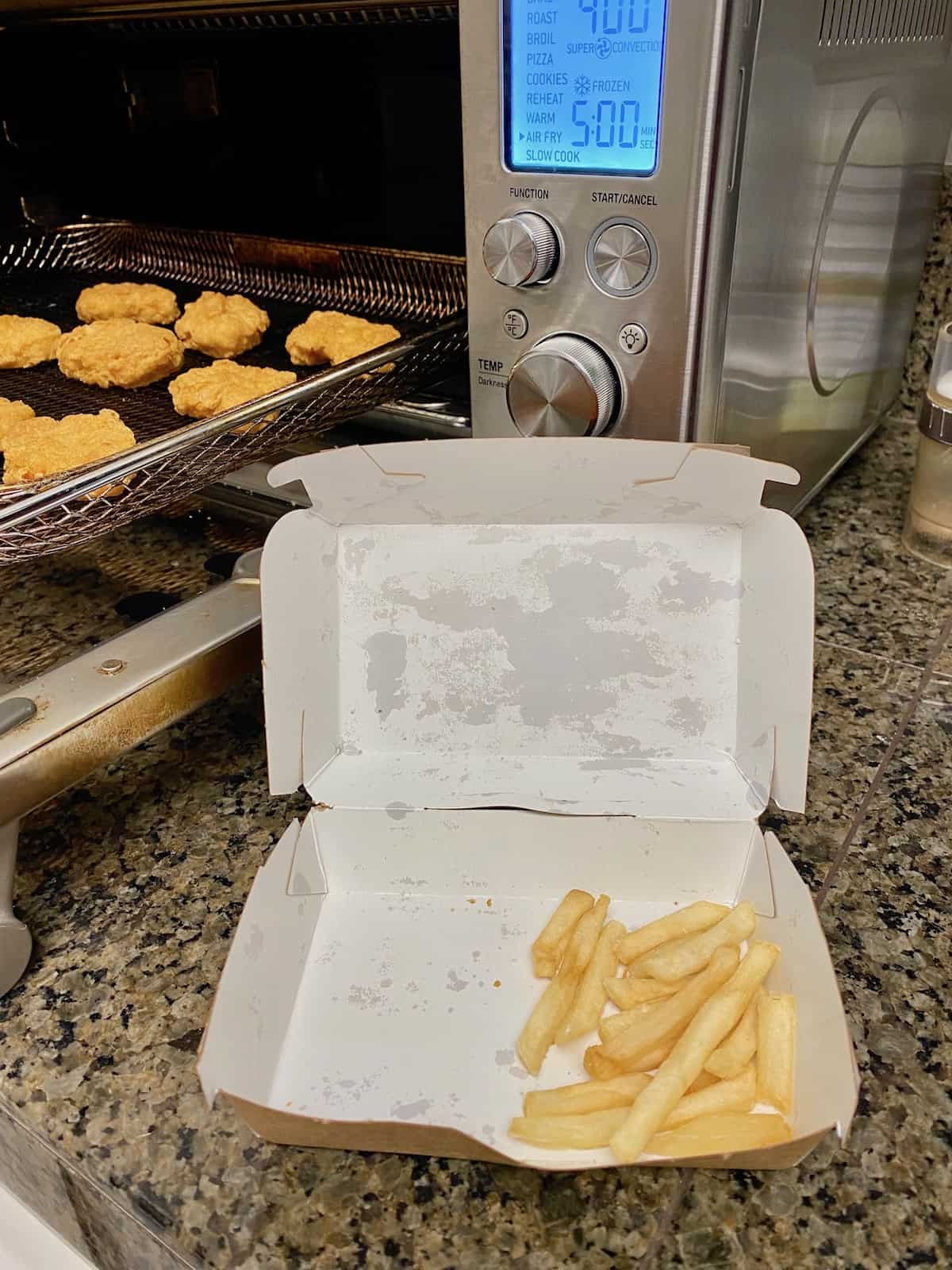 Once the air fryer beeps that they are ready, it is time to take them out. Using a pair of tongs, carefully remove them from the air fryer. Place the reheated nuggets on a plate or even back into the McDonald's box if you have it. Serve with your favorite sauce.
Can You Reheat Frozen McDonald's Nuggets?
Hint: YES, you can! It is just as easy as air fryer them from the refrigerator. To reheat leftover nuggets that you froze, you just need a bit more time and a lower temperature in the air fryer. To ensure they thaw plus cook through evenly, get them in a single layer in the basket or tray.
Set the air fryer to 400° and 10 minutes. No need to preheat, just get them in. During the preheat stage and cooking time they will come out perfect. This is similar to my Air Fryer Frozen Popcorn Chicken recipe.
What to Serve with Leftover Nuggets
If your family is like mine, we tend to rarely have leftover french fries. And when we do it is not much, as you can see from my photo above. So when we want to enjoy reheated McNuggets for more than a small snack, we make a side or two to enjoy with them. This will make it enough food to enjoy a leftover fast-food chicken nugget meal.
Here are some of our favorites, including recipes for french fries of course. This includes a salad and more that all go well with chicken nuggets or tenders. These are the best ideas for what to serve and enjoy with this reheated chicken nuggets recipe.
Equipment
You need an air fryer to reheat food in this recipe. Here are the models I recommend. Based on your family size and the functions you wish to have to cook, bake, air fry, toast, or not - these will work for anyone.
The Short Order Cook is a participant in the Amazon Services LLC Associates Program. As an Amazon Associate, I earn from qualifying purchases. If you click on a link and make a purchase, I may earn a small commission on the sale at no additional cost to you. This helps with the costs of running the blog. Thank you!
Storage
Leftover McDonald's chicken McNuggets can be stored in the refrigerator for up to 3 days. However, I do not suggest storing nuggets that have already been reheated once. Nuggets that have been reheated or have been out at room temperature too long, need to be disposed of.
If your nuggets have been out for more than 2 hours, do not keep them. If they are discolored, slimy, or have a strange smell, you will now know that they have gone bad. Those need to be thrown out in the garbage for food safety reasons.
Can you Freeze McNuggets?
Leftovers freeze well. Freezing the nuggets to enjoy later is also so easy. Simply store in an air-tight container or Ziploc bag for up to 60 days. If you froze those leftover chicken McNuggets originally, they do not need to be defrosted before you air fry them. See the HINT above on how to reheat them from frozen.
Top tip - Reheating French Fries too
If you love the classic french fries from McDonald's you may have leftovers too. They reheat perfectly in the air fryer too. To reheat both the nuggets and the fries, place them in the air fryer basket or tray together. Make sure they are in a single layer and you are not overcrowding them.
Then cook as directed in the recipe card - they both reheat at the same time and temperature. How about that for the best way to easily reheat nuggets & fries together!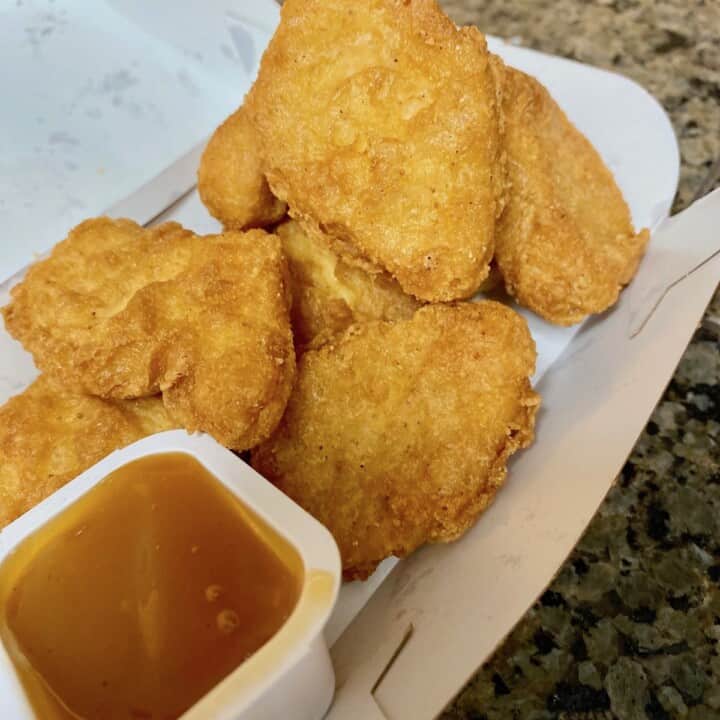 How to Reheat McDonald's McNuggets in the Air Fryer
There is no better way to reheat McDonald's McNuggets than in the air fryer. In just a few minutes you can enjoy hot & crispy leftovers.  Refrigerator or freeze your leftovers to enjoy later as a snack or lunch. Works great for french fries too.
Ingredients
leftover McDonald's McNuggets

Any fast-food nugget will work

leftover McDonald's french fries

Optional
Instructions
Set the air fryer to AIR FRY at 400° for 5 minutes. NO need to preheat.

No need to flip or rotate the nuggets. Just let them cook.

Once the air fryer timer sounds, they are ready. Carefully remove them, using tongs, from your air fryer. 

Plate them and serve with your favorite dips! The nuggets will BE HOT. 

ENJOY!
Notes