All the differences between the salad fork versus the dinner fork are easy to understand with this simple guide. Here is all you need to know about which is the salad fork and which is the dinner fork. Hopefully, the next time you sit down in a formal place setting you will know which fork to use for each course.
This includes the order, when to use them, and more. Also be able to recognize which fork is which right away by the size, shape, & placement.
Jump to:
Fork Tips & Tricks Shared
I have also shared some quick tips on other forks you may use at home or come across when dining out. Learn about frequently used ones like the dessert fork but also more unique ones like one of my favorites, the spaghetti fork. It is fun and helps you perfectly twirl up my yummy Fried Spaghetti with Eggs. So get ready to dig in and find out all you need to know about forks.
The most commonly used forks when eating are the salad and dinner forks. When at home you may use them interchangeably. I know having small kids often means they use the smaller salad forks all the time versus a larger dinner fork when eating their meals. And that is ok. But for the sake of this article, think in terms of formal etiquette, formalities, and customary usage.
Differences Between a Salad Fork & a Dinner Fork
To figure out what makes these two forks different, let's start off with what makes them similar. That may help you understand why it may be confusing which one is which. Both the salad fork and the dinner fork have four tines or prongs. They are both used in formal and informal settings. In some cases, they look exactly the same except for a few small differences.
Now for uncovering the differences between the two. Here are the characteristics of dividing the salad fork vs. the dinner fork. The main difference between these two forks is the size. A typical salad fork is 6 inches long. The dinner fork is a bit bigger, measuring 7 inches long. Where they are placed in a casual or formal table setting also is different.
Another difference between the two is many salad forks have one outer tine thicker than the rest. This is used for side-cutting salads such as maybe making a sliced beet a bit smaller to fit in your mouth. Also, a salad fork may have a tiny notch out of the end of the tines making it a bit "sharper". This is for easily poking at hard ingredients, like carrots or croutons, or thin items like cold cuts.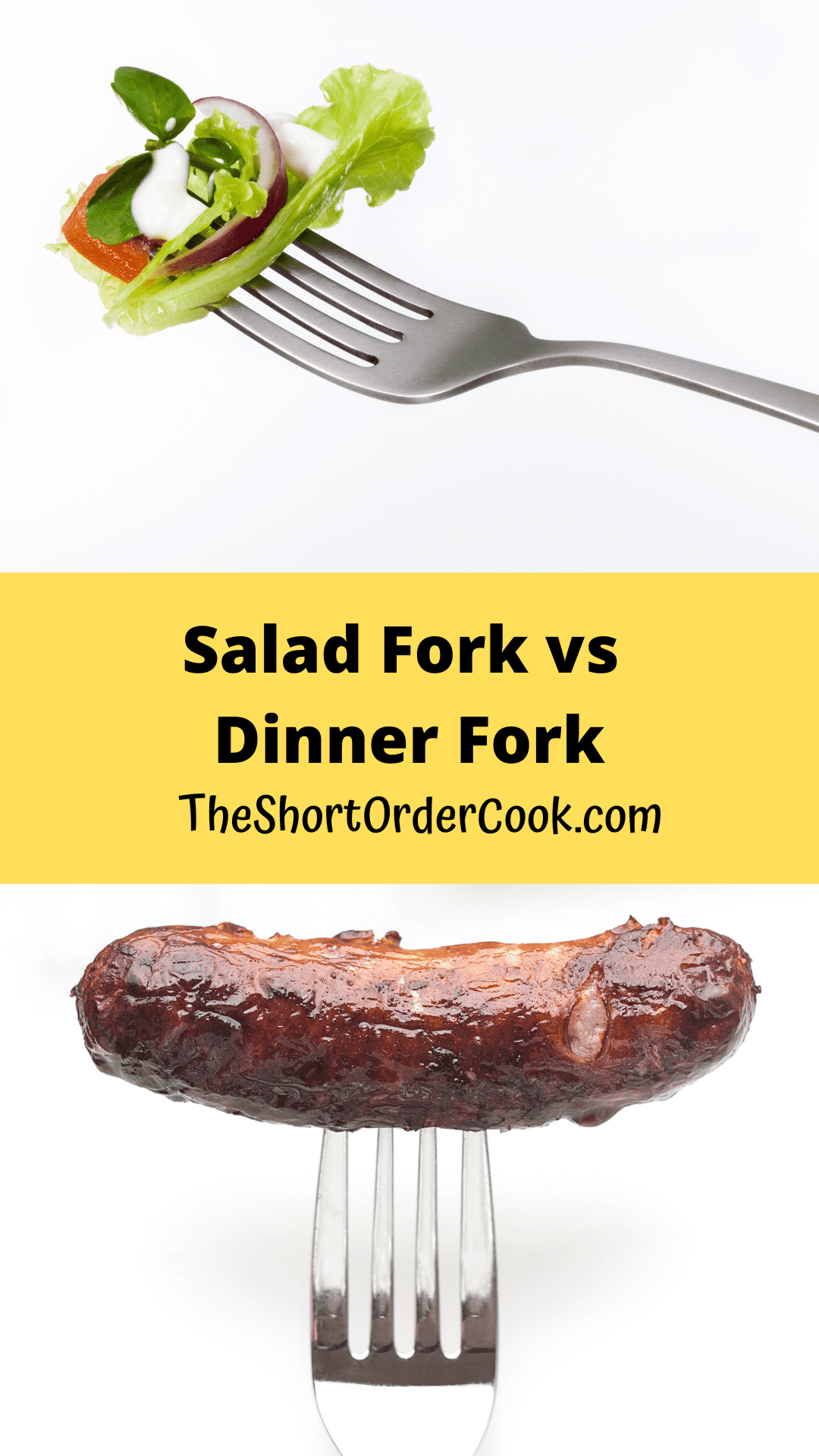 Placements for Salad & Dinner Forks
When setting a table you may often wonder where each fork goes. Both forks are placed to the left of the table setting. Since proper etiquette dictates that you work from the outside in when dining, forks used in earlier courses go on the far left.
Salads are typically the first course and eaten before the main course. Therefore, a salad fork will be placed on the far outside left. Next will be the dinner fork which should be placed just to the right of the salad fork. The dinner fork will be next to the plate.
One course you will be enjoying between the salad and main entree may require its own fork as well. The rule of thumb here still applies, work from the outside going in. For example, if you are serving a shrimp cocktail after the salad, a seafood fork would go between the salad and dinner forks.
** Some may enjoy your salads after the main course. I grew up with this when eating with my old-school Italian family in Brooklyn. That is when the salad fork would be on the inside of the entree fork and next to the plate. We often had a fruit & fish course. So many forks! **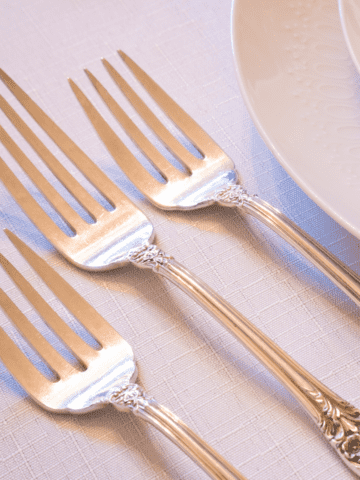 Which is the Salad Fork?
Forks for salads are a shorter four-tined utensil that has multiple uses. It is mainly used when enjoying the salad course of a meal. But it is great for so much more. It is often used for enjoying appetizers, fruits, or vegetables served with a meal. You don't need a formal utensil for every item enjoyed at a feast or supper.
Which is the Dinner Fork?
A dinner fork is probably the most used utensil at the dinner table. This large four-tined fork is used to enjoy the main entree. It is great for meats, plates of pasta, casseroles, and more. It is typically the largest fork on the table and placed just to the left of the dinner plate.
Other Types of Forks
Now that you have mastered the two most commonly used forks at the dinner table, let's keep going. A formal setting may include upwards of 6 different forks. The more courses in your meal, the more fork confusion you may have. Don't worry, these forks are easy to use and recognize once you have seen them here.
Two-Tined Forks
These forks have two tines or prongs on them. Tines may also be called teeth, but overall they all should do the work needed to pierce, stab, collect, or scoop up the food you are serving or eating. Here are commonly used two-pronged forks that you may own or use when serving or eating a meal.
Carving Fork - this long-handled fork is wide and bulky to ensure a solid hold on large pieces of meat and roasts. They are used to stabilize meats like ham, turkeys, & roast beef, when carving slices.
Cheese Fork - a small stubby fork with a short handle. They are used to hold down large wedges or slabs of cheese when slicing or breaking off pieces to enjoy on a cheese platter or charcuterie board.
Chip Fork - small wooden chip forks used to eat fish and chips, helps keep the hands clean & safe while enjoying them while they are fresh & hot.
Escargot/Snail Fork - it's about 4 ½ inches long with two long pointed prongs that are sharp. The narrow fork is ideal for removing the escargot meat from the round shells. It is different from a seafood fork as it does not have 3 prongs.
Lobster Fork - a long-handled fork that is narrow which makes it ideal for removing meat from lobsters.
Marshmallow Forks - these long forks are roasting sticks where you can extend them over a campfire to roast perfectly toasty marshmallows.
Three-Tined Forks
Here are the most often-used forks that have 3 prongs. If you enjoy shellfish, dessert, or pasta on a regular basis these may be a fork you want to add to your utensil drawer.
Cocktail/Oyster/Seafood Fork - a small fork with a slightly round base and narrow prongs that is useful for digging the meat out of shellfish.
Dessert Fork - typically has 3 tines but sometimes has 4. Used to eat your dessert and a smaller version of the salad fork. May also be called pie or pastry fork. Typically placed above the plate but sometimes may be between the plate and the dinner fork.
Spaghetti Fork - a fork used for eating spaghetti. It has ridges on the sides of the tines to help twirl and hold the spaghetti for that perfect mouthful without making a mess. I admit this is the most fun fork on the list and I just bought some. A great gift for any spaghetti lover you know.
Four-Tined Forks
The most commonly used forks with four prongs are the dinner and salad forks. However, there are a few other forks that have four tines on them. You may not own any but just in case you come across them in a fancy restaurant or event, here are a few to make note of.
Dessert Fork - some dessert forks will have four tines though most will have three.
Fruit Fork - common in Europe and used to spear fruit for cutting and eating.
Fish Fork - the four wide prongs are useful when separating delicate fish meat from the bones when eating.
Spork - a combination of a spoon and a spork is one of my favorites! It has a bowl-shaped base with four tiny & short tines on the end for the ultimate scoop and poke utensil. Anyone that ever had a school lunch in America has used a plastic spork. Good silver ones are a must with foods like Hula Pie!
Special Forks to Buy
Now that you learned more about all kinds of forks, there may be a few new ones you want to buy. Here are some great deals for budget-friendly forks of all kinds. These will cover any and all informal and formal place settings.
The Short Order Cook is a participant in the Amazon Services LLC Associates Program. As an Amazon Associate, I earn from qualifying purchases. If you click on a link and make a purchase, I may earn a small commission on the sale at no additional cost to you. This helps with the costs of running the blog. Thank you!