For the best toaster oven grilled cheese sandwich, you must try this easy recipe. In just minutes the toasty sandwich with gooey melted cheese is ready. With a warm crunchy exterior and a perfectly cheesy inside that stretches and oozes with every bite. There is no denying that this sandwich is damn fantastic.
The ultimate grilled cheese sandwich can be made without a stove, fry pan, griddle, or oven. All you need is a toaster oven and 10 minutes for a hot lunch, dinner, or snack. This grilled cheese sandwich is so easy to cook, it is a great recipe for kids and teens to make.
What I love about this recipe, is it can be made when you have a limited kitchen. If you have a toaster oven in your office, dorm room, RV, or home you can make this grilled cheese. I often refer to this as the best recipe for college students for that reason.
It is also great when you are undergoing a kitchen remodel and don't have access to a stove or oven. Or try my recipe for how to make a grilled cheese sandwich in the microwave.
Jump to:
Ingredients
This is a classic grilled cheese recipe converted to cook in a toaster oven. Therefore, it takes only 3 simple ingredients to make this easy recipe. I am using our family's favorite sliced sandwich bread, Oro-Weat Potato Bread. We prefer a sharp cheese, like cheddar.
You can use whatever you prefer for the bread or cheese, so many options to make it just how you love a melted cheese sandwich. This recipe can be made with thick Texas toast, sourdough, rye, gluten-free, keto, or homemade sliced bread. Swap out the cheddar cheese for your favorite or one of these best cheeses for grilled cheese.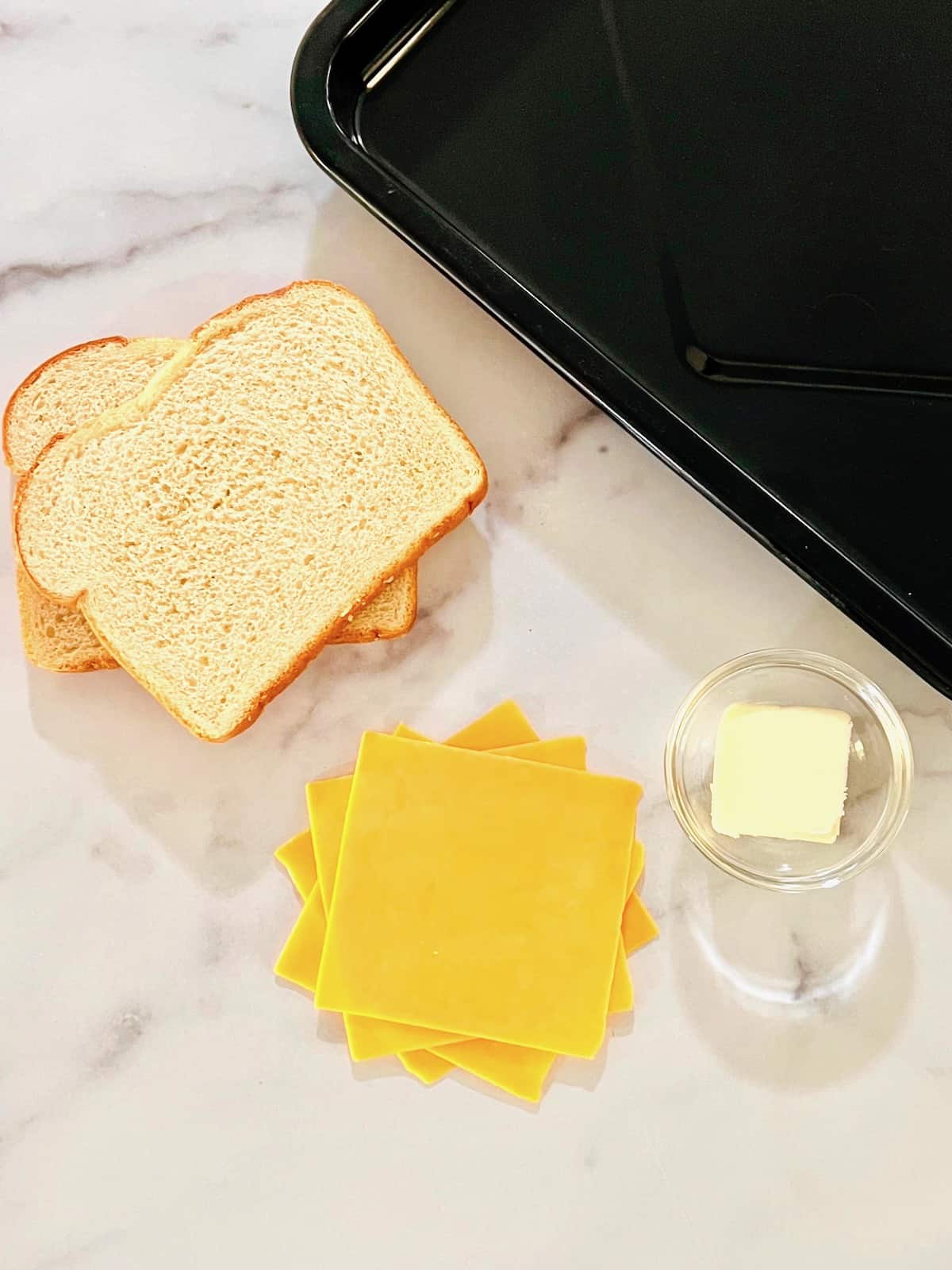 Sliced Sandwich Bread

Sliced Cheese

Salted Butter
See the recipe card for quantities.
Instructions
Begin by preheating your toaster oven to 425°. If you have a timer setting, place it at 10 minutes. While it is preheating, it is time to gather the ingredients and put the sandwich together.
If you never made a grilled cheese sandwich before, this is how you assemble one. Once these steps are done, it is ready to cook in the toaster oven. Since this will be cooked on a baking tray, assemble it directly on it to make clean-up easier.
Begin by buttering one side of each slice of bread. Use ½ of the tablespoon on each side. Place the buttered sides down.
Now stack on your slices of cheese on one side of the bread. If you are adding additional ingredients, do that now.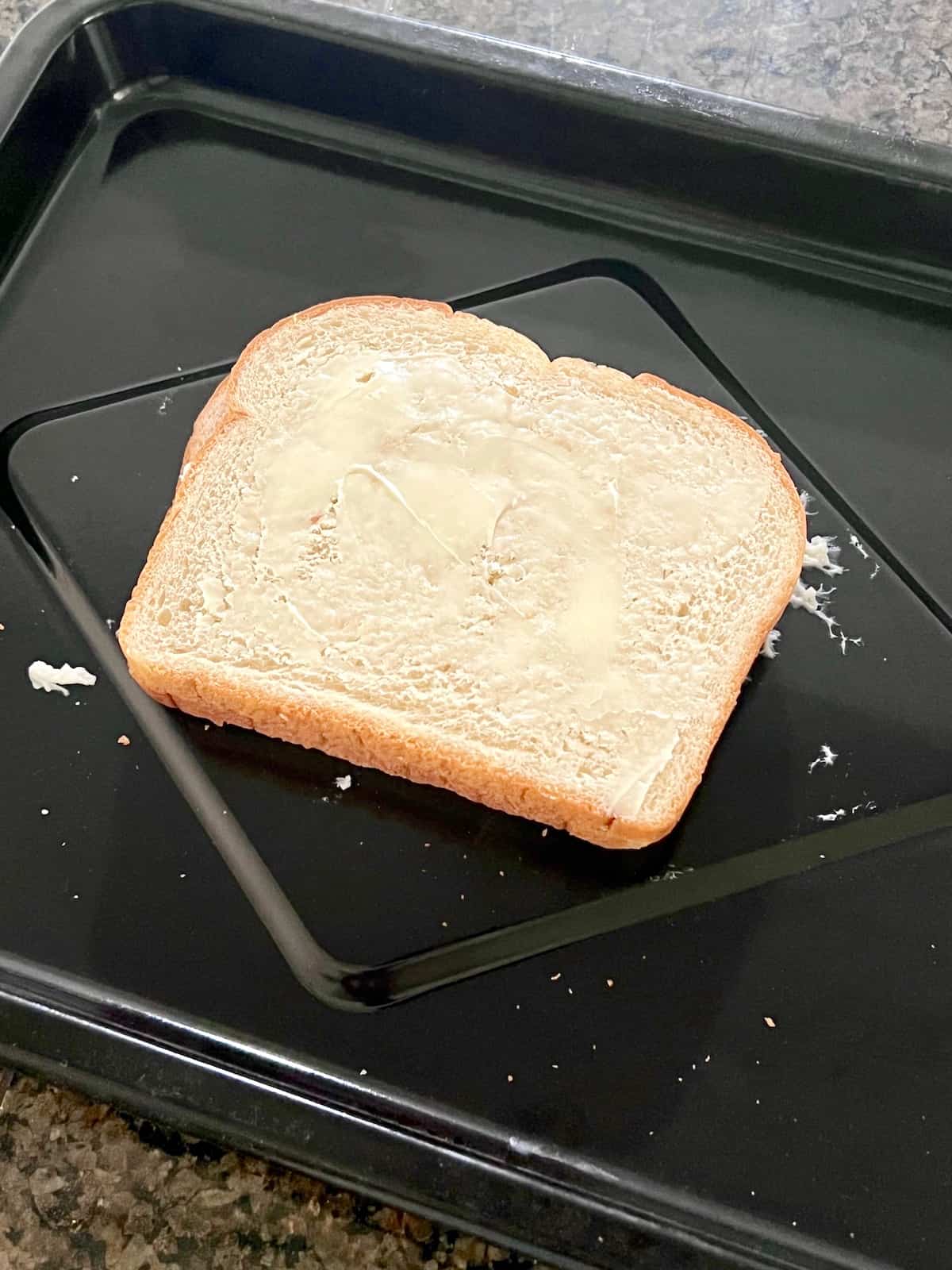 Bring the two together. Place the other bread on top of the cheese with the buttered side facing up.
Once the toaster oven is preheated to 425°, it is ready to go in to bake. If you have a timer, set it for 10 minutes.
Let the grilled cheese sandwich cook for 5 minutes. Using a spatula, flip the sandwich over. It will now cook for an additional 5 minutes.
Once the 10 minutes are done, the grilled cheese sandwich is ready. Carefully remove it with a spatula. Place it on a cutting board or plate. Let it rest for 1-2 minutes. Once it has rested, slice in half & enjoy!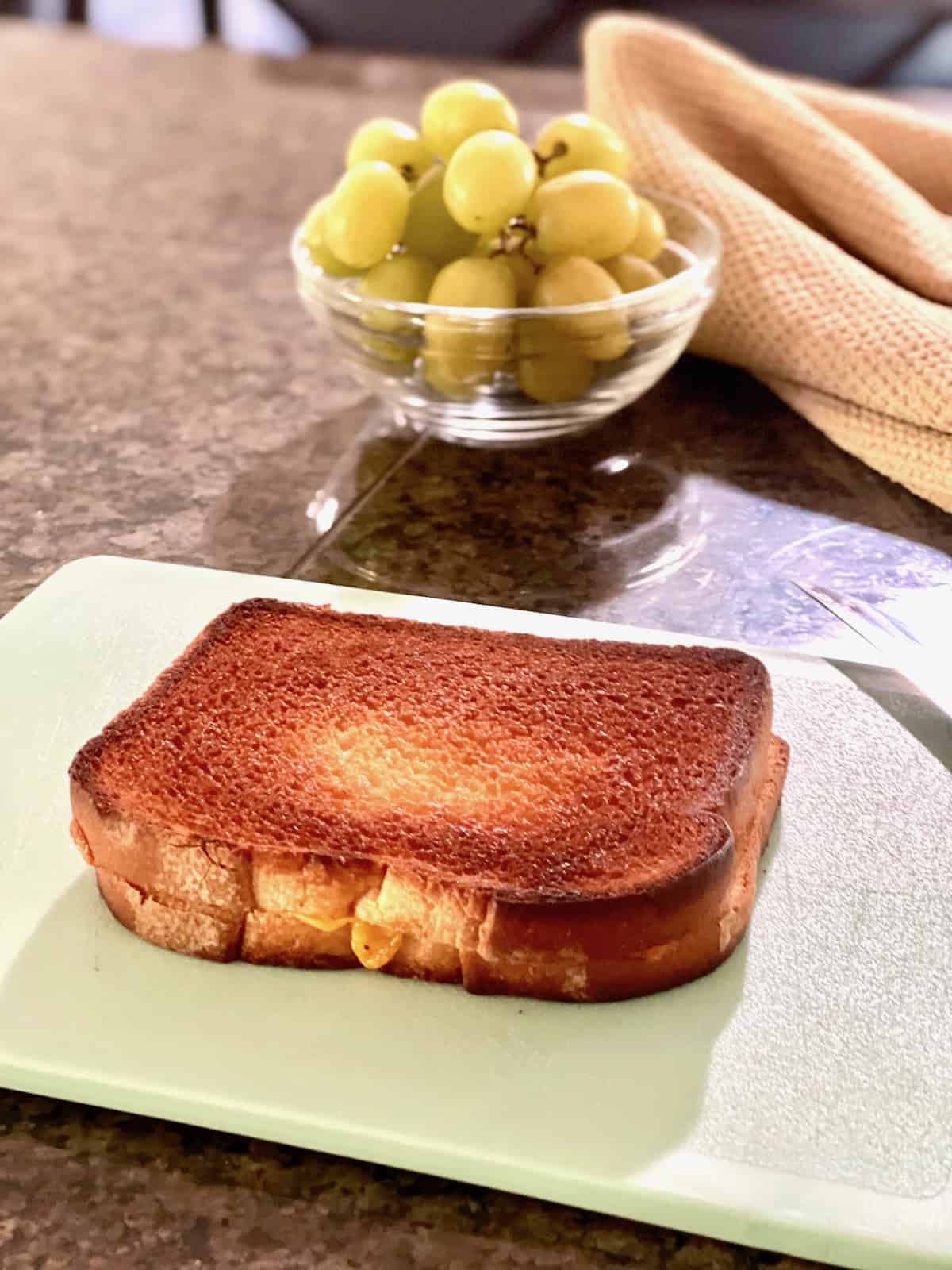 Hint: Before cutting, the resting period is key for two reasons. It ensures the cheese begins to cool a bit again. This cooling makes it more solid again so that it doesn't all ooze and drip out of your sandwich.
And the more important reason, the cheese is HOT! You do not want to burn your mouth when you bite into this yummy sandwich. It's hard to wait but just give it a minute. See the warm melty cheese, it is still gooey and delicious.
Substitutions
For anyone with a gluten allergy or those that wish to have a vegan or dairy-free grilled cheese, it's easy with a few substitutions. These alternative ingredients can help you enjoy the toastiest cheese sandwich and still stay on your keto diet or avoid foods you may be allergic to.
Bread - use gluten-free bread instead of regular bread to make this gluten-free; you can also use keto bread for a low-carb grilled cheese
Cheese - use vegan instead of regular cheese for a dairy-free and vegan option
Butter - you can also use margarine or a vegan butter
Variations
As mentioned above, this recipe for toaster oven grilled cheese is versatile. You can use almost any kind of sliced sandwich bread or sliced cheese for this recipe. Here are some delicious ideas that we have tried and I highly recommend.
Spicy - use pepper jack instead of cheddar
Deluxe - use a combination of cheeses such as cheddar, jack, & swiss
California - add sliced avocado & use sourdough bread
Ham & Cheese - add sliced ham for a great toasted ham & cheese sandwich
Kid-friendly - make it the standard white bread and American cheese version many kids seem to enjoy
See this spicy fruity grilled cheese on my website that you can make in the toaster oven too. It's sweet, savory, & sticky with a bit of heat with hot honey and figs. Got figs - you must make it - you will thank me!
Equipment
To make this grilled cheese, you need a toaster oven. I have an air fryer/toaster oven combo and I love it. But you can use any toaster oven, even small basic ones. I recommend many toaster oven models that are less than $100. As long as you have a baking pan that fits inside your model, you have all you need to make this.
The Short Order Cook is a participant in the Amazon Services LLC Associates Program. As an Amazon Associate, I earn from qualifying purchases. If you click on a link and make a purchase, I may earn a small commission on the sale at no additional cost to you. This helps with the costs of running the blog. Thank you!
Storage
You can make several grilled cheese sandwiches at once and save one for later. If you have extra or leftovers, wrap them in foil or store them in an air-tight container. Place it in the refrigerator and store for up to 3 days.
These ingredients do/don't stand up well to freezing and I do not recommend freezing grilled cheese sandwiches.
How to Reheat Grilled Cheese in the Toaster Oven
There is no better way to reheat grilled cheese than in the toaster oven. In just a few minutes your cold leftover sandwich will be warm, melty, and tasty. Preheat the toaster oven to 350°. Place the sandwich in the toaster oven baking tray and cook for 3-4 minutes on each side. Once the cheese is melting and the bread is warm, it is reheated and ready to enjoy.
Top tip
For thicker slices of cheese or bread, adjust the temperature down 25° to 400°. Cook for a total of 5 minutes longer; 7.5 minutes on each side. This will help ensure the cheese melts inside without burning the bread.
If you like a grilled cheese that is lightly toasted, cook it for only 3 minutes per side. And if you like your grilled cheese extra dark, cook at 450° and watch it closely so it doesn't burn.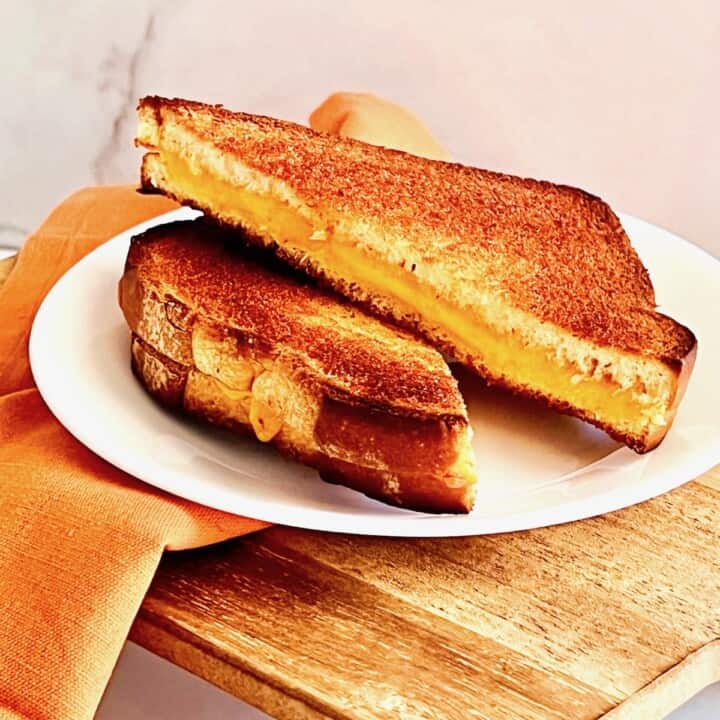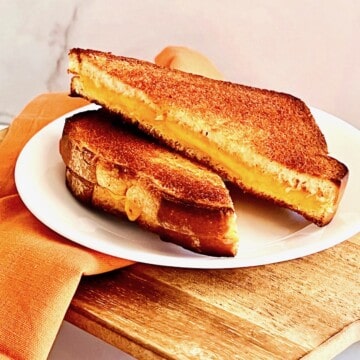 Toaster Oven Grilled Cheese Sandwich
For the best toaster oven grilled cheese sandwich, you must try this easy recipe. In just minutes the toasty sandwich with gooey melted cheese is ready.  Great for those without a stove or in an RV, dorm, or office kitchen. So easy, kids love to make their own.
Equipment
toaster oven

baking tray or pan
Ingredients
2

slices

sandwich bread

2

ounces

sliced cheese

2-4 slices depending on thickness

1

tablespoon

butter
Instructions
Set your toaster oven to Bake at 425°.  Let it preheat while you assemble the sandwich.

Get out the baking tray for your toaster oven.  Butter one side of each slice of bread.  Place the butter side down on the baking tray.  Top one slice with the two slices of cheese. Top with the other piece of bread, butter side up.  

Once the toaster oven is preheated, it is ready to bake the sandwich. Place the tray with the sandwich in the toaster oven. Let it cook for 5 minutes.

Using a spatula, flip the sandwich over. Cook for an additional 5 minutes. 

Using an oven mitt, remove the baking tray with your oven-grilled cheese sandwich.

Let cool for a few minutes before slicing.  Cut in half and enjoy! 
Notes
The calories and nutritional information will vary for this recipe based on the type of bread and cheeses used.