Have you ever been ready to bake and realize you need to substitute muscovado sugar because you do not have any? Well, you are probably reading this because it is happening right now. No need to run to the store or borrow from a neighbor, I bet you already have the perfect replacement in your pantry already.
When you have a recipe that lists muscovado sugar as an ingredient and you do not have it, using a substitute or an alternate can be done. For alternatives when you are without muscovado sugar, this homemade recipe is the best. Or you can review the list that includes so many alternatives you can use in a pinch.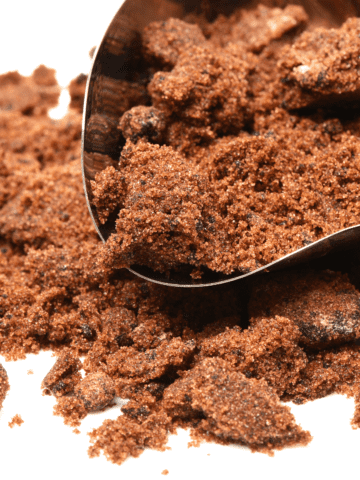 Using brown sugar, like muscovado sugar, in baking makes everything taste so much better. I love using muscovado to sprinkle on top of baked goods like my Homemade Applesauce Muffins. It adds more richness and a lovely color.
Jump to:
What is Muscovado Sugar?
Simply put, muscovado sugar is a type of brown sugar. But honestly, it is so much more. Muscovado is an unrefined sugar so it does have more nutritional value than processed white or brown sugars. Muscovado is also vegan. Just remember this isn't healthy, it is still sugar.
Muscovado can be deep dark brown or light brown, much like regular brown sugar. It is an unprocessed brown sugar that has a high molasses content. For that reason, it is stickier and brings more moisture to what you are baking. This ingredient is important when baking rich dark cakes for example.
What Does Muscovado Sugar Taste Like?
Since it is a sugar, muscovado tastes sweet. If you were to compare it to other sweeteners and sugars, it does taste different. Muscovado sugar may have a smoky or burnt flavor. This is due to the boiling process to make it. It has a molasses flavor that can be strong or minimal.
The deep color and richness of muscovado sugar may taste like toffee to some. With a buttery caramel flavor. It is also known to have a slight bitterness to it. For a combination of sweet, smoky, bitter, and buttery. This sugar sure sounds tasty to me.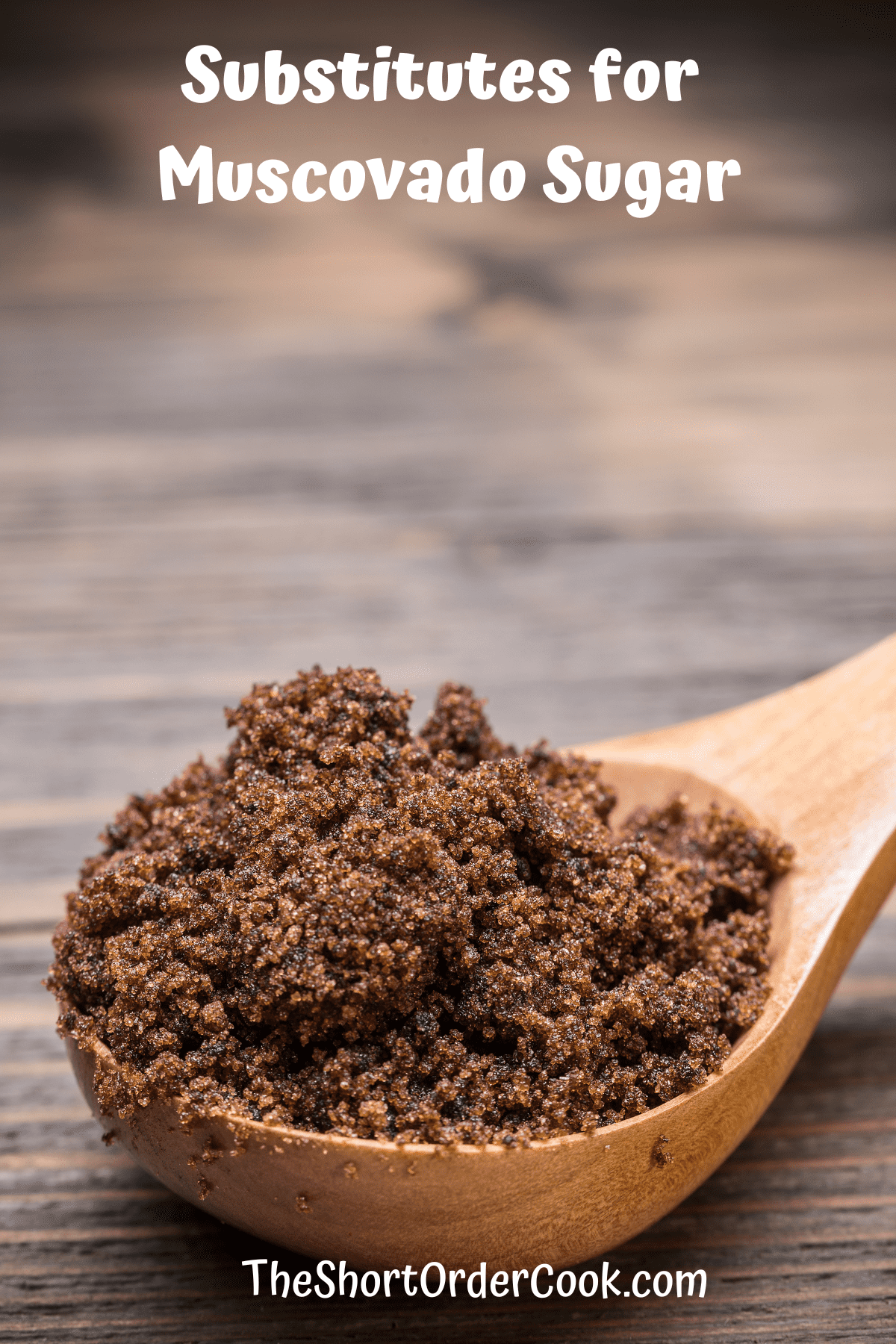 Is Brown Sugar the Same as Muscovado Sugar?
Though they are both brown in color, they are not these two sugars are not the same. Besides the fact they are both sugars that are brown, they both also have molasses as an ingredient. However, that is where the similarities stop.
Muscovado sugar versus brown sugar has several differences. They are produced differently. Brown sugar is refined white sugar that has molasses added to it. Whereas muscovado sugar is unrefined. To see more about how it is made see the FAQ section below.
The two also taste different. Brown sugar will be sweet and have a bit of a rich molasses flavor to it. Whereas, muscovado sugar is more complex as noted above. It adds a lot more flavor and moisture to baked goods.
Can I Substitute Brown Sugar for Muscovado Sugar?
For the quickest substitute for muscovado sugar, using a different type of sugar is most often done. For that reason. a fast 1:1 substitute for muscovado would be brown sugar. It is an ideal alternative. No brown sugar either, make an easy recipe for a homemade brown sugar substitute.
Because of the deep dark color of muscovado, I suggest using dark brown sugar if you have it. However, light brown sugar would work too. Any brown sugar will make your baked goods sweet and is a good replacement for muscovado. Just remember the texture may not be as moist and the color may not be as dark and rich.
Best Substitutes for Muscovado Sugar
The best substitute for muscovado sugar is the recipe for a homemade alternative that I share below. It is sweet, sticky, & has a deep dark brown color that muscovado sugar is known for. The best store-bought alternative is jaggery. It is also unrefined and boiled from sugar cane - delish!
However, if you do not have molasses or brown sugar, here are some other alternative ingredients when substituting muscovado sugar in a recipe. These will not be exactly the same but are fine to use when cooking or baking and you need a replacement for muscovado sugar.
Demerara sugar - a larger grain of dark brown sugar. It has a lower molasses content than muscovado but is a great substitute.
Coconut palm sugar - an unrefined substitute for sugar. It is a good low-glycemic substitute for muscovado.
Jaggery - this is the closest alternative to muscovado. It is an unrefined brown sugar that is dark and rich.
Molasses or Molasses sugar - I do not like to use molasses alone as a substitute for muscovado. See the recipe card for the best replacement recipe. It is better combined with brown sugar for the best alternative.
Panela - similar to sucanat. Brown sugar from dehydration versus boiling like muscovado.
Raw sugar - same as turbinado sugar, see below. Sugar in the raw is a great vegan muscovado substitute.
Sucanat - a brown sugar with large crystals that is unrefined and made by dehydrating cane juice vs boiling it.
Turbinado sugar - this sugar has large crystals and does not pack like brown or muscovado sugars but can be used in a pinch.
Where to Buy Muscovado Sugar?
Many specialty stores and baking supply stores have muscovado sugar. It is more easily found in the UK, India, Egypt, & Arab nations. It may not be as easy to find in Canada, Australia, or the United States.
You can order it online and here are some good quality brands. Bake something new with one of these muscovado products.
The Short Order Cook is a participant in the Amazon Services LLC Associates Program. As an Amazon Associate, I earn from qualifying purchases. If you click on a link and make a purchase, I may earn a small commission on the sale at no additional cost to you. This helps with the costs of running the blog. Thank you!
Storing Muscovado Sugar
Whether you have store-bought or homemade muscovado sugar, here is the best way to store it. This works for the substitute recipe below as well.
Store muscovado sugar in an air-tight ziplock bag or container. Try to keep any moisture from penetrating the container. Store in a cool, dry, and dark. You do not want heat, sun, or humidity to ruin your muscovado sugar.
FAQ
What is muscovado sugar 's origin?
It is believed that early production of sugar, including muscovado sugar, began in India. It was heavily traded around the region. Around the 8th century, Arab u0026 Muslim traders began to introduce it to other parts of the world including the Mediterranean and Egypt.
What are other names for muscovado sugar?
Muscovado sugar has several other names. It is called muscovado sugar after a Portuguese term - açúcar mascavado (unrefined sugar).

So you may see these other names on packages, in recipes, or spoken but they all are the same type of sugar. Muscovado is also known as Barbados sugar, khandsari, or khand.
How is muscovado sugar made?
To produce this type of sugar, the juice of the sugarcane plant is boiled until evaporated and all that is left is the crystals. It is not refined like commercial sugars such as granulated or brown sugars.
Is muscovado good for keto or diabetic diets?
Muscovado sugar is still sugar. So the simple answer is that for any diet or lifestyle where sugar needs to be limited it is not recommended to consume muscovado regularly. It is not keto, low-carb, or diabetic-friendly.

You can try a sugar substitute such as Swerve brown sugar or monk fruit brown sugar. Truvia complete brown sugar is also a good alternative.
Can I use normal granulated white sugar instead of muscovado?
This is not the best alternative. If you have absolutely no other alternatives that were shared in this article, the last choice would be to use white sugar. Granulated sugar will not bring any color, moisture, or flavor that muscovado or other types of brown sugar will have.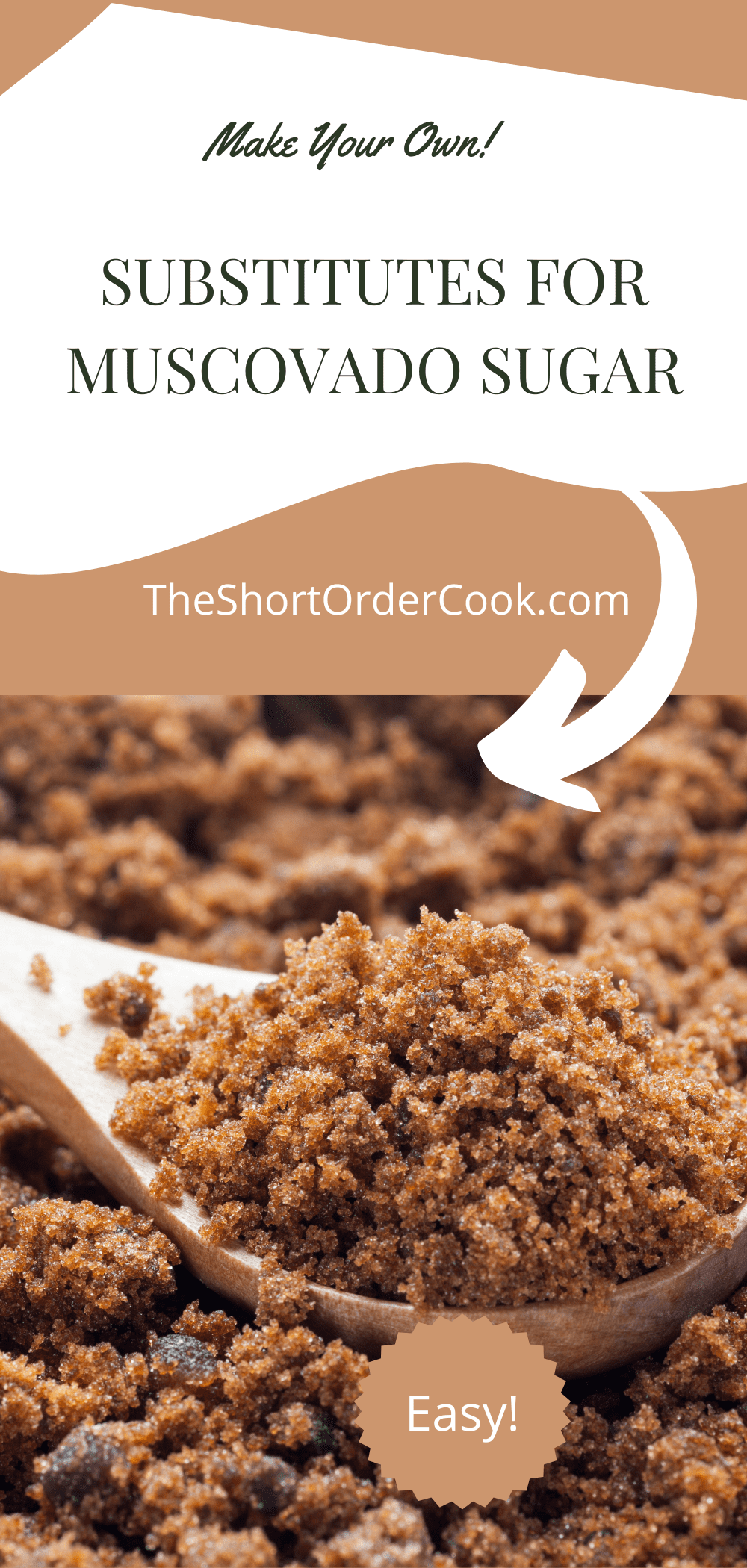 Homemade Substitute for Muscovado Sugar
This is how to make a homemade substitute for muscovado sugar. This alternative works when cooking or baking when you do not have any muscovado sugar. The molasses in this recipe helps give the deep color and stickiness that muscovado sugar has.
Ingredients
1

cup

light brown sugar

¼

cup

molasses
Instructions
In a small mixing bowl add the two ingredients.

Using a whisk, whisk the sugar and molasses together.

Use as a substitute for muscovado sugar.

Store the mixture in an air-tight container. Place in a cool dry place and store for up to a week.

Like muscovado sugar it will be a bit stickier than regular brown sugar and that is ok.

This makes 1.25 cups of muscovado sugar.