When you have a recipe that lists sesame oil as an ingredient and you do not have it, using a substitute or an alternate can be done.  For alternatives when you do not have sesame oil, this list includes so many choices that there is likely something you have already that you can use in a pinch.   
There are many oils that can be used as a substitution but tahini and other ingredients are also ideal to use in place of sesame oil.  I will share with you today alternatives that work great for cold usages like salad dressing or dips. Also how best to substitute sesame oil in stir-fries or marinades like the sweet, spicy, & salty one on my Teriyaki Skewers recipe.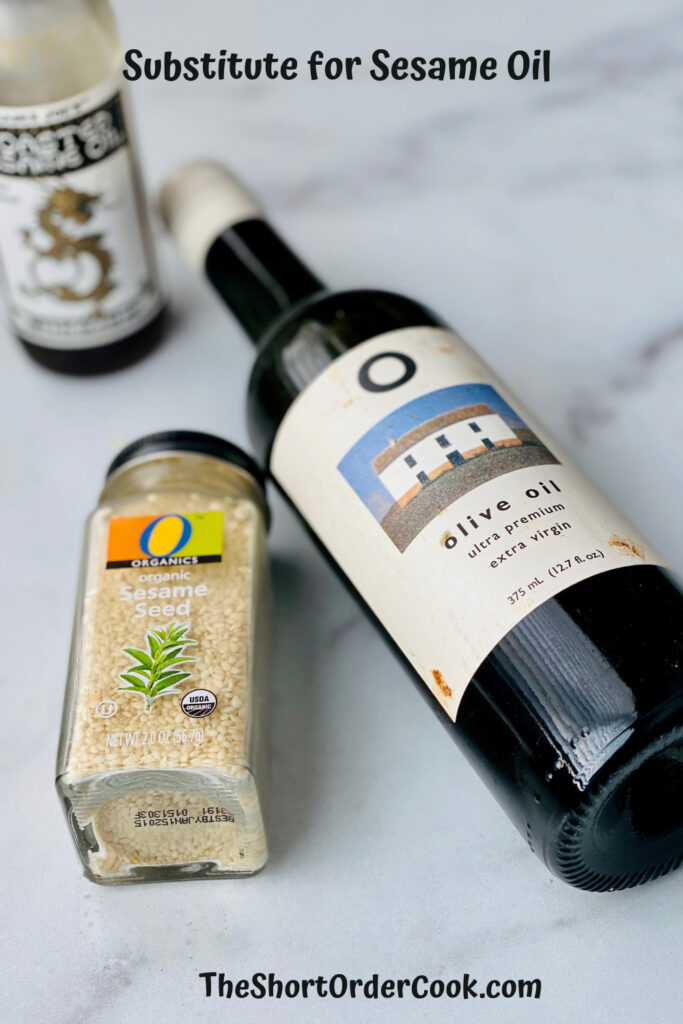 Depending on what you will be cooking or making, you may need to take into account the smoke point of the oil you will be replacing sesame oil with.   If you want to stir fry you want a high smoke point but if you are making a salad dressing, you may not care about a smoke point.  To know more about smoke point, why it matters, and a smoke point index of oils, read more at SERIOUSEATS. 
Jump to:
Sesame Oil vs Toasted Sesame Oil
What is sesame oil and is it different than toasted sesame oil? They are basically the same in the content of the ingredients but they are derived differently, have slightly differing tastes, and are used in cooking in different manners. To break it down here is how I remember when and how to use sesame oil or toasted sesame oil.
Sesame Oil Uses & Benefits
Sesame oil is derived from raw sesame seeds and has a light color to it. I think of it as virgin oil, similar to olive oil which is minimally processed. It is used typically as a cooking oil. This is likely why it is used for stir-fries a lot in Asian cuisine.  It adds a slightly nutty flavor to dishes.
Toasted sesame oil is darker in color and is derived from sesame seeds that have been toasted or roasted and then pressed. Therefore, it is dark in color. Toasted sesame oil also has a deeper sesame flavor and aroma than regular sesame oil. It is mainly used as flavored oil to finish a recipe or in cold preparations like salad dressings or a drizzle over cold noodle dishes.
Black sesame seed oil is also a thing. It is made from black sesame seeds and as you guessed, has a rich flavor that is nuttier than regular sesame oil. It is typically unprocessed or cold-pressed. This variety is used mostly in dressings and as a finishing oil. 
What is sesame oil good for? It is ideal for stir-frying, sauteing, and shallow pan frying like with potstickers. The nutty flavor adds so much with just a small amount. It is also a great ingredient in marinades, salad dressings, sauces, and recipes like my shishito dipping sauce.
Sesame oil is not just delicious but has nutritious health benefits as well.  A little goes a long way in terms of adding flavor to a recipe and wellness benefits to your diet.  It is low in saturated fats and high in Omega-6.
1 TABLESPOON OF SESAME OIL = 120 calories, 14g fat
82% of the fat is unsaturated
rich in Omega-6 fatty acids
anti-inflammatory & antioxidant properties

Substitutes for Sesame Oil
Alternatives to sesame oil can be simply using commonly found items you may already have in your pantry or refrigerator. So the next time you run out, rest assured it is easy to replace sesame oil in a recipe by using any of the ideas I share below.  I also include my favorite recipe for the perfect sesame oil substitute.  It is quick, and easy, and replaces sesame oil in any recipe you are making.  
Cooking Alternates to Sesame Oil
Sesame oil is used mainly for cooking and with high-heat recipes. I find the best substitutions for sesame oil are different than for toasted sesame oil.   Ideally using virgin olive oil with sesame seeds would be the best method to get a good cooking oil but some of the sesame flavor. I have done this by substituting sesame oil with olive oil when cooking, then adding some sesame seeds to the dish at the end if that is possible. This works great in 
Recipe Alternates to Toasted Sesame Oil
Since toasted sesame oil is used mostly in cold applications for recipes, I find the best substitutions for toasted sesame oil are different than for regular sesame oil. Toasted sesame seed oil is used often in salad dressings, marinades, dipping sauces, or drizzled on recipes when they are complete. Because of this I find toasting raw sesame seeds in a dry pan and then adding virgin olive oil is the best.
All you have to do is warm the oil and toasted sesame seeds together for about 5 minutes is perfect. This substitution infuses the flavor of the toasted or roasted sesame seeds into the olive oil. You can then strain the sesame seeds from the oil and use that oil in your recipe as a replacement for toasted sesame seed oil. (of if you want the seeds, leave them!)
Other Alternates to Sesame Oil
Neutral Cooking Oils - you can use your favorite mild-flavored cooking oil as a sesame oil substitute.  Simply use a 1:1 measurement replacement. Organic grapeseed is my favorite out of all of the below choices. Grapeseed oil is mild and versatile so it won't change the flavor of the dish too much if used in place of sesame oil. 

grapeseed
canola (rapeseed) 
flaxseed
corn
sunflower
Other Alternates to Toasted Sesame Oil
Nutty or More Flavorful Cooking Oils - you can use your favorite nut oil, like peanut or almond oil,  as a toasted sesame oil substitute.  Simply use a 1:1 measurement replacement.
Organic perilla oil is my favorite out of all of the below choices.  You may not have it on hand either but if you do it is the closest to toasted sesame seed oil since it is derived from perilla seeds. It also has a mild nutty flavor and is used in Korean and Japanese cooking.

perilla 
avocado
almond 
peanut 
walnut 
hazelnut
One choice I do not substitute with is coconut oil. It changes the flavor too much and coconut oil has a distinct coconut flavor that will change the flavor of the recipe too much. I do not recommend using coconut oil to replace sesame oil as a substitution. 
Tahini as a Sesame Seed Oil Substitute
Since tahini is made from sesame seeds, it has the same flavor as sesame oil would. Therefore, it makes a great sesame oil substitute if you have it on hand but no oil.  It is the closest thing to sesame oil.
How to substitute sesame oil with tahini follow this simple recipe. It is a great choice when you do not have any sesame oil on hand.   for 1 TB Sesame Oil replace it with ¾ TB tahini plus ¼ TB olive oil. 
FAQs about Sesame Oil
What is a good substitute for stir fry?
Since stir-frying is done with high heat, you want an oil that can withstand that level of heat. Vegetable oils will do that. Stay away from olive oil and butter as they will burn when stir-frying.
What is a good substitute for those allergic to sesame?
Since several of these alternative ingredients are in the sesame family (tahini, sesame seeds, etc), I understand this concern. If perilla seeds are ok, perilla oil has a nutty flavor and is a good substitute. Otherwise, try canola oil if cooking or using it for a marinade or dressing.
Can I use olive oil instead of sesame oil?
For marinades and sauces, olive oil can be a good alternative. If you are sauteing or stir-frying, olive oil is not the best choice. Instead pick an oil that can withstand the heat, such as canola or avocado oil.
Recipes Using Sesame Oil
Here are some of my favorite recipes that use sesame oil. If you end up making one of these substitutes for sesame oil, make enough to try some of these recipes too.
The sesame oil substitute recipe below is also great for making fried rice, teriyaki sauce, stir fry, Asian salad dressings, or marinades.
PIN FOR SAFEKEEPING & SHARING!
Product Recommendations for this Recipe:
The Short Order Cook is a participant in the Amazon Services LLC Associates Program. As an Amazon Associate, I earn from qualifying purchases. If you click on a link and make a purchase, I may earn a small commission on the sale at no additional cost to you. This helps with the costs of running the blog. Thank you!
Homemade Substitute for Sesame Oil
When you are making a recipe that calls for sesame oil and you do not have any, this substitute works best as an alternative. Replace sesame oil with this homemade recipe substitution for an easy swap.
Ingredients
1

tablespoon

sesame seeds

2

tablespoon

olive oil
Instructions
In a small dry saute pan, toast the sesame seeds over medium heat. Stir to ensure both sides start to brown and watch carefully so they do not burn. This should take about 2 minutes.

When they are a light golden brown, they are ready for the olive oil. Add the olive oil and turn the stove to low. (for toasted sesame oil, cook the seeds a bit longer until they are a dark brown color but not burnt)

Let the sesame seeds and olive oil warm over low heat for 5 minutes. Stir it occasionally. Turn off the heat and let cool.

Using a fine-meshed sieve, strain the seeds from the oil over a small bowl. Reserve the seeds as a garnish if needed for your recipe, otherwise, discard.

2 Tablespoons of sesame seed infused olive oil is the perfect sesame oil substitute. If not using immediately, store in an air-tight container in a cupboard counter in a cool dark location for up to 2 days.
Did you make this The Short Order Cook Recipe?
Tag @theshortordercookblog (Instagram & Facebook) or @shortorder_cook (Twitter).
I would love to see your latest creations and kitchen adventures.