Oven-roasted green beans are simple to make and the best way to elevate this simple vegetable. Transform fresh green beans into something amazing by cooking them in the oven with everything but the bagel seasoning. They come out crispy, salty, nutty, & fantastic in this easy 30-minute recipe.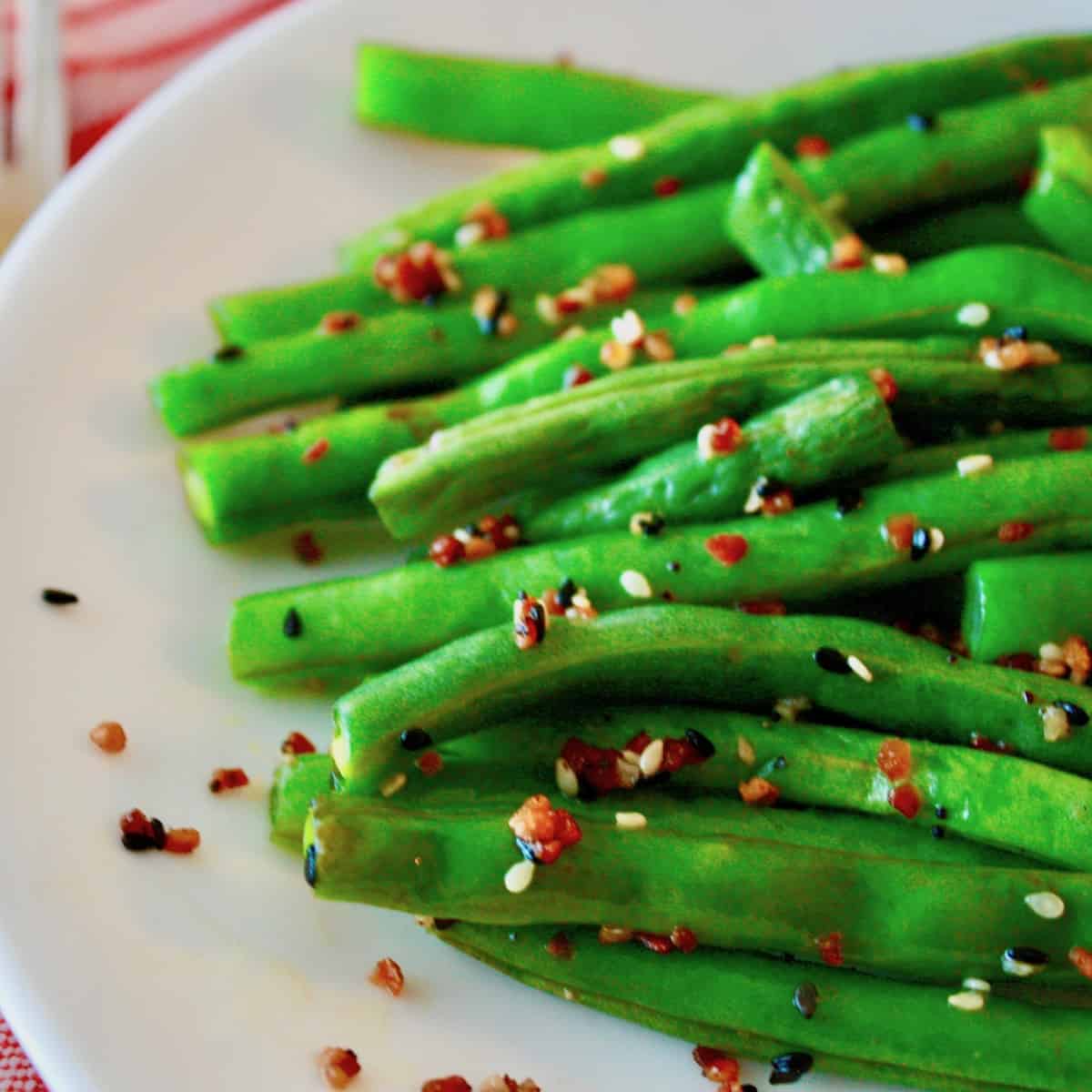 You need these crispy baked green beans in your life, trust me. This is a favorite side dish at our home & part of our regular meal rotation. Kids will love these green beans and enjoy eating their vegetables.
Plus it's a versatile side dish that goes well with just about anything from teriyaki chicken skewers to vegan zucchini chickpea & potato curry. So whether it is a quick weekday dinner or a holiday meal for Christmas, Thanksgiving, or Easter, this is the best green bean side dish.
Jump to:
What is Trader Joe's Everything but the Bagel Sesame Seasoning Blend?
I bought the wildly popular "Everything but the Bagel Sesame Seasoning Blend" at Trader Joe's when it first came out. I use it on just about everything from vegetables to stir-fries. The seasoning is a mixture of sesame seeds, sea salt, dried garlic and onion, and poppy seeds.
Many other stores and brands make a similar blend - McCormick, Simply Organic, Einstein Brothers, Aldi, Costco, & Wal-Mart for example. You can buy it just about anywhere. It is a low-cost ingredient with big rewards.
Ingredients
This is so simple it is almost embarrassing to write this up formally and try to convince you to try it. It really speaks for itself once you have a taste. This green bean recipe is only 3 ingredients.
Fresh Green Beans
Sesame Oil
Everything but the Bagel Sesame Seasoning Blend
Salt & Pepper - optional to taste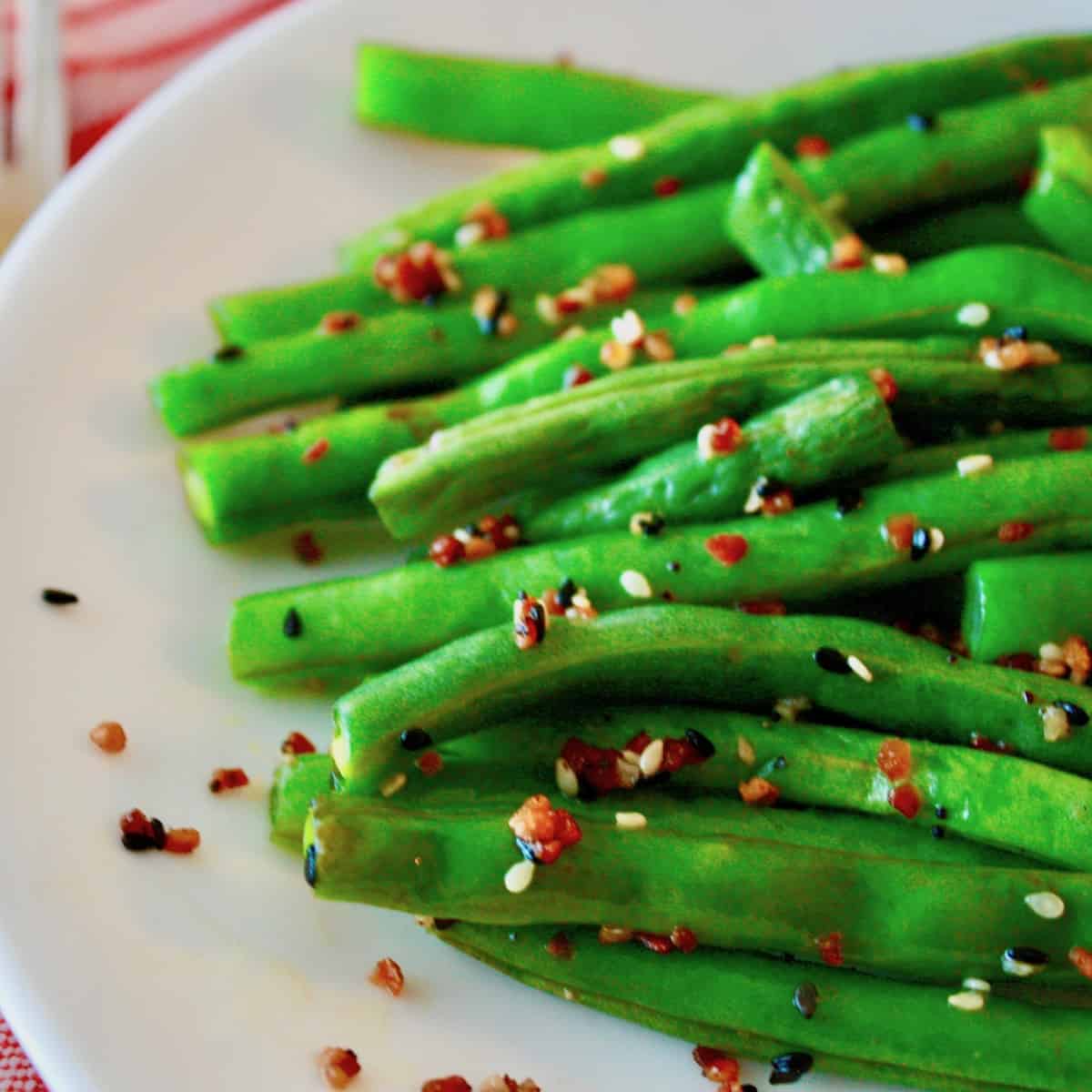 How to Oven Roast Green Beans
It only takes 5 minutes to prep & 20 minutes to cook this quick recipe. Here are the step-by-step easy instructions for making this oven-roasted green bean recipe.
Prep the green beans
Mix with other ingredients
Roast in the oven
Prep the Green Beans
Begin by preheating the oven to 425°. While it preheats, prep the green beans. First, wash and dry your green beans. You do not want the green beans to be too wet or the other ingredients will not stick.
Next, trim & cut the green beans. I typically cut them to make them uniform in size. This is so the green beans (haricot verts) cook evenly when roasting them in the oven. Often times if they are very long, I will cut them in half so they are more bite-sized & easier to eat.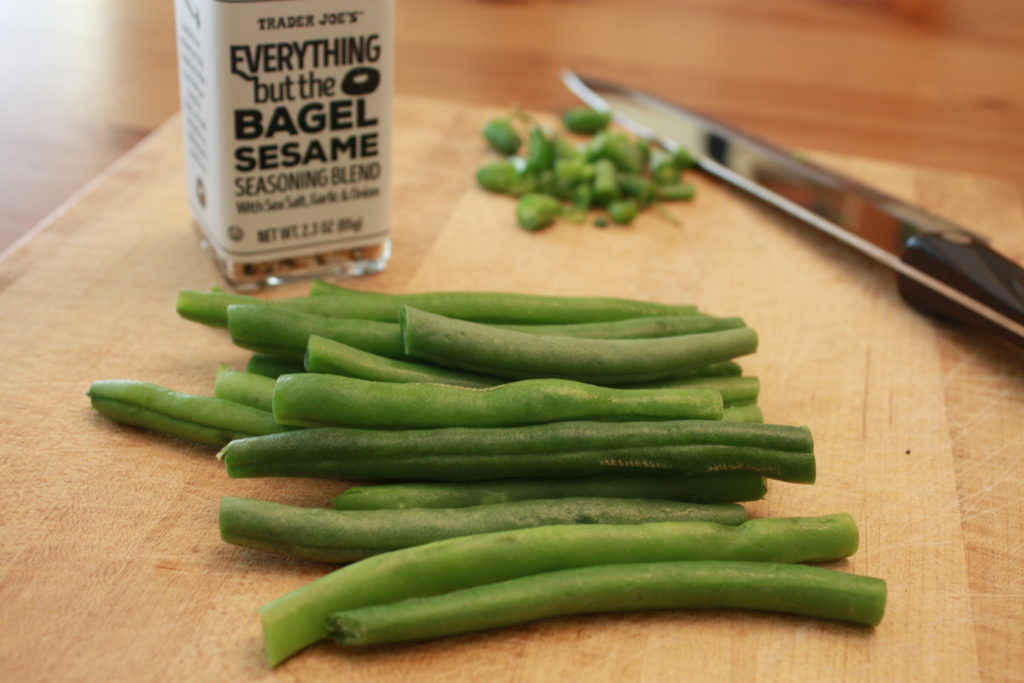 Mix Ingredients
Place green beans on a baking sheet and toss with sesame oil. Sprinkle the seasoning blend on top and toss so they are coated evenly.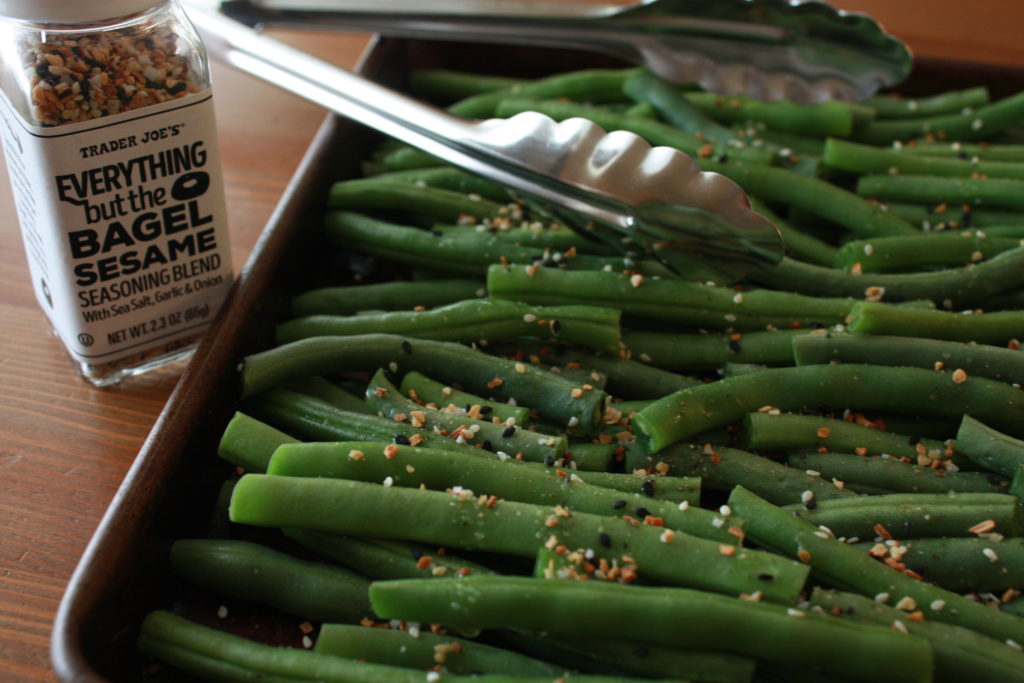 How Long to Cook Green Beans in the Oven
Roasting green beans in the oven is an easy way to cook them so they are tender on the inside & a bit crispy on the outside. It does not take long to cook them in the oven.
I like to do them on a high heat so that they get a bit charred & blistered. This adds flavor & texture that is so good. And it takes less than 30 minutes.
Roast the Green Beans at 425°
Place the green beans in the preheated oven. Bake for 20 minutes at 425°. When they are done, toss a bit more to evenly distribute the seasoning before serving.
Transfer to a serving platter or individual plates. They will taste gourmet & make any meal a special occasion. Enjoy.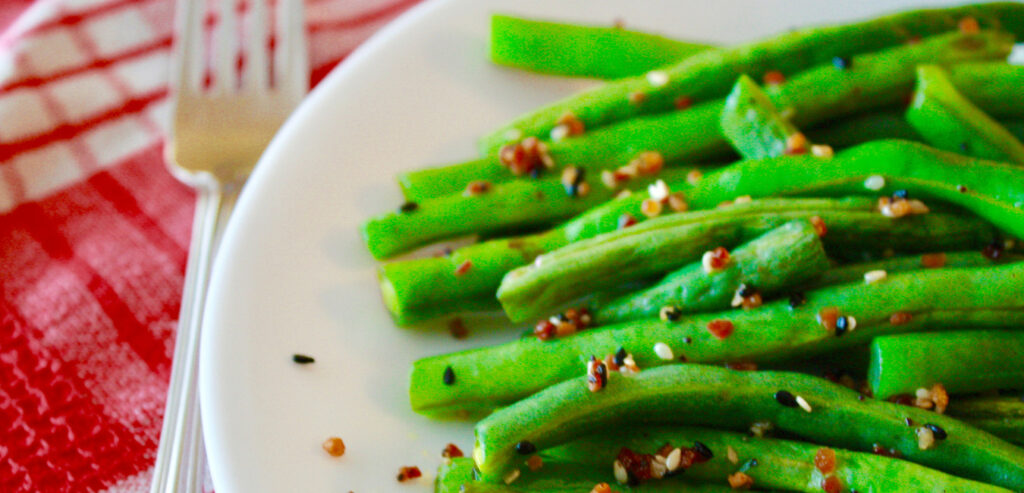 Storing
These green beans store well in the refrigerator or freezer if you have leftovers. Place them in an air-tight container or Ziploc bag. Place them in the refrigerator and store them safely for up to 4 days. They are freezer-friendly and can be frozen for up to 30 days.
Substitutes & Variations
Here are some great recipe variations & ingredient substitutions that can be made. Add, omit, or use one of these alternatives for other delicious recipe ideas. These may help you enjoy this recipe even with dietary, health, or personal nutritional preferences.
These roasted green beans are vegan, gluten-free, keto, and low-carb. This recipe is only 2.9 net carbs per serving. It is a great vegetable side dish for anyone on a healthy diet.
What to Serve with Roasted Green Beans
You can add sliced sausages as a full-sheet pan meal. It is an easy and fantastic simple weeknight dinner.
Try any of these recipes too to eat with oven-roasted green beans:
FAQ
Here are answers to some common questions. I hope you find what you need but if not, you are always welcome to send me a comment and I will get back to you.
Can I use canned or frozen green beans?
This recipe is best when using fresh green beans. However, if they are not in season or you want a substitute you can use frozen or canned.

If using canned green beans, I recommend only cooking these for 5 minutes in the oven. If using frozen, I recommend defrosting them first to remove any moisture that may occur. Then cook in the oven for 5 minutes.
Can I add potatoes or carrots to roasted green beans?
Adding more ingredients will work for this recipe. I recommend cutting the carrots and potatoes very small so they cook at the same rate as the green beans. Add additional oil and seasoning as needed.
Can I make these in the air fryer?
If you love crispy green beans, you will love these air-fried. Try my recipe for Air Fryer Green Beans - simply substitute the seasoning blend for the Everything Bagel seasoning instead.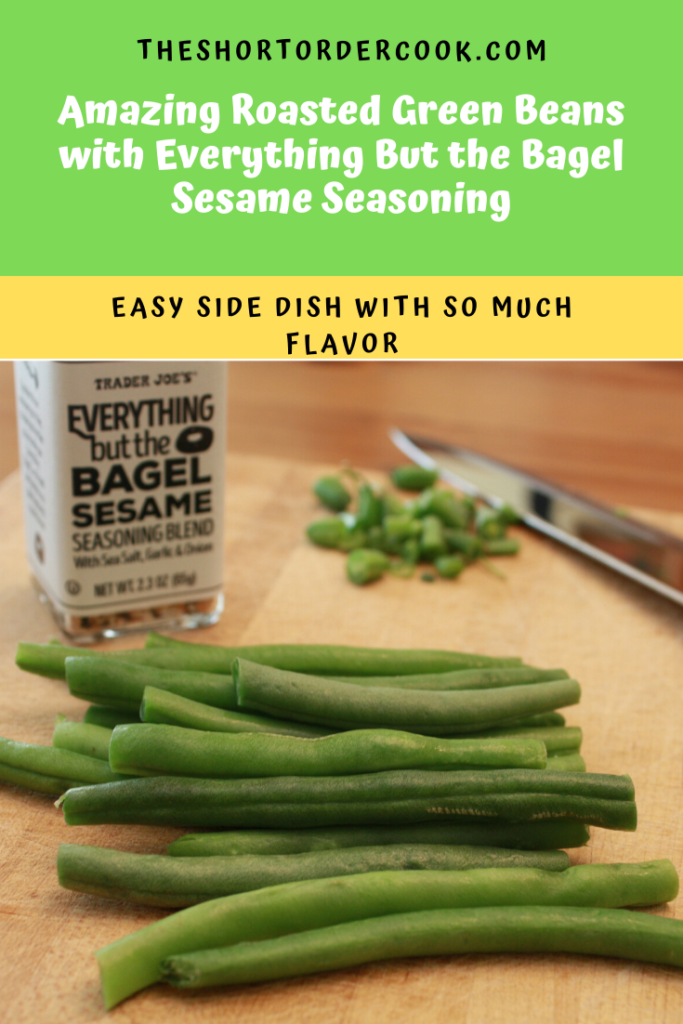 Product Recommendations for this Recipe:
The Short Order Cook is a participant in the Amazon Services LLC Associates Program. As an Amazon Associate, I earn from qualifying purchases. If you click on a link and make a purchase, I may earn a small commission on the sale at no additional cost to you. This helps with the costs of running the blog. Thank you!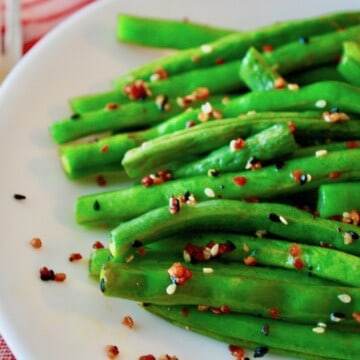 Oven- Roasted Green Beans
These delicious oven-roasted green beans will be a family favorite. The nutty sesame seasoning that includes garlic and onion adds so much flavor. This quick & easy recipe is the best thanks to everything but the bagel seasoning that elevates this simple vegetable side dish.
Ingredients
1

LB

green beans

cleaned & trimmed

1

tablespoon

sesame oil

1

tablespoon

Everything but the Bagel Sesame Seasoning Blend
Instructions
Place green beans on a baking sheet and drizzle sesame oil over the green beans. Toss with tongs to coat evenly.

Sprinkle seasoning blend over green beans and toss to coat with the tongs.

Roast in the oven for 20 minutes.

Sprinkle with salt & pepper to taste, if needed.
Notes
Nutrition Facts
Servings: 6
Amount per serving
 
Calories
52
% Daily Value*
Total Fat 3.1g
4%
Saturated Fat 0.4g
2%
Cholesterol 0mg
0%
Sodium 5mg
0%
Total Carbohydrate 5.7g
2%
Dietary Fiber 2.8g
10%
Total Sugars 1.1g
 
Protein 1.7g
 
Vitamin D 0mcg
0%
Calcium 43mg
3%
Iron 1mg
6%
Potassium 165mg
4%
*The % Daily Value (DV) tells you how much a nutrient in a food serving contributes to a daily diet. 2,000 calorie a day is used for general nutrition advice.
Did you make this The Short Order Cook Recipe?
Tag @theshortordercookblog (Instagram & Facebook) or @shortorder_cook (Twitter).
I would love to see your latest creations and kitchen adventures.