When cooking or baking, understanding the conversion between a teaspoon and a tablespoon is important. Everything you need to convert between teaspoons and tablespoons is handy & shared right here. So grab your set of measuring spoons and let's get cooking.
These are two of the most common measurements & are key to mixing up some of the yummiest recipes around. The right measurements in my Teriyaki Chicken Skewer recipe ensure there is the perfect amount of sweet, sour, & spicy in the delicious homemade sauce & marinade.
Jump to:
Abbreviations for Tablespoons & Teaspoons
In recipes, you may find abbreviations when tablespoons or teaspoons are mentioned. Tablespoons sometimes have an upper case and typically are abbreviated with T, TB, Tb, Tbs, TBS, or Tbl. Teaspoons will be lowercase and sometimes abbreviated with t, tsp, ts, or tspn.
However you find these measurements, converting them is easy. All you need is a good set of measuring spoons & the FREE printable conversion chart below. Print it out and have it handy in your kitchen for all your teaspoon & tablespoon conversion needs.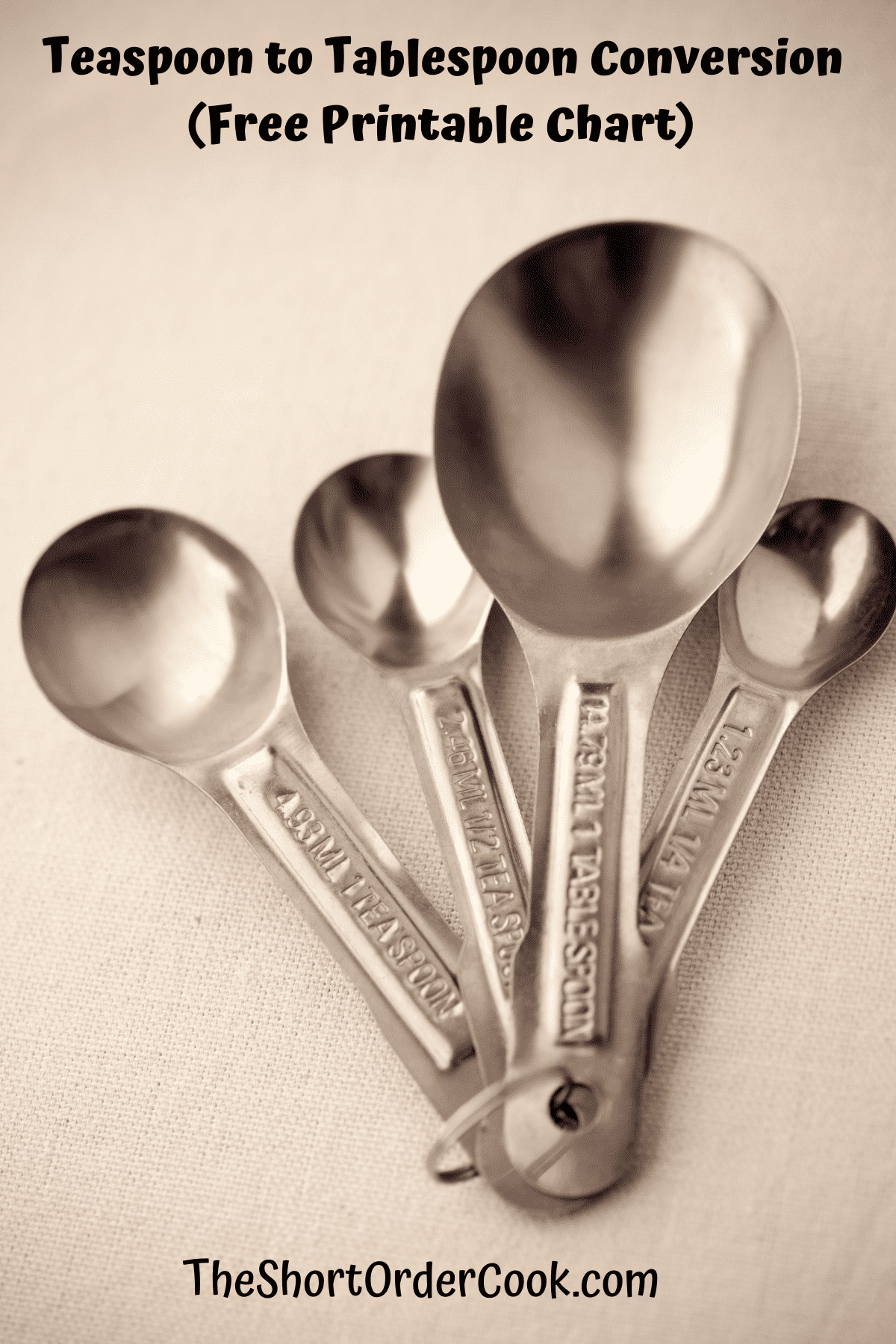 How Much is a Teaspoon?
A teaspoon is a smaller amount than a tablespoon. Spices, extracts, & other ingredients may only need a teaspoon or partial teaspoon. These tiny amounts may not need to be exact when making a casserole or large savory recipe but when it comes to baking, a teaspoon should be precise.
A teaspoon is equivalent to 5 ml (milliliters) or 0.16667 oz (ounce). That is a really small amount. Ingredients that may be measured in teaspoons typically may be salt, baking powder, baking soda, vinegar, etc.
How Much is a Tablespoon?
A tablespoon is bigger in volume than a teaspoon. As we already learned, it is 3 times the size of a teaspoon. This larger amount should be measured correctly so that too much or too little doesn't spoil a recipe. Too much salt in a dish can be awful or too little baking powder can really deflate a baked good.
A tablespoon is equivalent to 15 ml (milliliters) or ½ oz ( .5 ounce). Ingredients that may be measured in tablespoons typically may be butter, oils, cream, extracts, etc.
How to Convert Teaspoons to Tablespoons
I love math, but not everyone does (including a few of my best friends). So I like to make things easy for others by sharing simple equations to help understand converting values.
Here are what 1 teaspoon converts to in tablespoons:
1 teaspoon = 0.333333 tablespoon or
1 teaspoon ≈ ⅓ tbsp

On the flip side: there are 3 teaspoons for every 1 tablespoon.
How to Convert Tablespoons to Teaspoons
Ok, more math. Sorry, but it will be quick. To convert a teaspoon to a tablespoon, divide the volume by the conversion ratio.
Since one tablespoon is equal to 3 teaspoons, it is the opposite of what I showed you above. So use this formula to convert:
tablespoons = teaspoons ÷ 3
The volume in a tablespoon is equal to teaspoons divided by 3.
Teaspoon to Tablespoon Conversion Chart
Keep this in mind when following recipes from the USA or other countries, different measurements may be listed. Luckily, both teaspoons and tablespoons are used in metric and imperial systems. The US uses the imperial system and almost every other country uses the metric system.
Here is a printable guide for teaspoon-to-tablespoon conversions. Review it below or download & print the FREE TEASPOON TO TABLESPOON CONVERSION CHART.
How to Use Measuring Spoons Correctly
When you want accuracy in baking or cooking, knowing how to use measuring spoons correctly is key. Each measuring spoon is sized perfectly for the measurement you are looking for. Here is how to measure correctly in 3 easy steps.
First, select the right size from your measuring spoon set.
Next, scoop or pour the ingredient into the measuring spoon.
Lastly, for dry ingredients, flatten or level off the top with a knife so that there is no excess on top.
More Free Kitchen Conversion Charts
Keep it easy in the kitchen with all these FREE printable guides for measuring in the kitchen. No math is needed, just print, save, & refer to it when needed. Happy Cooking!