Texas ranch water is a refreshing 3-ingredient cocktail recipe. Ranch water is simply the easiest tequila cocktail you can make at home. This ranch water recipe is what is in the original cocktail and nothing like what comes in most store-bought canned drinks that are just not quite the same. For the best Texas Ranch Water drink, try this quick & easy recipe that you can enjoy in no time at all.
Ranch water is believed to have originated in West Texas with ranchers in the 1960s. Think of ranch water as the smooth straightforward cousin of a margarita. It is a simple but refreshing drink to beat the heat that has gained popularity across all the states in recent years. This is for good reason too, since ranch water is cool, light, bubbly, and refreshing. Plus it is a tasty tequila drink that is low-carb, keto-friendly, and gluten-free.
Texas Ranch Water Ingredients
For a traditional ranch water beverage, you only need 3 simple ingredients. The important part of this cocktail recipe is to make sure you have fresh quality ingredients. You will want to use fresh lime juice, 100% agave tequila Blanco, and mineral water. There are no substitutes for these ingredients.
The Topo Chico mineral water is a key ingredient in making a ranch water cocktail. The Topo Chico is essential as it offers an earthy mineral flavor with a lot of carbonation. Do not use any old Selzer or a lime-lime soda, that is not what this drink is. To find out why, read about Ranch Water - Origin of the Name.
The Best Tequila for Ranch Water
As mentioned, for ranch water you want to use a tequila Blanco. It is best to use 100% agave tequila when making a Texas ranch water cocktail. You do not need a top-shelf or high-priced tequila for ranch water. This is not a sophisticated cocktail or needs a tequila you would sip straight.
Use your favorite unaged tequila and it will turn out perfect. You can use a tequila reposado (aged tequila) if you have it but it will give a different flavor that is not as crisp and refreshing as a Blanco would. I find that Casamigos Blanco is a great go-to tequila when making ranch water and how it was first introduced to me by my neighbors. So I continue to go with what works.
How to Make a Ranch Water Cocktail
The art of making any cocktail is to make sure it is chilled and you have all the best ingredients. To make ranch water, gather your ingredients and equipment. You will want 2 high ball glasses for this cocktail recipe. Straws are optional but we like them. For ranch water, prep the limes by cutting half of one in slices for garnish, and the rest of the lime will be squeezed to use the juice. Here is how to make 2 Texas Ranch Water cocktails -
Fill two high ball glasses halfway with ice cubes
Add 2 shots (3 oz) of tequila in each glass
Divide the lime juice and pour half in each glass
Fill each glass with Topo Chico (about ½ the bottle each)
Add a straw and stir gently
Garnish with lime slices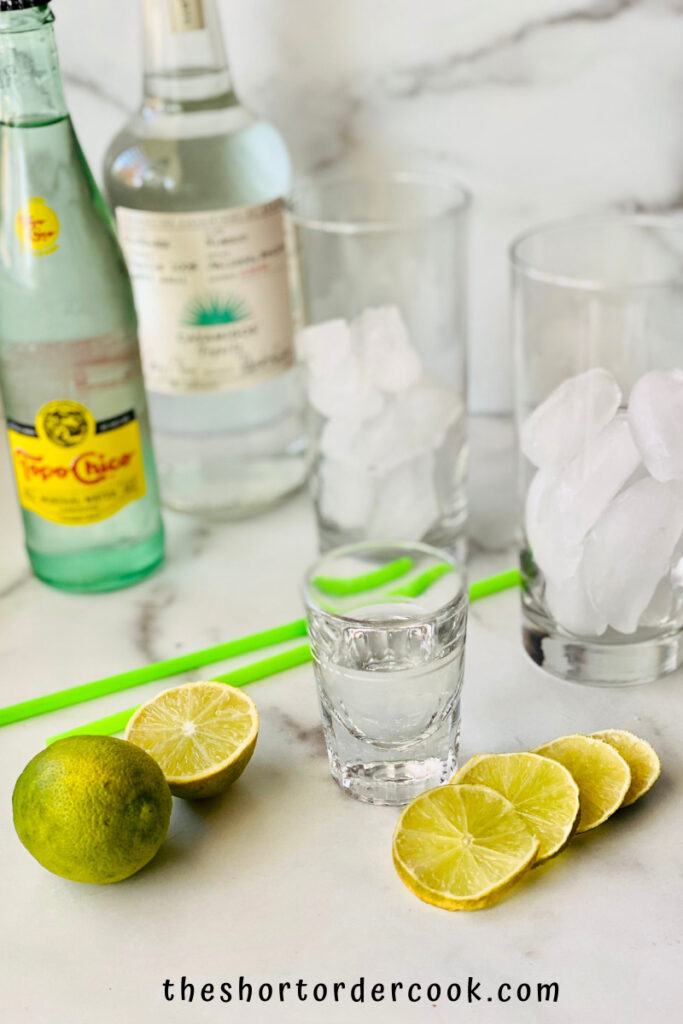 Ranch Water the Low-Carb/Keto Cocktail
Ranch water cocktail is the ideal drink for those on a low-carb or ketogenic diet. Think of this as a sugar-free simple lime margarita on the rocks. There is no simple syrup or orange liqueur in this recipe but for those that love a classic margarita, ranch water is the best keto tequila cocktail.
Since the recipe includes mineral water, lime juice, and tequila the carbs in ranch water are very low. There are less than 4 carbs in each ranch water per the recipe here. I love this classic recipe but if you do want to mix it up a bit, you can make some recipe additions. Some great add-ons include a splash of juice from pickled jalapenos for spicy ranch water or a splash of grapefruit juice.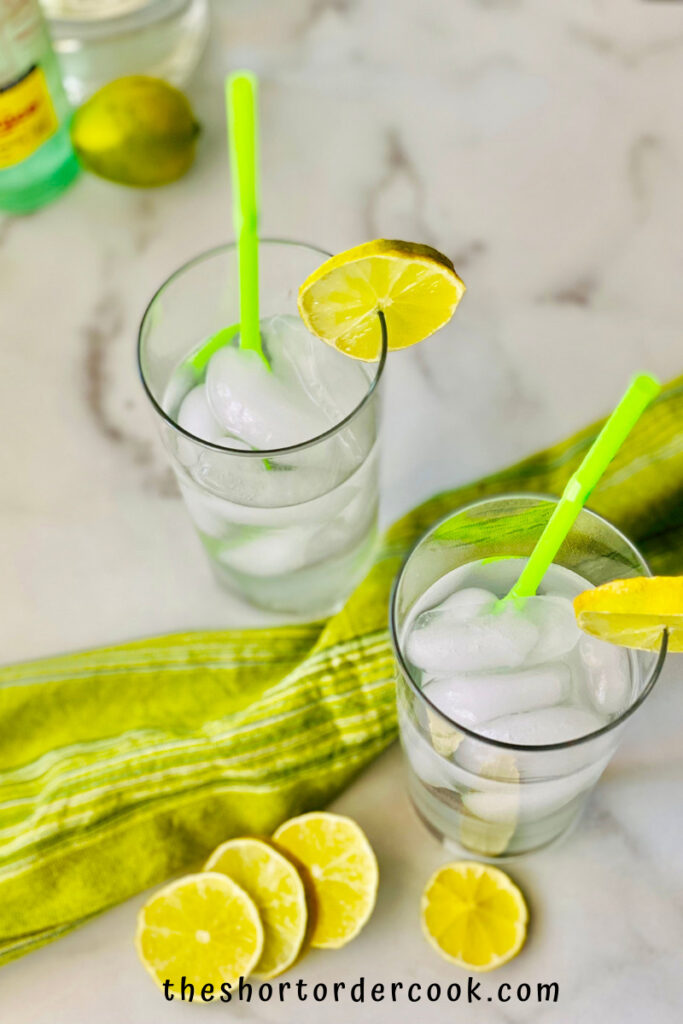 What to Serve with Ranch Water
For some fun appetizers or other cocktails to serve with ranch water, check out these other wonderful recipes.
PIN FOR SAFEKEEPING & SHARING!
Product Recommendations for this Recipe - #ad:
The Short Order Cook is a participant in the Amazon Services LLC Associates Program. As an Amazon Associate, I earn from qualifying purchases. If you click on a link and make a purchase, I may earn a small commission on the sale at no additional cost to you. This helps with the costs of running the blog. Thank you!
Did you make this The Short Order Cook Recipe?
Tag @theshortordercookblog (Instagram & Facebook) or @shortorder_cook (Twitter).
I would love to see your latest creations and kitchen adventures.