Tequila sunrise is a delicious and gorgeous cocktail. It is sweet, fruity, and evokes relaxation. It is almost like a vacation in a glass. The bright colors slowly blend together in ribbons of what is reminiscent of a summer's sunrise. The fresh citrus, sweet grenadine, & tequila mix up the best summer cocktail recipe.
The layers are what give this tequila cocktail the classic look and must be served without stirring to ensure its beauty. A few unique ingredients in this recipe make for a fun new flavor on the traditional tequila sunrise. Change up the citrus juice and make it without orange juice. Just like the classic, these two tequila drink recipes follow the same basic premises: bold bright colors and do not stir!
Tequila Sunrise with Two Twists
The classic tequila sunrise cocktail consists of the following ingredients: orange juice, tequila, and grenadine. A few ingredients make a lovely-looking cocktail. But this isn't just "another tequila sunrise...", these cocktails are made with an ingredient swap out to make it special.
I wanted to try something different and as I looked at our tangelo tree with still plenty of fruit on its branches, it hit me. Our homegrown tangelos are very juicy but sometimes they are a bit tart so just in case I wanted plan B. We had some frozen pineapple orange juice concentrate in the freezer so I now had two plans. This recipe for tequila sunrise with pineapple or tangelo juice is even better than the original OJ and tequila classic cocktail.
So after getting out the tequila and grenadine, the boys started juicing the tangelos for me. I also made the pineapple orange juice from concentrate. We did have some grapefruit juice too but decided against that even though I LOVE grapefruit juice. It was ruby red and dark so I didn't think that beautiful layering would be as much of a pop of color.
As the juice preparation went on, I decided I needed to make two versions of the cocktail and try both and the best one was going on the blog...well, spoiler alert - THEY BOTH ARE AMAZING! So that is why you will see both juices used here for two great cocktails from one perfect recipe. Not everyone has a tangelo tree in their yard or access to tangelo juice so another citrus will do.
Tequila Sunrise Ingredients
For my recipe, I am using Codigo tequila. We highly recommend it, especially for those that like to sip tequila. Read more about it here at the CODIGO website. It is a smooth tequila and does not have that strong scent that many tequilas can have. It is mellow and Ian and I both enjoy it. George Strait has a song about it, so yeah it is that good! He sings it - "Best tequila, baby, don't you know". You can also use what your favorite brand is.
Grenadine is also a must as you want that sweet red syrup for not just the taste but for that superb layering that the drink has. Grenadine weighs more than the other liquids in this drink so it will slowly sink to the bottom. It is a good mixer to keep in your liquor repertoire. This is not just because it adds great color or sweetness to so many drinks, but it also has a long shelf life. Rose's grenadine will last once opened, up to 6 months in the cabinets, or even a year in the refrigerator.
Tequila Sunrise with a Twist Ingredients:
Tequila, Blanco
Pineapple Orange Juice and/or Tangelo Juice
Grenadine
Ice
Tangelo or Orange Slices for garnish
How to Make a Tequila Sunrise
Fill two high ball glasses with ice cubes.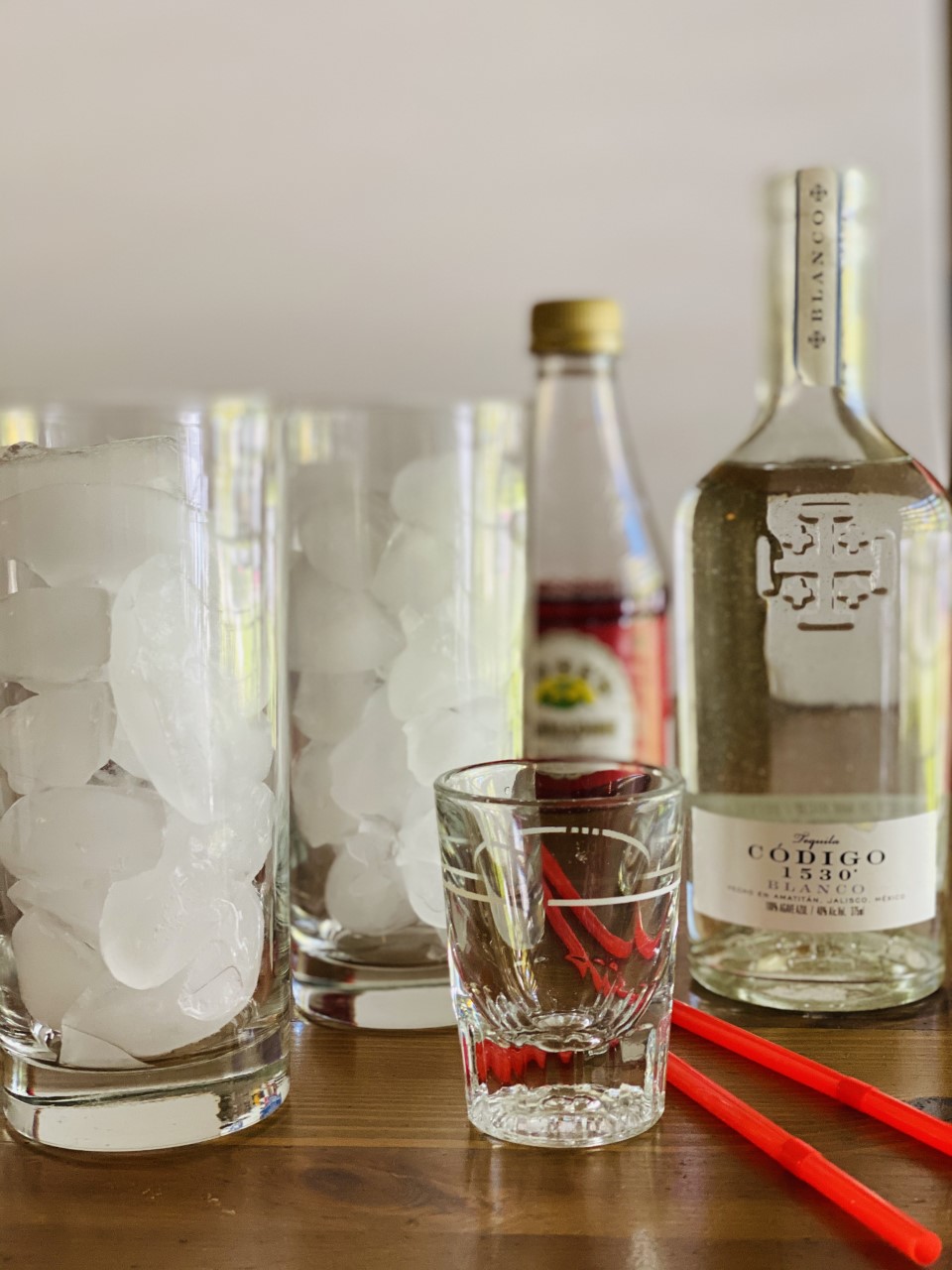 Add ⅔ C juice to each glass. Follow this 1.5 oz of tequila. Add a straw and any garnish you wish. I do this at this point so that once the grenadine goes in, there is very little movement that will be needed that could disturb the layering.
The last step is to slowly pour in 1 oz of grenadine and let it sink to the bottom. Remember, DO NOT STIR! You want the layers.
Once the grenadine settles, sip and enjoy!
PIN FOR SAFEKEEPING & SHARING!
Product Recommendations for this Recipe:
The Short Order Cook is a participant in the Amazon Services LLC Associates Program. As an Amazon Associate, I earn from qualifying purchases. If you click on a link and make a purchase, I may earn a small commission on the sale at no additional cost to you. This helps with the costs of running the blog. Thank you!
Another beautiful cocktail recipe using grenadine is my CANDY CORN MARTINI
It is made with grenadine, whipped cream vodka, and more!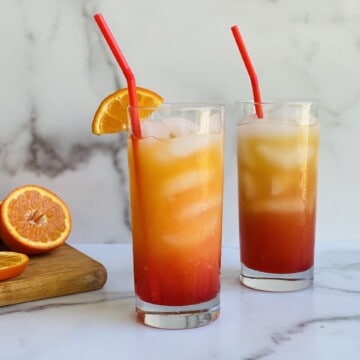 TEQUILA SUNRISE COCKTAIL: TWO UNIQUE TWISTS ON A CLASSIC
A gorgeous colorful cocktail with tequila, citrus juices, and grenadine.
Ingredients
⅔

C

citrus juice

tangelo or pineapple orange

1.5

oz

tequila blanco

1

oz

grenadine

ice cubes

orange or tangelo slices

for garnish
Instructions
Fill a high ball glass with ice cubes.

Pour in the citrus juice. Add the tequila.

If using a straw or adding a garnish, do this now.

Lastly, slowly pour in 1 oz of grenadine. Let it trickle down to the bottom of the glass. DO NOT STIR.
Did you make this The Short Order Cook Recipe?
Tag @theshortordercookblog (Instagram & Facebook) or @shortorder_cook (Twitter).
I would love to see your latest creations and kitchen adventures.