The Tootsie Roll shot is an easy drink recipe that looks and tastes just like the popular candy.   This tasty cocktail has the right blend of creamy chocolate, caramel flavor, and a bit of orange.  It will surprise you that this shot recipe does taste and smell just like a Tootsie Roll candy.
You only need two ingredients for this chocolatey taffy-like cocktail.  It is a sweet treat you will want to enjoy more than just at Halloween. That is the time of year I am craving Tootsie Rolls,  when those cute little midgees, Tootsie pops, and flavored candies are in every kid's trick-or-treat bags.  For another festive and beautiful Halloween cocktail recipe, you will want to check out my delicious CANDY CORN MARTINI!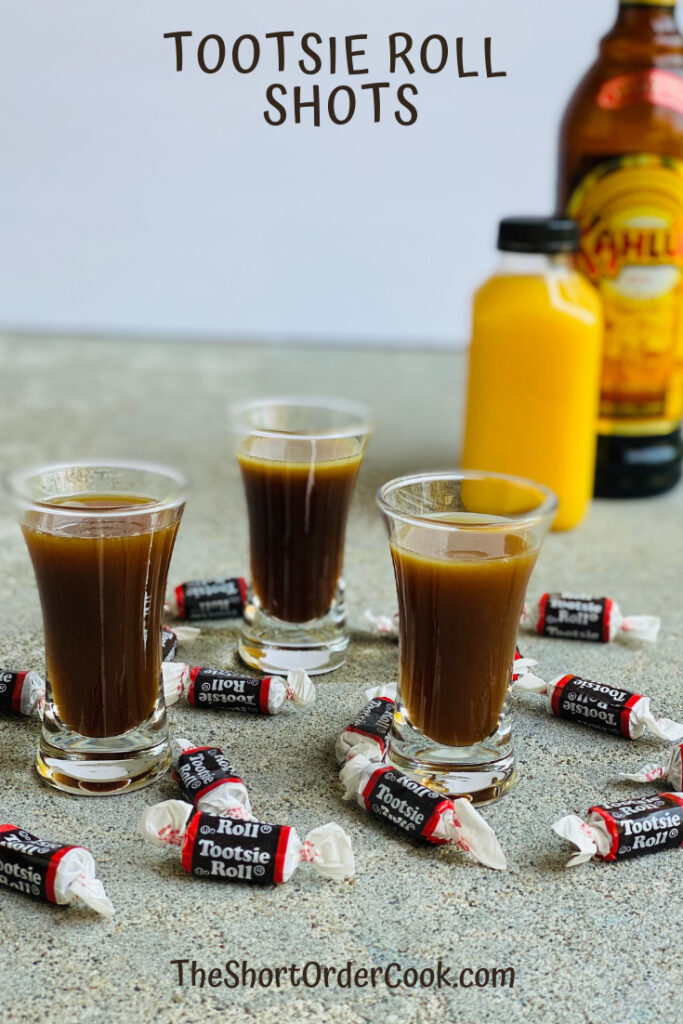 Fun Facts about the Tootsie Roll
Have you ever wondered how Tootsie Roll got its iconic name? Well, I have so I looked it up and found out it is named after the inventor's daughter and her nickname was Tootsie. To learn more,  check out The History of the Tootsie Roll. 
I also learned while watching a recent episode of Eating History, that the Tootsie Roll played a role in a past war. Yes, you read that right.  Apparently, the candy was dropped by the pallet load during the Korean War.   The term "Tootsie Roll" was the code word for ammunition. When an urgent call came in from the marines, the radio operator didn't have the decoder cheat sheet and mistakenly took it as a real request for candy. It not only provided nutrition but there are stories that the candy was chewed or warmed and then used to plug up bullet holes in gas tanks or other equipment.
How to Make Tootsie Roll Shots
I learned this recipe from my brother years ago when he was a bartender.  It is so easy to remember since you just need orange juice and Kahlua.  Kahlua is a coffee-flavored liqueur with rum. It has just the right amount of sweetness, cocoa flavor, and alcohol to mimic the taste of a Tootsie Roll.
Kahlua may not be an everyday liqueur so it may have been in your cabinet for quite some time.  If you ever wondered if Kahlua expires or can go bad, you may not be the only one.  We like many cocktails with Kahlua so it doesn't stay long on our shelf.  However, be rest assured, it has a long shelf life. Kahlua can last for up to 4 years and even longer. If it is older than 4 years, it is still fine but may have less of a coffee flavor to the liqueur.
Ingredients for the Tootsie Roll Drink
You only need 2 ingredients to make this easy shot recipe. All you need is orange juice and Kahlua to make a Tootsie Roll cocktail.   Kahlua is 20% ABV (alcohol by volume) so this little shot packs a tasty punch.
Orange Juice - no pulp is best.
Kahlua - coffee liquer.
In each shot glass fill them ⅓ - ½ way with orange juice. If you like a more orange flavor this recipe can be done with a 1:1 ratio for the shot glass.
1 Part Orange Juice
1 Part Kahlua
Add the Juice & Alcohol
If you want more chocolate flavor and a stronger cocktail, fill up only ⅓ of the way with orange juice and the remaining ⅔ with Kahlua.   Each shooter will taste like a traditional Tootsie Roll candy.
PIN FOR SAFEKEEPING & SHARING!
Product Recommendations for this Recipe:
The Short Order Cook is a participant in the Amazon Services LLC Associates Program.  As an Amazon Associate, I earn from qualifying purchases.  If you click on a link and make a purchase, I may earn a small commission on the sale at no additional cost to you. This helps with the costs of running the blog. Thank you! 
Tootsie Roll Shots
The Tootsie Roll shot is a sweet rum cocktail recipe that tastes just like the iconic candy.
Equipment
Shot Glasses - 1.5oz size
Ingredients
Orange Juice

no pulp

Kahlua
Instructions
To each shot glass, fill ⅓ of the way with orange juice.

Next pour in the Kahlua until the shot glass is full.
Did you make this The Short Order Cook Recipe?
Tag @theshortordercookblog (Instagram & Facebook) or @shortorder_cook (Twitter). 
I would love to see your latest creations and kitchen adventures.