Candy corn martinis are the fun cocktail that makes any spooky or cute Halloween party extra sweet.  Candy corn makes its way into trick or treats bags all over the country each October.  I hope that this candy corn martini makes its way into home cocktail menus each October as well.  Who says the kids are the only ones that get the trick-or-a-treat fun on Halloween?

The treat of this martini is how sweet and rich it is. It is definitely a special occasion sort of cocktail. The trick for this martini is that the grenadine is a thick sweet syrup that will sink to the bottom of the glass and create the bottom layer of what will be a 3-layer beverage. The drink may not be the same exact colors or in the same layer order as the candy but no one will complain as they sip this lovely drink.
Whipped cream vodka sweetens this drink to balance the tart pineapple juice for a great cocktail. If you have never had Pinnacle whipped vodka, think of it as creamy vanilla almost marshmallow fluff-like sweet flavor. YUM! It is what makes this candy corn martini to die for! Happy Halloween!
History & Fun Facts about Candy Corn
First produced in the 1880s
"Chicken Feed" was the original name
35 million pounds are sold annually
There are other holiday varieties, like Reindeer Corn (red, white & green) and Bunny Corn (2 pastels & white tip)
It is fat-free and each piece is 7 calories
October 30th is National Candy Corn Day
What does Candy Corn Taste Like?
If you have never had candy corn before, I am not sure where you have been hiding every October. The three layers have distinct flavors that combine for a great combination of sweet and creamy. Candy Corn is a perfect fusion of rich fondant, sweet marshmallow, and a bit of vanilla.
I wanted to mimic these creamy, sweet, and rich flavors in a cocktail. I have seen some on Pinterest but didn't like the sweet-and-sour mix they called for. Nor did I want to "soak / infusion" vodka for a month along with candy corn soaking in it. 
Therefore, I need to have some ingredients that would make this super sweet like marshmallows and but also have the colors of the iconic candy corn pieces. The juice used in my recipe is pineapple juice. So there is a pineapple flavor that is not traditionally following the candy corn taste.  If you do not like pineapple, I am sure orange juice would do just fine too.
The color of the juice is what I was going for to get that yellow layer. Plus I love pineapple-flavored cocktails so it was my first choice. The whipped cream vodka and the grenadine make for the sweetness in the drink plus the creamy whipped cream topping.
How to Make a Candy Corn Martini
This recipe is for two big martinis. If you have smaller martini glasses (like how some restaurants serve and I am like - two sips - wait - what?!?) this could be a mix for three glasses. Either way, made as instructed below will surely please a few of you and get the Halloween festivities started.
Fill a martini shaker about ¼ of the way up with crushed or cubed ice. Measure 4 oz of whipped cream vodka and add to the ice. Top with 1 cup of pineapple juice. Place lid on tight and shake!
Pour through the strainer into martini glasses until each is filled about ¾ of the way to the top. To each glass add 1 TB of grenadine. It is a thick syrup so it will be heavier than the vodka and juice; therefore, it will sink to the bottom of the glass. Then top with whipped cream.
HAPPY HALLOWEEN! Serve this at any Halloween party along with my favorite candy-flavored shooter, a Tootsie Roll shot. And for something spiced for fall, the rum delight Burt Reynolds shot is a hit too.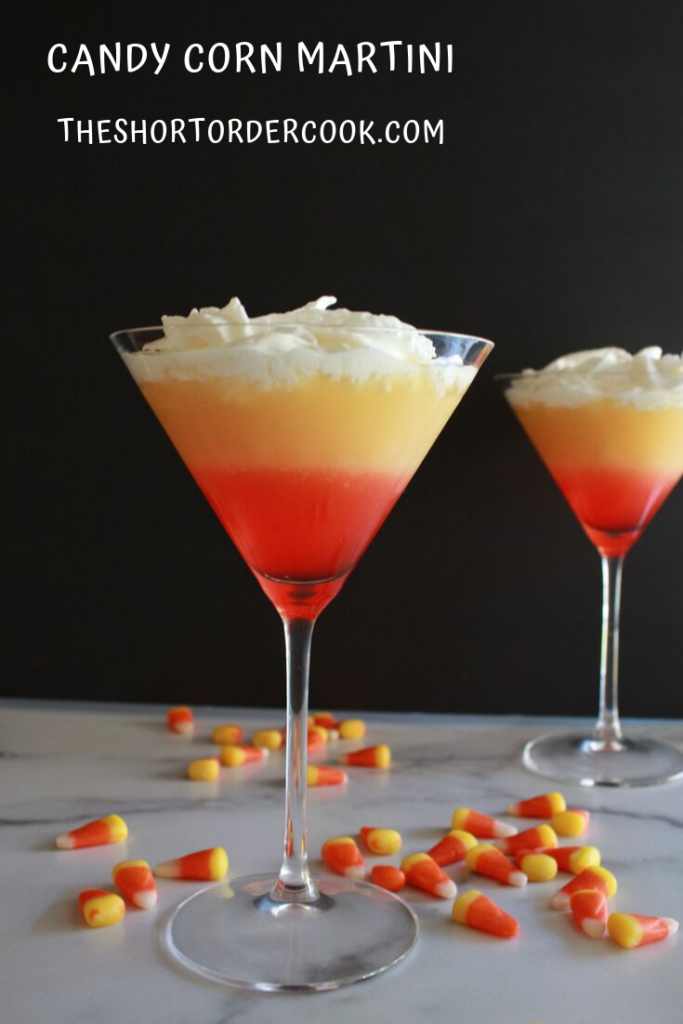 Other Fun Vodka Cocktail Recipes:
THIS RECIPE WAS FEATURED IN COSMOPOLITAN MAGAZINE !
PIN FOR SAFEKEEPING & SHARING!
Product Recommendations for this Recipe:
The Short Order Cook is a participant in the Amazon Services LLC Associates Program. As an Amazon Associate, I earn from qualifying purchases. If you click on a link and make a purchase, I may earn a small commission on the sale at no additional cost to you. This helps with the costs of running the blog. Thank you!
Candy Corn Martini
Sweet vodka cocktail that looks like just candy corn and is the ideal Halloween adult treat!
Equipment
Martini Shaker

Martini Glasses
Ingredients
crushed ice

4

oz

whipped cream flavored vodka

1

C

pineapple juice

2

tablespoon

grenadine

whipped cream

Reddi-Whip
Instructions
Fill martini shaker ¼ the way up with crushed or cubed ice.

Pour in the vodka and pineapple juice.

Ensure the lid is on tight and then shake 15 seconds.

Remove top strainer lid and pour into martini glasses until about ¾ of the way filled.

Measure 1 TB of grenadine each, and pour into a martini glass. It will sink to the bottom slowly.

Top each martini with whipped cream.
Did you make this The Short Order Cook Recipe?
Tag @theshortordercookblog (Instagram & Facebook) or @shortorder_cook (Twitter).
I would love to see your latest creations and kitchen adventures.