If you have never had matcha, Japanese green tea, before, you are probably wondering what does it taste like. The bold color and earthy smell of matcha may give you some hints about how it tastes. This antioxidant-rich ingredient has gained popularity in recent years for good reason.
To better understand how it tastes, knowing more about what matcha is and how it grows helps. Information about matcha, caffeine content, health benefits, and recipes for using matcha is shared in this article. Once you find out more, you will be excited to enjoy the flavor of matcha for the first time.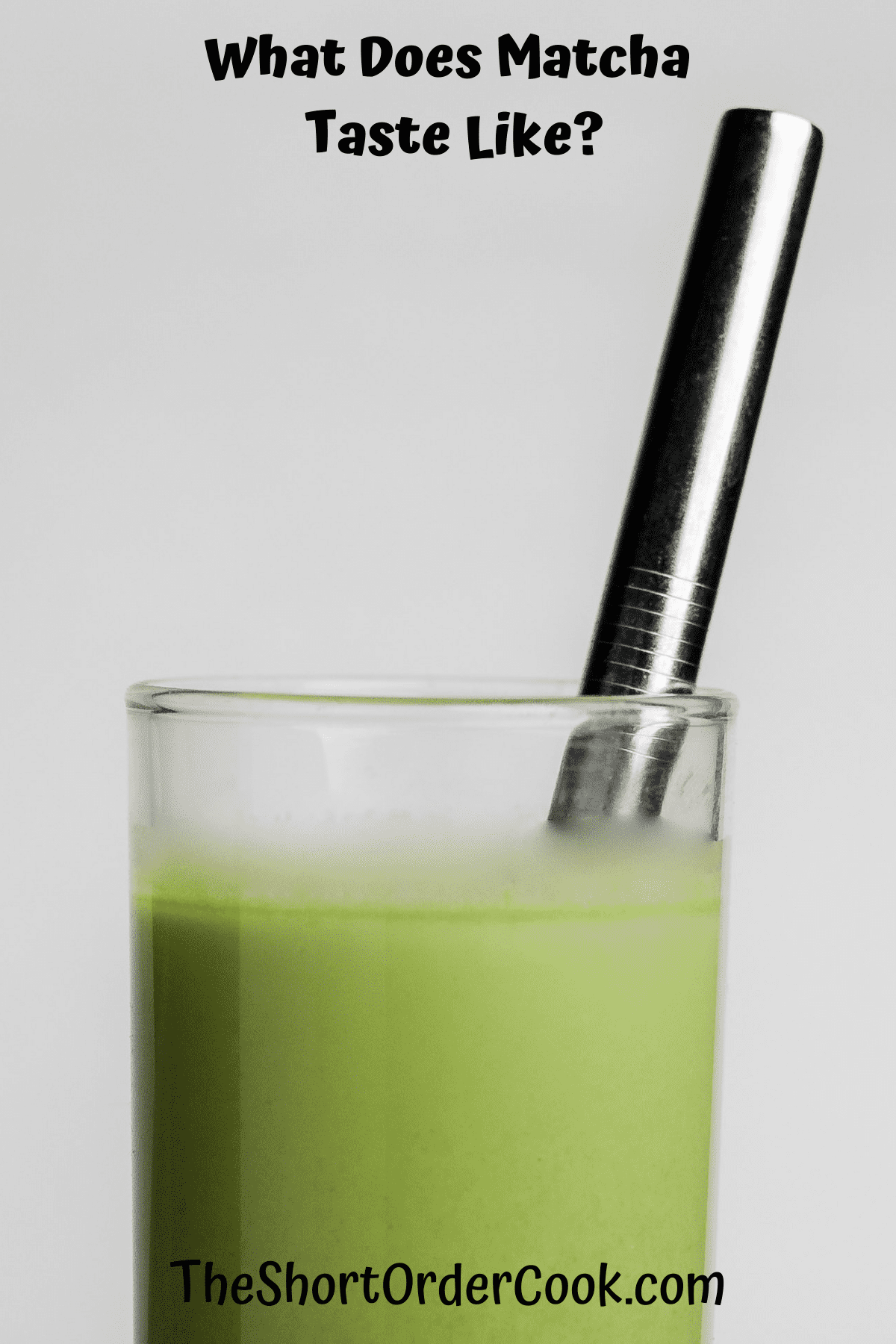 Jump to:
All About Matcha
Matcha is a green tea powder mainly grown in two areas of Japan. The tea leaves for over 800 years have been grown in the shade. Only the youngest smallest leaves are picked. The picking of shade-grown young leaves ensures that the health benefits are strong and the chlorophyll is rich and dark green. To learn more about producing matcha check out the Matcha Production Process.
Once the tea leaves are harvested they are dried and then finely ground into the matcha powder we can purchase. This green tea powder is then reconstituted by whisking with water. Drinking hot or cold matcha tea is popular in homes, cafes, and tea shops all over the globe. Matcha can also be used in baked goods like cookies and cakes.
How Much Caffeine is in Matcha?
Matcha tea powder is high in caffeine. But it does not have more caffeine than coffee does. Coffee has 95mg of caffeine in a typical 8 oz cup. Matcha does have more caffeine than black tea or regular green tea. An 8 oz cup of matcha, using 1 teaspoon of powder, has 64mg of caffeine. Compared to 47mg in black tea and 28mg in green tea.
Does Matcha Taste Good?
Well, that will be up to an individual's taste buds and opinion. Based on the different tasting notes below, you may or may not think you will like it. With anything that is new, I always suggest people try new foods and drinks. You never know how something will taste for you personally. There is not much to lose.
Finding a new tasty recipe, cuisine, or beverage is exciting. So hopefully you will learn a bit more about what matcha tastes like after reading more. Then try a recipe to see what you think.
Matcha Tasting & Examples
Matcha is actually a very complex flavor. It is not just simply sweet or bitter. It is actually both of those things plus many other tastes. This combination is what makes it so unique and a treasured tea.
Green tea is earthy and mild. Matcha green tea powder is the same but with deeper flavors while tasting a bit sweet, bitter, and more. To learn more about the complex taste of matcha, discover how each taste profile hits the tongue.
Sweet
Bitter
Umami
Plus - Grassy, Earthiness & Nuttiness
Sweet
Matcha green tea powder is not thought to be sweet. Compared to all the other strong flavors that matcha has, sweetness is the most subtle of them all. It has a tad bit of sweetness that barely cuts into the bitter and earthy combination. Adding sweeteners enhances it.
Bitter
All matcha powder has a slightly bitter flavor. The better quality matcha powders will be subtle in the bitter taste. Those of low quality tend to be more bitter. This tends to be strong, resulting in an unpleasant cup of tea.
Umami
Umami is described as a rich savory flavor. Similar to seaweed, matcha has this same tasting undertone. The increased chlorophyll levels may be the reason for this deep rich flavor. The young deep green leaves are processed minimally keeping that umami depth of flavor in the matcha powder.
More Flavor Profiles
Matcha is also described as tasting grassy, earthy, and with a bit of nuttiness. I personally agree. I think when I first taste a matcha tea latte it is not just creamy but has a touch of fresh grass, vegetal, or earthiness to it. It is bright, bold, and "dirty" like the earth would be. It tastes much like how dirt and grass smell but not in a bad way, more in a fresh and clean way.
Matcha also has a deep nutty flavor. This is probably due to the grinding process that it goes through. However, it is still smooth and rich. It pairs wonderfully with cream and is probably why I love matcha lattes.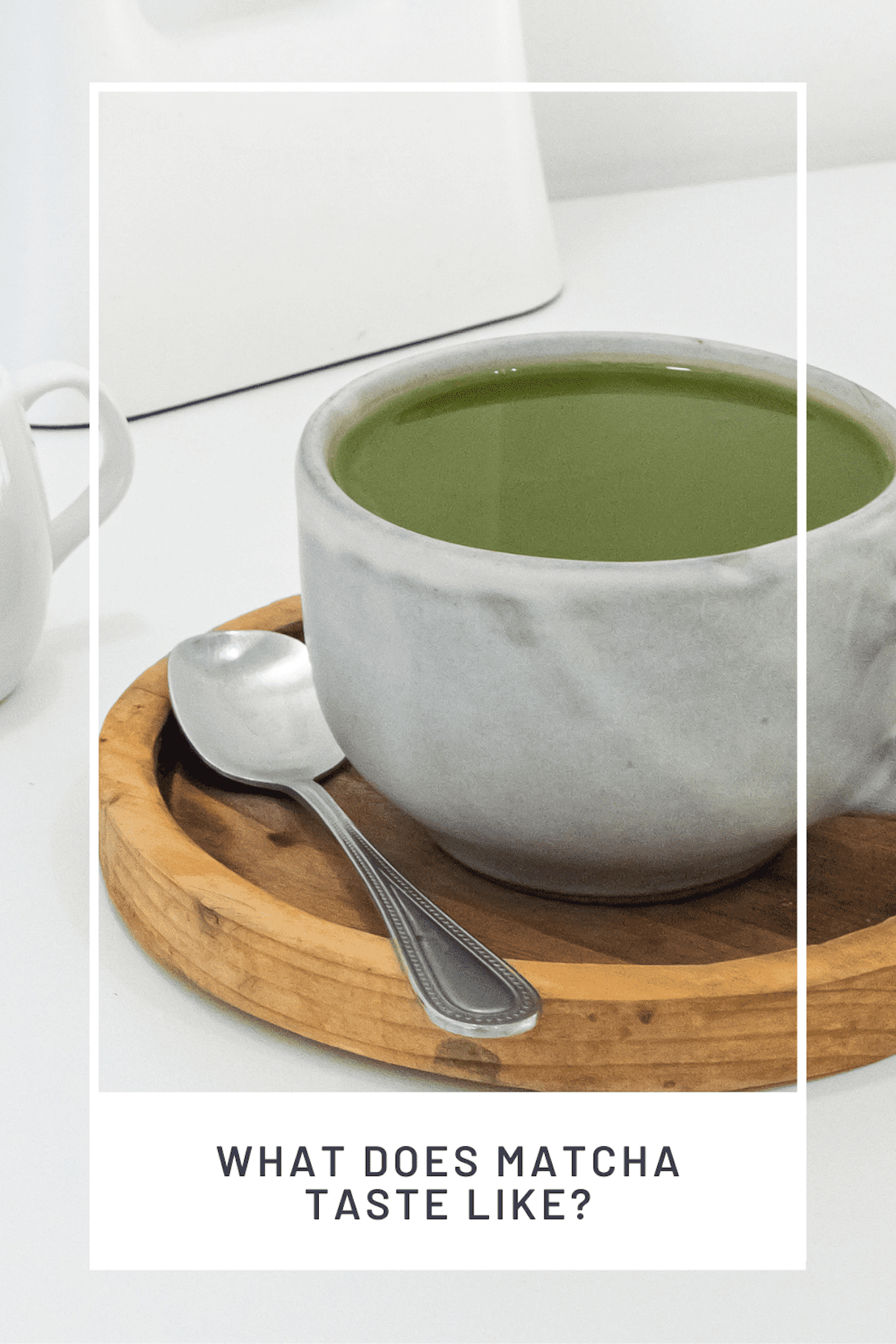 Hint: sweetener your matcha tea the way you like it. Also, add cream or non-dairy milk to make a creamy matcha drink. It can be customized like any other cup of tea.
Substitutions for Matcha
If you do not have matcha powder on hand you can still enjoy a lovely cup of tea. If you want an earthy flavor like matcha, brew up some green tea. If you want a caffeine rush, enjoy a cup of coffee or black tea.
Matcha Preparation & Recipes
Matcha powder is traditionally whisked with hot water to reconstitute it. They have special teas whisks you can buy at tea shops or online. But if you do not have one, you can still learn How to Mix Matcha Without a Whisk.
Here is a great matcha latte recipe. Plus a few recipes on what to serve with matcha green tea.
Equipment
To find the best matcha powder, whisks, and accessories, check out these recommendations. This is all you need to make the perfect cup of matcha Japanese green tea.
PRODUCT RECOMMENDATIONS FOR THIS ARTICLE #ad: The Short Order Cook is a participant in the Amazon Services LLC Associates Program.  As an Amazon Associate, I earn from qualifying purchases.  If you click on a link and make a purchase, I may earn a small commission on the sale at no additional cost to you. This helps with the costs of running the blog. Thank you! 
How to Store Matcha Powder
It is best to store matcha powder in the original packaging it came in. Whether in a tin, packet, or jar, keep it sealed tightly. It is best to keep it in a dark and cool location and not store it in a glass or clear container. Moisture will ruin it so make sure it is dry and clean. If you live in a warm humid climate, it is even advisable to store your matcha powder in the refrigerator.
Matcha powder doesn't stand up well to freezing. Do not freeze matcha as it will ruin the flavor and add moisture.
Store your tasty matcha powder correctly and you can enjoy a lovely cup of tea for months to come.