To make the best air fryer frozen coconut shrimp, try this easy recipe. The perfect time and temperature for hot & crispy battered shrimp every time. Admit it, fried battered food are a weakness. Most of us love them and coconut shrimp is not an exception. That sweet and savory coating over tender shellfish is a bite of heaven.
If you adore fried shrimp but want to eat a bit lighter and healthier, air frying is the way to go. No need to deep fry them to get them crunchy & irresistible. All you need is an air fryer and less than 15 minutes to coconut shrimp perfection.
These breaded coconut shrimps are ideal for any time you want to serve up a hot appetizer or finger food. Great for parties, game days, and birthdays. They are also wonderful for a meal served with the best side dish ideas to pair with coconut shrimp.
Jump to:
Ingredients
All you need for this recipe is a box or bag of your favorite frozen coconut shrimp. I used the store-bought Trader Joe's brand as it is one of our favorites. These are large coconut-battered prawns and not small tiny shrimps.
But any frozen brand will work as long as they are about the same size as those shown below. Sea-Pak, Northern Chef, Margaritaville, Waterfront Bistro, & Kroger all work with this air-frying method of cooking.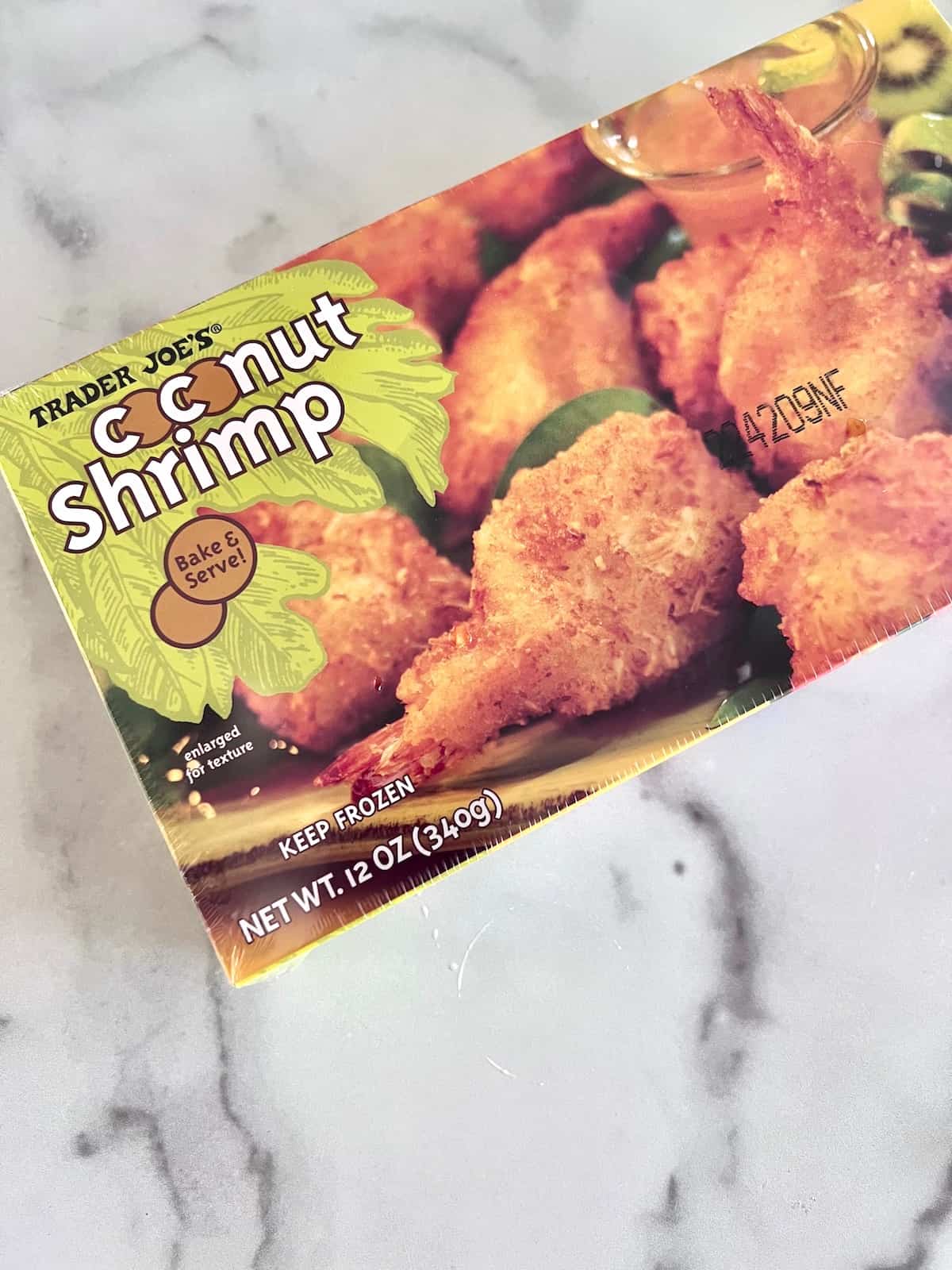 See the recipe card for quantities, time, & temperature.
Instructions
This is a pretty easy recipe for cooking frozen coconut shrimp in the air fryer. Since you are using store-bought frozen coconut shrimp, there is really just one ingredient. Plus there is just one step, air frying it until hot, crispy, & ready to eat.
Everything is prepared for you already. There is no spray oil needed when air frying coconut shrimp since there is already some in the ingredients/batter. Just open the box and get cooking.
Time & Temperature
Begin by setting the time and temperature of your air fryer. I have an air fryer/toaster oven combination made by Breville. I love it for our family of 5 since it does so much and our tiny kitchen only has so much space.
I set my function to air fry for a temperature of 390°. Next set it for 8 minutes. Do not push start yet.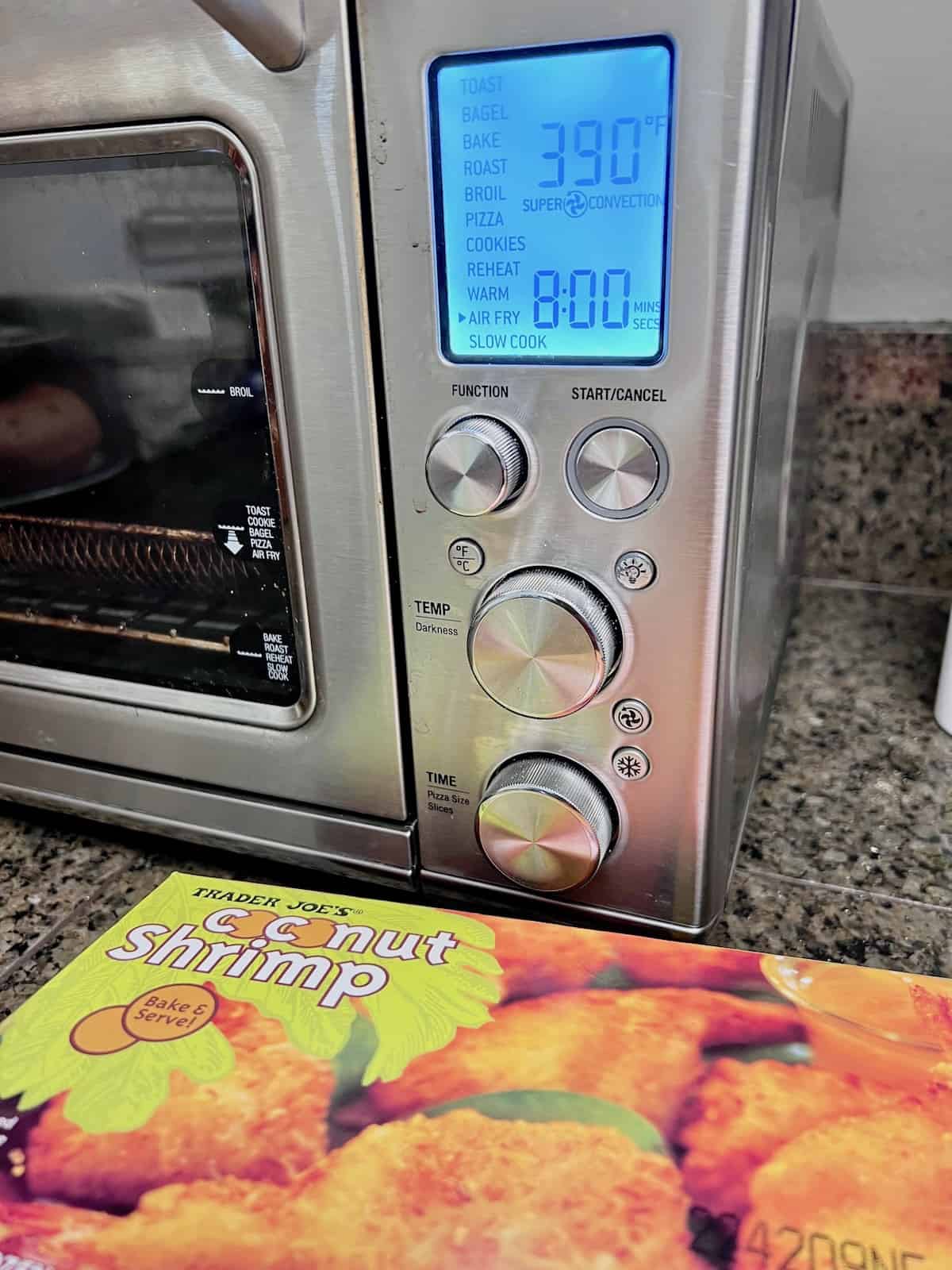 Next, remove the frozen shrimp from the box or package. Place them in a single layer on your air fryer basket or tray. Space them out so that the hot air can circulate around all sides while cooking. Do not overcrowd the basket or tray.
Hint: Only make as many as you will eat at the time. It is best to not have leftovers to reheat or warm up later. Reheated shrimp tends to get a tough rubbery texture that isn't very appetizing.
Close the air fryer and press START. The cooking time this takes includes the preheat and the 8 minutes of cooking time. It should take a total of about 12 minutes for the two cycles to complete.
At that time the batter on the frozen coconut shrimp will be golden brown on the outside. The shrimp inside will be hot but not overdone. This is how they will look.
Use a pair of tongs to carefully remove them from the air fryer. Plate your coconut shrimp on a large platter for a party, appetizer, or buffet. If you are serving them for dinner as the main course, place a few on individual plates.
Dipping Sauce Ideas
This air-fried breaded shrimp goes perfectly with my Pineapple Dipping Sauce for Coconut Shrimp. It is sweet, spicy, & amazing. Bonus - it takes only 4 ingredients and 5 minutes to make. Here are some other ideas for a condiment to serve with this recipe.
Cocktail Sauce - the classic fried seafood dip.
Hot Honey - this sticky hot recipe is simple & fantastic.
Ketchup - a kid's favorite.
Equipment
To air-fry frozen coconut shrimp, you will need an air fryer. Either a basket style or tray style will work. Both will cook these to perfection without turning on your oven or using oil to fry them. If you are looking for a new model, here are the ones I recommend plus some accessories that make air frying so easy.
Storage
As I mentioned with my HINT above, it is best to only cook as much as you will eat at that time. However, if you do find you have leftovers they can be stored for later. Place them in an air-tight container. Store them in the refrigerator for up to 2 days.
I would not refreeze these coconut shrimp that have already been cooked. Shrimp tends to get rubbery and tough when frozen, cooked, refrozen, and then cooked again.
Air Fryer Frozen Coconut Shrimp
The best hot and crispy air fryer frozen coconut shrimp, try this easy recipe. In just a few minutes your favorite appetizer or seafood meal will be cooked to perfection. Great for parties, game day, or dinner.
Ingredients
1

box/bag

frozen coconut shrimp

I used Trader Joe's for my recipe
Instructions
Add frozen shrimp to the air fryer basket or tray. Make sure they are in a single layer and they are not touching.

Set to air fry at 390° for 8 minutes. Press start.

This will cook during both the preheat and cooking time.

Those with a basket-style air fryer will want to rotate and flip the shrimp piece halfway through cooking, at the 4-minute mark. If you have an air fryer/toaster oven style, there is no need to flip these.

When the air fryer is done cooking for 8 minutes, they are ready. Using tongs carefully remove the shrimp from the air fryer to a serving plate.

Serve with my delicious sweet & spicy pineapple dipping sauce.
Notes
The nutritional information will vary based on the brand of frozen coconut shrimp you are using. Please see the information on the packaging.