This easy dipping sauce recipe for coconut shrimp is sweet, spicy, sticky, & sensational. The tropical flavor of pineapple pairs perfectly with the sweet coconut shrimp. The combination of crunchy fried shrimp with this warm gooey sauce is mouthwatering. It is hard to resist gobbling up a dozen of these in no time.
When we go to a restaurant and order coconut shrimp it always comes with a knock-your-socks-off dip. It is always so good and it's why we order it at Duke's every time we are in Hawaii or San Diego. But why spend money when it is so easy and cheap to make? In 5 minutes and with 4 ingredients you can make a homemade restaurant-quality pineapple dipping sauce at home. If you like the pina colada sauce at Red Lobster, then this is the dip for you.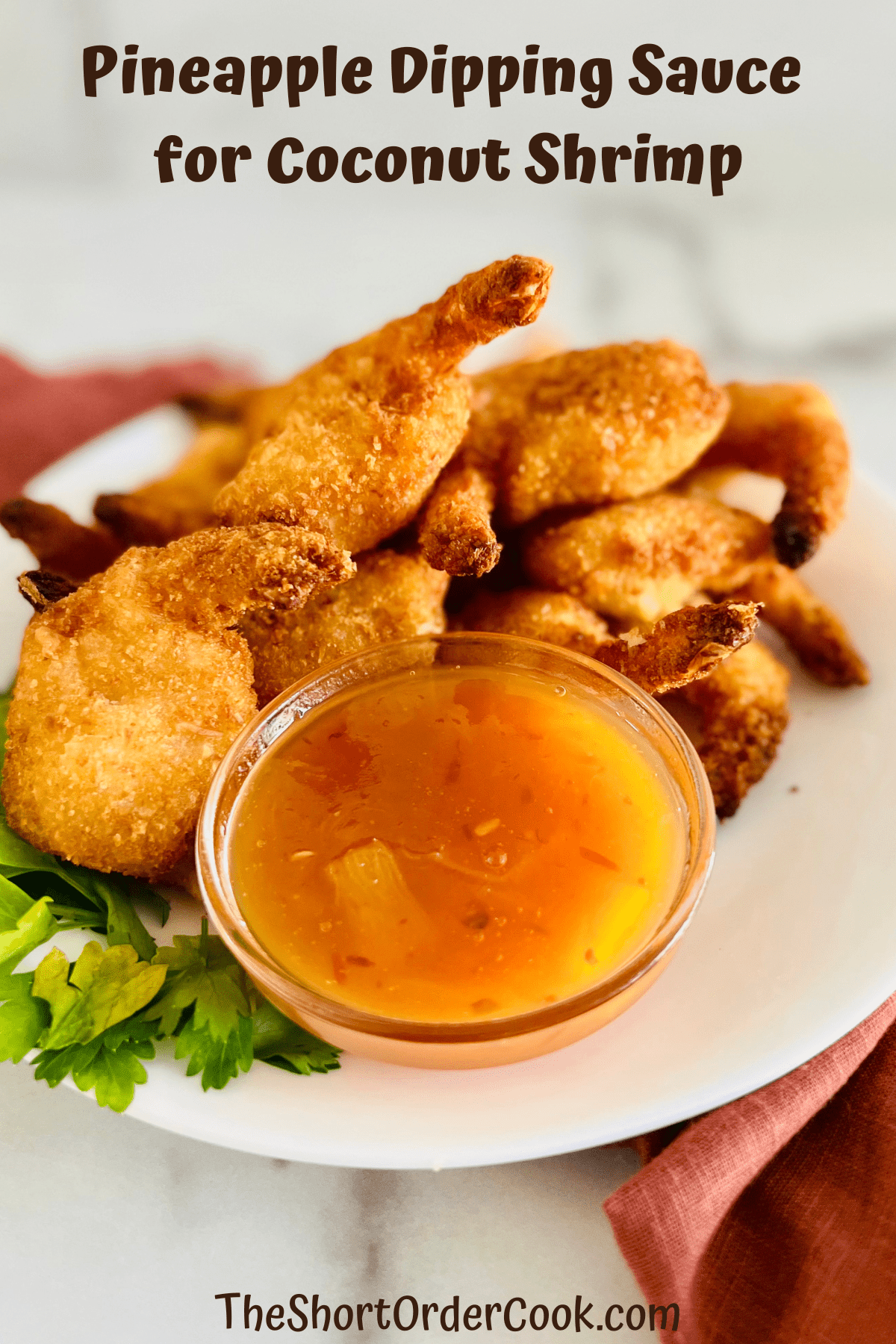 This pineapple dipping sauce is also great for your next fish fry, party, game day, or casual dinner at home. Serve it any time of year when you want to elevate your meal or appetizer. It tastes gourmet but the secret is, it couldn't be simpler to make.
This recipe goes well with my easy recipe for Air Fryer Frozen Coconut Shrimp. But it goes with many other yummy dishes too so check out the section on what to serve with this dip shared below.
Jump to:
Ingredients
This quick and easy recipe call for only 4 ingredients. You likely have all of them in your well-stocked pantry already. The pineapple dipping sauce has both the juice and small bits of pineapple in it for texture and an extra yummy taste. I am using a Trader Joe's Pineapple spread that has coconut milk in. The combination of flavors and the small chunks of pineapple makes it perfect for this recipe.
Along with those main ingredients, there is something tangy and spicy. All of these together pack a punch of flavor.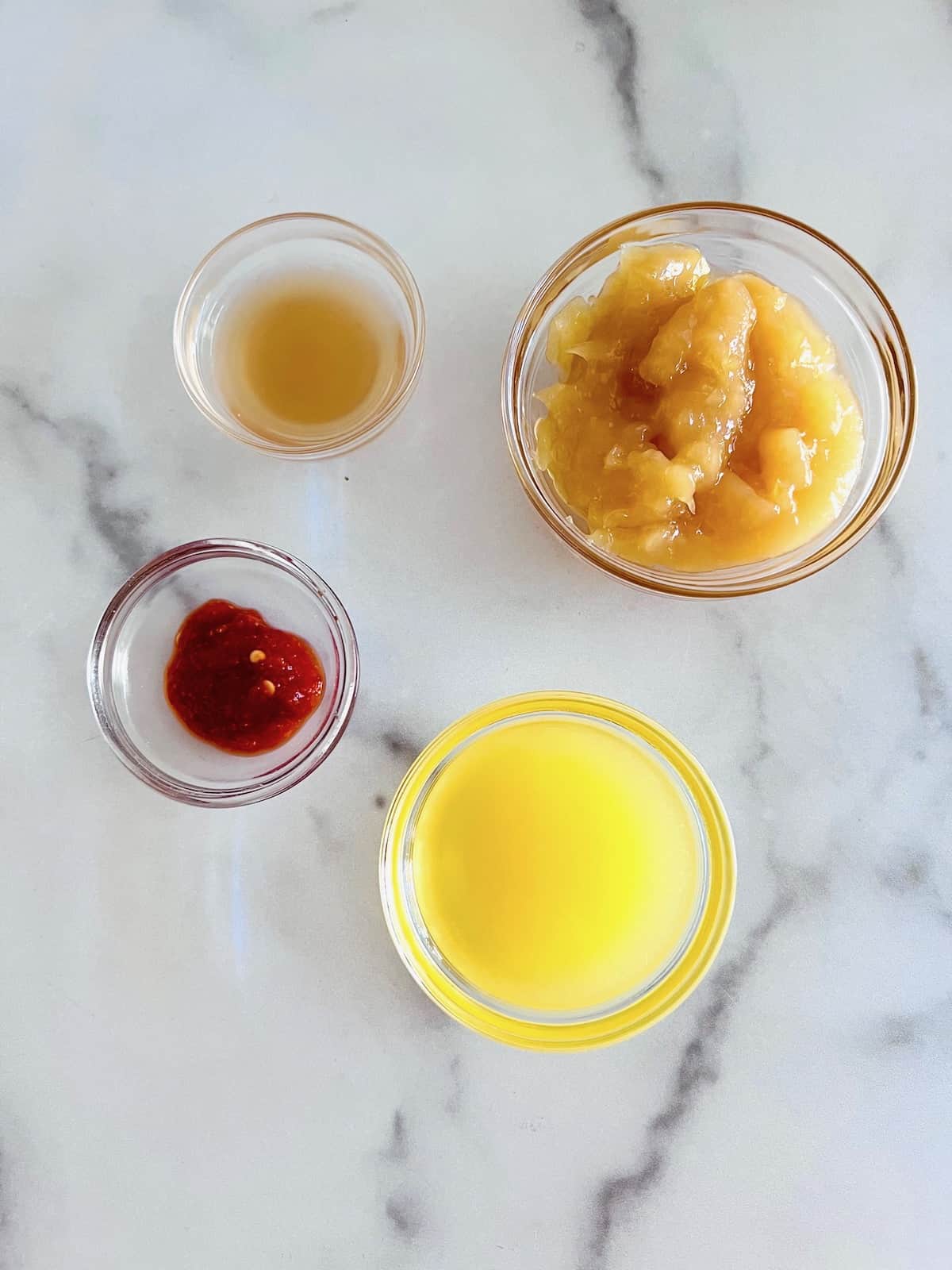 Pineapple Spread
Pineapple Juice
Apple Cider Vinegar
Thai Garlic Chili Sauce
See the recipe card for quantities.
How to Make Pineapple Dipping Sauce
While your coconut shrimp are cooking, begin making the homemade pineapple dipping sauce. It only takes 5 minutes so time it so your sauce finishes cooking at the same time they are done.
Grab a small sauce pot and all your ingredients.
Turn the stove to medium-high heat. Add all the ingredients to the pot & stir.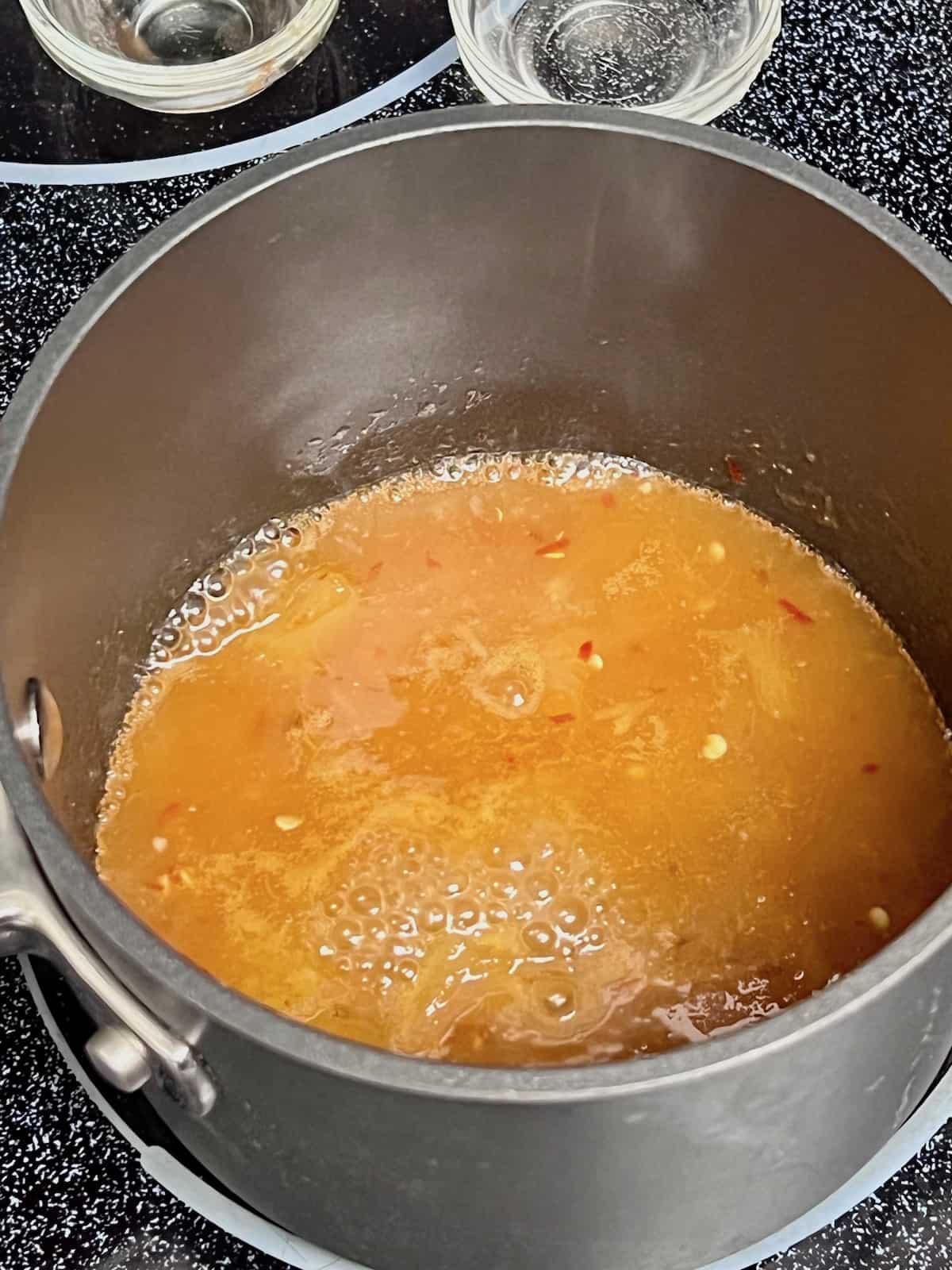 Cook until it comes to a boil. Stir constantly so it does not burn. Let boil & cook for 2 minutes. Now turn the heat to the lowest setting and cook an additional 2 minutes.
The sauce should be thick enough to coat the back of a spoon and not just slide right off. Once it does that, it is ready to serve.
Spoon or carefully pour the warm dipping sauce into a small bowl. Once the coconut shrimp are hot and ready to eat, time to serve it all together. Dip your coconut shrimp directly into the sauce. It will be thick and sticky so it stays on the shrimp as you lift it out of the bowl.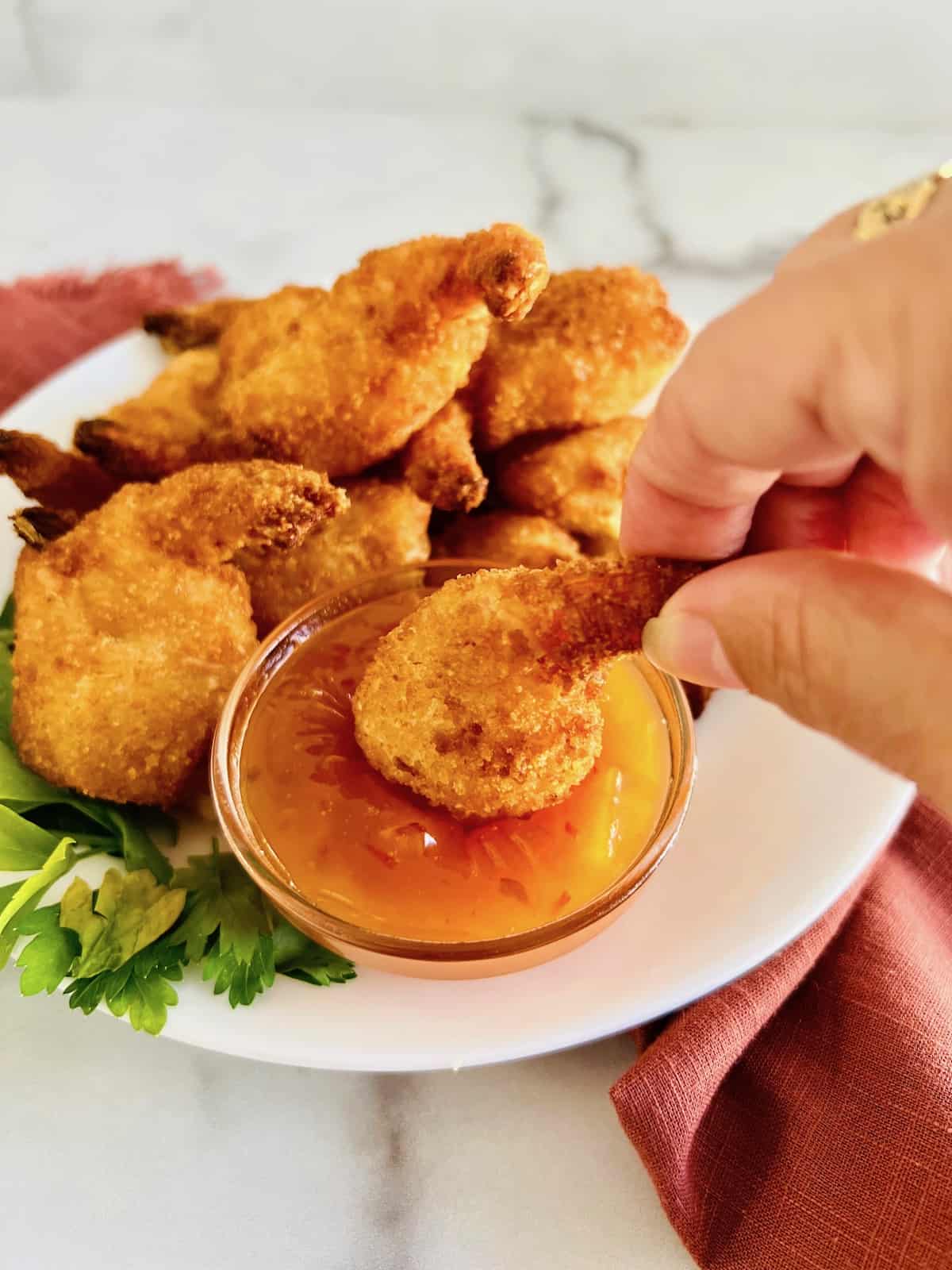 Hint: Plate the dipping sauce into either one bowl or multiple individual bowls depending on how you are serving this. If you have a large platter of coconut shrimp out for a party, one medium-sized bowl will be all you need.
But if you are serving coconut shrimp for dinner. It is best to serve everyone a few shrimp on their own plate and add a small individual bowl of dip to the dinner plate. Everyone can then double dip if they have their own personal bowl --- and trust me, everyone will want to double dip!
Substitutions
With only 4 ingredients for this recipe, try and use everything that the recipe calls for. However, if you are in a pinch here are a few substitutions that you can use.
Pineapple Spread - use pineapple preserves or marmalade instead.
Pineapple Juice - orange juice can be used but the pineapple juice really makes this tropical and perfect with coconut.
Thai Garlic Chili Paste - use ½ teaspoon each of minced garlic & red pepper flakes
This recipe is gluten-free, grain-free, vegan, vegetarian, & fat-free as written.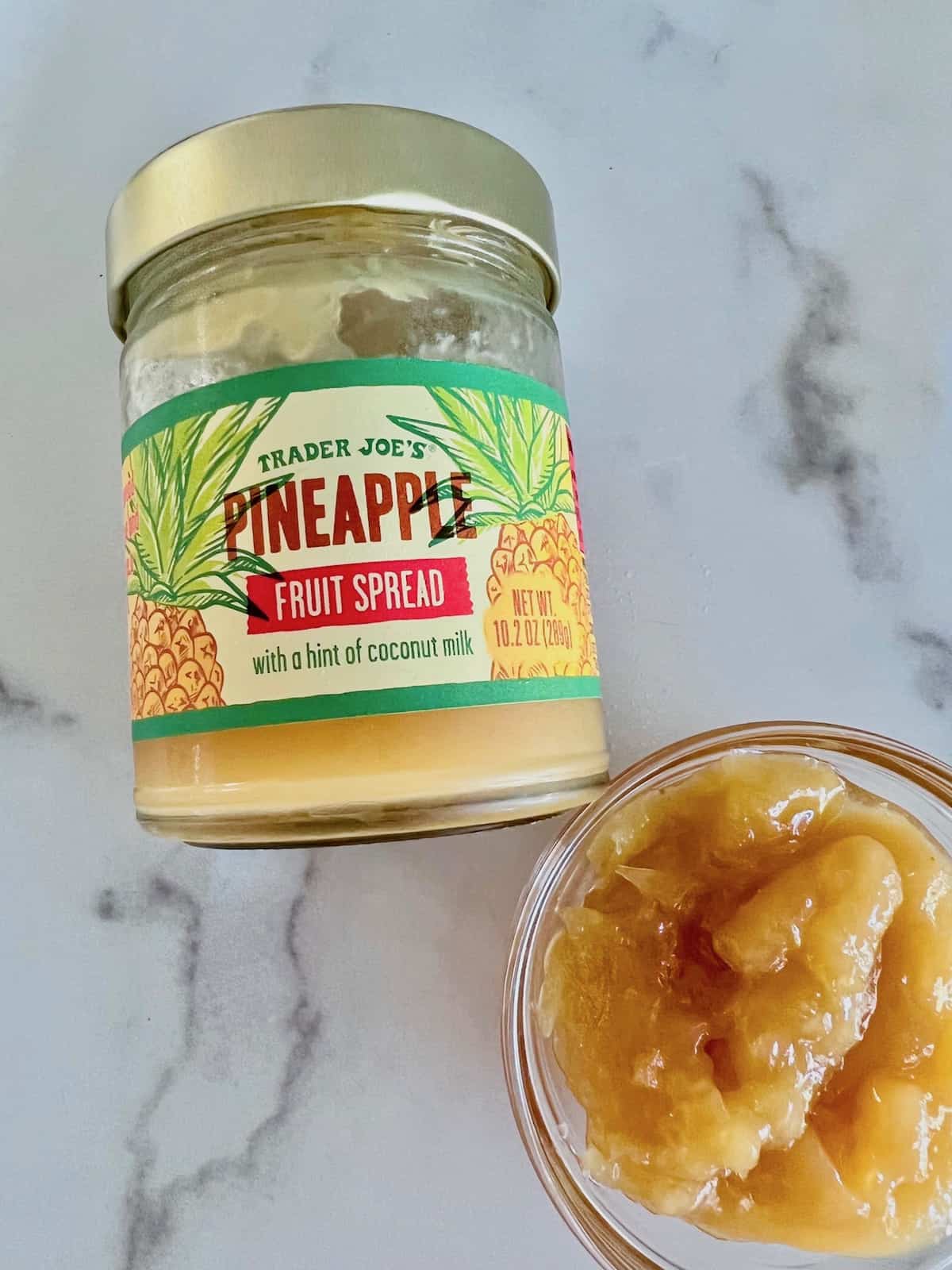 Variations
This simple recipe has all the flavors and is amazing as written. But in case you love things really hot or completely mild, here are the variations you can make to the dip.
Extra Spicy - add double the Thai garlic chili paste for a super spicy kick.
Mild & Kid-friendly - if you don't want this spicy, omit the Thai garlic chili paste.
For another mild dipping sauce that would go well with coconut shrimp, try my Dipping Sauce for Shishito Peppers. It is mild and creamy with a nutty sesame flavor that is also great with fried seafood.
Equipment
You will need a small saucepot to cook this sauce. I also recommend a small bowl to serve the dip in or several tiny individual dipping bowls. Besides the ingredients, there is not much needed to make this recipe.
The Short Order Cook is a participant in the Amazon Services LLC Associates Program. As an Amazon Associate, I earn from qualifying purchases. If you click on a link and make a purchase, I may earn a small commission on the sale at no additional cost to you. This helps with the costs of running the blog. Thank you!
Storage & Freezing
Store any leftovers in an air-tight container in the refrigerator. This sauce will last up to 10 days if stored properly. Simply reheat on the stove or microwave for a minute to warm it back up.
This dipping sauce also freezes well. So if you want to make a large batch ahead of time, go for it. You can even freeze individual portions in an ice cube tray. Once frozen, pop each sauce square out and place in a freezer Ziploc bag. When you want 1, 2, or more, just grab them out and defrost.
FAQ
What else can I serve with this dipping sauce?
This pineapple dipping sauce is so good, you will want to eat it with everything. The tropical sweet and spicy flavors do go well with so many things, especially other fried foods or seafood. Here are some other things to serve this sauce with:

Fish Sticks = Fried Fish - Fried Clams - Calamari - Chicken Nuggets or Tenders - Cocktail Shrimp - Seafood Tacos - Egg Rolls - Lumpia - Potstickers - Sweet Potato Fries - Ham - Pork Chops - Pizza - the sky's the limit! See recipe ideas below for more information.
Do I have to cook this sauce or can I just mix the ingredients?
Though consuming these ingredients raw is fine and will not be unsafe, it is best to cook this sauce. Besides warming up the ingredients to serve with hot crispy coconut shrimp, it really changes the texture and taste of the sauce.

Bringing the ingredients to a boil allows the vinegar to add tang but also cooks some of it off so it is not too strong. Also, the cooking process allows the sauce to thicken and become sticky. This makes it easier for the dipping sauce to adhere to the shrimp when dipping. It only takes a few minutes, so go for it.
What to Serve with Pineapple Dipping Sauce
Here are some more great recipes to serve with this pineapple dipping sauce. Besides crunchy sweet coconut shrimp, it goes well with so much more. Try it with one or more of these yummy recipes and happy dipping!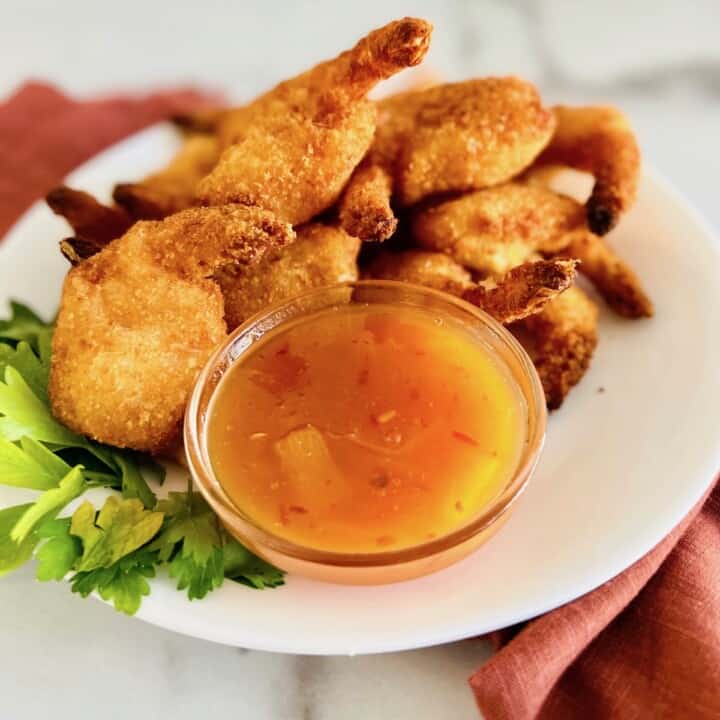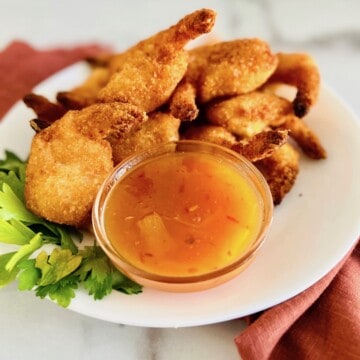 Dipping Sauce for Coconut Shrimp
This sweet & spicy pineapple dipping sauce is perfect for coconut shrimp. This recipe is easy to make and whips up in minutes for the best dip for any fried seafood or chicken.
Ingredients
⅓

cup

pineapple fruit spread or preserves

I used Trader Joe's fruit spread

2

tablespoons

pineapple juice

1

tablespoon

apple cider vinegar

½

tablespoon

Thai red chili garlic sauce
Instructions
Add all ingredients to a small saucepan.

Over medium-high heat, bring to a low boil. Stir constantly so it does not burn. Let boil & cook for 2 minutes.

After two minutes the sauce should be a bit thicker. Now turn the heat to the lowest setting. Let it sit on low to stay warm for an additional 2 minutes.

The sauce should be thick enough to coat the back of a spoon and not just slide right off. Once it does that, it is ready to serve.

Spoon dipping sauce into a small bowl and serve with coconut shrimp.
Notes
¼ of this dipping sauce = the following nutritional information
Nutrition Facts
Servings: 4
Amount per serving
 
Calories
54
% Daily Value*
Total Fat 0g
0%
Saturated Fat 0g
0%
Cholesterol 0mg
0%
Sodium 115mg
5%
Total Carbohydrate 13.4g
5%
Dietary Fiber 0g
0%
Total Sugars 12.3g
 
Protein 1g
 
Vitamin D 0mcg
0%
Calcium 1mg
0%
Iron 0mg
0%
Potassium 13mg
0%
*The % Daily Value (DV) tells you how much a nutrient in a food serving contributes to a daily diet. 2,000 calorie a day is used for general nutrition advice.