If you are trying to figure out what goes well with coconut shrimp for dinner, this list is exactly what you are looking for. Homemade recipes baked, fried, or made in the air-fryer are a sweet and savory delicious way to enjoy seafood. The coconut shrimp pairs well with all sorts of side dishes. All of these suggested sides work great for all your meal ideas, including dinner at home, parties, potlucks, or any fancy dinner party with guests.
The best sides to serve with coconut shrimp are all right here. Many fellow food bloggers have shared some of their quick and easy side dish recipes to eat with coconut shrimp. If you want a cocktail, sauce, salad, vegetables, rice, or more we have you covered with so many choices on what to enjoy. Whether you make the coconut shrimp homemade or pick it up to go – all these sides pair well with your meal.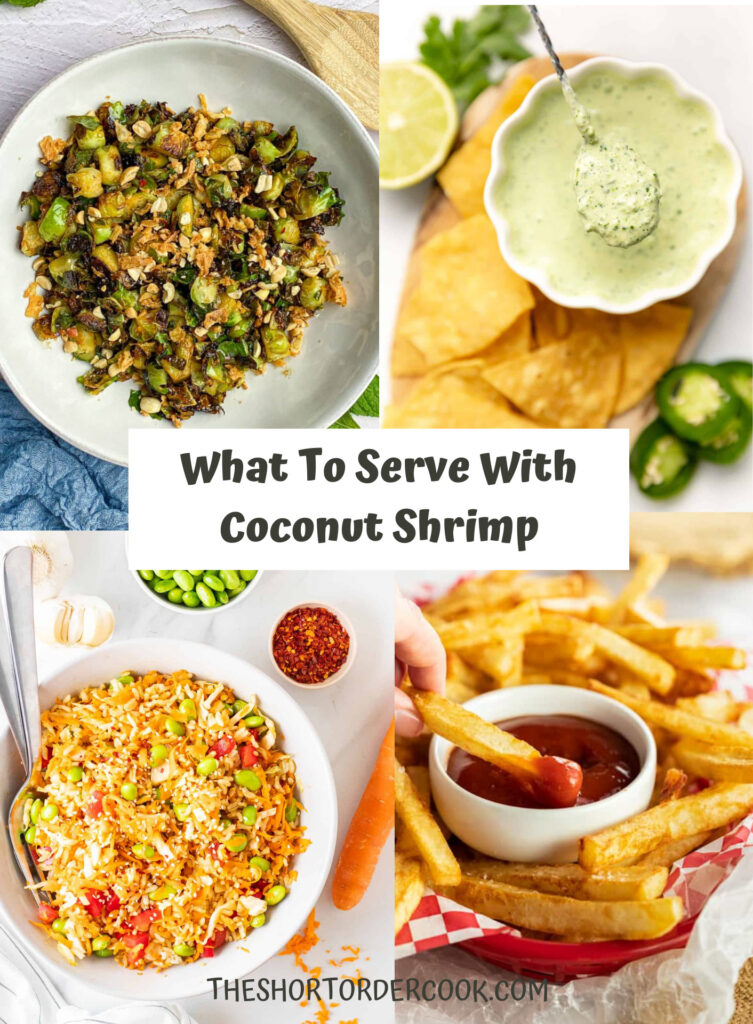 What to Serve with Coconut Shrimp
This is a tasty list of what sides to eat with your coconut shrimp Many of these side dishes are also great to serve with grilled, peel & eat, or fried shrimp. In reality, most of these sides can be made to eat with just about any seafood or shellfish like salmon, halibut, clams, and more. There is a variety of side dish options that include low-carb, keto, vegan, gluten-free, healthy, and dairy-free.
To help you decide what to serve with coconut shrimp, I have broken down the list into some subcategories. So based on your mood, preference, or diet, there is something for everyone. There are healthy salads, spicy dips, tropical cocktails, and unique sides. This list includes the best of what to make and serve with coconut shrimp:
Recipes by The Short Order Cook
Dips, Sauces, & Cocktails
Rice or Vegetable Side Dishes
Salad & Other Side Dishes
Recipes by The Short Order Cook
The following recipes include many different sides for eating with coconut shrimp. Pick any of these wonderful choices from dips, salads, side dishes, cocktails, and desserts. There are sweet, spicy, and tropical flavors that all go great with coconut shrimp.
Dips, Sauces, & Cocktails
Rice or Vegetable Side Dishes
Salad & Other Side Dishes
More Side Dish Ideas
For additional side recipes that go well with any kind of seafood, check out these other articles. All the amazing recipes are shared by the best food bloggers and include a wide variety of side dish ideas to serve with fish, shellfish, and more.
PIN FOR SAFEKEEPING & SHARING!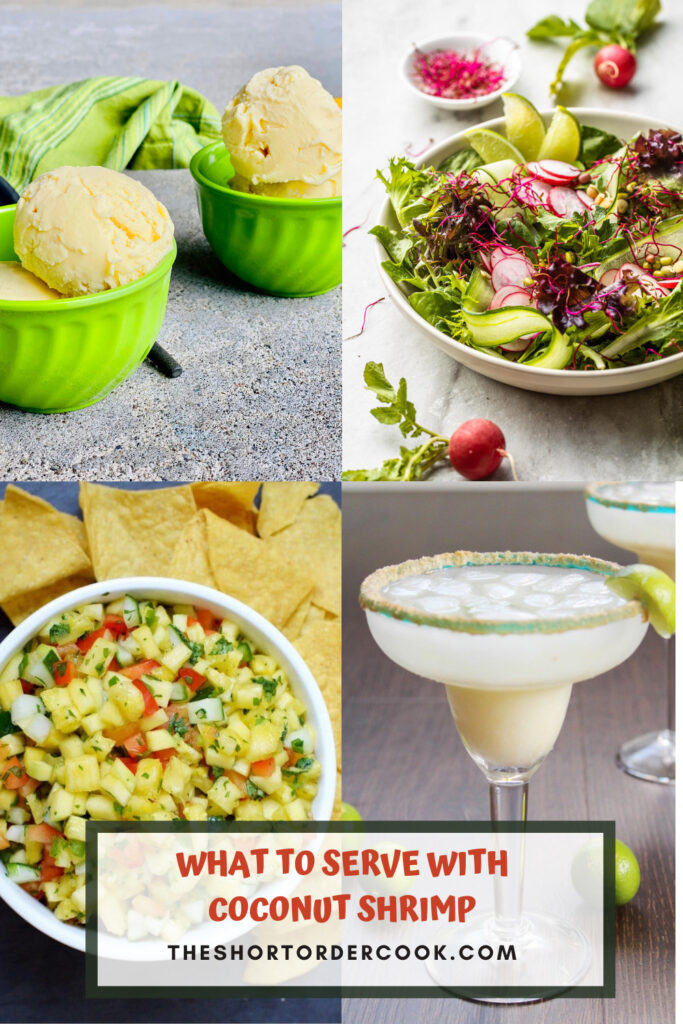 Product Recommendations for this Article:
The Short Order Cook is a participant in the Amazon Services LLC Associates Program. As an Amazon Associate, I earn from qualifying purchases. If you click on a link and make a purchase, I may earn a small commission on the sale at no additional cost to you. This helps with the costs of running the blog. Thank you!
The Best of What To Serve With Coconut Shrimp
If you are trying to figure out what goes well with coconut shrimp, this list is exactly what you are looking for. If you want slaw, vegetables, fries, cocktails, dipping sauces or more this list has you covered. These are my favorites:
Deep-Fried Sweet Potato Fries
Asian Avocado Coleslaw
Pineapple Mango Salsa
Key Lime Margarita
Instant Pot Steamed Broccoli
Homemade Beer-Battered onion Rings
Best Ever Mango Ice Cream