There is nothing like freshly made gelato or ice cream. Every bite is creamy, cool, & delicious. So when the craving hits, making your favorite recipes at home couldn't be easier. I have made hundreds of batches of ice cream over the years & now you can too when you buy one of the recommended gelato or ice cream makers that I think are the best you can buy.
My honest review of all these gelato makers to use at home will help you purchase the one that is right for you. You don't have to spend a lot to make creamy & delicious gelato at home. I have either personally used, interviewed someone, or borrowed all these items to try out.
The price range from these models starts below $100 & for a gourmet machine, you can spend over $600. No matter what your budget is, one of these ice cream makers will be priced right.
Jump to:
What to Look For in a Gelato/Ice Cream Maker
Making your own gelato or ice cream at home is easy but it can also be better for your health. When you control the ingredients you get a say in what goes into your gelato. So if you want dairy-free, nut-free, organic, gluten-free, vegan, or classic gelato, it has never been easier than with any of these top-rated gelato/ice cream makers.
Before buying one takes all of these factors into account. This way you will spend the money on the best buy for your family & home.
Ease of use & cleaning
Size of the maker & how much gelato can it make
Speed & efficiency
Functions & features
Price
Customer Ratings
Warranty & other items
I own this Cuisinart model for almost 20 years been making frozen treats in it. This small but mighty appliance makes gelato, ice cream, frozen yogurt, & sorbet. Here is what I love about it:
Easy to use & assemble; one button is all it takes
The canister is small so doesn't take much room in the freezer when pre-freezing it
The churning is one of the fastest thanks to the double-insulated canister/freezer bowl
Lid has an opening on top to pour in the mixture or add mix-ins later
Dishwasher-safe parts to it is easy to clean
The small footprint may mean less ice cream for each batch but it is easy to store & doesn't take up a lot of cabinet space
GREAT PRICE & the VALUE is the BEST!
Customers agree with 23K 4+ Star reviews.
Best Cuisinart Gelato/Ice Cream Maker
If you want a bigger model, this CUISINART 2-QUART ICE CREAM MAKER is another great option for making gelato at home. Bigger than the model above for those that like to make a big batch of ice cream for parties or to have plenty to freeze for later. So much to love about this appliance such as:
Stainless steel and other colors are available
Easy-to-use dial functionality
Double-insulated freezer bowl for gelato that can be ready in 20 minutes
3-year limited warranty
Easy to assemble & clean with dishwasher-safe parts
Opening in the lid to add ingredients while churning
4+ Star reviews by more than 17K customers.
For an appliance that does so much more than just make gelato & ice cream, check out the Ninja Creami. This popular model has 7 one-touch programs to make a variety of frozen drinks & treats all for one great price. Here are all the things to love about buying a Ninja Creami for your home.
Choose between Ice Cream, Sorbet, Gelato, Milkshake, Smoothie Bowl, Lite Ice Cream​, and Mix-in.
Creamify technology can transform any fruit into a creamy "ice cream" treat
Makes one pint at a time so may not be ideal for large families or big households
Dishwasher safe parts
Great for making gelato & ice cream for those on special diets (sugar-free, diabetic, keto, etc)
1K customers give it a 4+ Star Rating & review
Best Italian Gelato Machine Brand - Musso
If you want some authentic gelato, using a machine made in Italy may be the way to go. The Italians perfected it & these two gelato makers will help you indulge any time you want without the plane ticket!
The Lello 4080 Musso Lussino 1.5-Quart Ice Cream Maker is the top-rated gelato maker for the home. This model uses a compressor so no freezing a canister. With this model, you can make 2 batches in less than an hour. That means 3 quarts of gelato! Great for gelato & ice cream lovers plus all this too:
Sleek design in stainless steel
No pre-freezing a canister so make gelato any time you wish
Easy to use and clean even though the bowl is not removable - just use hot water & a bit of soap to wipe down
Can make 2 batches back to back without any waiting
Customer satisfaction is over 4-star rating!
Made in Italy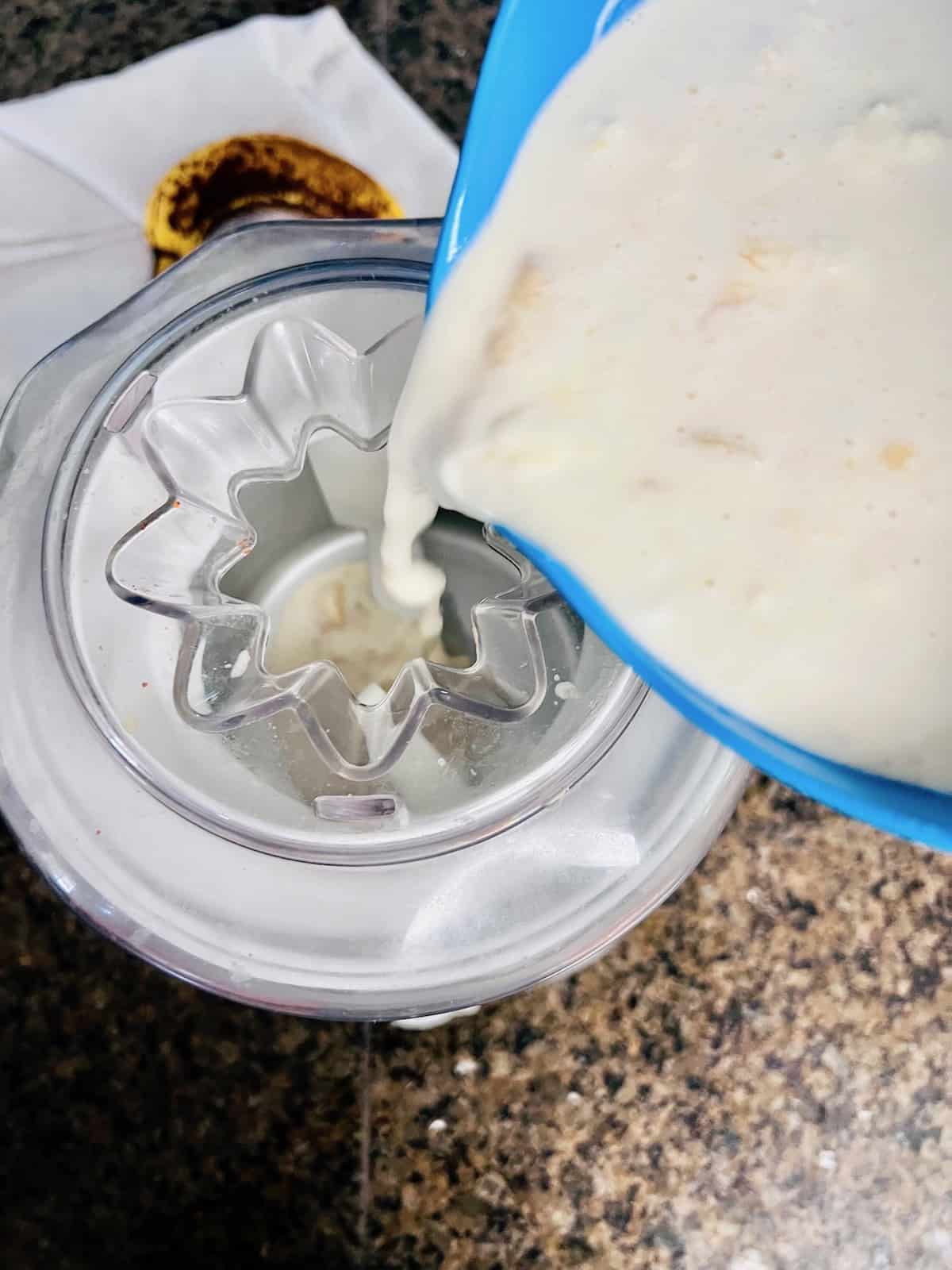 Best Small Gelato Maker - Secura
This compact model is great for small kitchens, RVs, tiny homes, or even dorm rooms. If you live alone or are just a couple, this small Secura Mini gelato maker may be just what you need. Here is what I love about it:
Inexpensive low price tag, under $25!
Easy to use & clean
Make .4 quarts of ice cream at a time which serves 1-2 people
Compact design can save storage space, easy to store and carry.
One touch power button & spoon included
Fun to give as a gift to kids, teens, & college students
Best Large/Ice Cream Gelato Maker
If you have a big family or what to make large amounts of gelato, this machine by Nostalgia makes 6 quarts. This is great for parties, birthdays, summer cookouts, pool clubs, & more. My mom had this one & we made a ton of ice cream for the neighborhood - lots of happy faces covered in gelato!
Here is why this is the best large-capacity gelato maker:
Makes 6 quarts at once; 30+ servings estimated
6K customers love it & gave great reviews
Fun vintage style
Powerful motor so no stirring just let it churn for 20 minutes
Easy to use & clean
Has a handle for carrying
Flavor packet or make your own recipe
Does require ice & salt to keep the canister cold
Best Budget Gelato Maker (under $50)
Love gelato but don't have a big budget. You can still enjoy making homemade gelato, ice cream, or frozen yogurt at home with this Nostalgia Jadeite Electric Ice Cream Maker.
Less than $50
Makes 1.5Qt gelato
Carrying handle for transport to parties, RV, vacation, church, work, or the neighbor's house
Easy to use & clean (handwash only)
Great reviews & customer satisfaction
Best Gelato Maker with a Compressor
If you don't want to worry about pre-freezing the canister or insert of your gelato machine, one with a compressor may be the way you want to go. This Whynter 2.1Qt model has a compressor so it will freeze & churn all at once. Ideal for those last-minute cravings when you want to make a batch of homemade ice cream or gelato at a moment's notice.
No planning ahead to freeze the insert, canister, or bowl
Continuous use to make many batches - a lot of gelatos to love
Sleek stainless steel design or colors too
Compact design to store easily but still get a lot of gelatos
Easy to use & clean
Other Gelato/Ice Cream Machines
Here are a few other runner-ups that are also great buys. Any of these gelato machines are great to use at home.
Gelato Makers: Prices, Features, & Reviews
Recipes
Now you are ready to start making homemade gelato & ice cream at home. Try these great recipes: