Whether you are chopping, de-boning, slicing, or butchering meat, it is important to have the best knives for cutting raw meat. Having a sharp knife that is easy to use will make all the difference when chopping or trimming uncooked meat, fish, and poultry. It takes only a few moments to figure out what type of knife you need to make cooking easier and here are the best ones on the market.
There are so many choices so hopefully, one of these highly-rated quality knives will be what you need. The good news is you do not have to spend a lot of money. Many are under $50 and most under $100. Here are the best budget-friendly knives for cutting raw meat. There are economical choices for the home cook as well as professional-grade knives that cost a bit more. Whatever your needs are there is something perfect for your butcher block.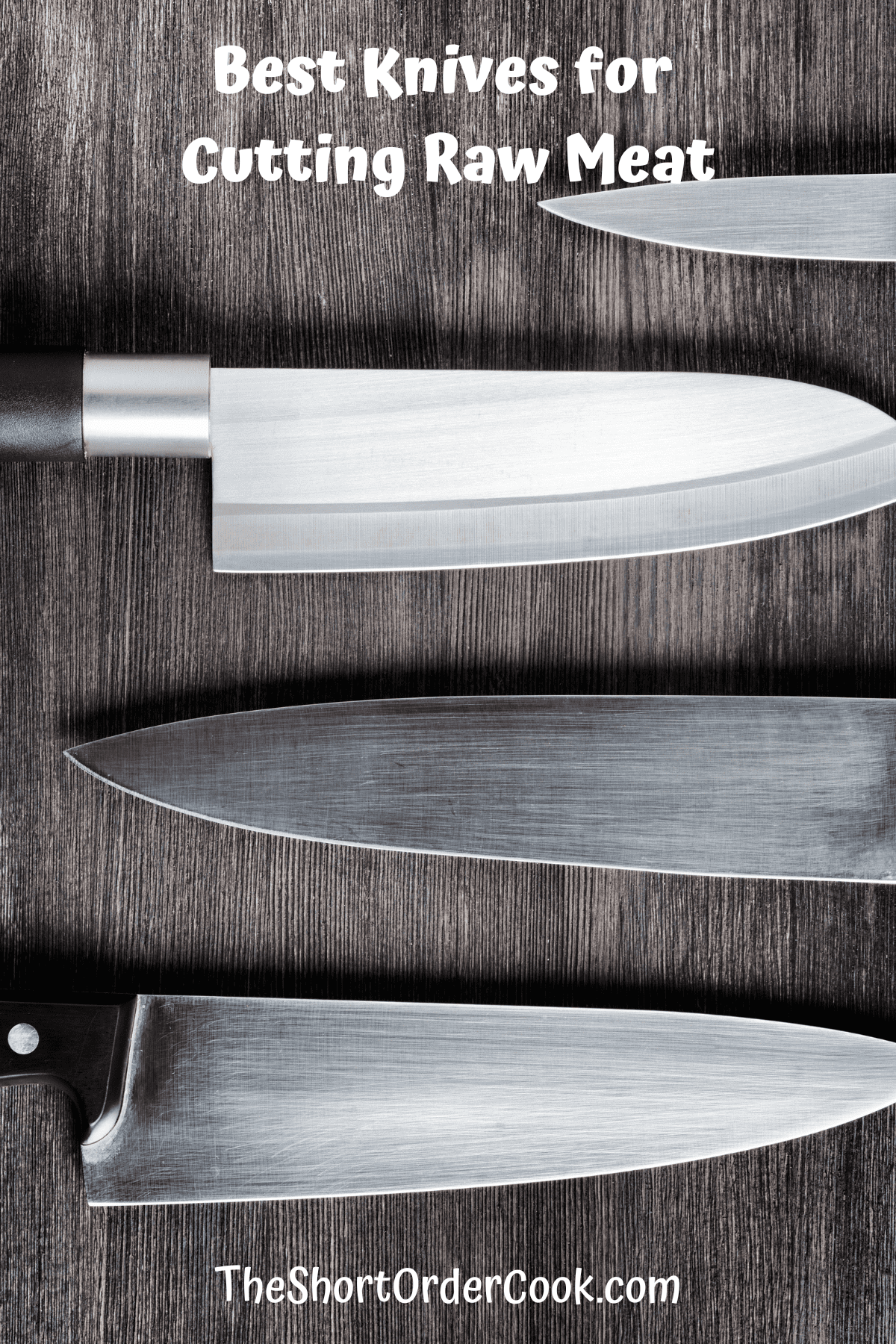 Sharp knives come in handy when preparing meals and cooking. Dull knives that are either too small or too large for the task at hand are UNSAFE! Please practice safe knife skills whenever using them. For example, cutting the chicken into thin slices for Teriyaki Chicken on a Stick is an easy step when using a sharp chef's knife.
The Short Order Cook is a participant in the Amazon Services LLC Associates Program. As an Amazon Associate, I earn from qualifying purchases. If you click on a link and make a purchase, I may earn a small commission on the sale at no additional cost to you. This helps with the costs of running the blog. Thank you!
Jump to:
What Makes a Knife Quality
If you are looking to get the best knife for your money you want to pay attention to a few things. For cutting meat, you want to make sure you have a sharp blade to get through the flesh smoothly without tearing the meat. You may also want a knife that can break through bones or be precise enough to filet a fish.
For cutting raw meat, chef knives are the best. A chef knife has all the features that make getting through raw meat, bones, cartilage, and skin easy. The cutting edge (the main part of the blade) is very sharp. There is also the tip and point that is ideal for getting under the skin, trimming fat, or wedging between bones and cartilage for separation.
Most of the knives shared here today will be in the chef knife family - similar types such as Gyuto, Santoku, and French knives. Also consider boning knives, cleavers, or even poultry shears. Here are the best knives for cutting raw meat. Make meal prep easier with these quality knives with great reviews and even better prices.
How to Pick out the Best Knife
Whatever your personal needs are, here are some things you will want to consider when buying any knife. To get the best one that money can buy, remember these features - these are what I took into account when deciding which are the finest knives to meet my cooking needs.
WEIGHT - how heavy the knife you are handling may be a big deal for you - it is for me. I cook a lot and using a heavy knife can be tiring and ergonomically unsafe.
HANDLE SIZE/SHAPE - handles are pretty universal in size but some may be too wide, small, or awkward for your hand size. My hand is the size of a 10-year-old so this really matters to me.
DISHWASHER SAFE - to keep knives sharp and to extend the life of the instrument, many suggest only hand washing. If buying a knife that is dishwasher safe is important to you, make sure it says it's allowable. I find that when cutting raw meat I really want a knife that can go in the dishwasher for a thorough cleaning and sanitizing (same for my cutting boards!)
USES - pick a knife that will meet your household needs. If you don't eat chicken, for example, you don't need poultry shears.
Best Knives for Cutting Through Bones
These knives and shares are great when working with bone-in meat. Whether you want to remove bones from a chicken or cut through a bone to expose the marrow, these are the must-have items. Based on your needs, I recommend these cleavers, boning knives, and poultry shears. They are great quality and the best you can get for your money - check out all the amazing reviews too!!!
Meat Cleaver 7 inch,Butcher Knife,Vegetable Cleaver knife,German High Carbon Stainless Steel Kitchen Knife chef knives with Ergonomic Handle
Best Chef/Gyuto/Santoku Knives
Gyuto is a Japanese knife similar to the classic chef knife. Santoku is a similar knife but tends to run shorter with less of a tip and no curve. Due to the shape of the Santoku they are best for dicing raw chicken since they do not have a curve for the rocking motion to slice or the tip for getting between bones or starting precise slices.
Gyuto is basically the Japanese version of an American chef knife (or French knife). There is a bit of difference between the two but one things is for sure, they are workhorses. These knives are a must-have for every home cook, culinary student, or professional chef. Both are great for handling numerous kitchen tasks, including butchering meat. Here are my picks for the best Gyuto, Santoku, or chef knife you can buy for cutting raw meat.
Traditional Japanese Professional Gyuto Kitchen Chefs Knife – Premium 8-inch High Carbon Stainless Steel
Best Electric Knife for Cutting Raw Meat
Sometimes an electric knife is what you need when working with raw meat. Though electric knives are ideal for carving roasts, turkeys, and other cooked meat, they can also be used on raw meat as well. If you need a bit of help with cutting such as those with hand limitations, arthritis, etc - an electric knife may be your best bet.
Here are the best electric knives that money can buy with a high customer satisfaction rating. They are all great for carving meats or slicing, dicing, and cutting raw meats.
Hamilton Beach Electric Knife for Carving Meats, Poultry, Bread, Crafting Foam & More, Storage Case & Serving Fork Included
Best Professional Butcher Knives
If you plan to butcher a lot of meat, for instance, you hunt or fish often, these professional-grade knives are for you. The everyday home cook may not need to spend this much money. These expert knives wield a lot of cutting power without being bulky, heavy, or cumbersome to use.
FAQ
What is the best kind of knife for cutting raw meat?
I recommend a chef knife.
What is the best Japanese knife for cutting raw meat?
Both the Gyuto and Santoku Japanese knives are perfect for working with, cutting, and butchering meat.
Best knife for cutting meat bones?
A cleaver is the best for cutting through bones, especially larger bones in pork or beef.
Can a Santoku replace a chef knife?
Yes, they are not exactly the same but both work great at the same tasks - cutting raw and cooked meats, chopping vegetables, etc.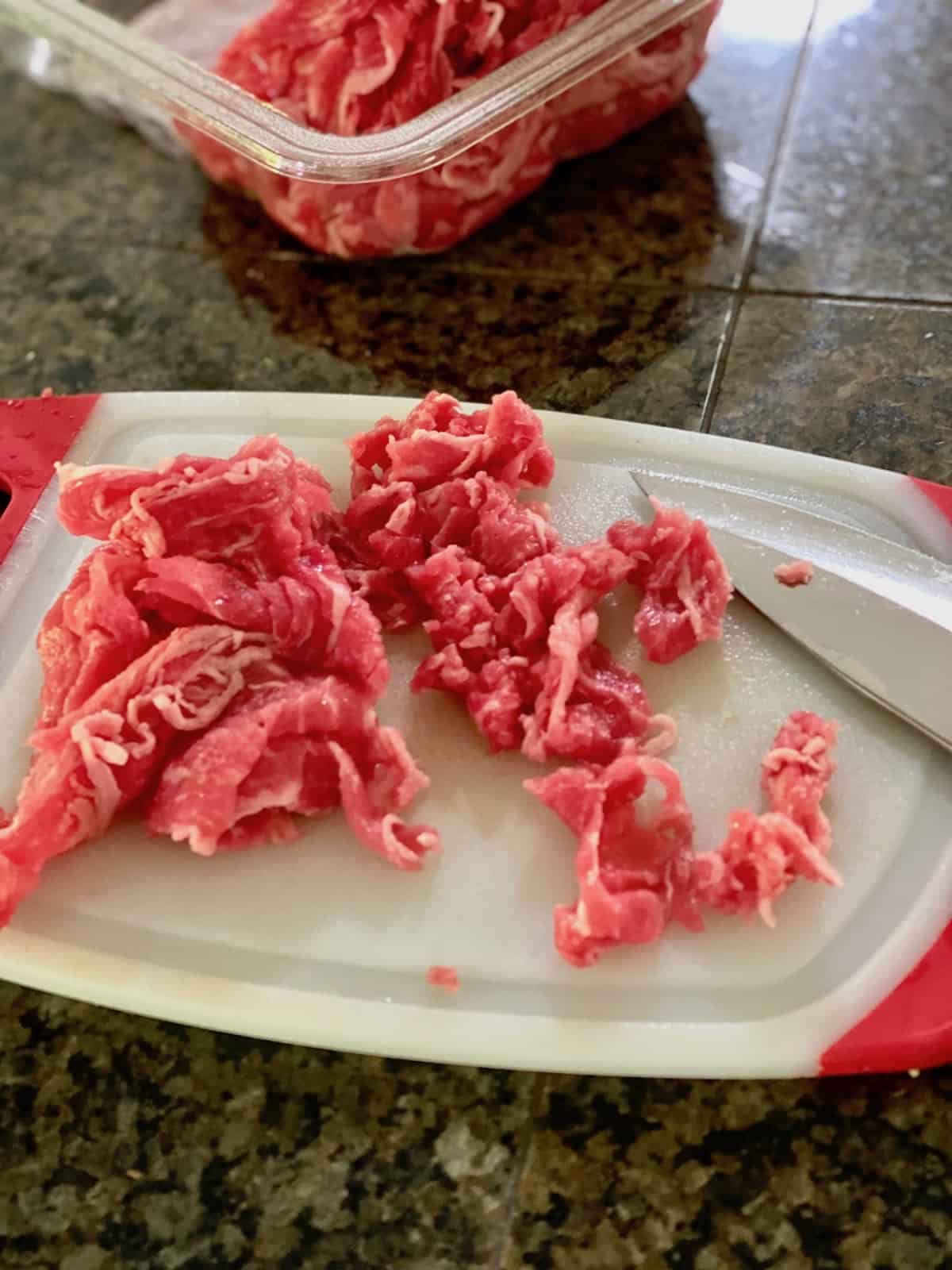 Products in this Article
Here are the current prices and descriptions for the products shared here today. I hope you find the knife or knives you need to make life so much easier in the kitchen.
The Short Order Cook is a participant in the Amazon Services LLC Associates Program.  As an Amazon Associate, I earn from qualifying purchases.  If you click on a link and make a purchase, I may earn a small commission on the sale at no additional cost to you. This helps with the costs of running the blog. Thank you!  
Which knives do you love for cutting raw meat? Are any of these ones you already own and love? I own a few Henckels and Wusthof personally and cannot recommend them enough! We also love our electric knife.