Most professional chefs agree that a chef's knife is the most important tool in the kitchen. The good news is that they don't need to be expensive to be high quality, sharp, easy to handle, & top-rated. Discover my top recommendations for the Best Chef's Knife under $100 & add to your collection without overspending.
Every kitchen needs a quality chef's knife. A good one will help slice, dice, chop, & mince with ease & precision. These chef's knives that cost under $100 prove me right for handling most everyday cooking tasks. If you cut a lot of meat at home, try these knife recommendations for butchering raw meat at home.
Jump to:
My Professional Experience
There are many top 10 lists out there for everything. This buying guide is not like the others. I have personally used or owned all these brands of chef knives. I have first-hand knowledge & experience in my personal chef career using these chef's knives. I have taken into account their sharpness, durability, precision, price, & quality. All are easy to hold, use, clean, & maintain.
Over the years I have helped clients equip their home kitchens with the best tools, appliances, & gadgets. One of the first items I suggest is a good set of quality knives. This is the most important tool for any home chef.
Please be confident that all of these products are recommended & reviewed based on my actual professional cooking experience. After decades of chopping, slicing, dicing, & preparing food for clients, these chef's knives are the best of the best. Buy one for yourself and a second one as a gift - they are that amazing & inexpensive.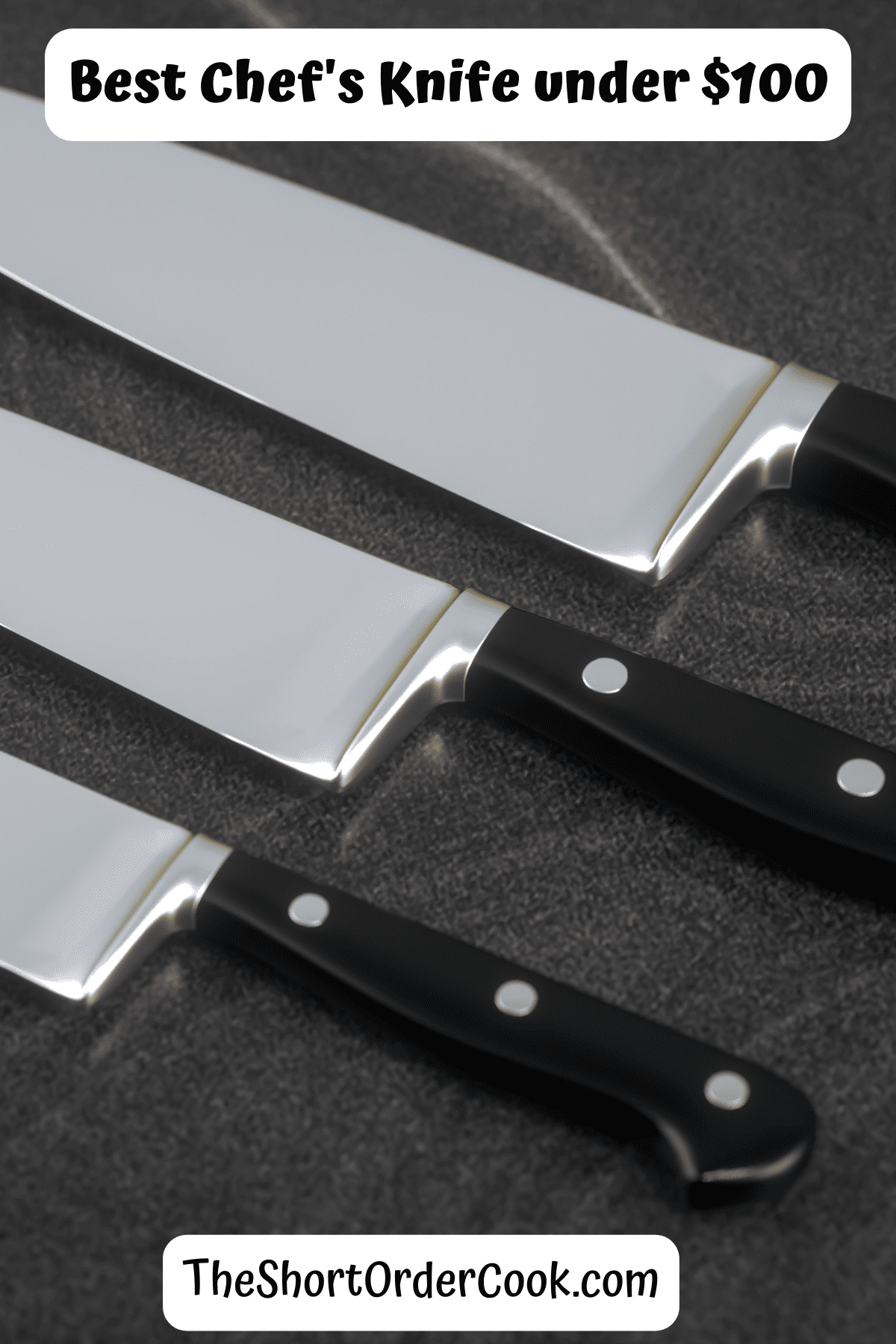 What to Look for When Buying A Chef Knife
Here are the attributes to consider & pro tips when looking to buy a new knife. This is especially true for one you will use daily in your home cooking, such as a chef's knife. Keep these suggestions in mind before deciding to press BUY!
HANDLE - wood or metal will last longer than plastic. Wood may absorb more bacteria over time but keeping it clean is easy. Buy one that will fit your hand size & is easy to grasp. Do not worry about the tang for strength & durability - most these days are just fine for the home cook that isn't chopping bones.
METAL - stainless steel will be easy to clean and is less expensive than carbon or forged metals. They are also easy to care for and stay sharp with little maintenance.
STYLE - pick the kind that is best for you & your cooking skills or the types of recipes you make often. If you're just starting out & on a budget, the best choices are Western, Santoku, or Hybrid (or Gyutou) chef's knives.
SIZE & WEIGHT - consider how big, heavy, & dimensions the knife is. This includes the blade & handle. Also if it will fit in an existing butcher block or drawer for storage.
EASY CARE - most home cooks are not getting their knives professionally maintained & sharpened on a regular basis. Do you want one that is dishwasher-safe? Brands that are easy to clean, sharpen, store, & care for are ideal.
CUSTOMER REVIEWS - you can learn A LOT from the experience & opinions of others. Read the customer reviews for the chef's knives to find the pros & cons of each product before purchasing it. Discover things like durability, sharpness, & how easy it is to cook with.
Side note: Chef knives are great for cutting meat, vegetables, & more. No matter what you cook they are a best buy. A chef's knife is important for prepping many of my top recipes slicing grilled tri-tip steak or slicing sweet potato fries.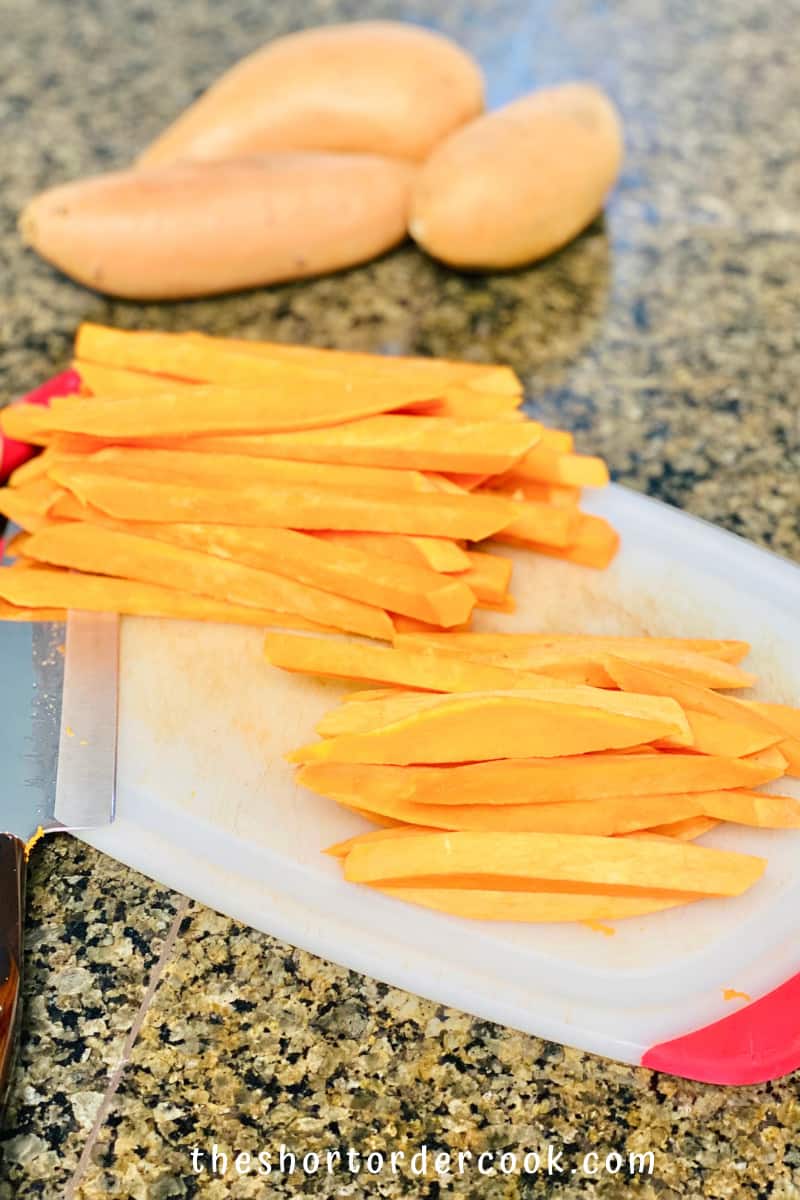 Top-Rated Chef's Knives Less than $100
If you're in the market for a new or additional chef's knife for your collection of cutting tools without breaking the bank, continue reading to uncover some of our top recommendations for the finest chef's knives priced below $100. Let's cut to the chase & reveal my top picks!
This kitchen knife is a pro in the kitchen. This 8" Chef's Knife is made of high-carbon stainless steel. The low price is amazing for the quality you get. The gyutou knife is classified and designed to be a multipurpose tool for professional applications. It cuts, dices, slices, and chops with precision.
It is also strong enough for butchering - cuts meat off bones. It comes with a HRC( Rockwell Hardness Scale) of 56-58 which makes it one of the toughest knives in its price class. Here are more reasons to love this knife with some pros & cons:
This Dalstrong brand knife comes in a variety of blade sizes including a smaller 6" size. For anyone in the market for a compact chef's knife, this is the best on the market. It has high carbon stainless steel with a black titanium nitride coating that is sleek & pretty. Here are more reasons to love this 6" knife with some pros & cons:
Yes, you can buy a quality chef's knife for less than $20! Who knew? Well, over 4000 customers do & have given this Utopia brand 4+ star ratings. The ultra-sharp blade with an ergonomic handle is a must-buy for anyone on a budget. Here are other things I love about this knife with some pros & cons.
This German company for 100 years has consistently made the best knives. They're engineered for quality, ease of use, & durability. For decades Henckles has been a top name in knife-making. I own several Henckles knives & for over 20 years and have loved them. Here is why I recommend this chef knife by Henckles & it is less than $50!!!
Like the one listed in #1, imark is a great brand of chef's knives. This smaller 7" blade is my top-rated chef's knife for beginners & home cooks trying to up their knife skills. I also recommend this knife for young adults & teens - with some supervision until mastered for safety reasons. Here is what you will love about this knife for new cooks & home chefs.
This is honestly my favorite knife at home. I use it daily and after 15 years it works as great as it did on day one. I have had to only sharpen it professionally once. It is easy to use and clean - all for about $100! It is often on sale for less but typically hovers around the $100 price range and is worth every penny.
My last personal chef client had this set in their home and I love it I brought my own knives when I cooked in other people's homes but found myself using theirs instead most of the time. This set is a great starter set and has 5 classic knives in it for most of your home cooking needs. And yes, all for under $100 - the ultimate knife set.
I received one of these as a gift years ago and still use it almost daily. So much to love about this dishwasher-safe chef's knife at a value price. You cannot go wrong with any knife made by Zwilling/JA Henckels.
Zwilling knives are built to last. These German-engineered craftsmen have almost 300 Years of masterful knife-making. They are the largest manufacturer of knives globally and for good reason - quality & customer satisfaction.
Stainless steel blade & handle
High-carbon German steel for quality
Full tang for good balance & durability
5-start customer reviews
Dishwasher safe!!!
If you are looking to buy a large 10" chef's knife for home use, this one by Dalstrong is the best value. Anytime you need a big knife to chop, dice, & slice a lot all at once, this is the tool for you. It is great for getting through large roasts, corned beef, or wide items like watermelons & pumpkins.
This 8" chef's knife is a great buy with overall satisfaction at price & quality. This knife is closer in price to $50 & has all the quality & sharpness you need from a good chef's knife. Besides that here are more reasons why this is the one I recommend to my readers, clients, friends, & family the most.
Great value priced around $60 typically
Made by the original Swiss Army Knife maker & 100+ years of quality
Stainless steel blade & no-slip easy grip handle
America's Test Kitchen agrees this is graded "Highly Recommend"
Lifetime guarantee against defects
Dishwasher safe!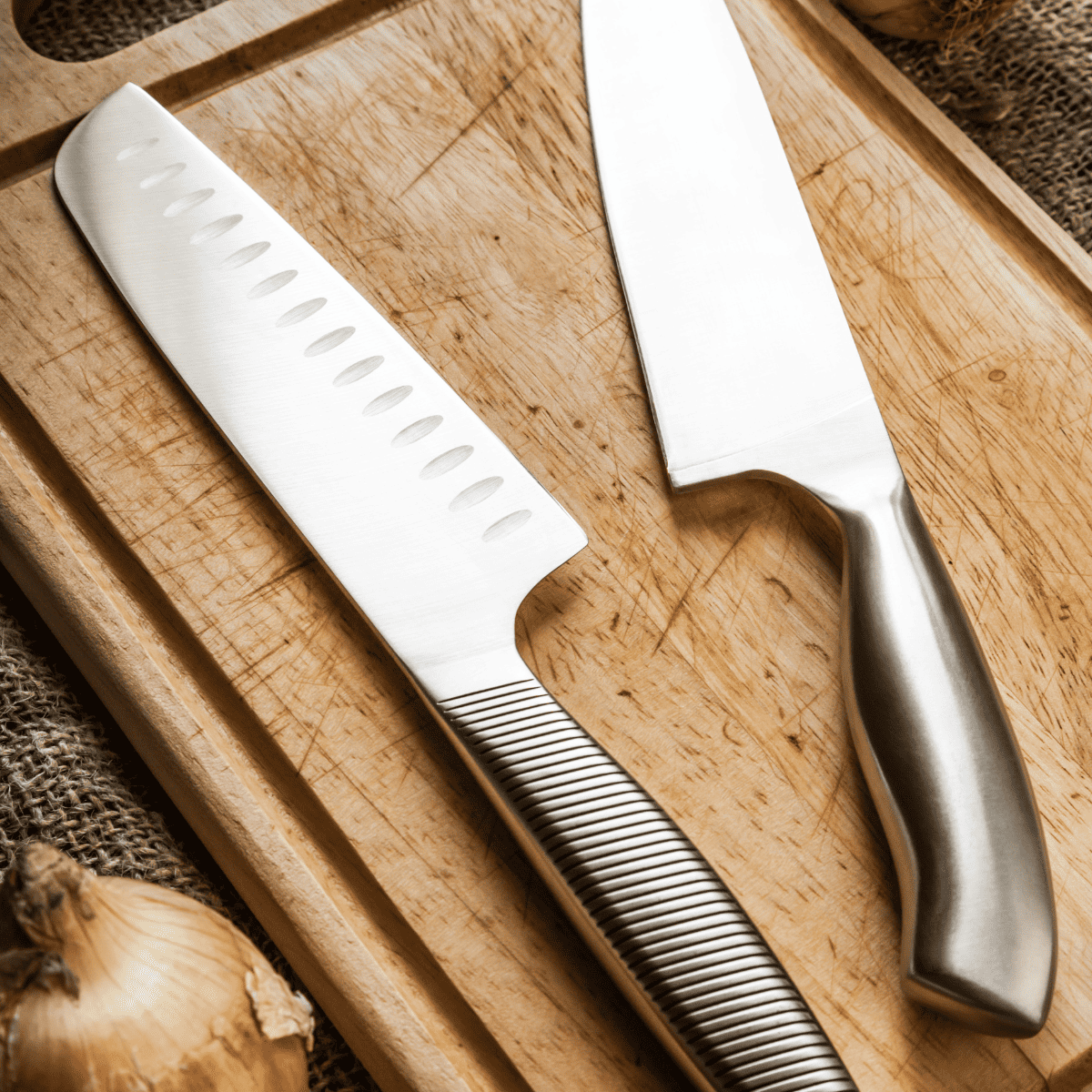 How to Buy the Best Chef's Knives for Under $100
Here is a summary of all the items shared in this article. The best picks for a new chef's knife for under $100 are listed below. Review the latest prices, customer reviews, features, & styles - BUY ONE TODAY for the best deals that are currently going on.