This easy recipe for coffee infused with olive oil is a must-try. This copycat of Starbucks' new drink line, Oleato, is velvety, & amazing! The rich buttery flavor is addicting. I know I cannot get enough of it already.
You have got to try this easy recipe for Starbucks-inspired coffee with olive oil. The drinks roll out in Italy this week and coming to America in spring - but I couldn't wait so had to try making it at home.
I cannot wait to try the drinks in the stores when they arrive here in California. I am not sure which I will try first but plan to make some copycat recipes as soon as I can. I love unique coffee drinks which is probably why I love my copycat recipe for Philz Mint Mojito Ice Coffee.
Starbucks announced it will have an Oleato latte with oat milk & olive oil, and an Oleato iced espresso with oat milk, hazelnut syrup, and olive oil. Finally the Oleato golden foam cold brew, with sweet milk foam infused with two olive oil servings. I have tried to make the hot version of the golden foam brew here today without the milk.
Jump to:
Ingredients
Now since I don't work at Starbucks and I am not a barista, I do not know exactly what goes into their coffee & olive oil beverage. But since I have been making coffee with butter for years, I used my experience to create something yummy.
It begins with the obvious ingredients, coffee & good-quality olive oil. I recommend using extra virgin olive oil for great taste & health benefits. The healthy fat added to your morning cup of coffee adds a sensational smoothness you won't be able to resist.
Begin with brewing your favorite cup of coffee. This may be regular, decaf, brewed, a K-cup, or make coffee in a french press. Since this is a copycat recipe from Starbucks, I used my Keurig to blend a KCup French Roast. Nespresso coffee I tried also the second time I made it and that was delicious too! The Italian in me just had to try it!
Fresh Brewed Coffee
Extra Virgin Olive Oil
cream, sugar, etc - optional ingredients.
See the recipe card for quantities.
How to Make Coffee with Olive Oil
There are only 2 simple steps to making olive oil coffee at home. And since it only has 2 ingredients, nothing really can be easier than this.
Begin by gathering the items you will need. Grab the coffee you will be making & a handheld electric milk frother. If you do not have a frother see my hint in the next section for other tools you can use.
Next, grab a coffee mug that is about 25% bigger than what will hold the coffee you will pour into it. You need the extra space for adding the olive oil & whirling it with the frother. If you don't have that extra space it will splatter everywhere.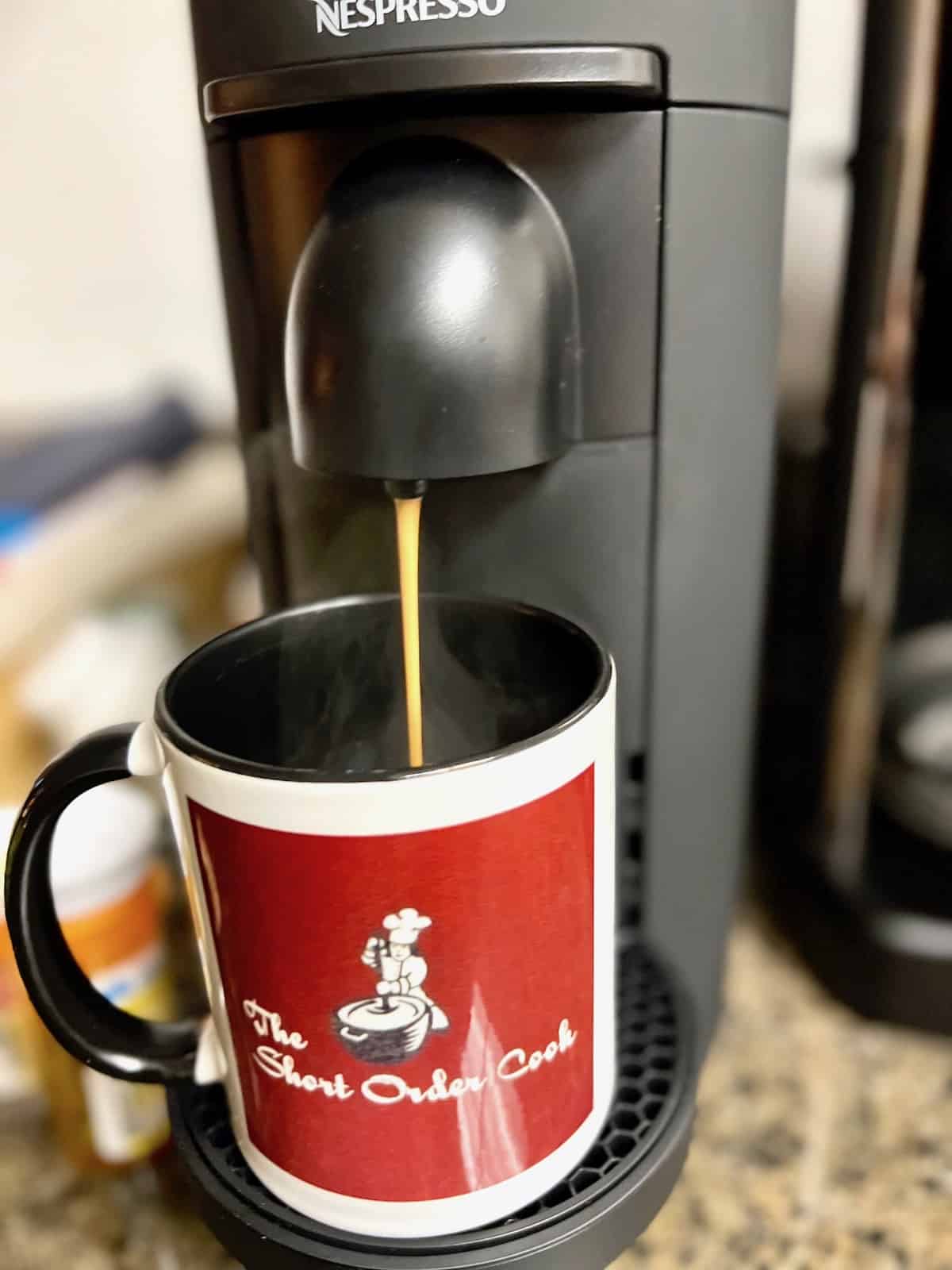 Brew or pour your favorite coffee into the large mug.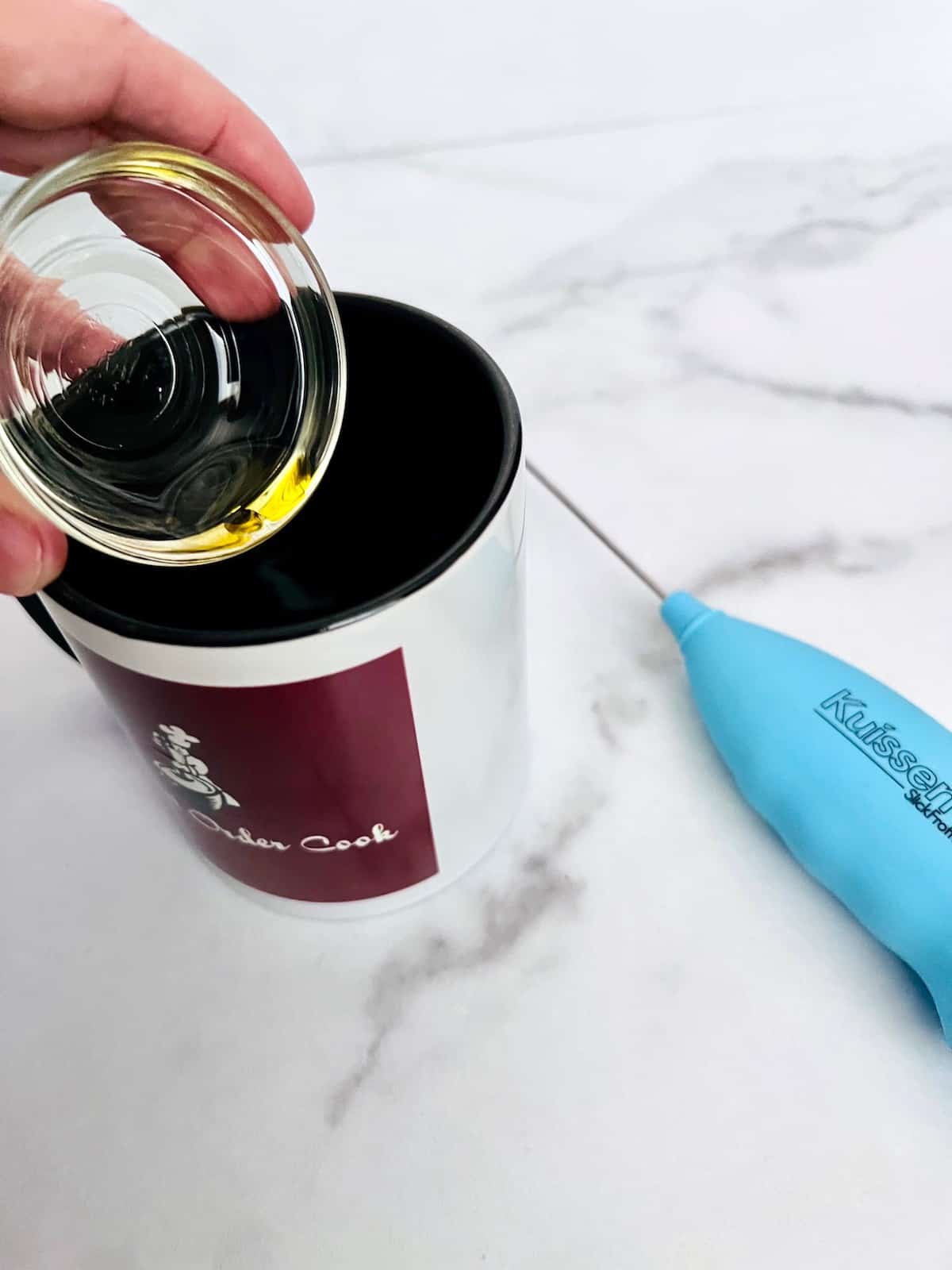 Add 1 tablespoon of extra-virgin olive oil.
How Much Olive Oil to Put in Coffee?
I have enjoyed MCT oils, coconut oil, butter, and other fats in my coffee for years. The bulletproof coffee trend has been around for a long time and those on a keto diet love it. This reminds me of that so I had to try it!
I took my lead from what I have been doing when mixing up bulletproof coffee at home. It is usually 1-2 tablespoons of anti-inflammatory fats such as ghee or unsalted grass-fed butter. So this is where I started.
To "infuse" the coffee with the olive oil, simply pouring or stirring it in was not going to do. I wanted the two to marry & come together as one to result in a smooth creamy texture.
Instead of brewing and adding everything into a blender, I opted for using my handheld electric milk frother. This inexpensive small gadget is a coffee lover's must-have toy. This helped keep my coffee hot and not too bubbly - but rather creamed.
How to Make Olive Oil-Infused Coffee
Here are the steps I took to infuse the olive oil in a cup of freshly brewed coffee.
HINT: If you do not have a frother, you can place everything in a blender. You can also use a small whisk with the ingredients in a tall wide glass or even a cocktail shaker, then pour it into your favorite coffee mug.
Create Foam with a Frother
To actually immerse the two flavors together, a milk frother is an easy tool for the job. If you do not have one, here is the model I recommend. It is easy to use & clean - plus it is a cheap gadget you will use all the time.
Dip the milk frother into the coffee mug so that it is submerged at least ½ way down into the liquid. Press it on & off slowly to pulse as you move it up and down slightly.
Gently blend the coffee & olive oil together with the handheld electric milk frother until the top is frothy. There should not be a visible oil slick on the top of your coffee. Instead should be a gorgeous golden froth of olive oil lusciousness. OMG, it smells amazing!
Add anything else you desire - creamer, milk, sugar, sugar substitute, etc. I love it just as it is with the two ingredients only. I recommend frothing or streaming your dairy or non-dairy milk with olive oil for a doubly creamy delight!
The golden bubbly foam on top is so pretty. One sip of the olive oil foam and you will know why Starbucks hopes this is a new coffee ritual you will get behind.
Here is a side-by-side image of black coffee next to the olive oil coffee. The difference is the light brown foam on top after infusing the coffee with olive oil that is whipped and frothy. That foam layer is irresistible.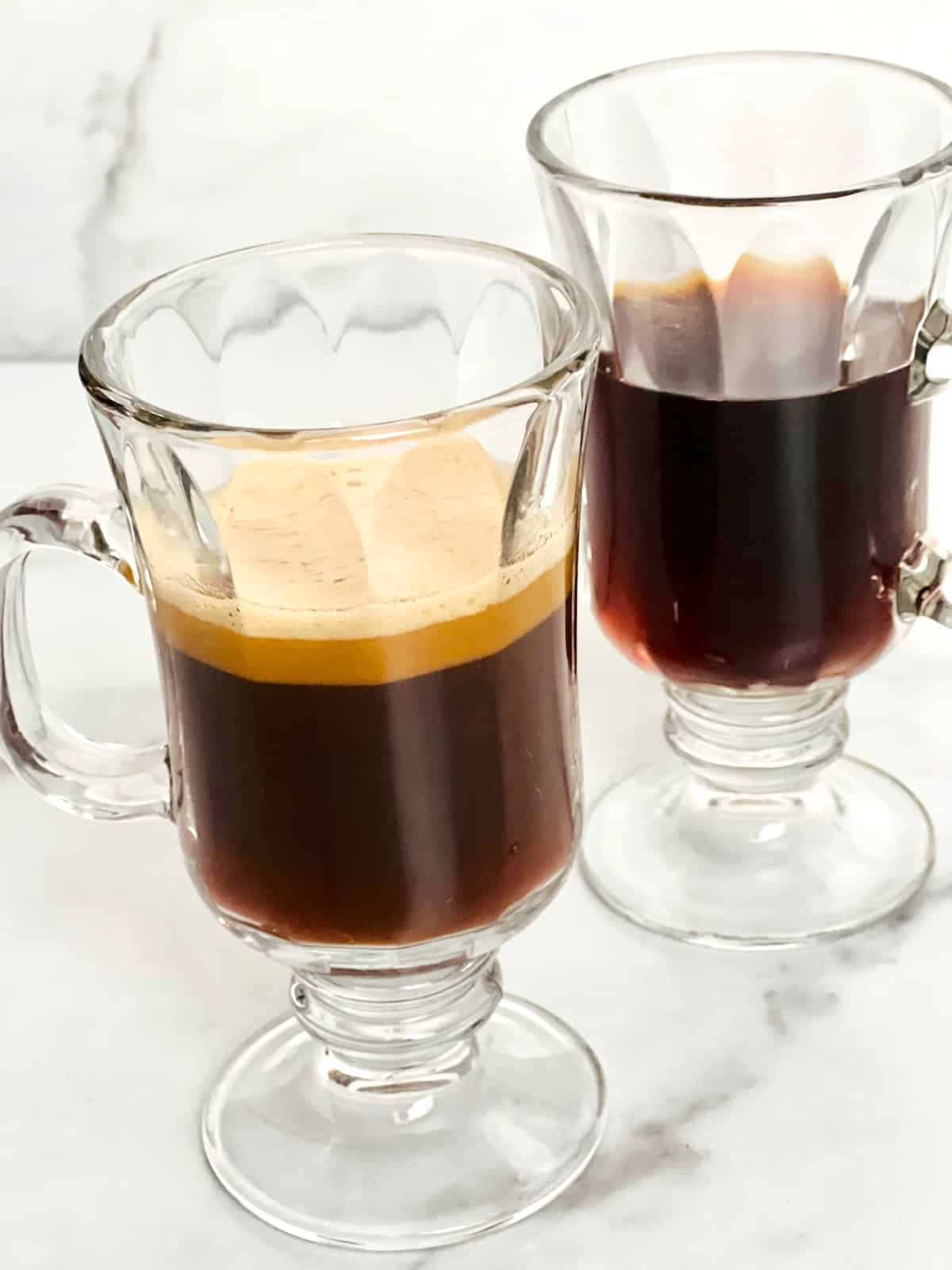 Benefits of Olive Oil in Your Coffee
I am not a doctor so I will leave that up to the professionals. However, here are some great articles you can read to understand more about the health benefits of olive oil. Once you decide it is for you, adding it to your coffee cup daily may be just what the doctor ordered.
Heart Health - the American Heart Association shares many articles and studies on adding olive oil to your diet.
Anti-inflammatory - Harvard Medicine shares information on the anti-inflammatory benefits of olive oil.
Other - 11 benefits are outlined in this article at Healthline.
Equipment
Besides coffee & olive oil, there isn't much more to this recipe. However, you may want to upgrade your coffee maker or purchase an inexpensive handheld milk frother. Here are products I recommend for making a damn fine cup of coffee (sorry I am a Twin Peaks fan).
The Short Order Cook is a participant in the Amazon Services LLC Associates Program. As an Amazon Associate, I earn from qualifying purchases. If you click on a link and make a purchase, I may earn a small commission on the sale at no additional cost to you. This helps with the costs of running the blog. Thank you!
Top Tips
All of these great tips are shared in the recipe. But these are so good and important they are worth mentioning again so you don't miss them.
Brew your favorite cup of coffee.
Try adding 1 tablespoon of olive oil for the first time. Then build up to more as you enjoy it.
If you don't have a hand frother, blend or use a whisk. Adding air helps infuse the coffee with olive oil.
Try it hot, iced, or even blended.
The CEO of Starbucks has been quoted as saying he hasn't been this excited in 40 years. He came up with the idea while in Sicily. Now you don't have to travel that far or even drive to a Starbucks to enjoy it. Make your own coffee with olive oil at home & see what all the excitement is about.
FAQ
What does olive oil coffee taste like?
Each person's taste buds may taste different to each person. For me, the best way to describe it is - a balanced flavor with hints of buttery, fruity, & floral notes from the olive oil paired with the bitter, chocolatey, & astringent boldness of the coffee. It has a velvety texture that is smooth & creamy without any dairy. I love it!
What kind of olive oil does Starbucks use in its drinks?
I do not know for sure but this article for Starbucks talks about Castelvetrano olives by Partanna. So if you can find this type of olive oil, purchase it for a more authentic flavor. You can find olive oil made by Partanna at Amazon or locally in some grocery stores.
Coffee with Olive Oil (Oleato)
This easy recipe shows you how to infuse olive oil into coffee for a fresh take on the new Starbucks drinks. This amazing drink is so delicious with a rich buttery flavor and a silky texture. It will be your new healthy favorite caffeinated coffee drink with just one sip. Great for any coffee, hot or iced, blended, decaf, etc.
Equipment
 handheld electric milk frother
Ingredients
1

cup

freshly brewed coffee

1

tablespoons

extra virgin olive oil

 Partanna is what Starbucks uses 
Instructions
Brew your coffee in a mug that can hold about 25% more than what you will be pouring or making. You want a mug large enough to have the space to froth the olive oil in it without it overflowing, splattering, & making a mess.

Brew your coffee and pour it into the mug. Or if using a Keurig or Nespresso, make the coffee directly into your large mug.

Add 1 tablespoon of extra virgin olive oil.

Using a handheld milk frother, begin blending the two ingredients together. Dip the milk frother into the coffee mug so that it is submerged at least ½ way down into the liquid before turning it on.

Add optional sweeteners or creamers, dairy, or non-dairy milks at this time.

Press it on & off slowly to pulse as you move it up and down slightly.

Gently blend the coffee & olive oil together until the top is frothy and golden in color.