There are a lot of foods that are brown that you can enjoy raw or in some delicious recipes. Brown foods can have that color naturally or by a process like cooking, roasting, or dehydrating. However these foods become brown, they should be part of your diet. So enjoy your favorite brown foods and recipes for dinner, lunch, breakfast, snacks, parties, birthdays, and more whether you want something sweet or savory.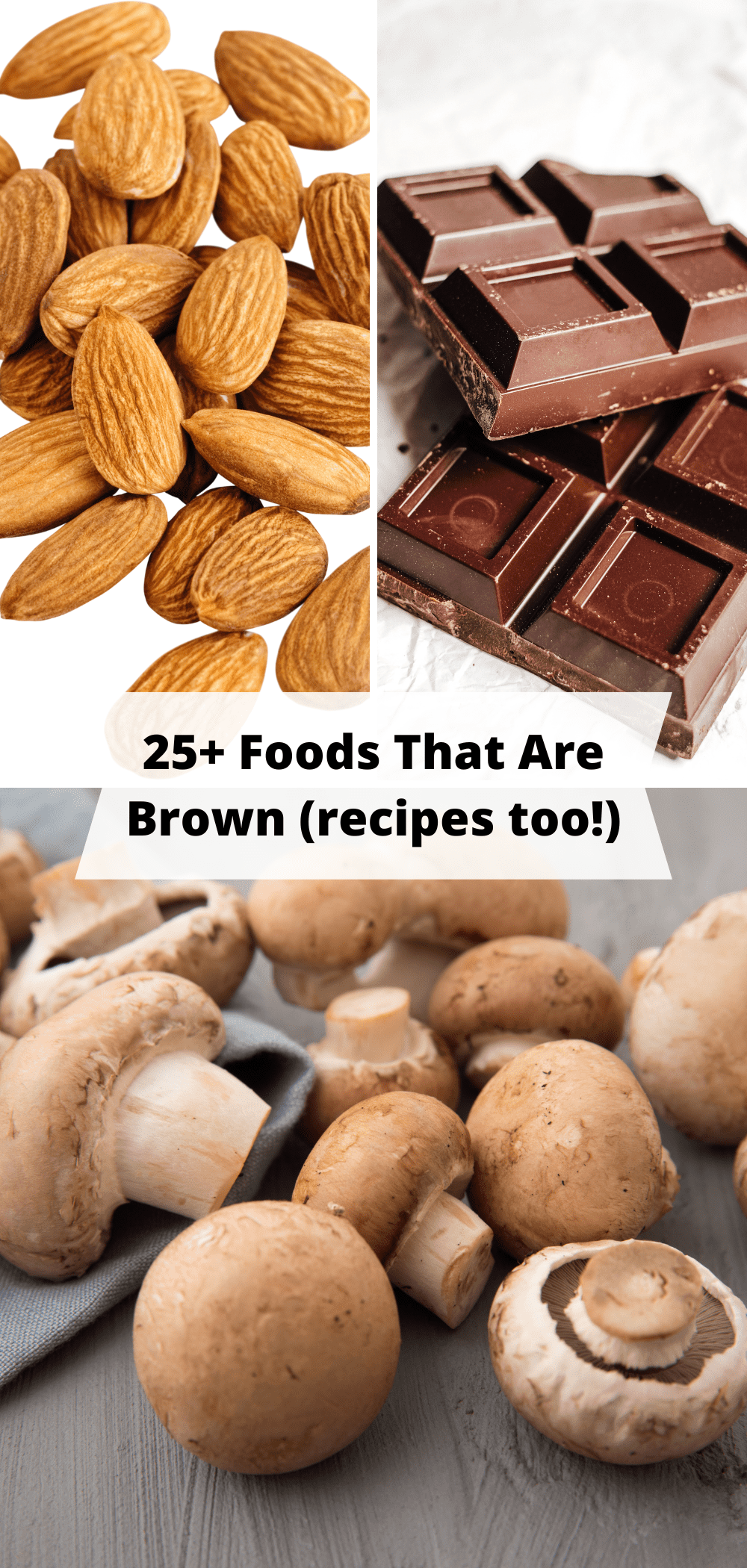 Jump to:
What Types of Foods is Brown?
Brown foods include nuts, seeds, grains, spices, and produce. Using one or a combination of them in recipes often makes those foods brown as well. Enjoy brown foods to help you stay healthy. Many of them have high in fiber and potassium. Plus some like nuts, legumes, & seeds are also great sources of plant-based proteins and fats.
I love many brown foods. Mushrooms are naturally brown and are key to my favorite keto mushroom soup recipe. I also love slow-cooking onions to caramelize them to a lovely golden brown for my bacon mac & cheese recipe.
This article will explore all the most popular brown foods no matter how they got that color. Many even have the word brown as part of their name like brown sugar.
Why Some Foods are Brown?
They can be brown naturally, or they become brown after time or processing. For example, roasting some nuts can change them from an off-white color to a light or deep brown color. Roasted pumpkin seeds come to mind as an example.
Oxidation can cause browning too. Enzymic browning is an oxidation reaction that causes some food, mostly fruit, and vegetables, to turn brown. It is a chemical reaction that is natural.
This is different than the Maillard reaction which is non-enzymic and is the reaction between reducing sugars and proteins by the impact of heat. Like caramel, apples, and brown sugar, which combine for one amazing pie!
Naturally Brown Foods
These foods are brown by nature. Whether they are beige, light brown, or dark brown, they are all delicious. This includes nuts, fruits, and vegetables.
Almonds
One of the most beloved nuts, almonds, is a top choice for brown foods consumed in America. Whether it is almond milk, almond flour, or a handful of delicious nuts, almonds are a great addition to any healthy diet.
Brown Mushrooms
Many brown mushrooms also have other colors like white as part of their makeup. But we will place them in the natural brown category since they are predominantly brown in color. Common types of brown mushrooms include cremini, portabello, porcini, & Shiitake.
Brown Rice
Brown rice is a whole grain. The brown outer shell or the hull, husk, and bran has not been processed or removed. White rice is the same grain. It just has been processed to remove all the outer layers. For this reason, brown rice tends to be higher in fiber. This often makes brown rice thought of as more healthy or nutritious.
If fiber is what you need, then rice it would be better to eat the whole-grain brown rice version. However, for someone like myself with an inflammatory disease, grains are not my friend so eat what works for you.
Cinnamon
This common spice is a lovely shade of brown. It comes from the inner bark of trees, hence the color. It is a warm and spicy addition to both sweet and savory dishes. If you make cinnamon toast you get the ultimate brown breakfast treat!
Flaxseeds
Flaxseeds can be brown or yellow in color. These are a bit of a superfood with a lot of health benefits. The antioxidants in flaxseeds make them a great addition to baked goods, smoothies, and oatmeal.
Hazelnuts
Another nut that is brown in color. It is deep and rich and sure makes something wonderful when added to cocoa - Nutella! It's what makes my bundt coffee cake with Nutella swirl so amazing.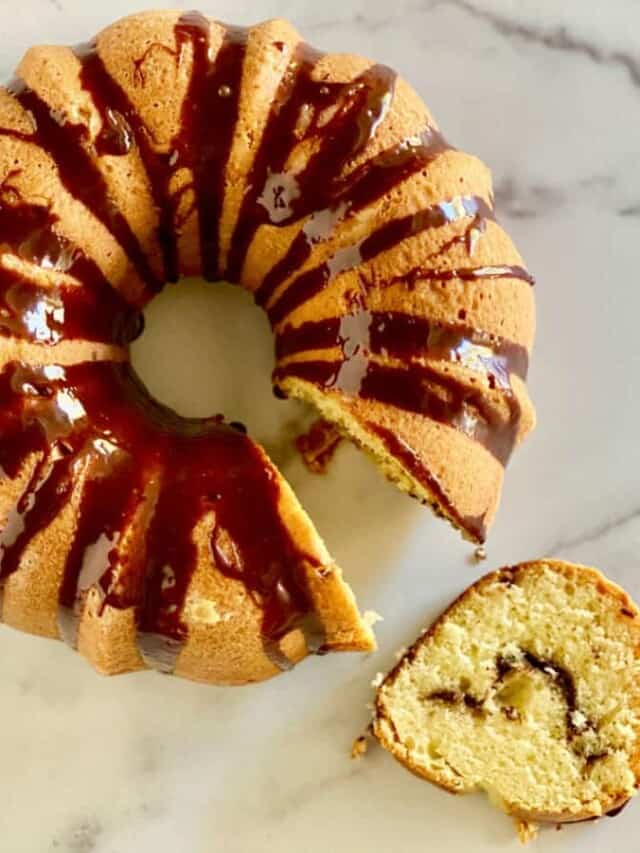 Maple Syrup
Maple syrup is naturally brown when it is tapped from the tree. However, the boiling process that thickens it and makes it more "syrupy" does deepen the brown color. Maple syrup starts off brown plus also goes through a process to become dark brown.
Maple syrup is great on breakfast foods like pancakes & waffles. You can bake with it as well but note that it has just as much sugar as refined or granulated sugar so thinking it is healthier is a myth.
Peanuts
Raw peanuts are reddish-brown in color. When roasted or pulverized into heavenly peanut butter, the brown color turns less brown and is more beige. Peanuts are a popular nut in America but not as widely enjoyed in other countries.
Pecans
Another nut for the list of brown foods. Similar in shape to the walnut, these nuts are a staple in many southern desserts and savory dishes. Nothing sweeter than pecan pie but just as delicious raw on a fall harvest salad.
Tamarind
Tamarind is the edible fruit of tropical trees. The flavor of the fruit ranges from sweet, to sour to tangy, similar to a tart citrus fruit. It is often enjoyed as a paste, in candy, and as an ingredient in curries and sauces.
Foods that Turn Brown due to Processing
These foods are not brown naturally. However, the Maillard effect comes into play. They are roasted, cooked, toasted, or heated by some other process to change the color. These foods are often white or some pale shade to begin with and then become brown later.
Brown Sugar
The added molasses is what gives brown sugar its distinct color. The deep dark molasses adds moisture and color that makes brown sugar different than granulated sugar. White sugar with the addition of molasses not only changes color to brown but lends a caramel-like flavor that makes brown sugar even more delicious if you ask me.
Brown sugar is used in a lot of baking recipes from cakes and cookies to pies and bread. It is no healthier than regular granulated sugar or molasses on its own. Sugar should be limited in any healthy diet but enjoy those special baked desserts.
Caramel
Caramel is made when cream (and maybe other ingredients like salt or vanilla) are slow-cooked over low heat. That "caramelization" of ingredients becomes a right light to deep brown color. Depending on how long it is cooked the deepening continues.
Chocolate
Unprocessed seeds are a deep red color, almost purple. Once the cacao is processed they get a deep dark brown color. It becomes light brown like other ingredients like dairy and sugar when making milk chocolate. I don't know about you but any color that chocolate comes in, I am eating it!
Coffee Beans
Coffee doesn't start off rich and dark. The brown color that coffee gets only comes after the beans are roasted. Coffee beans are naturally green when harvested. The coffee cherries that are picked are yellow or red but the beans inside are green. The roasting process is what changes that color that we all know so well.
Meats
Meat is bright red, pink, or white naturally. The colors do vary but none are naturally brown. The meat turns brown either from cooking it or by it being exposed to air. Dry-aged beef is a wonderful natural process that does create a "crust" on the outside of steaks that does have some deepening in the color of the flesh as well.
When sauteeing or pan-cooking ground beef, for example, most recipes call it "browning the meat". That is for good reason as it changes to meat color and when it is brown, that means it is cooked and ready for the next step in the recipe.
Molasses
You may think that molasses belongs in the naturally-occurring brown category that is listed above. But molasses is not an ingredient that comes directly from nature. Refined sugarcane or sugar beets are what create the thick sweet syrup-like sweetener known as molasses.
Molasses gives a deep dark color to things you bake like gingerbread cookies or brown bread. It is also used in making rum! So much to love about this sweet liquid.
Pumpernickel
True pumpernickel is a deep medium to dark brown without any added colors or ingredients, like molasses or treacle. The dark bread that is served in many steakhouses in America is often made with one of these versus the slow-baked way.
What turns this rye bread into a deep color is the slow baking process. Traditional German pumpernickel recipes call for a slow steam-like baking process at a low temperature.
Raisins
Unlike most in this category, raisins don't get their brown color from being cooked. Raisins are brown from the dehydration process that grapes go through. There are also golden raisins but most raisins enjoyed are brown. These green or red grapes become dark brown as they shrivel and dry.
Toast
Simple toast cannot be left off this list. Take any bread and when you toast it, the color will change. Whether you toast sourdough, rye, white, wheat, or even pumpernickel (which is already brown), every type of bread will turn brown. This in my mind is the easiest example to remember the Maillard reaction.
Toffee
Bring butter and sugar to a slowly simmered and you have toffee. Making homemade candy like toffee takes ingredients and changes them to make this rich, shall I say buttery, recipe. I have been making toffee for years. As it changes from a light to deep amber color, I know exactly when it is ready now before I even have to look at the candy thermometer.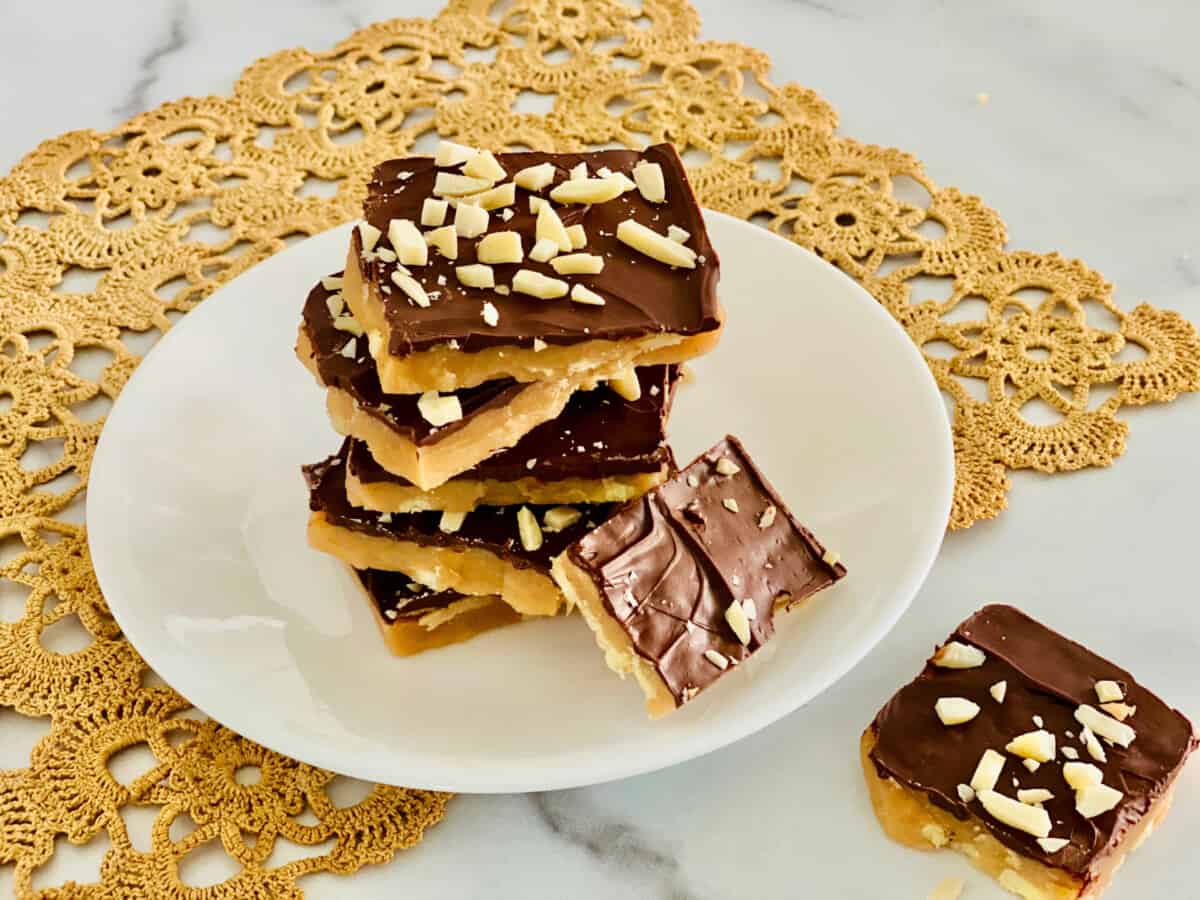 Brown, Tan, & White Foods
These foods have a variety of colors to make them delicious. These foods have a combination of colors including browns, tans, beiges, and whites.
Brown Eggs
Brown eggs have a shell that is brown instead of white or any other color. However, inside the contents are not brown. The yolk and egg white inside are the same whether the eggshell is blue, brown, or white.
Chestnuts
You may roast them over an open fire, but even before roasting these nuts are a gorgeous dark brown. They also have white meat inside which is bitter when raw but buttery and sweet when roasted.
Chickpeas
They are beige on the outside and white on the inside. Raw chickpeas/garbanzo beans are bright green and fuzzy. Once soaked and processed they turn light brown. These legumes are a staple in many diets and pack a good protein punch.
Coconut
The first thing that comes to my mind when you ask which foods are brown and white, is coconut. This tropical delight has a distinct brown fuzzy shell and white coconut flesh inside. Coconuts also have a green-brown shell.
Mushrooms
Most mushrooms are a combination of browns and whites. They may have tan tops, dark brown gills, and white stems for example. This combination makes them often pretty and delicious. Even those called "white mushrooms", like the button variety, have a slight pale beige hue to them. With "brown mushrooms" being mostly brown to pale - they are in a natural category above.
Potatoes
Brown on the outside, white on the inside. The skins of some potatoes are brown while the flesh inside is often white or pale beige in color. Potatoes are a food that also oxidizes and will turn brown once peeled or cut. So cook them immediately or add them to a bowl of water to keep them white in color.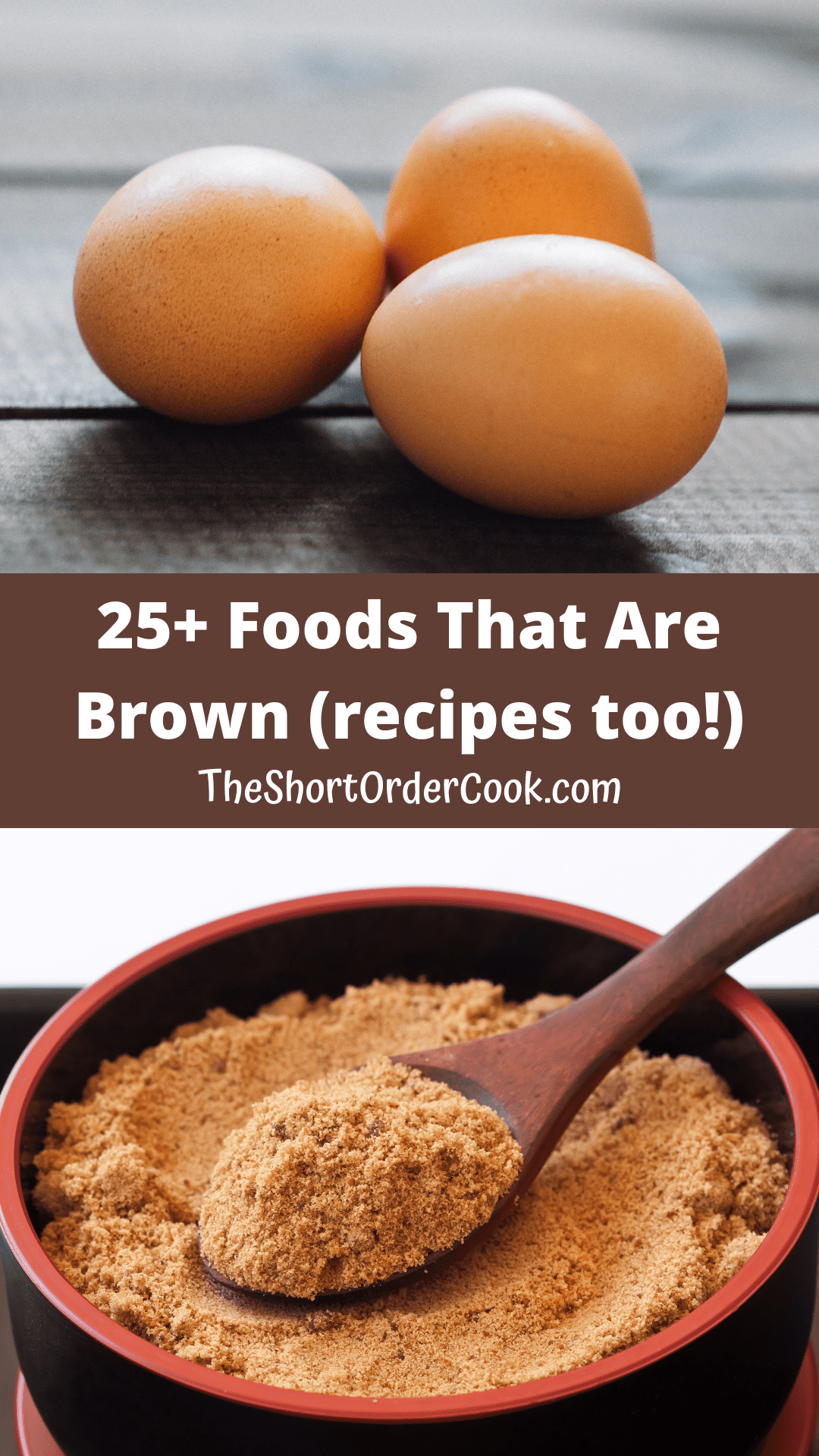 Recipes using Brown Foods
Here are some of my favorite recipes using foods that are brown. There is a range from soups to desserts. All are delicious and showcase the best of brown foods.