The best recipe for homemade cranberry sauce from dried cranberries. This quick & easy recipe makes a tasty sweet, tart, & bright combination. If you love a chunky whole-berry cranberry sauce, this is just the recipe you are looking for. The hint of orange is a great final touch.
This recipe is a classic Thanksgiving or Christmas dish to serve with your holiday turkey. It is so easy to make and tastes great so enjoy it all year long. You only need 6 ingredients and 15 minutes to make a fantastic homemade cranberry sauce. This is not the smooth jelly-like cranberry sauce that comes in a can; it's 100x better!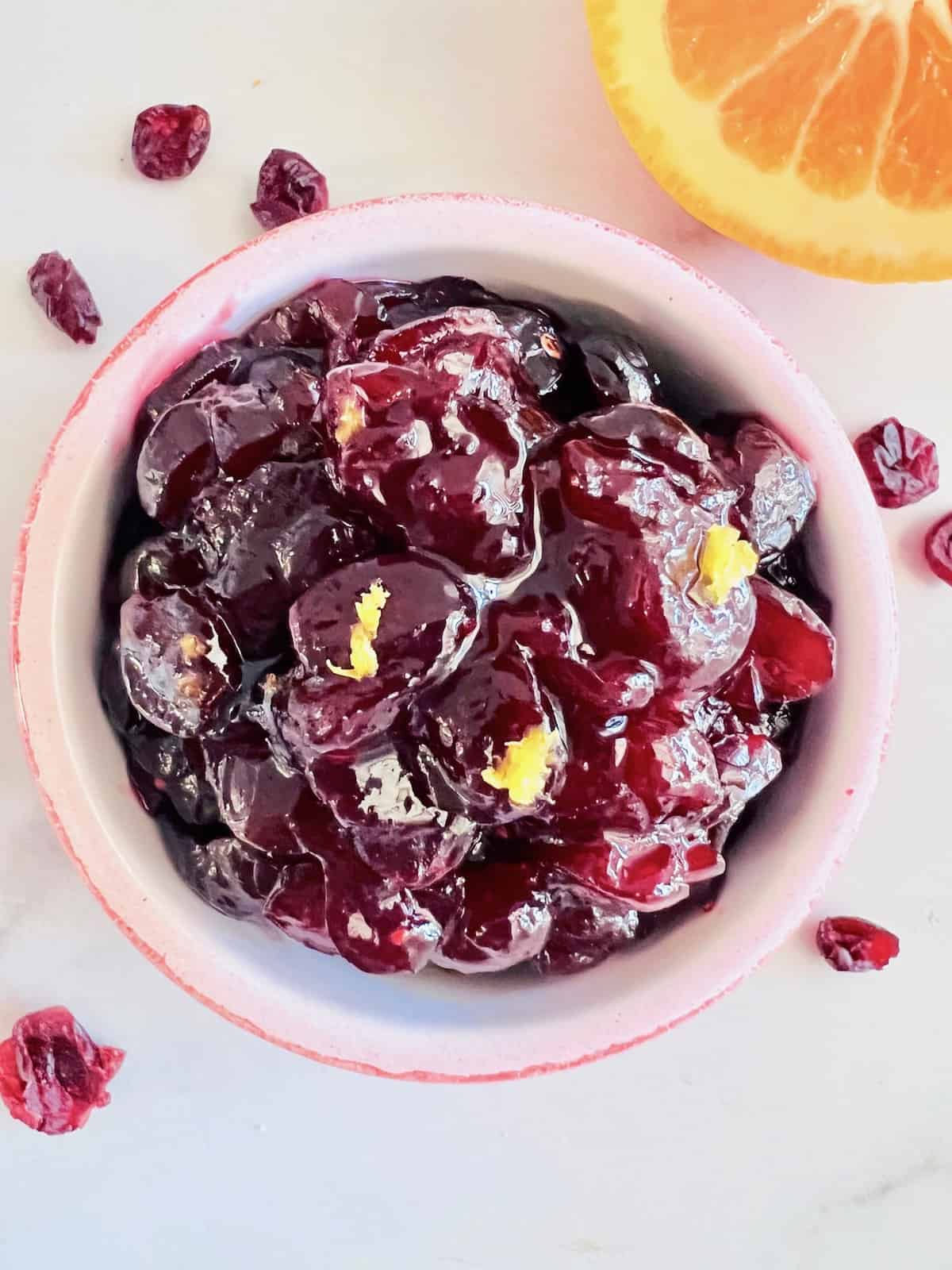 This homemade cranberry sauce goes well with pork, chicken, and in appetizer recipes. The ultimate tangy & bright condiment for sandwiches, sauces, & meats. It is also a lovely addition to desserts, quick breads, and breakfast.
Serve this recipe chilled or at room temperature. It is also wonderful warm on a turkey sandwich or mixed into a pan sauce to serve over pork tenderloin. This is a chunky cranberry sauce, almost like a relish. It makes a great topping for cheese spreads with crackers or crostini.
Jump to:
Ingredients
The ingredients for making cranberry sauce from dried cranberries are simple. They are all ingredients that are easy to find all year long. Let's be honest, fresh cranberries are only in stock at mainstream grocery stores when in season, October - December. You may only find them in the fall when Thanksgiving is just around the corner.
Besides water, this recipe calls for only 6 ingredients. You can use any dried cranberries. Craisins is a popular brand and makes a tasty cranberry sauce. Some may be flavored, try and use only plain dried cranberries that are sweetened.
All natural ingredients in this cranberry sauce. There is no high-fructose corn syrup when you make it fresh.
Dried Cranberries
Cranberry Juice
Orange Juice
White Sugar
Cornstarch
Salt
Water
Orange Zest - optional
See the recipe card for quantities.
How to Make Cranberry Sauce from Dried Cranberries
Using dried cranberries to make cranberry sauce is seriously the easiest. Instead of cooking fresh cranberries for hours on the stove or in a pressure cooker, this recipe takes only 15 minutes from start to finish.
You will basically be reconstituting the dried cranberries. Along with the additional sugar and flavors, it all comes together quickly.
Add all the ingredients, except the cornstarch and 2 tablespoons of orange juice, to a medium-sized saucepan.
Over high heat, bring the mixture to a boil.
Once the cranberry sauce mixture is boiling, stir and turn the heat down to low. Continue to simmer for 10 minutes.
Next, in a small bowl make an orange juice and cornstarch slurry by whisking the two together. Pour into the cranberry sauce.
Continue to cook over low heat and stir. As the slurry heats up with the other ingredients, the cranberry sauce will thicken. It will have a nice shiny glaze over all the cranberry pieces. The sauce will be thick, syrupy, & stick to your spoon.
Once the cranberry sauce is thick, turn the heat off. Let the cranberry sauce cool slowly. Serve warm or at room temperature.
Hint: For some additional citrus and bright flavor, grate fresh orange zest into the cranberry sauce mixture. Be sure to only use the orange parts and not the white part which will make the cranberry sauce bitter. Stir in 1 teaspoon of zest and enjoy. It only takes a small amount to go a long way.
Substitutions & Variations
This recipe is vegetarian and gluten-free. If you have other dietary concerns or what to try a new variation of this recipe, here are some substitution ideas. If you want it smoother, chunkier, more sweet, or more tart, all those variations to this recipe are shared below.
Substitutions
Orange - if you don't have orange juice or zest, use water instead and add ¼ teaspoon of orange extract as a substitution.
Cranberry Juice - to make cranberry sauce without cranberry juice, use apple juice as a substitute.
Variations
Vegan option - instead of processed white sugar which is not traditionally vegan, use a brand that doesn't use bone char during processing such as Florida Crystal.
Saucier - if you want more liquid/sauce, add ¼ cup more water and ½ cup more cranberry juice.
Smoother Texture - if you like a cranberry sauce that is part smooth and chunky, use an immersion blender to puree ½ of the batch. Then combine the chunky cranberry mixture with the blended for a fun combination.
Extra Tart - use unsweetened or reduced sugar cranberries & only add ¼ cup of sugar instead of ⅓ to the recipe.
Extra Sweet - if this sauce is too tart for you, add an additional ¼ cup of sugar to the recipe. This may make it more kid-friendly as well.
If you love a smooth sauce instead, try my easy recipe with fresh cranberries - Cranberry Apple Sauce made in the pressure cooker.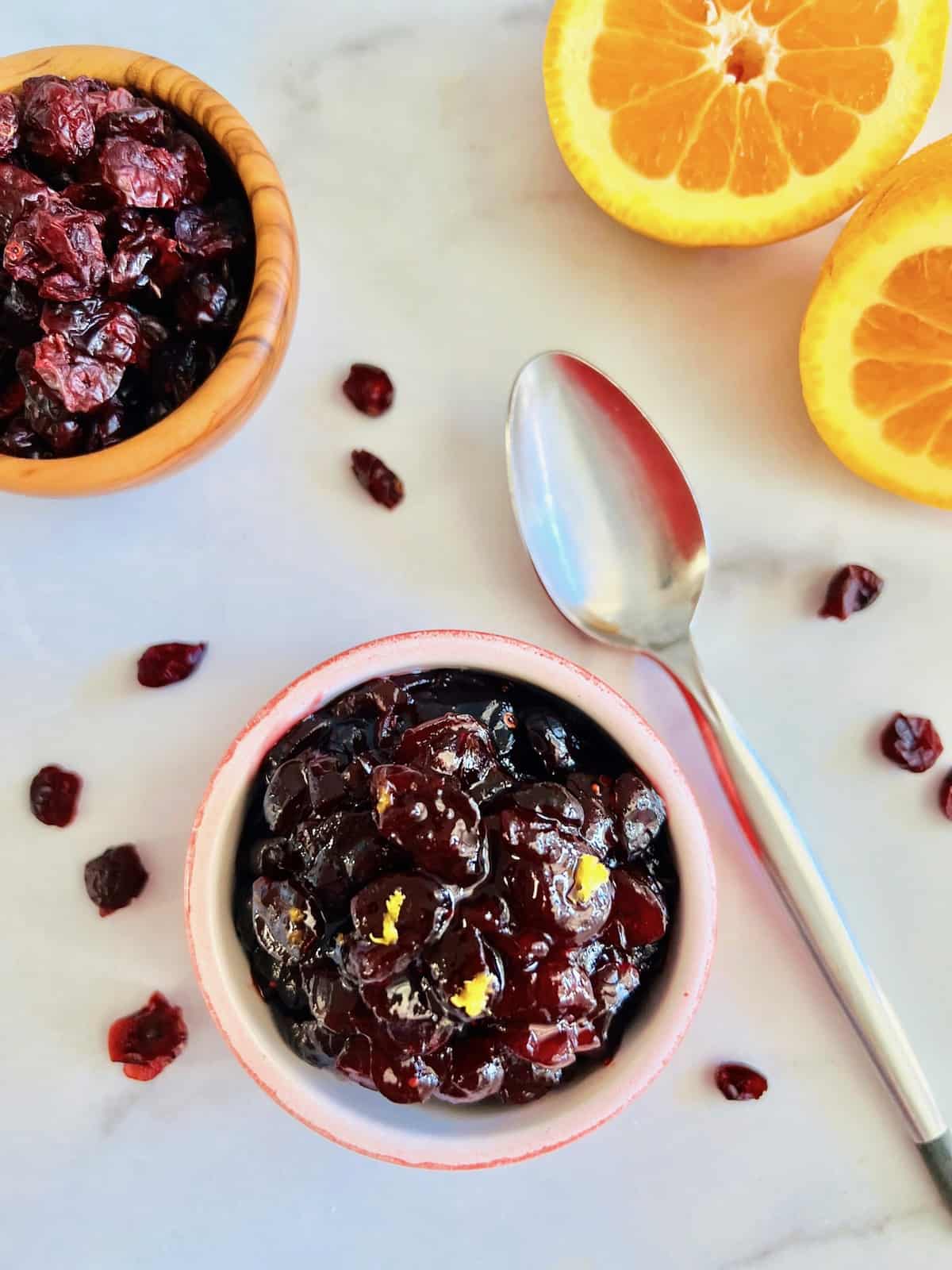 Equipment
No special equipment for making this easy cranberry sauce recipe. Here are recommended ingredients when preparing this recipe.
The Short Order Cook is a participant in the Amazon Services LLC Associates Program. As an Amazon Associate, I earn from qualifying purchases. If you click on a link and make a purchase, I may earn a small commission on the sale at no additional cost to you. This helps with the costs of running the blog. Thank you! Â
Storage
Fresh homemade cranberry sauce is a great make-ahead recipe. It is one of the best things you can make even weeks before your Thanksgiving or Christmas holiday meal. Store the cranberry sauce in an air-tight container in your refrigerator for up to 2 weeks. Bring to room temperature to serve.
Cranberry sauce can even be frozen. It freezes well and thaws easily to use later. Store in an air-tight container for up to 3 months in the freezer. Defrost by thawing the container for 1-2 days in the refrigerator.
Make-Ahead for Thanksgiving
If you are making this recipe for Thanksgiving or any holiday, my top tip is to make this ahead of time. It is a huge help to have one less thing to worry about cooking the day of or the day before Thanksgiving.
Follow the storage instructions above. Bonus: it tastes better the longer the ingredients sit and chill out together. Make a double batch and add some to pretty jars or bottles. This recipe makes for a lovely holiday gift.
What to Serve with Cranberry Sauce
Here are some great Thanksgiving recipes including turkey, mashed sweet potatoes, and more to serve with cranberry sauce. Also, some other ideas that go well with cranberry sauce. All of these pair well together.
Top Tip
If you love turkey cranberry sandwiches, then you will love this tip. Freeze individual-sized servings of this whole-berry cranberry sauce in an ice cube tray. Then when you want 1 or 2 sandwiches, defrost a cube or more. Viola - fresh homemade cranberry sauce without opening a can or having a bunch of leftovers.
FAQ
Are dried cranberries ok to use to make cranberry sauce?
This recipe proves that dried cranberries are fantastic to use to make homemade cranberry sauce. It is quicker than making a traditional recipe with whole fresh cranberries.
Can I use Craisins to make cranberry sauce?
Craisins is the term Ocean Spray brand uses on their package of dried cranberries. They are the same as using any other sweetened dried/dehydrated cranberries. Craisins work great for making cranberry sauce.
Can I use unsweetened dried cranberries?
Visit the search results to see which questions come up under the People also ask section for your primary keyword, and answer them here
Can I use cranberry juice cocktail or blend instead of juice?
Cranberry juice cocktail has added sugars and sweeteners. For that reason, if you use it instead of regular cranberry juice, your cranberry sauce may be overly sweet. If that is the taste you are going for though, go right ahead and use it for a less tart cranberry sauce.

A cranberry juice blend is not recommended to use in this recipe. You do not want to use Cran-Grape for example as it will add a different flavor to the sauce.
Are lingonberries and cranberries the same?
They are similar but they are not the same. I would not recommend substituting lingonberries in the cranberry sauce recipe.
Cranberry Sauce from Dried Cranberries
For the best recipe for homemade cranberry sauce using dried cranberries, try this easy recipe. It is sweet, tart, & tasty. It only takes 15 minutes to make a delicious chunky cranberry sauce. It is wonderful for Thanksgiving or any time of year.
Ingredients
2

cups

dried cranberries or Craisins

1

cup

cranberry juice

⅓

cup

granulated white sugar

⅓

cup

water

⅛

teaspoon

salt

¼

cup

orange juice

4 tablespoons - Divided

1

tablespoons

cornstarch

1

tablespoon

orange zest

optional
Instructions
Add dried cranberries, cranberry juice, sugar, 2 tablespoons of orange juice, water, and salt to a medium-sized saucepan.

Over medium-high heat, bring the mixture to a boil.

Once boiling, turn the heat down to low. The cranberry sauce will now simmer on low for 10 minutes. Stir occasionally scraping down the sides and making sure there are no big clumps of cranberries.

Once the 10 minutes is up it should be ready but thin. If you want a thicker cranberry sauce, add the orange juice and cornstarch mixture.

In a small bowl or pourable measuring cup add the remaining 2 tablespoons of orange juice and cornstarch. Whisk to combine.

Add the orange juice slurry to the cranberry mix. Stir to combine and watch the cranberry sauce thicken.

Turn the heat off. Stir in the optional orange zest.

Serve warm or let cool before storing for later. Enjoy.
Notes
Nutrition Facts
Servings: 10
Amount per serving
 
Calories
114
% Daily Value*
Total Fat 0g
0%
Saturated Fat 0g
0%
Cholesterol 0mg
0%
Sodium 32mg
1%
Total Carbohydrate 28.4g
10%
Dietary Fiber 1.6g
6%
Total Sugars 25.9g
 
Protein 0g
 
Vitamin D 0mcg
0%
Calcium 8mg
1%
Iron 0mg
0%
Potassium 17mg
0%
*The % Daily Value (DV) tells you how much a nutrient in a food serving contributes to a daily diet. 2,000 calorie a day is used for general nutrition advice.