For the best savory grilled boneless skinless chicken thighs, this easy recipe is simply perfect. It has it all - lots of flavors, quick to make, and common ingredients you likely already have. The dry rub for this recipe is sweet, spicy, and bold. So prepare your grill, rub on the seasonings, and in less than 30 minutes you have dinner.
Once you try this recipe, you will not barbecue chicken any other way. For juicy on the inside, charred & seasoned on the outside chicken, my grilling method is foolproof and effortless.
This article has links to products/services that may make us a commission. #ad
This grilled chicken thigh recipe is great for summer, holiday cookouts, and camping. But it is so yummy and easy to make that it should be part of your regular meal rotation. Whenever you can grill outside, cook this chicken. That is what makes this grilled chicken recipe so loved - those lazy summer days are for enjoying and not spending your time cooking a meal that takes hours.
Cooking chicken thighs on the grill is great for a weeknight family meal when you do not have a lot of time. In minutes dinner is ready and who doesn't love that? It is also wonderful when having a crowd over for a barbecue, party, or cookout since it takes little effort and cooks so fast. You won't spend all your time over the hot grill - instead, enjoy another drink while talking with your guests.
Jump to:
Ingredients
This grilled chicken thigh recipe only calls for a few ingredients. There is no sauce or marinade for this recipe, just a simple homemade seasoning blend with Mediterranean flavors. You more than likely already have all the ingredients needed in your pantry.
Garlic and paprika add color and flavor but the black pepper is what kicks this up a notch or two. If you like the heat black pepper brings to dishes, this recipe is for you. It will be spicy but the brown sugar does help balance it out, warning. (but it is a good spicy if you ask me!)
Can You Use Other Cuts of Chicken?
Yes, you can use something other than thighs for this recipe. If you prefer bone-in thighs with skin, you can use that too. This recipe for grilling also works for boneless skinless chicken breasts, drumsticks, and spatchcock chicken. The spice rub will be the same but keep in mind that the cooking time will not be the same. Watch your chicken while cooking and make sure it reaches an internal temperature of 165°.
I get my organic chicken through BUTCHERBOX. I have been using this service for a while now and I honestly find that the meat is juicier and I have yet to dry out any chicken when grilling or baking.
Boneless Skinless Chicken Thighs
Brown Sugar
Paprika
Garlic Powder
Salt
Black Pepper
See the recipe card for quantities.
Instructions
Begin by preparing your charcoal grill or preheating your propane/gas grill. You want the grill to be at 350° when you put the chicken on to the barbecue. While you are waiting, it is time to make the spice rub and season the meat.
Spice Rub for Chicken Thighs
While the barbecue is getting ready, it is time to season the chicken thighs. You can do this for up to an hour before you put them on the grill. First, mix the brown sugar and the spices in a small bowl. Once combined, sprinkle it on both sides of the chicken. Using your hands, pat the seasoning blend so it sticks to the chicken.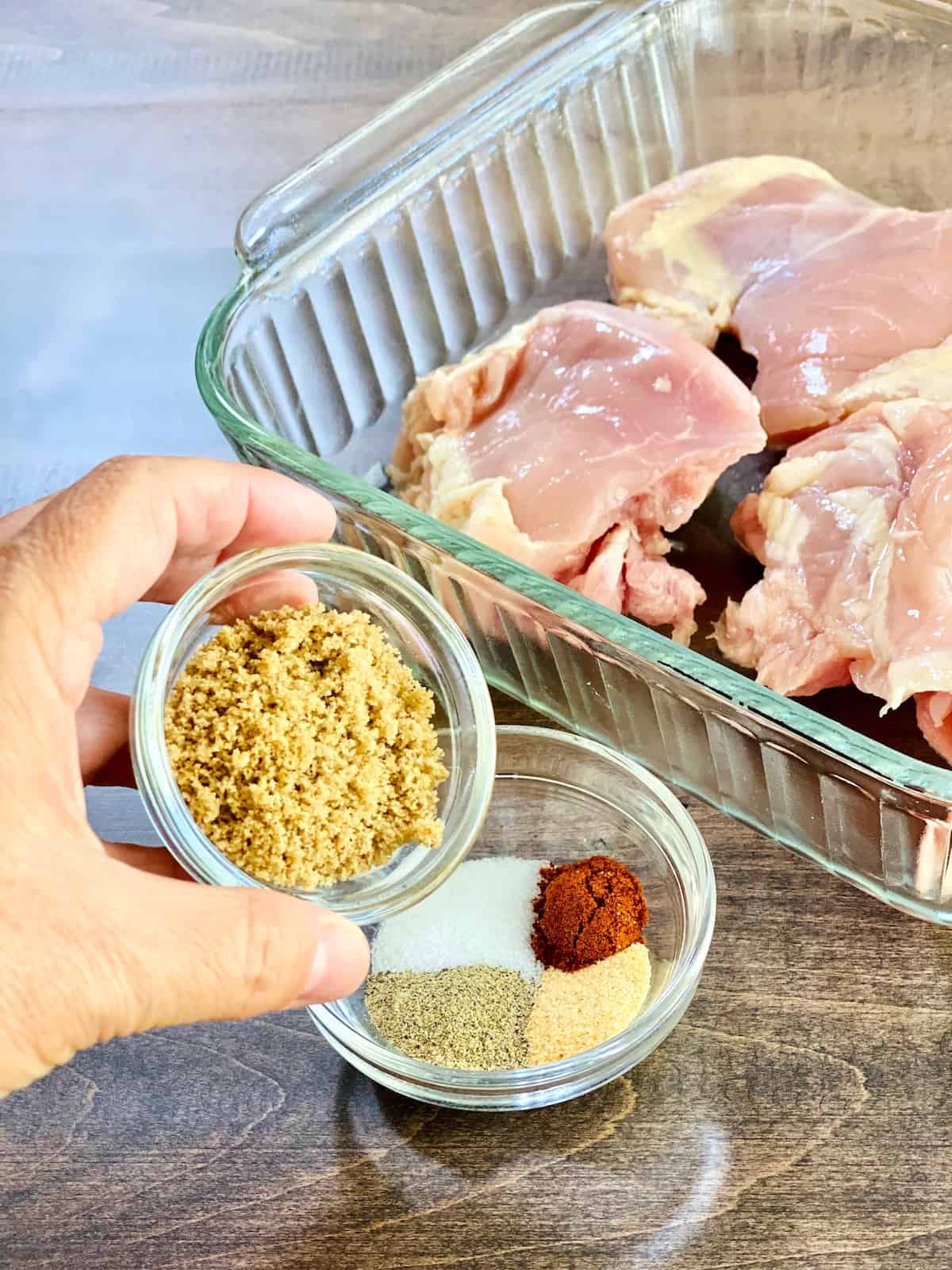 Add brown sugar to the 4 spices. Stir to combine into a sweet & spicy dry rub.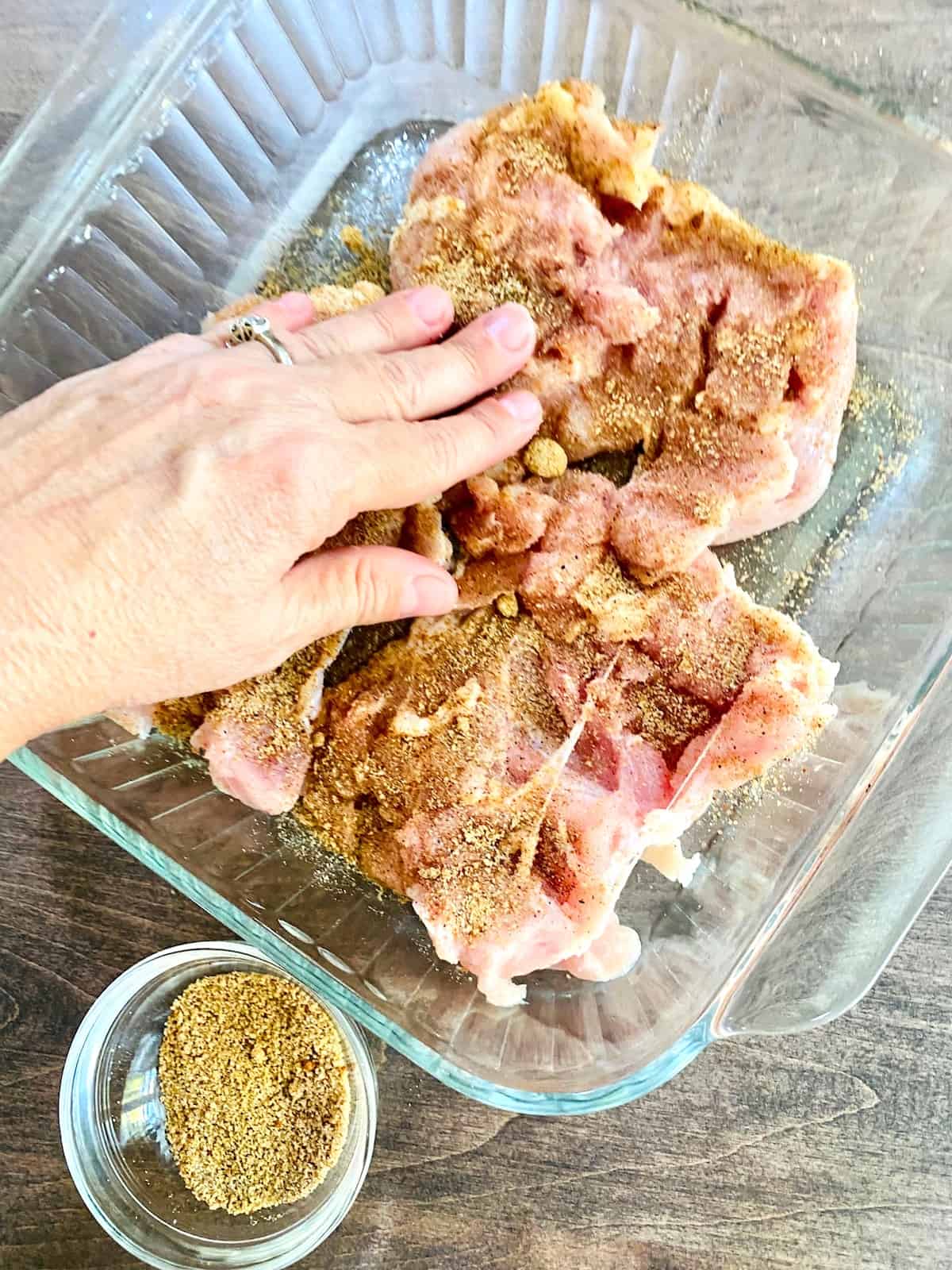 Press the sprinkled-on seasoning blend so it coats and sticks to both sides of the chicken thighs.
How Long to Grill Chicken Thighs
Boneless skinless chicken thighs cook quickly on the grill. If the grill holds a steady 350°, the chicken should be done in 10-12 minutes total. Here is the best way to barbecue these quick and with the lid opened for searing and closed for the final minutes. To make grilling uncomplicated no matter what you are cooking, check out, Grilling with the Lid on or Off - all you need to know.
How Long to Cook Chicken Thighs on the Grill
Place the boneless skinless chicken thighs on the hot grill. Leave the lid open and sear each side for 3 minutes. The high heat will give them a nice crust and seal in the juices. Once each side is seared, move them to the side or top rack for indirect heat.
Now close the lid to finish cooking them for another 3-5 minutes. This is the best way to cook chicken so it is moist & juicy but not burned on the outside. Thinner pieces will cook quicker than thicker pieces so check each one to be sure.
They are done when the internal temp is 165°. I use a quick-read instant thermometer to check and my favorite one is listed below - it's magnetic too so I never lose it!

Hint: let the grill run for 5 minutes to burn off any remnants, then clean it. I like to use this bristle-free barbecue brush for cleaning the grill.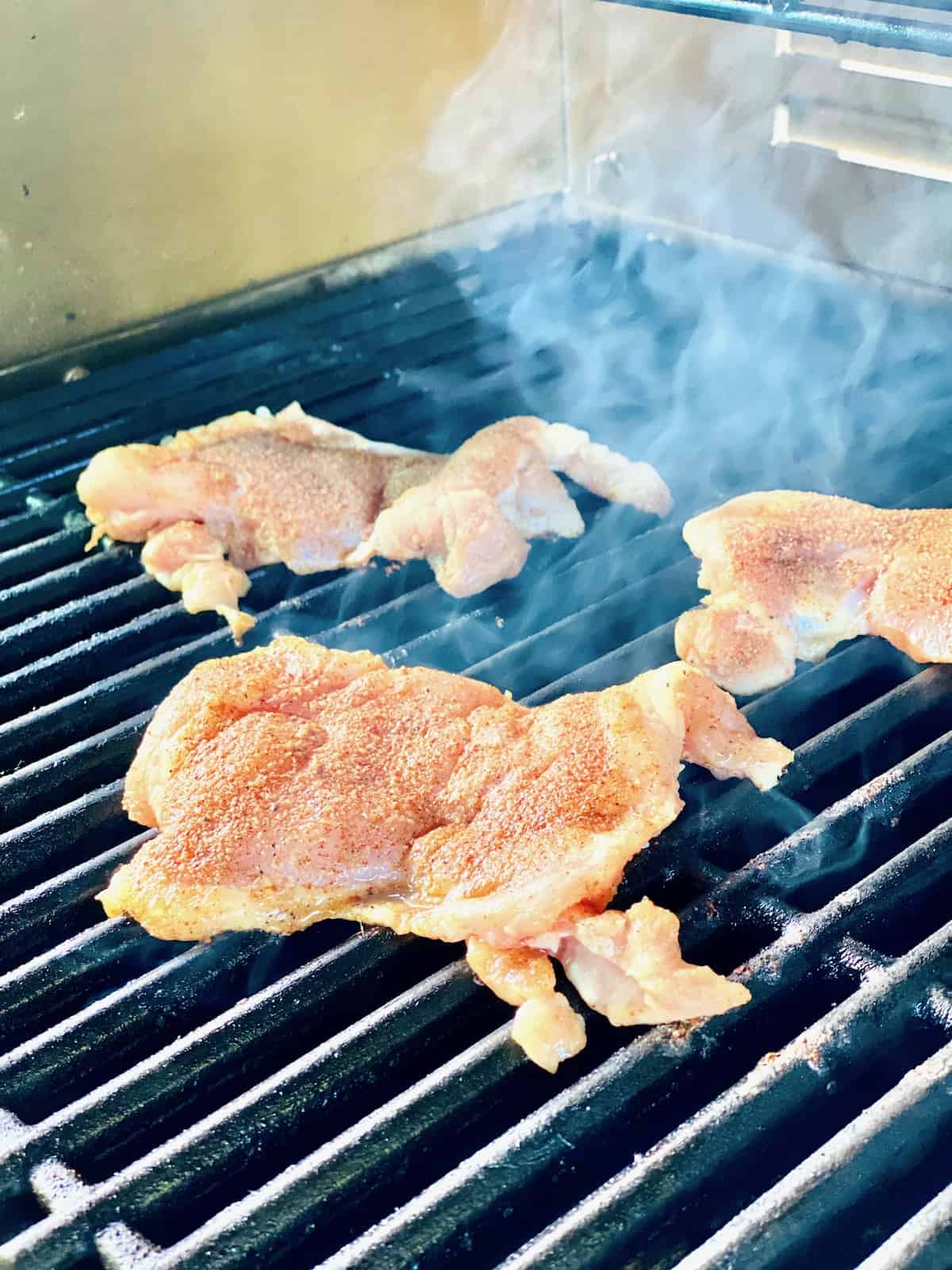 Place chicken on the hot grill.
The chicken is done when it reaches an internal temperature of 165°.
Let the chicken thighs rest for a few minutes before slicing them into them. This will let the juices settle and not just run out of the meat when cut. Serve with a side dish like homemade sweet potato fries.
Substitutions
Here are a few alterations you can make to this recipe to make it your own. If you have dietary needs, such as on a low-carb or Paleo diet, here is how you make a few simple substitutions.
Brown Sugar - for a Paleo version use coconut sugar or use golden monk fruit for a keto or low-carb grilled chicken thigh.
Boneless Skinless Chicken Thighs - see the section above for other chicken pieces that will work
These grilled thighs are gluten-free, low-calorie, dairy-free, & nut-free. They do have a good amount of salt so if you are on a low-sodium diet, omit the salt. This will be a bit spicy with the amount of black pepper. It smells so good and the brown sugar helps caramelize the outer surface of the chicken.
Variations
Small changes can be made to this recipe to enjoy it in a few different ways. Whether you want mild, spicy, or extra spicy (you know who you are!) these chicken thighs have just the right amount of heat for you and your family.
Extra Spicy - add ½ teaspoon chili pepper flakes to the seasonings
Kid-friendly & Mild- cut the black pepper amount in half
For another great grilled chicken recipe try my lemon, garlic, & herb Italian Chicken Drumsticks.
Chicken Thigh Meal Planning Ideas
Other than being quick and easy, this is the perfect chicken thigh for meal planning. Grill up these seasoned boneless skinless chicken thighs to use later or add to all sorts of recipes. They store and reheat easily and remain juicy & flavorful.
They are perfect for adding to wraps, sandwiches, soups, and salads like my Broccoli Apple Salad. In summer when corn is fresh, I love dicing up this chicken to put on my fellow blogger's Sweet Corn & Arugula Salad.
Equipment
For a grilling recipe, you need a grill of some sort. This recipe works for charcoal, electric, propane, or even over wood in a campfire. If you want to upgrade your grill, here are some of my favorites plus some accessories that make grilling easy. So be a grillmaster and show off your stuff.
The Short Order Cook is a participant in the Amazon Services LLC Associates Program. As an Amazon Associate, I earn from qualifying purchases. If you click on a link and make a purchase, I may earn a small commission on the sale at no additional cost to you. This helps with the costs of running the blog. Thank you!
Storage
Cooked chicken thighs store well in the refrigerator. If you have leftovers or made this recipe for meal-planning lunches and dinners, you made the right call. Store the grilled chicken in an air-tight container in the refrigerator. They will be good for 3-4 days.
Grilled chicken does stand up well to freezing also. Place the cooked chicken thighs in an air-tight freezer ziplock bag or container. Grilled chicken thighs can be frozen for up to a month if stored properly in the freezer. To defrost, thaw overnight in the refrigerator.
What to Serve with Chicken Thighs
Here are some great side dish recipes that go well with grilled chicken thighs. Whether you want a salad, potato, vegetable, gluten-free, keto, or more all of these sides go well with barbecued boneless skinless chicken thighs. The simplest is some Instant Pot Steamed Broccoli but all of these are easy to make and yummy.
FAQ
How many calories are in boneless skinless chicken thighs?
A 4-ounce piece of boneless skinless chicken thighs has 186 calories in it. A typical one-pound package of chicken thighs has anywhere from 4-5 boneless skinless pieces in it. So based on the size of your piece it can range from about 150-200 calories each.
Are boneless skinless chicken thighs healthy or fatty?
Depending on your dietary goals and situation, chicken can be a healthy part of a complete diet. For those on a low-fat diet, chicken thighs that are skinless are a good option.

However, for those on a keto or high-fat diet, chicken thighs with skin are preferred. But thighs are fattier than breasts. Chicken thighs that are boneless and skinless have twice the amount of fat as breasts. (and some may say twice the flavor too!)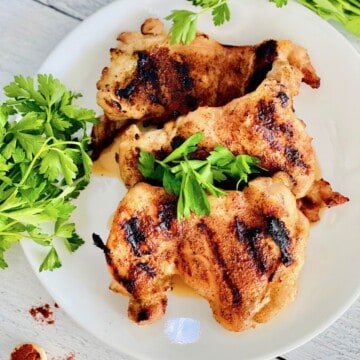 Grilled Boneless Skinless Chicken Thighs
The best grilled boneless skinless chicken thighs are easy to make for summer cookout perfection. They have a sweet and spicy dry rub that adds so much flavor. These yummy chicken thighs come out juicy and cook in less than 15 minutes for a quick meal. Chicken thighs are great for meal planning to add to salads, soups, sandwiches, and wraps for lunch or dinner.
Ingredients
1

pound

boneless skinless chicken thighs

1

Tablespoon

brown sugar

½

teaspoon

salt

½

teaspoon

black pepper

½

teaspoon

garlic powder

½

teaspoon

sweet or smoked paprika
Instructions
Prepare the charcoal, gas, or propane grill. The grill should be at 350° before starting to cook.

First, mix the brown sugar and the spices in a small bowl.

Once combined, sprinkle it on both sides of the chicken. Using your hands, pat the seasoning blend so it sticks to the chicken.

Place the boneless skinless chicken thighs on the hot grill. Leave the lid open and sear each side for 3 minutes.

Once each side is seared, move them to the side or top rack for indirect heat. Now close the lid to finish cooking them for another 3-5 minutes.

Using an instant-read thermometer, check for an internal temperature of 165°.

Remove from the grill to a serving platter. Enjoy!
Notes
This is based on 4 chicken thighs per pound, each about 4 ounces in size. Pieces may vary and so will the nutritional information. 
Nutrition Facts
Servings: 4
Amount per serving
 
Calories
339
% Daily Value*
Total Fat 5.9g
10%
Saturated Fat 2g
5%
Cholesterol 95mg
32%
Sodium 391mg
17%
Total Carbohydrate 2.4g
1%
Dietary Fiber 0.1g
0%
Total Sugars 2.2g
 
Protein 22g
 
Vitamin D 0mcg
0%
Calcium 23mg
2%
Iron 1mg
7%
Potassium 6mg
0%
*The % Daily Value (DV) tells you how much a nutrient in a food serving contributes to a daily diet. 2,000 calorie a day is used for general nutrition advice.