This sweet & spicy dry rub for pork chops elevates the classic cut of meat to a whole new level. Sprinkle a bit of this homemade seasoning blend on your favorite pork chops & they will be far from boring. The flavorful simple dry rub is the best way to season boneless, bone-in, thick, or thin pork chops.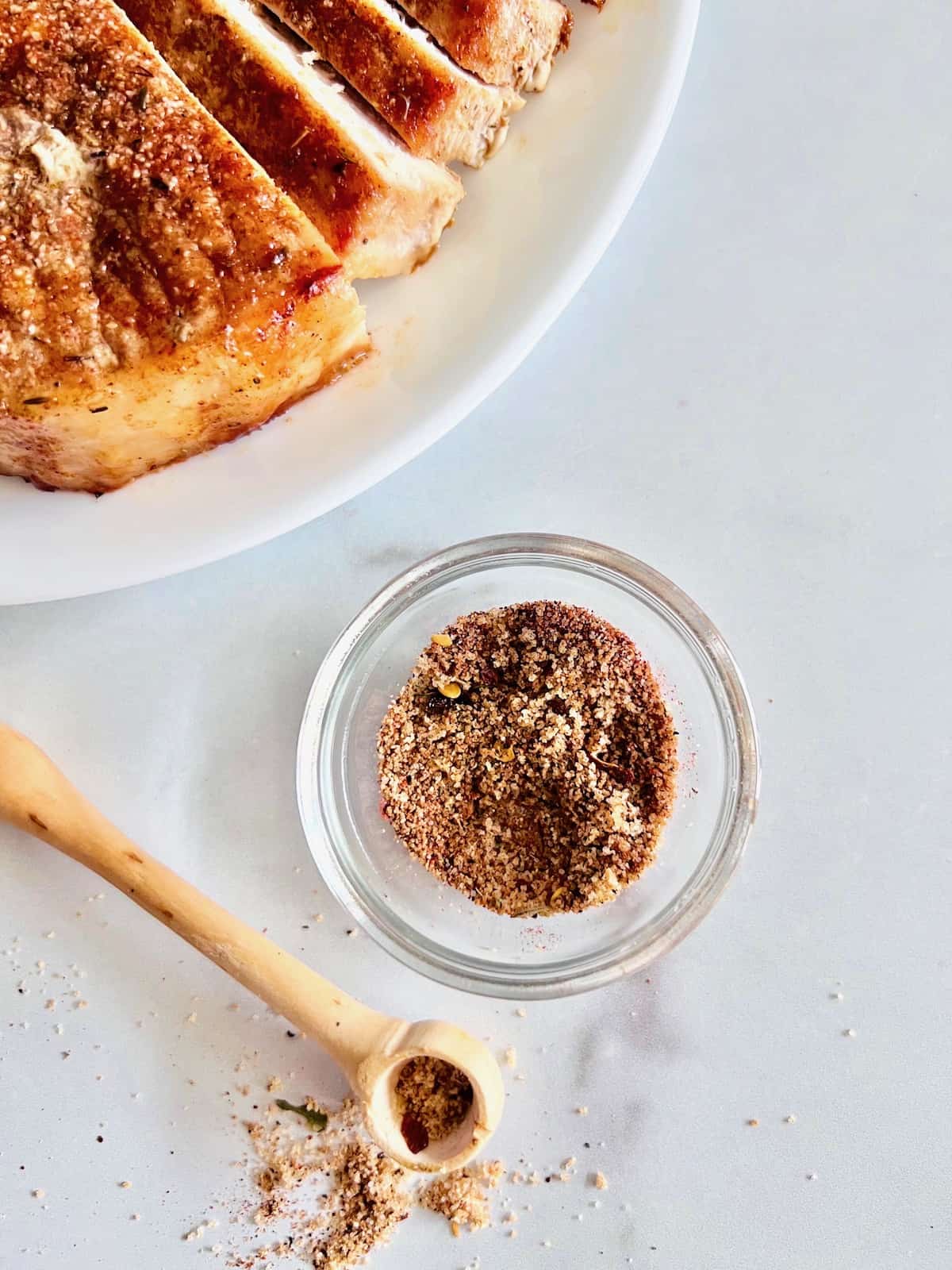 Like my recipe for a dry rub for smoked chicken, the big bold flavors are a winning combination. It is so easy to make and tastes so much better than anything you can buy in a bottle at the store.
This dry rub is patted all over air-fried pork chops for a quick, easy, & yummy dinner. It is a simple 20-minute meal perfect for busy weeknights.
Jump to:
What Herbs & Spices Go with Pork Chops?
Pork is a mild meat that can really use a boost from a variety of herbs and spices. What I like about making my own dry rub is that I can customize it to make it just how I like it. With this basic recipe, you can also tweak it to make it as mild versus spicy or salty versus herby as you like.
The base for this pork chop rub starts with a traditional combination of salt, pepper, and garlic. Other herbs & spices that pair well with pork chops include paprika and thyme. For my favorite part (aka my not-so-secret ingredient) SAGE! Sage has an earthy, savory, yet citrus-like flavor that is wonderful with pork.
Ingredients for Pork Chop Rub
This dry rub starts off with some brown sugar. Then a variety of dry herbs & spices are used to round out the mixture of textures & flavors.
All you need is 7 ingredients you likely already have in your spice drawer and pantry. Using dry spices that are good-quality & fresh. This is the key to making a fantastic spice blend. I like to use organic ingredients but your favorite brands will work just fine.
Brown Sugar - for sweetness & helps the chops caramelize when cooking
Salt - table salt is fine, nothing fancy here for the staple in every great dry rub
Garlic Powder - the aromatic adds a ton of flavor
Black Pepper - for classic heat
Paprika - sweet or hot, I prefer Hungarian paprika but you can use any smoked or regular brand you like
Thyme - for earthy notes with a slight lemon flavor
Ground Sage - the dried savory herb pairs perfectly with pork
Cayenne Pepper - optional for a very spicy version or if using sweet paprika & want some heat.
See the recipe card for quantities.
How to Make Pork Chop Seasoning
This recipe for making a homemade pork chop dry rub is crazy easy. Gather the ingredients & measure each one out carefully. Here is all you need to know.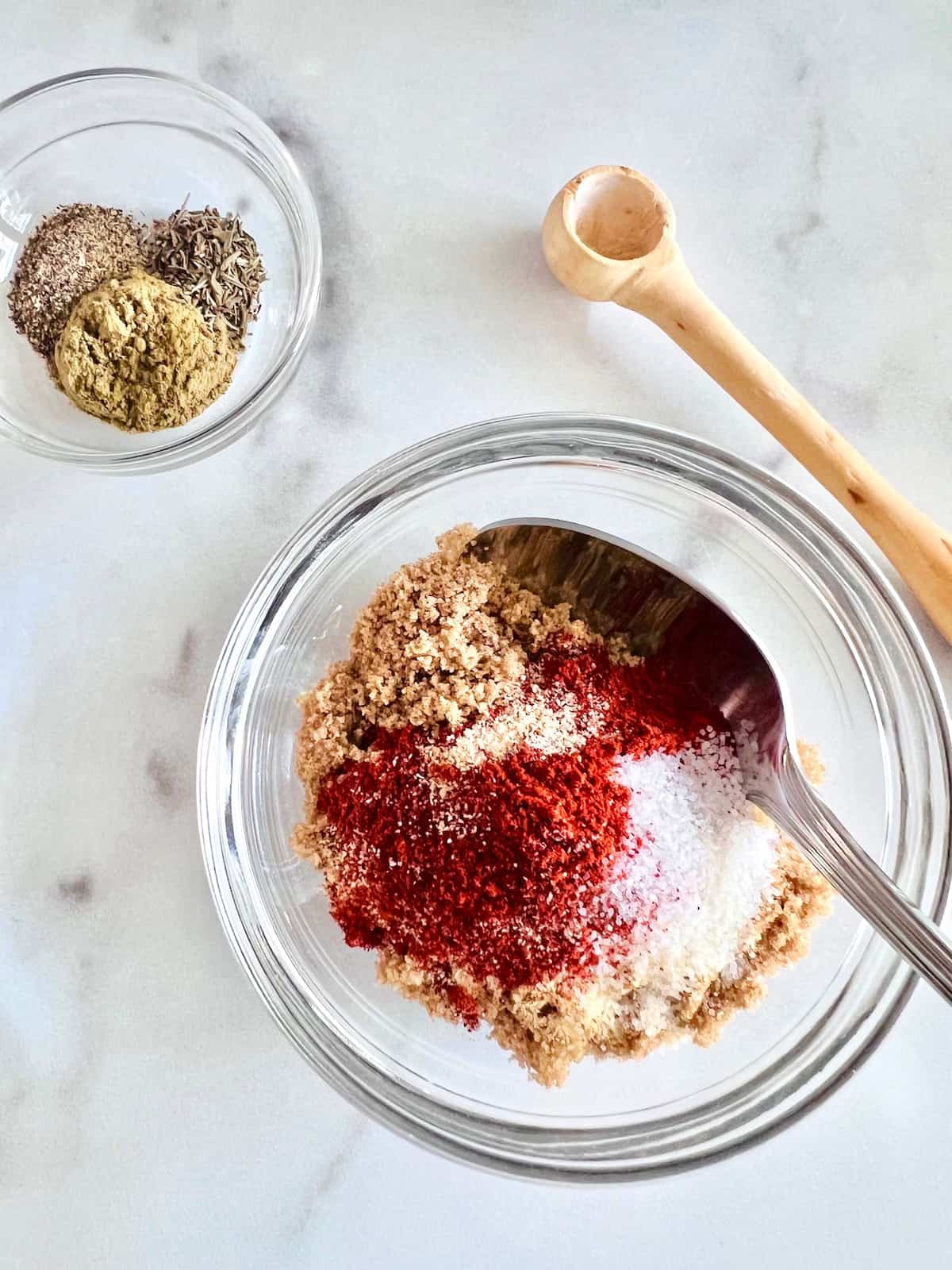 Combine all spices in a medium bowl and mix thoroughly. Two simple steps - measure & mix. Voila! It is now ready to rub on any piece of pork.
How to Apply a Dry Rub to Pork Chops
A dry rub should be applied to all surface areas of the meat. This includes the sides & even where there is fat & bone.
Hint: Dry rubs are best applied to the meat that has been patted dry. Bring meat to room temperature, make sure all surface moisture has been wiped off, & then load it up with the seasonings.
Do not apply any butter or oil before a dry rub. Here is how bestt to season pork chops -
Pat the Meat Dry- using paper towels pat all the surfaces of the pork chops so there is no remaining moisture anywhere.
Add the Dry Rub - using your own clean and dried hands, sprinkle seasoning into the palms of your hands. Next, pat and "rub", hence why it is called a rub, the spices all over the pork chops.
Double Check - Press down in some places if you find it is not sticking as much as you would like. Be sure to get the top, bottom, & sides.
Let it Sit - It's ideal to let the rub sit for at least 30 minutes (up to 1½ hours) to allow the salt & spices to penetrate the meat before cooking.
CAUTION: Do not reuse or save any spices or herbs that have touched raw meat. Discard any of the dry rub that comes into contact with raw meat or unclean surfaces or utensils. Only unused clean seasonings can be stored for later usage.
Substitutions & Variations
This no-fuss recipe for a homemade spiced rub is great on any cut of pork, not just chops. You can use it on tenderloin, roast, ribs, or even pork belly. With a few alternate ingredients or additions, personalize it for your specific taste buds with any of these delicious variations:
Extra Spicy - add chili pepper flakes along with the optional cayenne pepper for extra heat
Deluxe - add ¼ teaspoon each onion powder, dry mustard, & celery salt
Kid-friendly - use sweet paprika and half the black pepper for a mild version
Keto/Low-Carb - omit the brown sugar or use a sugar-free substitute like monk fruit.
Low-Sodium - use ½ teaspoon of salt instead or omit if you need to for health reasons
This ultimate spice rub recipe is already gluten-free, nut-free, & dairy-free. It is also lower in sodium than most store-bought rubs with less than 400mg per serving. It truly is the only dry rub you will ever need for pork ever again.
Equipment
Here are a few items I recommend to help make this recipe taste great & store for months.
The Short Order Cook participates in the Amazon Services LLC Associates Program. As an Amazon Associate, I earn from qualifying purchases. If you click on a link and make a purchase, I may earn a small commission on the sale at no additional cost to you. This helps with the costs of running the blog. Thank you!
Storage
Store this seasoning in a sealed glass spice jar or container with a tight-fitting lid for the best flavor. Make sure to label it and add a date if there is room. It will stay fresh for up to 6 months if stored in a cool dry place such as your pantry or spice drawer.
I do not recommend freezing this spice combination. The moisture that it will gain from freezing and then defrosting will cause it to go bad.
Top Tips
All of these great tips are shared in the post. But these are so good and important they are worth mentioning again so you don't miss them.
Use fresh good-quality ingredients
Measure carefully
Apply the rub to the meat that is dry & let it sit for 30 minutes
Discard any of the dry rub that comes into contact with raw meat or unclean surfaces or utensils
Cook pork to 145° internal temperature
Store in a cool dry place for up to 6 months - in a glass jar or container with a tight-fitting lid.
FAQ
Best ways to cook pork chops with a dry rub?
This rub works with any cooking method. The seasoning is great for pork chops that are grilled, baked in the oven, smoked, pan-fried, air-fried, or seared & roasted.
How much does this recipe make?
The quantities listed in the recipe card make enough dry rub for about 6-8 thin-cut pork chops or 4-6 thick-cut pork chops. It is also enough for a 2# pork tenderloin. You can quadruple this recipe and store it in a reusable glass spice jar so it is ready whenever you have a need.
Dry Rub for Pork Chops
The sweet, spicy, savory, & salty blend of seasonings in this spice rub pairs perfectly with pork chops. The combo of dried herbs & spices adds so much flavor to any cut of pork including boneless or bone-in chops whether thick or thin. Rub this all over the meat, let is set, & then cook pork chops your favorite way - great for BBQ grilling, smoking, baking, pan-frying, or roasting.
Ingredients
2

tablespoons

brown sugar

1

teaspoon

salt

1

teaspoon

garlic powder

1

teaspoon

paprika

sweet, hot, or smoked

½

teaspoon

black pepper

½

teaspoon

dried thyme

½

teaspoon

ground sage

¼

teaspoon

cayenne pepper

optional for a very spicy blend!
Instructions
Measure all the ingredients carefully & add them one by one to a small mixing bowl.

If not used immediately, store it in a reusable glass spice jar or a container with a tight-fitting lid. Store in a cool & dry place for up to 6 months.

To use immediately, rub the spice blend all over the pork chops.

TIPS - Make sure the meat has been patted dry so the dry rub will stick to the meat, fat, or bones. It is also best applied to room temperature pork.

Let the dry rub "marinate or work into the meat" for at least 30 minutes and up to 1.5 hours before cooking.
Notes
Nutrition Facts
Servings: 6
Amount per serving
 
Calories
15
% Daily Value*
Total Fat 0.1g
0%
Saturated Fat 0g
0%
Cholesterol 0mg
0%
Sodium 389mg
17%
Total Carbohydrate 3.7g
1%
Dietary Fiber 0.3g
1%
Total Sugars 3.1g
 
Protein 0.2g
 
Vitamin D 0mcg
0%
Calcium 7mg
1%
Iron 0mg
2%
Potassium 21mg
0%
*The % Daily Value (DV) tells you how much a nutrient in a food serving contributes to a daily diet. 2,000 calorie a day is used for general nutrition advice.
Food Safety for Cooking Pork
The list below has some helpful reminders with health and safety tips when handling & cooking pork.
Cook to a minimum internal temperature of 145 °F (63 °C)
Do not use the same utensils on cooked food, that previously touched raw meat
Wash hands after touching raw meat
Don't leave food sitting out at room temperature for extended periods